Day 3 – this is going to be a lot shorter, since it's after midnight already…
It rained most of the night and was still raining this morning, so we put off going to the Studios until about 10:00 when it mostly stopped – we had a few occasional showers after that.
Got Fastpasses for Toy Story Midway Mania at 10:30 – the return time was already 3:55! And then got in line for Narnia – where they were handing out lanyards for a Dream Extra Hour Event in the Studios tonight. We knew we wouldn't be able to make it because we were going to City Tastes at Epcot, but figured we'd give them to a nice family before we left. I was the only one who had seen the movie, but they show enough of it in the exhibit that you get a pretty good idea!
Terrorized Sherry on the Tower of Terror – she screamed most of the ride. But I think she still enjoyed it. Hard to tell from this photo. 🙂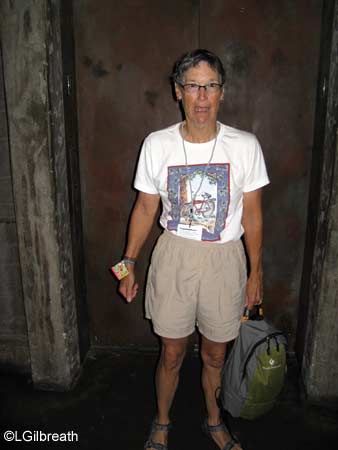 Lee had to leave for the Apple store, to replace his iPhone which apparently got drowned in last night's downpour, even though it was in his pocket. 🙁
Jim, Sherry and I went to watch High School Musical 3, which premiered today. Found my friend Kenny, who helped us get a terrific spot to see the 12:00 show center stage. (The 10:00 had been rained out, and it had been showering a bit so we were concerned about the 12:00 show, but it came off ok. I liked it – I can't say I'm a huge fan, but of the three shows I think I like this one the best. Here's a link to lots more photos of High School Musical 3!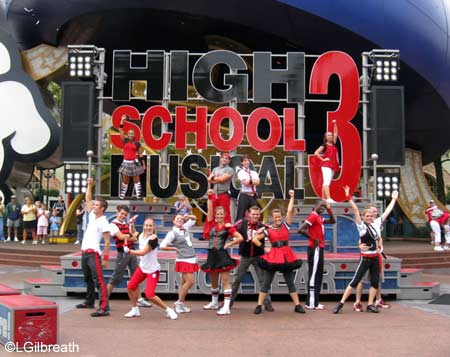 We got Fastpasses for Rock 'n' Roller Coaster and had lunch at Rosie's – the Studios is probably my least favorite park to eat in. Then went to see the Indiana Jones Stunt Spectacular – good timing, since it was raining a bit by then. We tried to get Sherry volunteered for the show, but that didn't work. 🙁 Some of the stunt sequences got left out because of the wet stage/sets.
Saw the Jedi Training Academy, which was cute (though this Jedi Master was not as good as the rest I've seen), and then went to see MuppetVision. It was fun – that show has held up pretty well for something almost 20 years old!
Planned to go to One Man's Dream after that, but it was 3:15 and it closed at 3:00. 🙁 We had 15 minutes to slowly walk back to Rock'n'Roller Coaster to use our Fastpasses. I called Lee, who had gotten his new phone and was on his way back.
Sherry screamed throughout most of Rock'n'Roller Coaster, but she and Jim both enjoyed it.
Went back to Toy Story Midway Mania, where Lee had arrived just a few minutes before, and we used our Fastpasses. The Standby line was 100 minutes!!! Sorry, but there's NO ride I'm going to wait 100 minutes to ride!!! It was great fun, even though Lee beat me this time (first time that has happened!) Still more fun than a barrel of monkeys! 🙂
On our way out of the park we gave our Dream Event passes to a nice family with two teen aged sons. They were very happy to get them. So I hope they had a good time!
Had a short break back in the room to get ready for City Tastes – Spain over at Epcot. We really weren't sure WHAT this was going to be – very little in Disney's description. Sounded sort of like Party for the Senses on a smaller scale. We were about half right. It was mostly a wine-tasting event – the guide they gave us called it "Great Match Wine & Tapas 08". It was sponsored by Wines from Spain. They must have had over 200 wines from over 30 Spanish wineries. Some very good wines, too! Not much in the way of food choices, though, and NO desserts, which I found VERY disappointing. Nice entertainment, though – a Spanish guitar group and a pair of flamenco dancers and their guitarist.
One of the best parts (for us) is that the event was quite *under* attended and not at all crowded – there were actually some empty tables. That meant the people pouring the wines could give us a lot of extra attention. One of them, from Grupo Faustino, became Lee's New Best Friend – I think Lee sampled just about everything he had (and most of it was pretty good!)
I'll be writing a lot more detail in a report that will be published on AllEars.Net – once I have time to write it!
We all really enjoyed it, though I wish we'd known a bit more about it before hand.
It was Extra Magic Hours at Epcot, so we decided to stick around for that and do some attractions that Jim and Sherry hadn't yet experienced. Test Track first, though the line ended up being a lot longer than we expected. Tried to do Soarin' but Standby was 40 minutes, so we went back and did Ellen's Energy Adventure instead, then headed back to the room. I was surprised how many people were still in the park at 11:30.
Not sure about tomorrow…we need to go pick up our Tower of Terror race packets, and then we'll see what else we want to do – Lee and I should try to stay off our feet a bit tomorrow! The rain is supposed to subside by the afternoon…I hope so. I wouldn't have wanted to run in the weather we had tonight (it rained, though we were only out in it once).