Day 2 of our Food and Wine Festival trip.
We got a late start this morning – still on west coast time. I'm actually trying to STAY on west coast time until after the Tower of Terror 13K race Saturday night – my body will be much happier (ok, so "happier" isn't really the right word) running if it thinks it's 7:00 at night than if it thinks it's 10:00 at night.
We made the loooong walk (NOT!) from our room at the Boardwalk Villas to Spoodles at 9:00, where we met our friends Paul and Ilene for breakfast. I hadn't eaten breakfast at Spoodles in years, and then it was a buffet. I think it has a very nice breakfast menu now – frittatas, breakfast flat breads, french toast, etc. You can find the menu on AllEars HERE.
We had a very nice breakfast, and sat around chatting for a long time, until we realized that it was after 11:00! Our server came around a couple of times to check on us and make sure we didn't want anything else. 🙂
Eventually we said goodbye to Paul and Ilene and got ourselves together and into Epcot. The forecast for the day was heavy rain, though it was still looking ok at that point, and was actually very pleasant outside! But we brought our rain jackets and umbrellas with us. Jim was the group pack mule today – Lee did it yesterday. 🙂
A performance of the World Showcase Players was just starting in the UK as we walked by, so we stopped to watch that. They've changed it a bit since I last saw it – they've included a third tourist in the cast – a woman to play the Evil Wizard Pelham. It was great fun, and the guy who played Galahad did a really good job. They even had a few new, but still bad, jokes. (Lee would have made a MUCH better King Arthur than the one they selected, though!)
Sherry had been asking to go on a ride, so we finally did one – Journey into Imagination. (They only get better from there, right?) After that, we steered them toward The Land pavilion and Spaceship Earth, and Lee and I went back to the UK, where we were meeting one of my long-time RADP IRC friends (and fellow AllEars staffer) Jack and his wife Judy.
We got a few cold beverages and went back into the garden in front of British Invasion's stage to have a nice long chat. It was good to see them, and I'm glad our trips overlapped a little bit!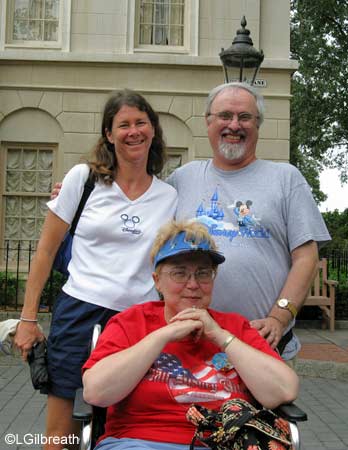 Back in Future World we met up with Jim and Sherry again – they had just ridden Spaceship Earth and played a few games in Project Tomorrow. Sherry wanted to do the "Power" game, so we had a short wait for that, and Lee did it with her. They had a good time and did pretty well!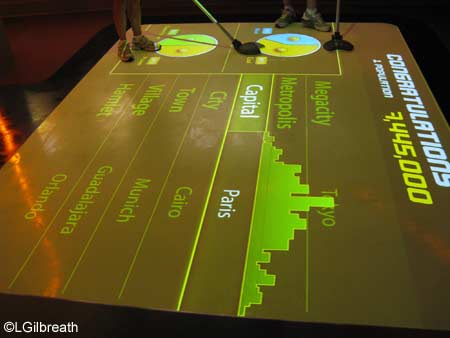 We got Fastpasses for Soarin' (not good until 7:51 that night!) and went over to the Seas pavilion. Fortunately the ride through the aquarium, featuring Nemo and friends, was a walk-on, but wow, that is a looong queue!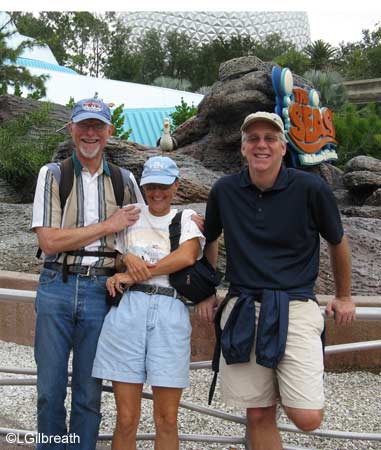 Our timing was perfect, and when we got off the ride they were just getting ready to let people in to the Turtle Talk with Crush show. Dude! It's so totally awesome!!! (Sherry wants to know how they do that. I wish we could tell her!)
We went upstairs to see the manatees, and talked to one of the Cast Members for a while about them. The two they have now they are still hoping to reintroduce to the wild. They eat romaine lettuce as the main part of their diet, since that mostly closely resembles the nutrients they would be eating in the wild. For treats they get things like apples, carrots, and sweet potatoes.
We wandered around the rest of the aquariums – I noticed this Mickey head on the bottom of one of them.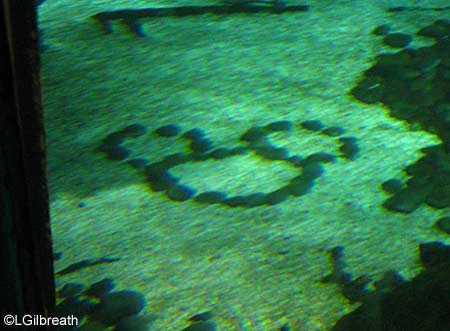 From there we went over to Mission Space, where we did the "Green" side. (As I did not wish to *turn* green I chose that instead of the orange side!) Since there were 4 of us we were one complete team, and that was fun. (Sherry was our commander, though, so we thought we would be doomed!!!)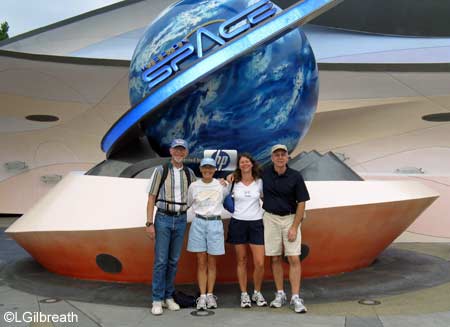 As we walked into the Mission Control area they were just starting a Space Race game. We were the crew of the Orion – our four challengers on Team Triton were 4 pre-teen boys, so we figured we were doomed. And we were right – though we only lost by 2% – they had 97% and we had 95%. Which wasn't too bad. I'd never done the crew thing, though I have been one of the Mission Control players a lot of times. It took a little while to get the hang of it, but once we did the crew part was fun, too.
We had a 6:30 reservation for Marrakesh, and it was about 6:00 by then. Lee and Jim wanted beers from the Barley and Hops Market at the American Adventure pavilion, so we took the long way to Morocco. It was still a very nice evening – cloudy, but not raining, and still a comfortable temperature. Crowds were still not bad – none of the food booths seemed to have much of a line at all.
Marrakesh wasn't too busy at that time, and we got a table close to the middle of the restaurant. We all decided to order the Royal Feast, which included Harira Soup and Beef Brewat roll as appetizers, and then Lemon Chicken, Roasted Lamb Meshoui, and Couscous with Seven Vegetables for an entree, with assorted Moroccan pastries (which ended up being three kinds of baklava) for dessert. It was all good. The baklava was quite good – not syrupy sweet like some are. Sherry and I both had a white wine named Ksar with dinner – it was a very nice crisp, clean wine that I really enjoyed. Jim had a Casablanca beer, and Lee had a Marrakesh Express.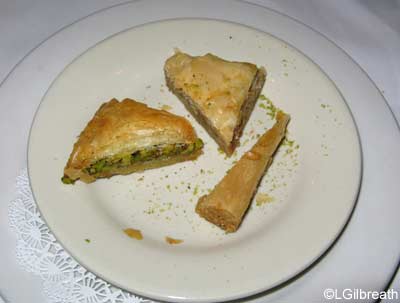 The restaurant offers entertainment while you're dining – belly dancer accompanied by two musicians. We were there for about 2 hours, so we saw them twice. I think the guys enjoyed her act more than Sherry and I did. 🙂 Don't get me wrong, she was very talented and graceful, but just didn't have quite the same appeal to me. 🙂
We saw people coming into the restaurant who were wearing ponchos, so it looked as though the rain had arrived while we were eating. But it had stopped before we left the restaurant, so we started making our way to Future World to use our Soarin' Fastpasses. We got to the UK, and it started raining, so we broke out the umbrella (mine) and rain jackets (everyone else). And then it started to REALLY rain…we all ended up with squishy shoes and wet shorts/jeans, though it stopped raining just before we got to the Land.
At that point I'm not even sure we needed Fastpasses – looked like Soarin' was almost a walk-on. Jim and Sherry had never ridden this before, so I requested top row, center section – might as well maximize their first experience, right? 🙂 I think it was a little bit more exciting than Sherry expected – I heard a lot of gasps and screams out of her, and I think she had a death grip on the handles beside her seat. 🙂 She still enjoyed it and wants to do it again, though!
The rain had not restarted while we were inside and Illuminations was over, so people were streaming out of the park. Since we were headed back towards the International Gateway we were going opposite most everyone else, and felt like salmon swimming upstream until we got past Canada.
Jim and Lee went to Big River Grill to have a beer, while Sherry and I came back to the room to finish drying out. It started raining again about 20 minutes later…and rained for over an hour, though it sounds like it has stopped now. I hope it gets it out of its system tonight!
It was a great day, though, if you can believe it, Sherry doesn't seem to have gotten this whole "ride" thing out of her system, and wants to go on MORE rides tomorrow!!! 🙂 I think we're going to the Studios tomorrow, and tomorrow night we'll be attending a Food and Wine Festival event, City Tastes – Spain over in the World Showplace.