Hi everyone!
We have left the west coast for a week, and are here at WDW in Florida – mostly doing the Food and Wine Festival, but we'll be visiting all the parks, too, and running the Tower of Terror 13K on Saturday night.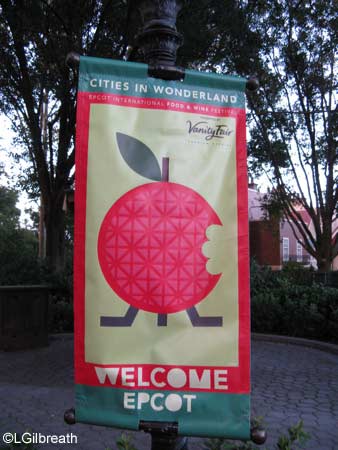 We're here with our friends Jim and Sherry, who haven't been to WDW in 18 years! So we're looking forward to showing them all the things that are new since their last visit – like Animal Kingdom – a whole new theme park!
We have a two bedroom villa at Boardwalk Villas – it's SO nice to be at the Boardwalk during the Food and Wine Festival given its proximity to Epcot.
Today was our travel day, and the travel part actually went quite smoothly! We were on two Boeing 767s for our flights – I'd never been on one of those before. It was really nice – it seemed to have quite a bit more leg room than a lot of the smaller planes. But my favorite part was the personal entertainment units – one of the things passengers can do is play an in-flight trivia game against other passengers. I had a lot of fun with that…and I won a few games. 🙂
Jim and Sherry's flight landed not long before ours, and they actually had their bags by the time we met them in Baggage Claim. We landed at 3:50 and were in the rental car headed out of the airport by 4:30.
We checked in and went to our room, and Lee said that they'd given us the wrong room, because for a change it is NOT all the way at the end of the hallway! 🙂 And fortunately, even though it overlooks the main pool area, we can't see the scary clown that vomits children. The room DOES have the dreaded swans glaring into it, though.
After we unpacked we (what else?) walked to Epcot for our first round of Eating Around the World. The weather was just great – warm enough for shorts, but comfortable if you were wearing jeans, too. I really hope it'll stay like this at least through the race on Saturday. (But there's a high probablilty of thunderstorms the next two days.)
We made it all around World Showcase in a couple of hours, and between the four of us, we tried items from 13 different food/wine/beer booths.
As you can see, sometimes careful study of the menu was required… 🙂
Things we tried:
Cheddar Cheese Soup and Maple Glazed Salmon from Canada
Spanakopita from Greece
Kielbasa and Potato Pierogies from Poland
Plantain and Beef Casserole from San Juan, Puerto Rico
Chilaquiles and Chorizo Quesadilla from Mexico
Chilled Tomato and Garlic Soup from Barcelona
Pork Pot Stickers from China
Samosa, Red Curry Shrimp and Mango Mousse from New Delhi
Prawns with Sweet Potato Hash from Melbourne
Spaetzle with Mushroom Ragout and Apple Streudel from Munich
Cream Puff from Bologna, Italy
And the guys had beer from Belgium, Ireland, Mexico, and Australia, and I had wines from Barcelona and Munich.
A couple of the standouts: the guys really enjoyed the Plantain and Beef Casserole from Puerto Rico – which was also a VERY generous serving for only $2.75!
And one of my perennial favorites, the Chicken Chilaquiles from Mexico, was back again this year. That's also a pretty good-sized serving, for $4.00.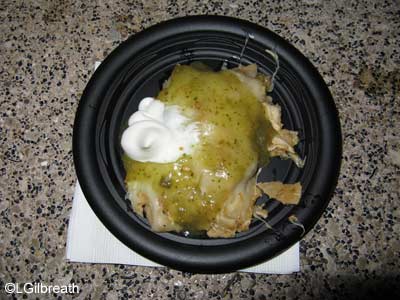 The Kielbasa and Potato Pierogie was another hit, and I really liked the Pepperberry Prawns with Sweet Potato Hash.
We didn't try too many desserts, and nothing was really outstanding, though the Mango Mousse from India was good, and Sherry said the Cream Puff with Mascarpone and Gianduja Chocolate was very good.
Though we made a pretty good start, there's still a lot of booths that we didn't hit at all – good thing we're here for another 6 days! 🙂
We ended our evening by watching Illuminations – the park wasn't crowded at all, and we got a great spot in front of Italy only 5 minutes before the show started – there were people in front of us, but they were short enough they didn't block our view.
It was a great day – we're looking forward to tomorrow! Lots more Epcot – not just the Food and Wine Festival – we want to hit Future World, too – there's a number of attractions there that will be new to Jim and Sherry.