One of my favorite treats at the Disneyland Resort during the autumn holiday season is their pumpkin muffins with cream cheese icing. I'd never considered actually trying to make them myself, though, until the recipe turned up on Disneyland's Annual Passholder web site (www.disneyland.com/ap) a few weeks ago (it's in the "News and Events" section).
It looked pretty straightforward, and I like to bake, so I decided to give it a try. So here's a photographic record of my attempt!
Recipe:
Pumpkin Muffins with Cream Cheese Icing

Pumpkin Muffins:
2 cups pumpkin puree (canned)
1-1/2 cups granulated sugar
3 large eggs
3/4 cup canola oil
1-1/2 tsp. vanilla extract
1 cup all-purpose flour
3/4 tsp. salt
1-1/2 tsp. baking powder
3/4 tsp. baking soda
3/4 tsp. cinnamon
3/4 tsp. ground cloves
1/4 tsp. ground nutmeg
1/2 cup raisins
Preheat oven to 325 F.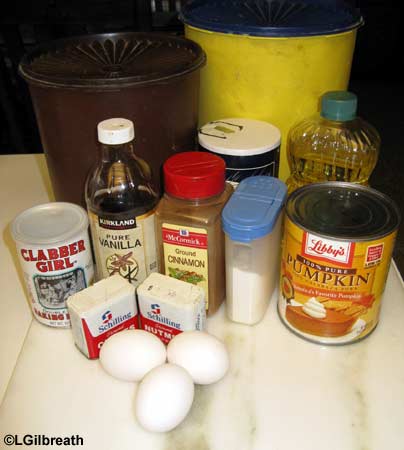 In a large mixing bowl, whisk together pumpkin, sugar, eggs, oil and vanilla until well blended.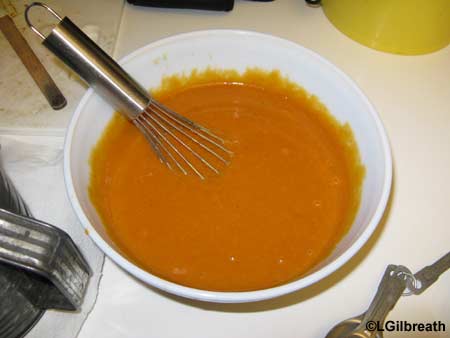 Sift together flour, salt, baking powder, baking soda, cinnamon, cloves and nutmeg over the pumpkin mixture and whisk until just blended. Overmixing may result in less tender muffins.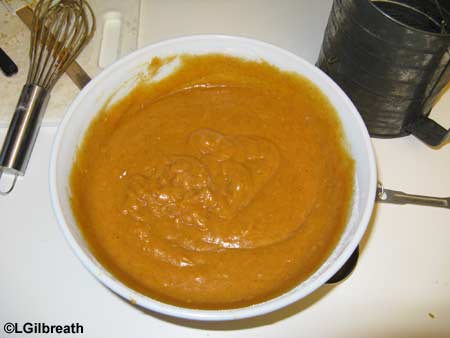 Fold in the raisins until consistently distributed.
Portion mixture into muffin pans and bake at 325 F for 25 minutes.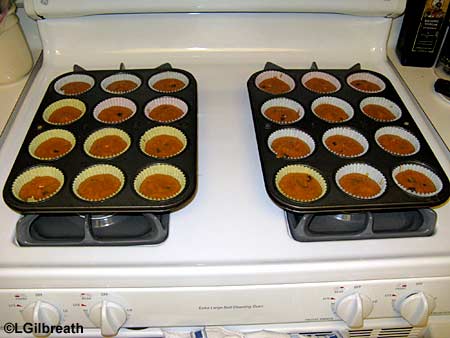 Insert a toothpick into center of muffin and remove. If toothpick is clean, the muffins are ready. If not, allow muffins to cook an additional 1-2 minutes or until toothpick is clean. Allow muffins to cool for 30-60 minutes.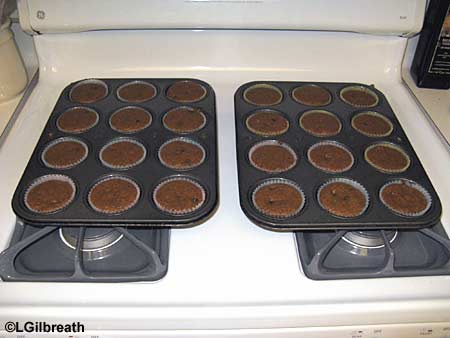 Cream Cheese Icing:
1 cup unsalted butter
1-1/2 cups cream cheese
1 tsp. vanilla extract
2 cups powdered sugar
1/2 tsp. cinnamon
Allow cream cheese and butter to soften at room temperature for about an hour.
Mix cream cheese and butter together until smooth.
Add vanilla extract, powdered sugar and cinnamon, and mix until well blended.
Remove from mixer, and cover and refrigerate until needed.
Fill a pastry bag fitted with a star tip with icing.
Poke a hole into the center of each cooled muffin and squeeze icing directly into the middle of the muffin, finishing with a rosette on the top.
Special Tip: The icing recipe makes a generous amount.
Ok, now for MY notes…
The recipe makes 24 regular-sized muffins. I filled the muffin cups about 2/3 full.
I like cinnamon, so I used 1 t. – and even that wasn't enough. I will probably increase the amounts of the cinnamon and cloves the next time – maybe add some ginger, too.
I don't care for raisins, so I used chocolate chips instead! It might sound like a strange combination, but they were really good – and they disappeared at work about 5 minutes after I put them out. 🙂
I didn't use the cream cheese icing, either – that's just too sweet for me. And these muffins are so good they don't need it.
The next time I make these I'm going to cut down on the oil – they were a little too moist. I'll probably try using 2T of oil and 1/2C of applesauce instead.