Considering our late night Sunday night we got up fairly early on Monday, since we wanted to be at the Studios when it opened to try to get a couple of rides on Toy Story Mania.
It was another absolutely gorgeous day – clear and sunny, but a little bit cool – most of us were wearing jackets in the morning, but didn't need them the rest of the day.
We arrived on Hollywood Blvd just as the park was opening. As expected, most everyone headed for Toy Story Mania. We went straight to the Fastpass machines, which had pretty long lines…in the time we waited, the return time went from 9:45 to 10:15! Unfortunately Toy Story Mania was not yet up and running, so we couldn't ride it then. 🙁
We wandered into One Man's Dream instead. The video on some of the exhibits wasn't working, and some of the sound in the movie was really awful – and the worst of it was Julie Andrews' narration – which was not something recorded over 40 years ago like the various excerpts of Walt's voice.
Over at the ABC Commissary we had breakfast. The last time we did that they were still serving stuff like eggs, bacon, french toast, etc., but they have really cut down on the menu – there was a bagel sandwich, hot or cold cereal, fruit, yogurt, and pastries available. Which was actually ok for us, but anyone wanting a more substantial breakfast would have been very disappointed!
The next Voyages of the Little Mermaid show was seating when we went by so we went into that – Lee and I hadn't seen that in a couple of years – not because we don't enjoy it, but mostly because the queueing and pre-show areas are so unpleasant – they pack you in like sardines. Which I guess is appropriate giving the theme of the show, but still. Anyway…this show was not full, and we walked straight into the pre-show area, and didn't have too long a wait before the doors opened. I really enjoy the puppetry, especially in the "Under the Sea" song. I think whoever plays Eric must have one of the easiest jobs in the parks, though – he's on stage for what, 3 minutes maybe?
By then it was time to use our Toy Story Mania Fastpasses – fortunately it was up and running by then. We had a longer wait in the Fastpass line than we did the other day, but it still beat the 60 minute standby line.
Lee had read some tips on the web the night before on how to score higher on the ride by cooperating, so we tried those – we were successful with one but not with the other. Overall it hurt our scores, though, and we didn't score as high as we did the other night.
Prince Caspian was hanging out in his meet and greet spot when we walked by – he wasn't too busy, so he was spending a lot of time with the kids (including the not-so-little girls!) that came to see him.
We went over to Epcot after that to eat around the world again and do a little sightseeing. We saw Serveur Amusant in France – or Sherry and I saw it, at least – Lee doesn't like it – he says it makes him nervous – and Jim was off getting some Crawfish Etoufee from the Louisiana booth. They have changed the chair-stacking routine a bit since we last saw it. The guy who actually does the balancing used to appear to be a tourist who was pulled out of the audience, and now he is one of the "waiters", and obviously a part of the show.
Ran into an AllEars.net reader at the Tokyo booth – she saw my AllEars hat and asked about it. I'm sorry I didn't get your name, but if you're reading this, it was nice talking to you!
I was very disappointed to look at the entertainment schedule and find that Voices of Liberty was not performing at all. 🙁 That's one of my very favorite things at Epcot. Lee and Jim and Sherry consoled themselves with food (and beer) from the Hops and Barley booth, and then they went to the Beer School, which they enjoyed. While they did that I saw a cooking demonstration down at Italy – the chefs were making petate – the Italian version of fried dough balls. They looked pretty good, but unfortunately we didn't get to taste them. 🙁
As we ate our way around the world we explored a couple of the other entertainment options, like the two Circle-Vision films in China and Canada. I've only seen the Canada film a couple of times since it started showing – Martin Short's narration is fairly amusing.
Things we tried on our eating adventure around the World:
Goat Cheese and Leek Quiche – France
Crawfish Etoufee and Pecan Praline Bread Pudding – Louisiana
Lamb Slider and Bay Scallops -New Zealand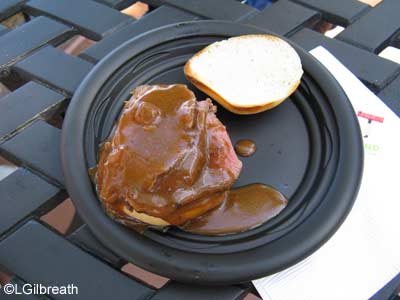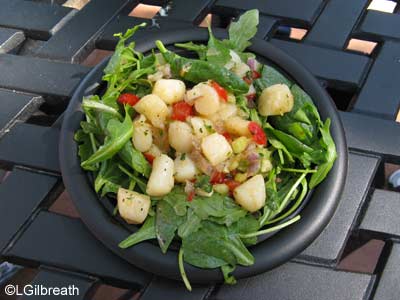 Spicy Tuna Roll – Japan
Lobster Roll and Crabcake – Hops and Barley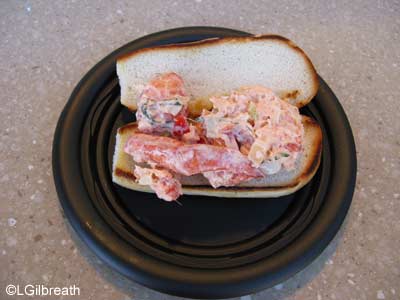 Boxty and Cheese Plate – Ireland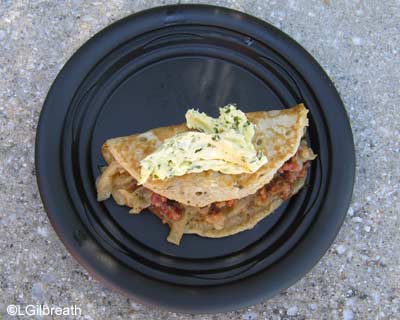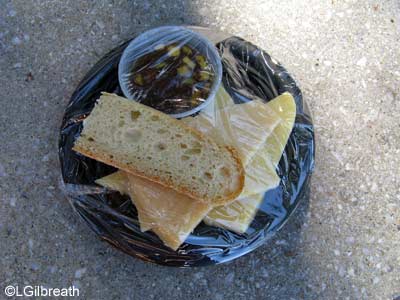 It was a bit after 4:00 by then, and we had a 5:30 reservation at Jiko so we made our way back to the room to get a chance for a short nap before dinner. Lee set his alarm for 5:00 – good thing, because otherwise we would have all slept too long!
We still arrived at Animal Kingdom Lodge in plenty of time. Something that was new to us – when we went through the guard shack the guard gave us a parking pass on which he had written "Jiko". So I guess they are cracking down on parking a bit more now? Since we had some time we wandered around the lobby a little, and down to the Arusha Savanna – saw some birds and a zebra, but that was all.
At Jiko we were quickly seated at a nice table next to the window. And we had a wonderful dinner. Jiko has changed their menu quite a bit since we were last here a year ago, and I think it's even better. We shared two appetizers – the BBQ chicken flatbread and the vegetable samosas. Both were great – the samosas were especially good. We'd had samosas at the Food and Wine Festival and at Tusker House the day before, but these were SO much better!
Our waiter had recommended a wine made from South Africa's pinotage grape and we shared that bottle. It was also really good.
For entrees, Jim and I had the maize crusted halibut, served with vegetables of the moment, and that was wonderful. Lee had our server's favorite – the beef short ribs with crushed potatoes and garlic. He'd told Lee it was so tender it would fall off the bone, and that's exactly what happened. Sherry had the Swahili Curry Shrimp with coconut rice – we all got to try some of her shrimp. Lee, Jim, and I cleaned our plates – our server told us he was going to show the chef how clean how plates were. 🙂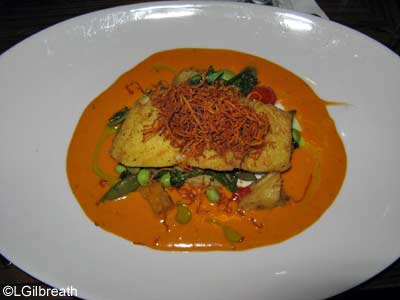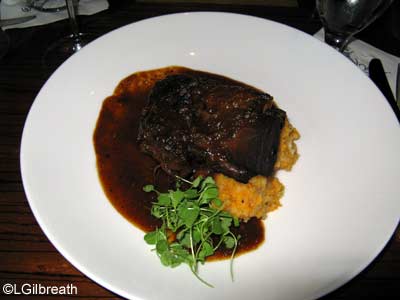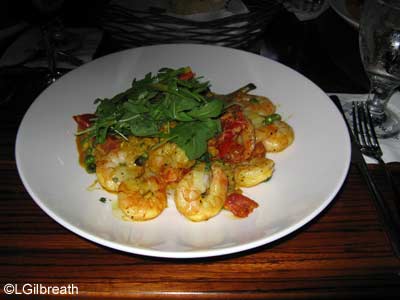 We were pretty full, so we decided to split two of the desserts – again, we went with our server's recommendations and had the Pistachio Creme Brulee and the Tanzanian Chocolate Cheesecake. They were both quite good. The cheesecake had a great chocolatey flavor but was not too rich. It was served with lavender ice cream, though we really couldn't taste any lavender.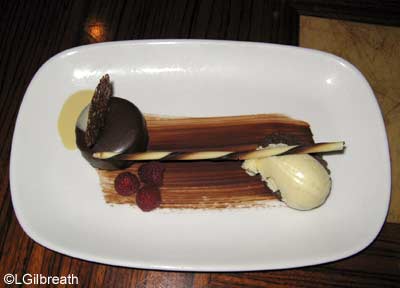 It was really a great meal – definitely the best of our trip. Jiko made a good impression on Jim and Sherry – whew. 🙂 (Yeah, because they have been SO hard to please this week…NOT!)
After dinner we went outside to see if there were any animals visible on the Uzima Savanna (the one next to the pool) but we didn't see any.
We headed back to the room after that – it was after 8:00 by the time we got back. We were all pretty tired after a couple of late nights, so no one was interested in trying to go to Illuminations or Downtown Disney.