As some of you might remember, Lee and I ran the inaugural Tower of Terror 13K last year, and were less than impressed with it. Just not very "Disneyish" by our standards.
This year, since we were going to be there at race time, we decided to run it again (I say "we", but it was Lee's idea!). And I have to say that they made a number of improvements and changes this year, and we enjoyed it much more than last year.
Package pickup was held in the brightly-lit rooms of the Coronado Springs Convention
Center, rather than in the much smaller, and quite dark, Pleasure Island Club like last year. It was very well-organized, with lots of helpful volunteers to point you in the right direction if you couldn't figure things out. I *did* think it was odd to have the pickup there rather than in the Boardwalk, which was one of the event's "official" hotels. Disney provided bus service to Coronado Springs from the official hotels, though we had our own car and didn't use that. (This year there were three Disney hotels where Disney provided transportation to/from the race – unlike last year where runners were told they had to provide their own transportation, which greatly contributed to the traffic problems before the race.)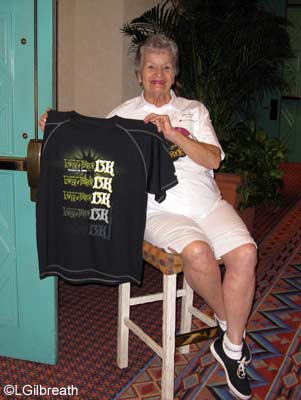 While we were at pickup we spoke for a while to a man who is very involved with staging the race. He told us that they had addressed a number of guest comments/complaints this year, like transportation problems and lack of entertainment.
We relaxed that afternoon and picked up a couple of sandwiches at the Boardwalk Bakery that we could eat as an early dinner. We finally left the room about 9:00 (the race started at 10:00), since all we had to do was walk over to the race area from the Boardwalk – no bus or car transportation required!
They had a lot more theming in the pre-race area this year – to enter the area you went through this tent-covered red carpet entry. That was fun.
There were several large "Guest Register" signs set up where you could sign your name.
They were giving out some kind of "room key", but we didn't arrive in time to get that – I'm not sure what it was. If anyone out there knows, please let me know!
Another fun thing they had were temporary tattoos of the race logo. I got one on my arm. It's actually held up very well – as I'm writing this it is the following Friday (the race was Saturday) and it still looks good and hasn't peeled off at all. (I had co-workers looking strangely at my arm when I got back to work yesterday, though – you could just see a little bit of the tattoo under my short-sleeved shirt. I was happy to show it off, though. 🙂 )
The bag check area was called "Luggage Services". This year Disney Security was actually checking all of the bags that were being checked – something they did not do last year. I think people probably brought alcohol in to the party last year and they were looking for that.
There was a DJ dressed as a bellhop that was providing entertainment in the pre-race area.
There was no 6.5K this year – just the 13K, so there were fewer people in the starting area. The race had ~3500 entrants, with 2725 finishers. There were no start corrals, and we were supposed to line up according to pace at the signs provided, but unless you got there early you couldn't actually get to any of the faster paces. We were stuck out by the 15 minute/mile pace group, even though we run a 10-11 minute/mile pace.
Like last year, the starting line entertainment was a couple of bellhops, but even with the big screen we could barely see them, much less hear them. The music was a LOT better this year – last year it was pretty harsh stuff. I couldn't tell you what it was they played this year, but it was better! 🙂
The weather conditions were also a huge improvement over last year – the temperature was about 70-72, but there was a bit of a breeze and the humidity was way lower than last year – I think last year it had to be close to 100%, but I'm guessing it was in the 60-70% range this time. Still warmer and more humid than I like it, but at least this year it didn't feel like I was trying to breathe underwater!
There were no race delays this year, and the race started right on time. As usual, we spent the first couple of miles dodging around walkers and slower-paced runners, but after that the congestion eased up.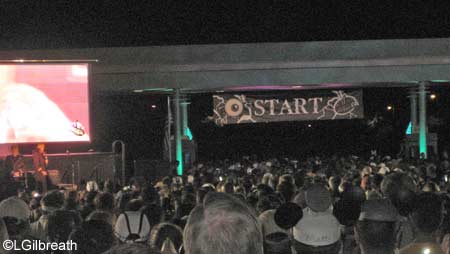 Like last year, part of the course was on a dirt road (which we found out was part of the cross-country trail at Wide World of Sports), but unlike last year it was well-lit and dry. They had obviously dumped some gravel/dirt on it recently and that helped with the footing. They also abandoned the "insane asylum escapees" portion that they had there last year. Though they had some other surprises, like these scary-looking "twins" near Mile 3 in the Wide World of Sports complex.
We got to take most of a lap on the cushy running track, where there were unseen spectators (spectral spectators?) in the stands cheering as we ran by.
There were three water stations – approximately Mile 2, Mile 4, and Mile 6. All were well-staffed with plenty of volunteers.
We were on a boring section of road after coming out of the Wide World of Sports complex between miles four and five, when we came upon the Disney characters. And even better, Disney Villains!!!! This was one of my main complaints last year, so I was really happy to see that someone had gotten that message!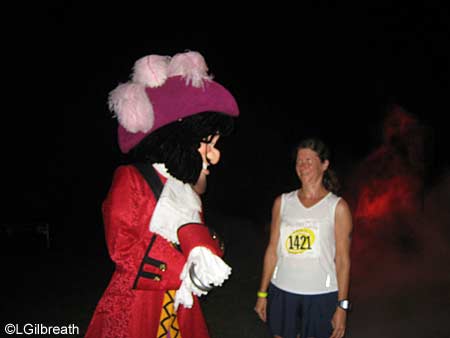 In addition to the characters, there was other entertainment along the course – a couple of bellhop DJs, go-go dancers, plus Dr. Bones. 🙂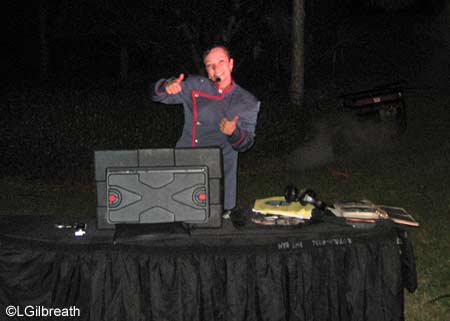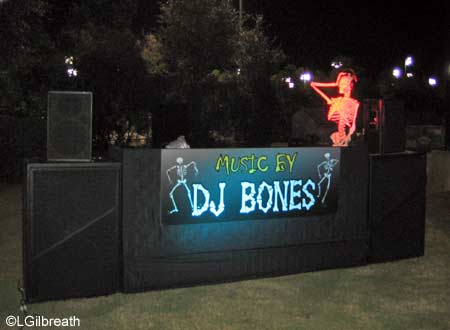 The course was basically the same as last year, so we came back into the Studios at about mile 6.5 and went down Hollywood Boulevard and onto the Streets of America, then back into the Lights, Motors, Action stage, where they had the camera on us so we could see ourselves on the big screen. From there we were on part of the Backlot Tour route, including the section that goes through the costuming "tunnel" – whew, it was really hot and smelled like diesel fumes in there! We were both getting pretty tired and having to push it in this last mile, but we made it down Sunset Boulevard and back behind the Tower of Terror and then on to the finish. We bested last year's time by two minutes – finished in 1:27:27 this year, despite the stop for character photos. We were both glad it was over, though!
The finish area didn't seem to be quite a congested this year – or maybe it's because there were fewer people (since there was no 6.5K this year). After we got the timing chips cut off our shoes, got our Tower of Terror medals, and got our photo taken, they gave us bottles of PowerAde and water, plus a Halloween-themed cellophane bag containing a banana, an orange slice, a couple of hard candies, and a blueberry muffin.
We claimed our bags and had something to eat. Like last year, this post-race area was backstage behind Rock'n'Roller Coaster, but this year it wasn't such a struggle to get out of there. We'd brought clean clothes to change into, and that felt pretty good. The temperature outside was still quite pleasant for t-shirt and shorts.
There were a number of attractions open at the Studios during the post-race party, but the only one we really cared about was Toy Story Mania! We had less than 10 minutes to wait the first time, and immediately got in line again, and waited ~15 minutes the second time. After two rides in fairly short order our right arms were really tired (rapidly pulling the string on the gun apparently uses muscles we don't normally use!) and the line was even longer, so we decided to head back to the hotel. It was about 12:45 by then. The post-race party at the Sorcerer's Hat had already wound down, even though the park was open until 2 a.m. They had posted the results there, but we knew we could check them on-line the next morning, so we didn't bother taking a look.
It was kind of a long walk back to the Boardwalk – our legs were pretty tired!
Overall this was a much better experience than last year – much more enjoyable. I appreciated the thought they put into adding some activities and interest to the pre-race area. And I know people enjoyed the tattoos – I saw them on legs, faces, arms, and even on the back of a bald guy's head!
Loved, loved having the villains on the course! That was a very unexpected surprise, and SO appropriate for the theme of the race. The three lady face characters (Evil Queen, Cruella, and Maleficent) were all appropriately haughty and snarly and pleasantly unpleasant. One thing that *was* missing was a Disney Cast Member to take photos, so we don't have any of the two of us with the characters.
Being able to ride Toy Story Mania during the post-race party was a lot of fun, though the lines were longer than I would have liked – probably means they were correspondingly shorter at Rock'n'Roller Coaster and Tower of Terror, which we didn't ride during the party.
I would've liked them to do a better job separating the runners from the walkers – the pace group idea didn't work. I thought that last year they asked walkers to stay near the back for the start, but if they did that this year I couldn't hear it – and obviously lots of walkers didn't hear it, either.
Disney made a lot of improvements in the race this year and I think it was a much better event – it had more of the "Disney touch" that was missing last year. And I want to say a huge thank you to the tremendous volunteers – so many came out to hand out water, point us in the right direction, cheer us on, hand out food or medals, cut timing chips off shoes, and a whole myriad of other tasks that were required to make it safe and fun for the participants. Thanks to all of you!