In the October 28, 2008 issue of AllEars®, the monthly Step Back in Time featured a writeup on the LiMOUSEine! I asked for folks to send photos and Ted Knapp kindly sent some to AllEars. Here's the Step Back in Time feature followed by Ted's Photographs!
Ever heard of a LIMOUSEine?
Well, in the spring of 1989, a 40-foot LIMOUSEine traveled around America to announce the opening of the Disney-MGM Studios. "Complete with cheese cabinet, soda fountain and video and sound equipment…" the LIMOUSEine departed Orlando on March 5 for a 20-city tour.
The Orlando debut of the LIMOUSEine took place on February 27 when the burgundy stretch limo stopped at the Orlando City Hall to pick up then-Mayor Bill Frederick. He joined Walt Disney World President Dick Nunis and Mickey Mouse for a ride to the Studios. During the late February tour at Walt Disney World, the LIMOUSEine stopped at the Grand Floridian Resort and Mickey's Birthdayland. Mickey and Ambassador Kathleen Sullivan headed to Indianapolis to begin the tour.
The above information and photograph are from the March 16, 1989 issue of Eyes and Ears, a Walt Disney World employee newspaper.
Here are Ted's Photographs! He explains that the photos were taken at the Orlando Auto show in 1989.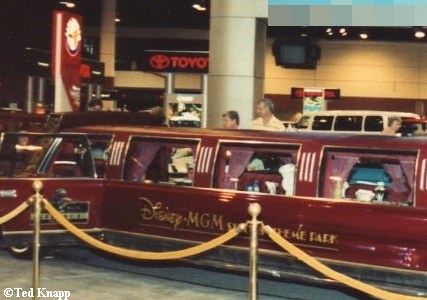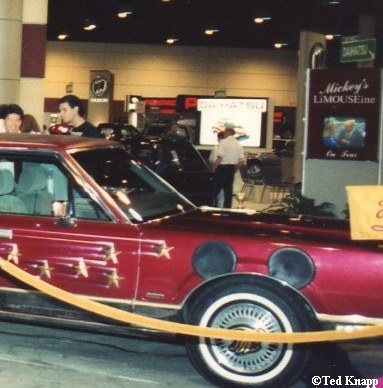 Many thanks for the photos Ted!!!
If anyone else has photos of the LiMOUSEine, please send them to us!