(This is what happens after you get home from vacation – it takes a long time to get back and finish that trip report!)
So Tuesday we started our day at Animal Kingdom. A cold front had moved in and the weather had turned chilly, even though it was sunny – the high was 63 that day, and it was breezy, so it felt very cool.
We sent Lee to get Fastpasses for the Safari while Jim, Sherry and I had breakfast at Pizzafari. It's not Tusker House but it's not bad – and they still have the giganto cinnamon rolls that Tusker House used to have. It was nice and warm in there, too. 🙂
After breakfast, once again we headed off from Harambe on our two week safari. And once again those blasted poachers messed it up for us. Sigh.
We had a really excellent safari, though – Jim and Sherry were really good luck on this trip! A great variety of animals and many of them available for photographs. We saw this mama and baby elephant…awwww.
Lots of animals on the savanna, too, and several rhinos, and we could even see three cheetahs! I've never seen them sitting up the way they were – unfortunately I was on the wrong side of the jeep and didn't get a photo. But we also saw the lion posing majestically – he was actually awake!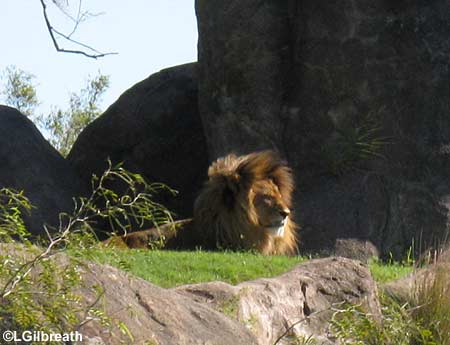 Our friend Kenny collected our Fastpasses when we went through the line for Expedition Everest – it was fun to see him. Sherry and Jim were sitting behind Lee and me, and Sherry saw us with our arms up and yelled "You're crazy!!!" 🙂 She managed to keep her eyes open on the second ride, though.
We said goodbye to Animal Kingdom and went back to the Boardwalk and on to Epcot for a last day of eating around the world. I think it's really best to visit the Food and Wine Festival during the day on weekdays – it's not nearly as crowded, as you can see from this photo.
Sherry had requested another meeting with Crush, so we headed off to the Seas pavilion. Went in through the gift shop so we didn't have to do the clamshell ride again. We had to wait a few minutes for the show – Sherry amused herself by playing one of Mr. Ray's quizzes. The show was fun – I think this Crush didn't have the accent down quite as well, but was a little better at the improvisation. He went over to a little girl and asked her name, which apparently freaked her out and she started crying and went to find her parents. He looked up and said "I totally did not mean for that to happen". Duuuuuuuude. 🙂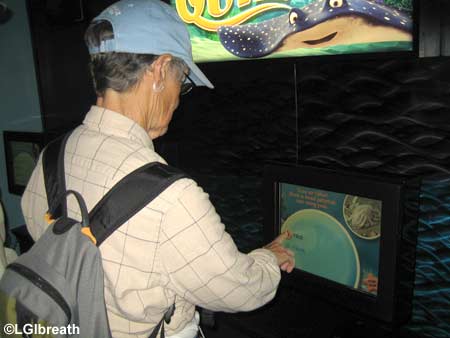 I wanted to visit the Festival Center (over in the old Wonders of Life pavilion) so we went over there. It's sad to see everything shutdown in there.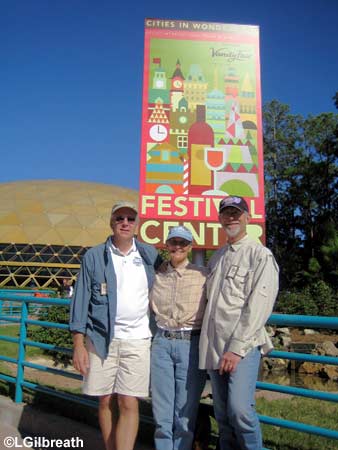 We wandered around looking at the gift shop items, and I had a glass of the Prosecco (a mildly fizzy wine – not as bubbly as champagne). It was a little dry for me – I prefer the Martini and Rossi version.
There were no food or wine demonstrations going on while we were there – in fact there were no food demos at all that day. They had some nice areas set up for them, but with everything so close together I can see where it would get noisy, as Deb Koma and others have commented.
Outside one of the demo areas they had this paper display set up – I thought it looked neat.
Oh, one thing that struck us…before we left we went to the restrooms…notice anything different about this sink?
If you said "You have to turn it on yourself!", DING, DING, DING – give yourself 10 points! It was very odd to see that – I hadn't had to turn on a sink in a public restroom all week – even the airport restrooms are automatic now. Speaking of which…Disney should find out who supplies the automatic faucets for the Atlanta airport and change over to those – they put out a really nice stream that doesn't splash all over the place like too many of the Disney ones do.
Let's see…we took Jim and Sherry into Club Cool, but we couldn't get them to try Beverly. Lee even tried saying how good it was, but they read the description, and got to "bitter" and said "No thanks!" 🙂
So then it was time to do some more eating around the world again. Lee tried the Spicy Beef Empanada from Chile, and he enjoyed that.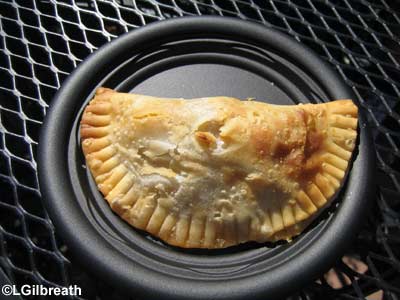 Then we popped into the Mexico pavilion to take a ride on "it's a small mexico"…I mean the Gran Fiesta Tour. We'd warned Jim and Sherry that it was pretty lame – they vaguely remembered the old version from their trip 18 years ago. Apparently it was a much rougher voyage than usual, because someone in the boat in front of us got seasick – we got stuck and had to wait within sight of the dock for about 5 minutes while they cleaned that up. That boat was taken out of service! Ewwww.
We kind of wandered around World Showcase trying various things – some that we'd had before, and some that were new. I tried the Durban Spiced Chicken on a Skewer with coconut milk-infused root vegetables, which was pretty good – though I can't say I tasted the coconut milk!
I wanted to try the three-cheese plate at The Mouse Catch, but they were out of the Dorothea cheese from Holland, so I had the Asiago from Italy and the Manchego from Spain instead. (They had these same cheese selections in the Festival Center – but they were more expensive there!)
Since it was still a chilly day, Jim thought the idea of something warm, like the Seafood Gumbo sounded good. Warm *and* spicy. 🙂
I got another lamb slider from New Zealand – that was one of my favorites. Lee and Jim had some more beer from the Sam Adams booth. We saw Miyuki, the candy artist in Japan. She wasn't nearly as animated as usual – it looked like she wasn't feeling well. 🙁 Her creations were still beautiful, though.
It was still chilly, and the sun was going down so we headed inside to see The American Adventure. Always a good show. For dinner we went to the fish and chips place at the UK, though I had to go to the beer place next to Rose and Crown to get my favorite Woodpecker Hard Cider. British Invasion was performing and lots of people were watching so there was no place to sit – we walked down to Off Kilter's stage and used the benches there, since they weren't performing that day.
Jim and Sherry decided to head back to the room after that to get out of the chill, while Lee and I made another trip around World Showcase. I wanted to try the Milk Chocolate Creme Brulee in France. They had a chocolate creme brulee several years ago that was awesome. Unfortunately this one didn't measure up – I couldn't taste any chocolate in it at all. Very disappointing.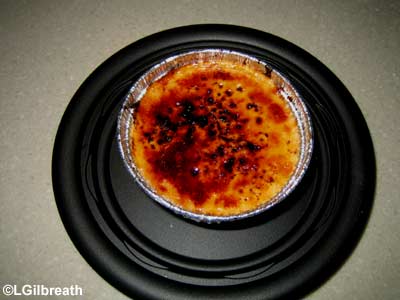 On our way around World Showcase I also bought a cheese plate from Ireland – it comes covered with plastic wrap, and I thought that would make good airplane food the next day (and it did, though I took out the chutney before I traveled with it!).
It was getting too cold for me, too, so we also headed back to the Boardwalk. Since I'd been so disappointed with the chocolate creme brulee, I consoled myself with a piece of chocolate mousse cake from the Boardwalk Bakery. That was MUCH better! 🙂
Wednesday morning we had to get up and get to the airport early enough that going to a park was out of the question. We thought we'd have a nice breakfast at Spoodles instead, since we'd enjoyed the one earlier in the week. We had a pretty awful server, though. First we didn't see him for almost 10 minutes, and then once he showed up at our table he put his pad down on the edge and basically said "Whaddaya want?" (He didn't actually say that, but that's pretty close.) No "good morning, sorry for the wait" or any kind of pleasantry. We had to point out to him that we only had two coffee cups on the table and he sort of stomped off to get two more. Now, he *did* have several tables at once and he seemed a bit overwhelmed, but still.
Fortunately the kitchen was efficient (and fortunately it was not our server in charge of delivering our food to the table!), so that part went ok. And once the people at two of his other tables left he was a little more attentive and pleasant. Still not Mr. Personality, though. I had the waffle and Lee had the French toast, and I think Sherry also had the waffle and Jim had "The Italian" – two poached eggs on top of toasted focaccia with Italian sausage, tomatoes, peppers, onions, parmesan cheese, diced potatoes and fresh tomato sauce.
One our way back to the Boardwalk we stopped at the lobby to get our boarding passes – unfortunately they weren't able to give Jim and Sherry the passes for the third leg of their flight, but we got ours ok. It would have been very easy to check our bags, too, but we weren't quite finished packing by then, but we'll keep that in mind for the future – it would be very nice to go to the airport and just head straight for security. Especially since I've seen the bag check lines be *really* long. Fortunately we didn't have that problem this time.
Our flight was about an hour earlier than Jim and Sherry's, so we said goodbye to them at the Delta counter where they were still trying to get their boarding passes straightened out, and went to our gate. We had a good flight home – we had a newer 757 on the Atlanta->San Diego flight, and I was able to play trivia again. I didn't have much competition this time, though, so after posting several high scores I retired. 🙂
It was a great trip – we survived the Tower of Terror 13K, got to do Toy Story Mania 4 times, ate our way around the world, had a great time at Mickey's Not So Scary Halloween Party, had two animal-filled safaris, had great dinners at Jiko and Marrakesh, enjoyed at lot of good wines at City Tastes – Spain, Soared over California, talked with a turtle, and had a blast sharing a place we enjoy so much with good friends.
Oh, by the way, I found my watch – it turned out that it was in my trick-or-treat bag! When stuff started flying out of the basket and the bag towards the end of Space Mountain I was grabbing in the dark and throwing what I thought was candy into the bag. Well, obviously I grabbed my watch and an AA battery and threw them in the bag, but didn't find them until I opened up the candy bag a couple days after we got home. 🙂