In late June, Walt Disney World started accepting reservations for the Candlelight Processional Dinner Packages. I've been receiving some email from several folks (hi Sue Coppola) regarding this Dinner package and how I feel about it.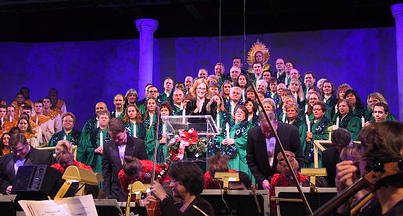 So let me chat about this for a while.
First, for those who don't know, the Candlelight Processional is a holiday tradition held at the American Gardens Theater across from the American Adventure Pavilion.
The show tells the story of Christmas with the help of a celebrity narrator, a huge choir which I'm going to say of at least three hundred voices and a 50-piece orchestra give or take a few pieces.
There are three shows a night and seating is limited so it's VERY HARD to plan to see this show"¦well you could wait in the standby line but that may not work for you.
Then there's the Candlelight Processional Dinner Package.
What this package offers guests is the opportunity to be guaranteed not only a seat at one of the shows but also the option of deciding which show you'd like to see"¦you can't do that in the standby line.
Of course there is a catch"¦you have to pay for this convenience"¦that's where the Candlelight Processional Dinner package comes in.
For all the details on how the Candlelight Processional Dinner Package works visit our Candlelight Processional Page.
I'm talking about this today because I've been getting some mail that says, "Hey Mike, I haven't been to the Candlelight Processional in so long that I have no idea how hard it is to see the show. I've been wondering if I should do the Candlelight Processional Dinner package.
Whaddya think?"
Well I may have come full circle on my thoughts regarding the Candlelight Processional Dinner Package.
I have used it in the past and I think it's paid off for me. The last several years I have not made use of the package because of the changes. I liked the old package.
What I have always liked is the idea that I can choose the night and time of the performance and know full well that I am guaranteed a seat.
The last time I used the Candlelight Processional Dinner Package I attended the 5 P.M. show, had a 6:30 P.M. reservation at Le Cellier for Dinner, left dinner, and had plenty of time to look for my favorite spot for Illuminations.
Then things changed a bit.
One big change was that now it is required for guests to eat their meal BEFORE seeing the show. That still doesn't sit right with me but those are the rules.
For those who have asked"¦and for those of you who are wondering"¦I still DO think that the Candlelight Processional Dinner package is a good option"¦especially if you are on a trip to WDW and you don't have much time to spare.
That's the key"¦time and again picking the show you want to see.
If time is a premium during your stay and you are really interested in seeing the Candlelight Processional on a certain night at a certain time then take advantage of the dinner package.
If I were to make use of the package this year"¦.and I might"¦here's what I would do"¦.first I would look at all the restaurants involved, and there are three tiers to choose from.
Then I would pick my top three favorite restaurants"¦and for the record they would be Le Cellier, Garden Grill, and probably Biergarten.
I would then estimate what I would eat at each restaurant and how much lunch or dinner would cost.
I would then go to the Candlelight Processional Dinner Package pricing structure and see which restaurant's pricing comes as close as possible to my virtual meal. The one closest to the actual price would probably be my choice.
Of course the other option is to just go with the least expensive restaurant"¦which would be the Biergarten.
There is a price differential between lunch and dinner so I may just settle for the latest lunch I could get.
Depending upon when I eat my meal I'd watch either the first or second performance of the night. That gives me time to catch a snack before Illuminations"¦I may be hungry if I have a late lunch.
Everyone has to understand that you are paying for the privilege of being guaranteed a seat for the performance you want to see and if you are okay with that then by all means go for it.
It all comes down to how much you value your time at WDW and there will always be instances in which money and time becomes the decision makers.
Remember, as time goes by and crowds continue to build each year in WDW we all need to realize that since our time becomes a premium to us that we may have to pay a premium to make best use of our time.
So all things considered if you have never attended the Candlelight Processional and are thinking about it, you should seriously consider taking advantage of the Candlelight Processional Dinner Package.
By the way, in Tuesday's edition of the AllEars newsletter, I have written a feature article on how the Candlelight Processional evolved to where it is today.