May 20, 2008
Port of Call: SEA
Weather: Warm/hot and Sunny
An editorial note….I'm still 2 days behind with the blogs. In reality I am writing this at 5:30am Mexico time on Thursday the 22nd. In a hour or so we will be arriving in Cabo. Ok, now back to our Tuesday Sea Day!
Best I can recall, we spent yet another lazy morning in the cabin. Friends dropped in and out and we enjoyed coffee and catching up with what we've all been up to.
Linda and I scheduled a Spa Villa to enjoy as our special spa treatment of the cruise. We figured if we both did something we wanted, it would have just about added up to the cost, so why not!
We checked into the spa about 10:40 and filled out the required paperwork. Soon, we were meeting our 2 spa folks for a couple hours of beautiful relaxation. They brought us to the spa and talked about what our experience would be like and offered a few options of treatments for us to consider. They were really good about mix and matching things so we got to enjoy a couple treatments instead of just one.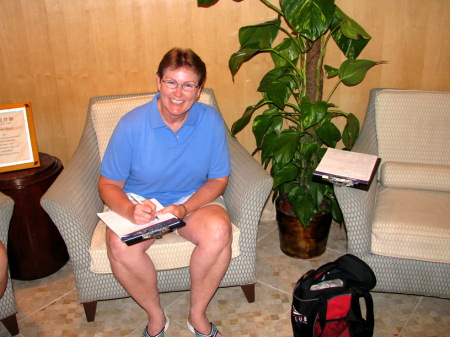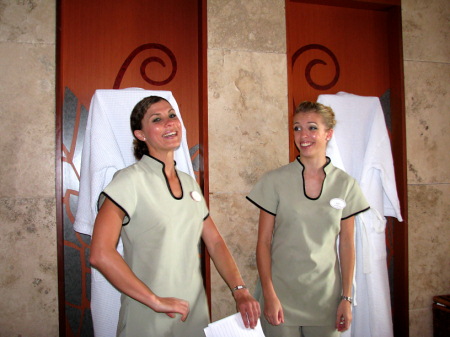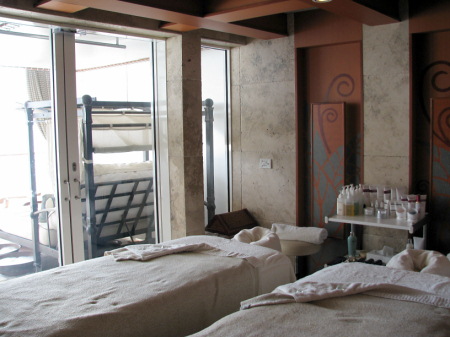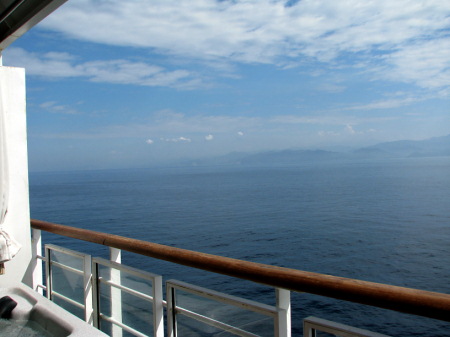 The villa is two rooms separated by sliding glass doors. The first room has the massage beds. The 2nd room is open air, with a jacuzzi tub, relaxing lounging couch. We could not have asked for a better weather day. The blue sky, mountains in the background and cool breeze were just perfect.
After deciding on our treatments, we were asked to change and then brought into the open air room for a ritual foot bath.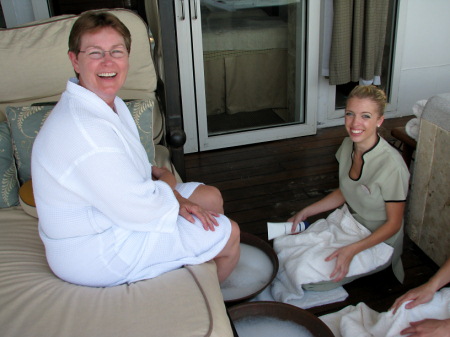 Next we were treated to a bubble bath in the jacuzzi, the water was just warm enough to be soothing but not too hot. We enjoyed a good 20 minutes having the jets get our muscles ready for the treatment.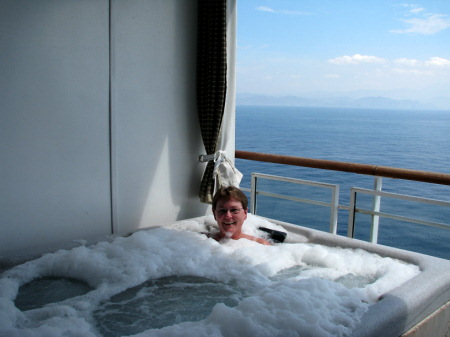 I had planned to have the staff take photos of me having the algae wrap, but totally got into the experience and forgot. So, I had an algae wrap which came with a scalp and foot massage. Then I had a back and shoulder deep tissue massage. Benita also added some stone massage for me as well. It was heavenly!
Linda opted for a facial and back massage. She also totally enjoyed her experience.
After about an hour or so, that part was over and I showered to get all the algae off. We were then taken back to the open air room for total relaxation. Tea and fresh fruit (including chocolate covered strawberries) were provided.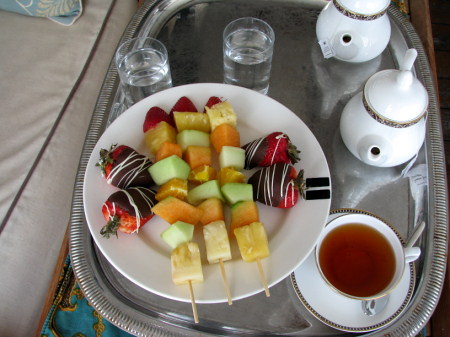 All too quickly it was 1:30 and time to go.
Linda rushed off to a champagne tasting with Beci. I returned to my cabin to get ready for my next event.
Palo High Tea! I had only attended one on an early cruise and thought it was time to go again. Originally I had booked it for Sharon, Sandy, Linda and I but they all decided to pass. I offered their tickets to the Grandons who agreed to join me for tea.
Right after we were seated, George and Ann were seated next to us, so I asked the manager to kindly seat us all together. They were happy to accomodate us.
The tea was basically an eat-fest and certainly is NOT for diabetics. I just had little tastes of some of the goodies and adjusted my insulin accordingly. It was certainly a treat for someone like me who lives in a sugar free / no sugar added world.
We had little sandwiches, pettifours, pastries and a lemon tiramisu.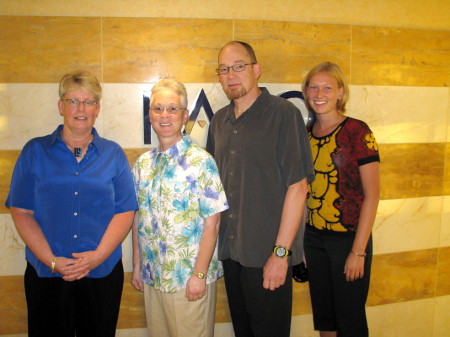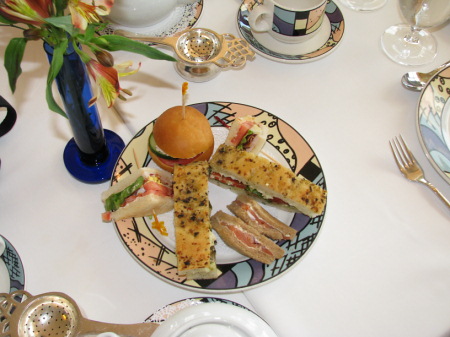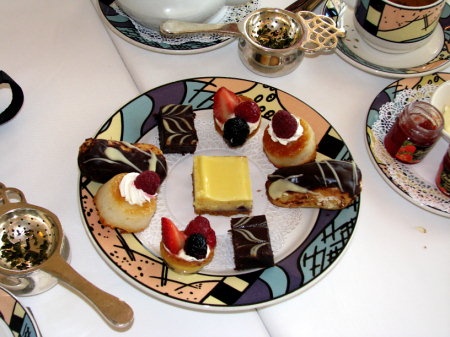 After some great tasty treats and wonderful conversation, I excused myself and was off to the Concierge Reception at the outside verandah of Topsiders.
Sandy joined Linda and I. The weather was again perfect, warm and a slight breeze.
Once again, Richard and Connie were the perfect hosts and our special guest Donald was a hoot.
Glo, Donald says You Are Number 1!!
Whew! Tonight the entertainment is Joey Fatone and Alphonso (Carlton from Fresh Prince). I wanted to see them, but needed sleep more…so Linda and I did not attend the show.
Our dinner at Animator's Palate was themed the Mickey Mouse Club! It was fun with the servers all dressed in white turtle neck shirts, the head servers in red turtle neck shirts.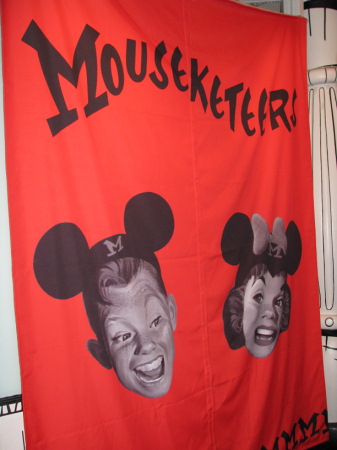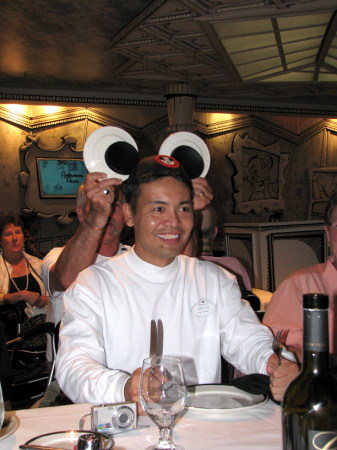 Another awesome day had come to an end. Next we have back to back ports of call days!
Are you on the cruise with us? Are you blogging? Send me your link!
Beci and Chris' Blog Panama Canal Blog.
Thanks for the email about this blog, keep it coming!
Follow my Panama Canal Cruise Blogs. Beginning entries at the top, for most recent entries scroll down.
Follow our journey on the DIsney Magic. The call sign is C6PT7
This link will show you in red dots where the Magic is. You can use the ZOOM in and out feature to get a better idea of where the ship is.
To see all cruise ships sailing click here. Then you can click on any area of the map to get a closer view.
Deb and Linda