Magic Kingdom Archives Dream Along With Mickey
The final performance of Dream Along With Mickey took place on April 2, 2016. It was the conclusion of a nine and a half year run.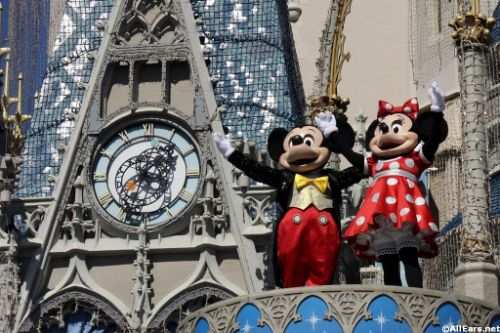 INTRODUCTION
"Dream Along with Mickey" in Magic Kingdom. It's a live stage show about a dream-inspired party to which Mickey Mouse and the gang have invited almost everyone.
ATTRACTION
Gather near the Cinderella Castle stage as Mickey, Minnie, Goofy and Donald get ready for a party! It seems everyone believes in dreams except, well, Donald Duck. The princesses (Show White, Cinderella and Aurora) sing about their dreams but Donald is still the skeptic. Next thing you know Captain Hook and Mr. Smee arrive but Peter Pan saves the day. Suddenly Maleficient appears and calls upon her nightmares to conquer the kingdom. Who will save the day?!
CLICK HERE FOR PHOTO GALLERY!
TOURING TIPS
The show is performed in front of Cinderella Castle in the Magic Kingdom several times a day.
The show runs about 20 minutes. On hot days, there is little to no shade in the area right in front of the castle.
KIDS AND CHARACTERS
If your little ones love the Princesses and Pirates, they'll love this show. Cinderella, Aurora, and Snow White all make grand appearances, along with Captain Hook, Peter Pan and many others. Check your daily Times Guide for times of this show.
Smoke and flames accompany Malificient as she appears.
There is a small fireworks burst at the end of the show.
Magic Kingdom Characters at a Glance
Character Meet and Greet FAQ!
DINING
Magic Kingdom Restaurants at a Glance
Menus From Around the World
Vegetarian and Other Special Diets
INTERESTING FACTS
The show features an original musical score incorporating classic Disney songs and several new compositions.
The show opened October 1, 2006, as part of the Year of a Million Dreams.
If you have comments or tips to share with others about touring the Magic Kingdom, please send them to us. Thank you.