Dumbo the Flying Elephant Fantasyland Magic Kingdom Archives
UPDATE JUNE 22, 2012:

Dumbo the Flying Elephant is in the process of being "doubled," that is there will be two carousels featuring the flying pachyderm. It's scheduled to officially reopen in July 2012, but the new indoor play area and queue system for Dumbo is in testing, or soft-opening, phase. For photos of the new features, click HERE.
INTRODUCTION
Enjoy a gentle aerial journey over Fantasyland based on the 1941 Disney animated film, Dumbo!
ATTRACTION

Timothy Mouse leads the parade from the central hub. Sixteen replicas of Dumbo the Flying Elephant are attached and glide up and down as you twirl around. This is what's known as a "hub and spoke" attraction.
Ride with Dumbo for a minute and a half over Fantasyland. You control the height of your elephant as you circle around.
TOURING TIPS
The attraction is open for Extra Magic Hour, which is the time recommended for riding it! This program allows resort guests entrance to the park one hour earlier than normal operating hours on designated days.
This attraction gets long lines as the day goes on. Best bet is to ride early in the day when the park first opens.
In addition to being very popular with kids, this is a slow loading and unloading ride.
A huge favorite of preschoolers!
Each elephant is just barely big enough for two adults and one small child, but one adult and one child fit more comfortably.
Be sure to keep your eyes on your children in the queue area. There are some interactive features that are just the right eye level for youngsters and they tend to wander.
Guests using an ECV or a wheelchair must transfer out to ride this attraction.
KIDS AND CHARACTERS
This is one attraction parents of young children will become very familiar with!
Disney Characters are not usually found in this area of the park. Check your daily Times Guide for times and locations of other Character Meet and Greet opportunities throughout the Magic Kingdom.
Magic Kingdom Characters At A Glance
Character Meet and Greet FAQ!
DINING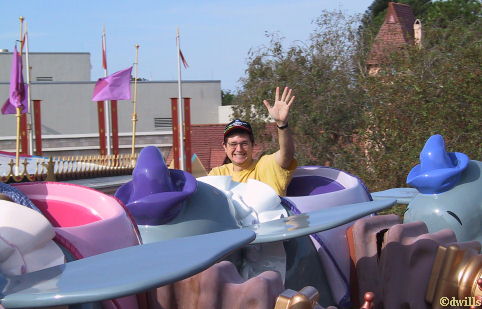 Nearby is the Pinocchio Village Haus counter service restaurant.
Magic Kingdom Restaurants At A Glance
Menus From Around the World
Vegetarian and Other Special Diets
SHOPPING
Surprisingly for Walt Disney World, there is no gift shop adjacent to the attraction.
INTERESTING FACTS
Dumbo was an Opening Day attraction at the Magic Kingdom on October 1, 1971 and was remodeled in 1993.
Dumbo can also be found at Disneyland (opened August 16, 1955), Tokyo Disneyland (opened April 15, 1983) and Disneyland Paris (opened April 12, 1992).
If you have comments or tips to share with others about touring the Magic Kingdom, please email us. Thank you.