Epcot Archives Muppets on Wheels Debut at Epcot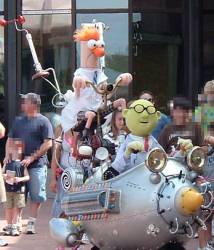 LAKE BUENA VISTA, Fla. — August 21, 2007– "Did that Audio-Animatronics figure just ask me a question?" From August 22 – September 6, guests to Epcot's Future World might be asking themselves that very question. Walt Disney Imagineering is playtesting the latest evolution of Audio-Animatronics technology in the form of the Muppet Mobile Lab.
With the help of Imagineering's Research and Development, world-renowned Muppet scientist, Dr. Bunsen Honeydew, and his assistant, Beaker, take to the streets of Epcot's Future World in their Muppet Mobile Lab. This test marks the first time that two free-roaming Audio-Animatronics characters will travel around the park, interact with each other and with Epcot guests. "The purpose of this playtest is to determine how best to apply this technology in new and creative ways for our Disney Parks guests," said Chris Holm, Principal Director at Walt Disney Imagineering. "With this latest advance in Audio-Animatronics technology, we could use any number of different characters. The possibilities are endless with what we can do with this."
Guests may get the opportunity to interact with Bunsen and Beaker as they travel around the park in a two-wheeled, egg-shaped, roving laboratory. These inventive scientists discuss the various experiments they are working on, invite guests to ask questions and even talk back to guests (or 'squeak' back in the case of Beaker). Guests may experience some of the onboard special effects, such as water sprayers, smoke and confetti cannons, plus a few unexpected surprises.
As part of Disney's "Living Characters" initiative, Imagineers have the creative task of bringing characters to "life" in new, exciting and interactive ways. In 2004 Imagineering introduced the world to the first free-roaming Audio-Animatronics figure, Lucky the Dinosaur. The Muppet Mobile Lab is considerably smaller than Lucky. While Lucky was not easily transportable, the technology was ultimately miniaturized so that the Muppet Mobile Lab could fit through doorways, inside buildings, in elevators and in other places throughout Disney Parks where it would have been impossible to bring Lucky.
Over forty years ago Walt Disney looked to his artists, designers, craftsmen, technicians and programmers at Walt Disney Imagineering to design his latest dream. The result was Audio-Animatronics technology, which electronically and digitally combines and synchronizes voices, music, sound effects, character movements and other show elements to bring life-like movement to thousands of characters in attractions and shows at Disney parks around the world. Disney introduced this technology to the world in the form of Walt Disney's Enchanted Tiki Room, which debuted at Disneyland in 1963.
Walt Disney Imagineering is responsible for the creation—from concept through installation—of all Disney resorts, theme parks and attractions, real estate developments, regional entertainment venues and new media projects.
All Ears First Hand Report from Jack Marshall: — At Epcot, there is a new attraction on display that for the first time features interactive audio-animatronics: The Mobile Muppet Lab with Dr. Bunsen Honeydew and his assistant, Beaker. It's a free-wheeling thing that looks a little like a motorcycle sidecar on steroids. The characters interact with each other and with some of the audience using Turtle Talk and Monster's Inc. Laugh Floor technology during a 10-minute show. It shoots confetti and paper streamers and squirts water. It is on daily display at various places in Future World through September 6. There are several Disney survey takers who follow the show around and ask opinions of the people who just viewed it. I asked one of the "handlers" following the act around what will happen to it after September 6 and she said they didn't know yet. It may undergo some further tweaking like Laugh Floor did before being rolled out as its own "attraction" or it may just go back into Imagineer heaven, never to be seen again.
http://allears.net/tp/ep/epcot-archives/mml01.jpg
http://allears.net/tp/ep/epcot-archives/mml02.jpg
http://allears.net/tp/ep/epcot-archives/mml03.jpg
http://allears.net/tp/ep/epcot-archives/mml04.jpg
**********
Dr. Bunsen Honeydew and his assistant Beaker entertain Epcot guests recently during a playtest of the Muppet Mobile Lab at Walt Disney World Resort in Lake Buena Vista, Fla. The Muppet Mobile Lab is fully autonomous and marks the first time that two free-roaming Audio-Animatronics characters interact not only with each other, but also with guests while traveling through the park.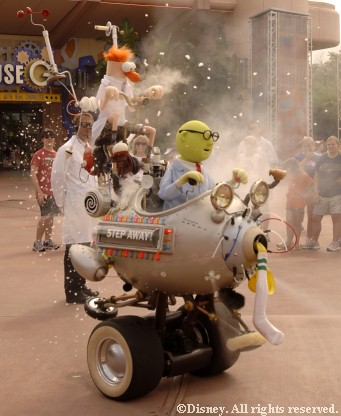 August 22 – September 6, 2007