We love eating on Disney World property when we can, but with over 200 restaurants to pick from, choosing a place to eat at can get pretty overwhelming.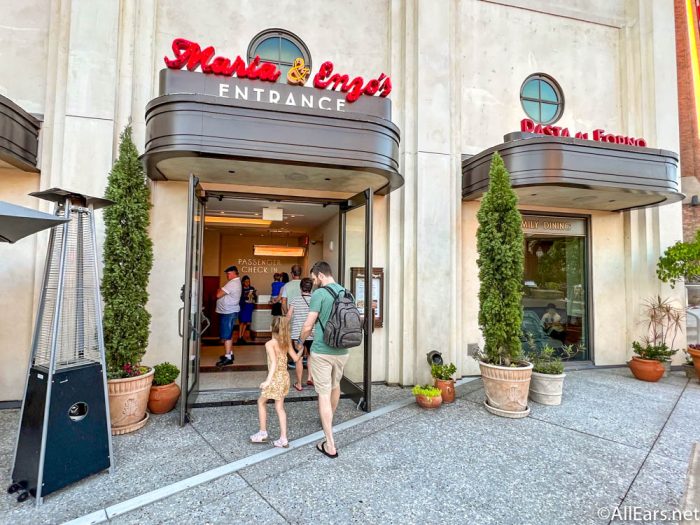 Don't fret though. That's why we're here. We're changing things up and bringing you a list of the worst-rated Disney World restaurants. Let's find out if your favorite eatery made this list or not!
Let's go over some of the restaurants that you might want to AVOID on your next Disney World trip all based on the reviews from Yelp!
1. NINE DRAGONS RESTAURANT
First up, 451 reviewers on Yelp rated the Nine Dragons Restaurant at 3.4 out of 5.
One reviewer mentioned, "Nine Dragons isn't particularly bad, but because there are so many culinary options to try out, you are doing yourself a disservice if you eat here. Please try any other place at Epcot. The food here is fairly standard American-style Chinese food, but with a Disney premium attached. Sometimes it's worth it, but not here. If you must eat here, at least reserve a time close to when the fireworks show happens, and request a table by the window. Aside from that, you really won't miss much by skipping Nine Dragons."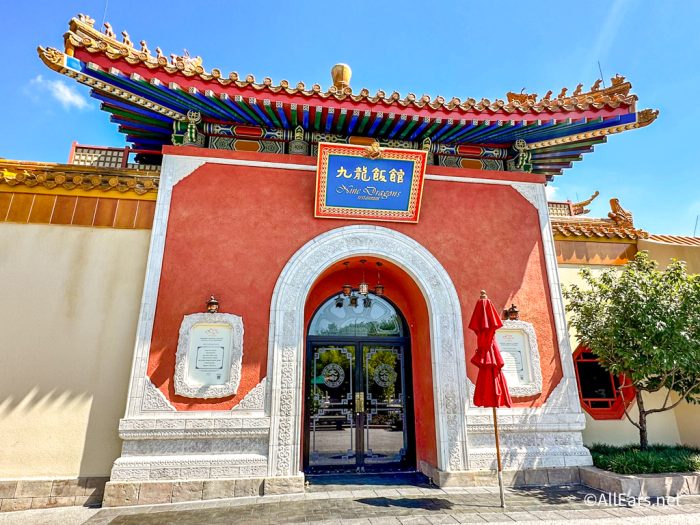 Our Thoughts
Reviews for Nine Dragons have been mixed, and we've heard people say that the food is a little too much like basic Americanized Chinese food. But you can actually get some pretty delicious and even spicy dishes here, plus the dessert menu has a couple of exciting options (red bean ice cream, anyone?).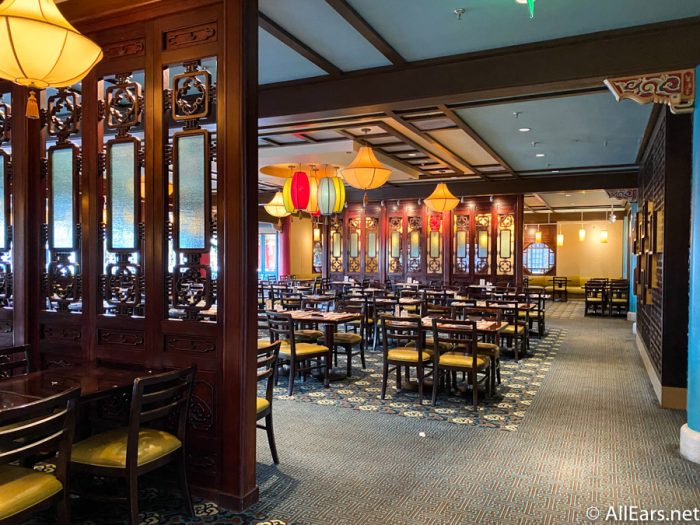 If you love Chinese food and are looking for a relaxing dinner with great views of EPCOT's World Showcase, we think you'll have a great experience here.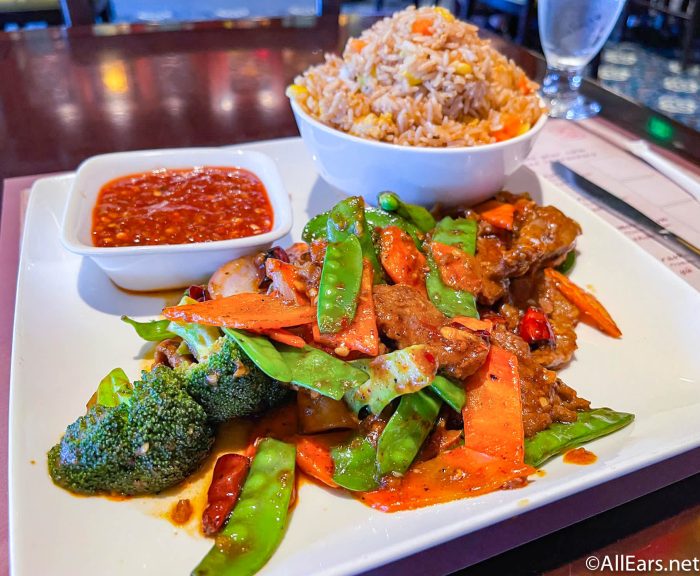 Make sure to try their Spicy Mala Beef if you're looking for something with a bit of a kick!
2. SASSAGOULA FLOATWORKS AND FOOD FACTORY
Next on the list, we see that 128 reviewers on Yelp rated the Sassagoula Floatworks and Food Factory at 3.4 out of 5.
One reviewer noted, "Typical resort food court options. Some favorites throughout our stay were the gumbo, burgers, and pizza. The jambalaya seemed like it was straight from a Zatarans box with a few pieces of meat…not so good. Breakfast platters were just okay – the scrambled eggs definitely seemed like some type of egg product and not actual eggs. The breakfast potatoes were dry and old. I would stick to the Mickey waffles and breakfast meats."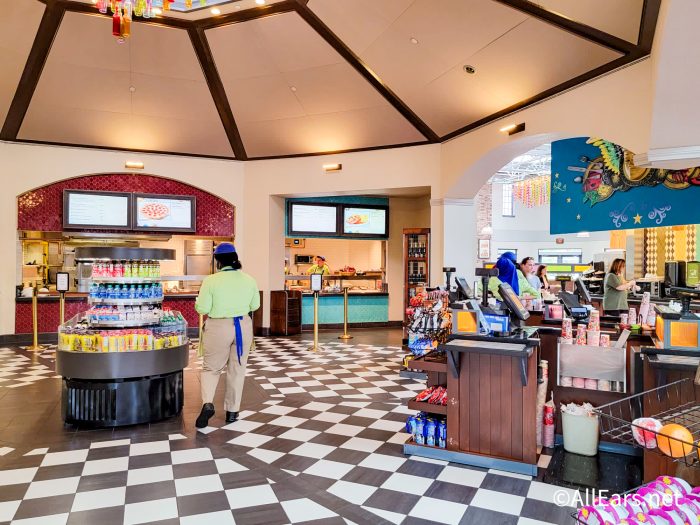 Our thoughts
We always enjoy quick-service spots that are a step outside the norm and offer creative choices, and that can certainly be said of Sassagoula Floatworks and Food Factory. It has a unique and festive environment and tries to go the extra mile to provide immersive theming right down to several of the food choices.
3. MARIA & ENZO'S RISTORANTE
Next, 489 reviewers on Yelp rated Maria & Enzo's Ristorante at 3.4 out of 5.
One review said, "The place itself is beautiful but the food is not very good. It is extremely expensive and not worth the time. The server was pretty good, getting us what we needed constantly. I wouldn't recommend this if you want good food or cheap food."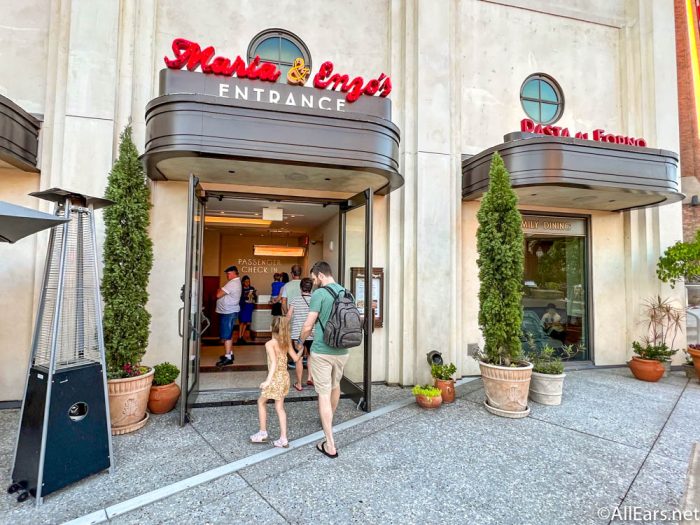 Our thoughts
Maria & Enzo's service is a little hit or miss, but with the vibrant atmosphere, the solidly tasty eats, and the decent service, Maria and Enzo have established a good restaurant.
But there's nothing here that really makes it stand out, and with so many new and interesting options in Disney Springs, it's hard to imagine returning to the Ristorante very often.
4. PIZZAFARI
Next, 112 reviewers on Yelp rated Pizzafari at 3.4 out of 5.
One reviewer summed it up when they said, "Wouldn't recommend coming here, but if you're hungry, it's an option.  This place is the only place that is open later than the other restaurants so my family decided to eat here. Customer service is good. The food is not as good as it looks.  Cheese is loose on the pizza.  The kid's menu is perfect for a toddler, nobody older, and seating is hard to get ( this place gets busy the later the day gets)!  Hope you see this as a warning to what might come if you step through those doors"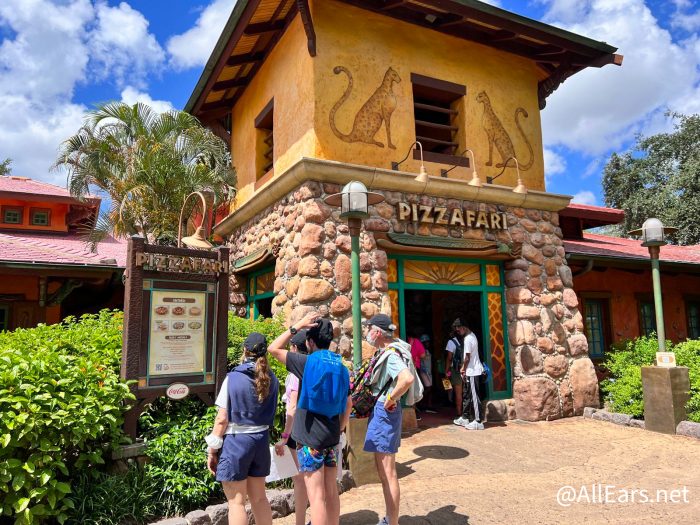 Our thoughts
While there isn't anything overly exciting on the menu, it's a meal that kiddos and adults will probably enjoy. You tend to receive far more food than an average Quick-Service meal here, so that may justify the expense. Overall, this is a good option for a Quick-Service dinner at Animal Kingdom. While it may not be something we do frequently, we certainly will be back from time to time.
5. BACKLOT EXPRESS
Last up, 168 reviewers on Yelp rated Backlot Express at 3.4 out of 5.
One review said, "Backlot Express pretty accurately encapsulates what I picture when I think of theme park fast food. The menu is pretty basic – think fries, chicken tenders, and burgers. This restaurant is huge and can clearly handle large volumes of guests during the busy season.
I had a bit of time to kill between Lightning Lane reservations, so I stopped in here for a quick lunch. I got the kid's chicken tenders meal which came with fries. I added on a side of cheese sauce which elevated my meal – liquid gold!
It was pretty stuffy inside the restaurant, as I don't think they had the AC on since it was an unseasonably warm winter day. I ended up eating pretty quickly because it was pretty uncomfortable.
Overall – it hit the spot and was decent quick service food with friendly service. Is it something I'll dream about eating? No, but it was an adequate meal when I needed something quick, relatively affordable, and filling."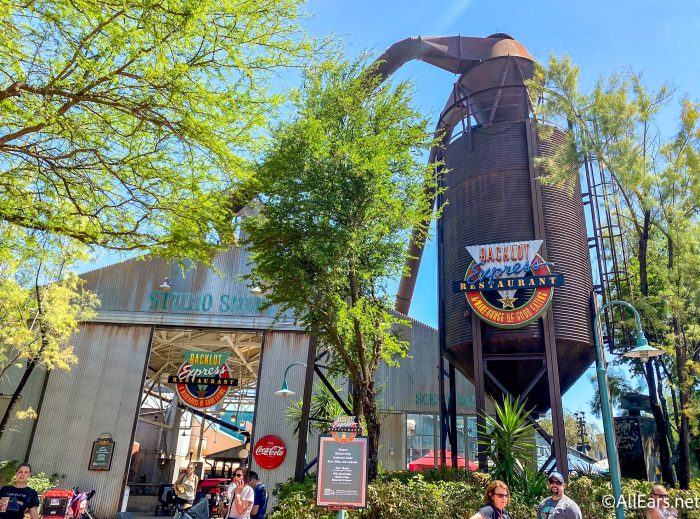 Our thoughts
Backlot Express offers classic counter service entrees: you'll find burgers, sandwiches, and salads on the menu. Seating for this quick-service restaurant is plentiful with shelter from the sun and inclement weather via a large overhead warehouse roof. However, this is a popular eatery and can often get crowded inside. They do have a covered outdoor seating area which also provides plenty of shaded seating. It's well worth taking a look around to scope out all the little details tucked in the backlot, no matter where you enjoy your meal!
6. RESTAURANTOSAURUS
First up, 109 reviewers on Yelp rated the Restaurantosaurus at 3.4 out of 5.
One reviewer mentioned, "Dined here with my fam of 6 during last Disney Animal Kingdom visit during Covid. Classic diner food: sandwiches, salads, hot dogs, burgers, desserts, etc.  It's quick service, where food was ordered via an app. Variety comes at the expense of quality. Not terrible but not great, especially for the price (but that's convenience cost)."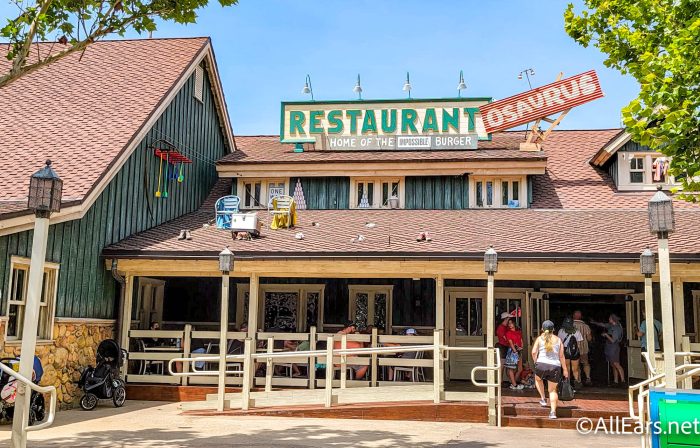 Our Thoughts
We have had a good time at Restaurantosaurus, but we probably wouldn't recommend this as a great Disney World restaurant, because the menu and food are pretty basic. If you're hoping to spend your money on some better, more unique food in Disney's wildest kingdom, this is definitely a spot that you can skip without feeling like you're missing out. Other Animal Kingdom spots — like Satu'li Canteen, Nomad Lounge, and Yak and Yeti — have a lot more options of food that you probably won't see on a regular basis back home."
7. FAIRFAX FARE
Next on the list, we see that 73 reviewers on Yelp rated the Fairfax Fare at 3.4 out of 5.
One reviewer noted, "Sounded like a fun food concept and opted for the soba noodles and added the plant-based chicken. For starters,  I received 3 tiny pieces of chicken that I could have eaten in one bite.  when I  bit into the noodles, they were disgustingly sweet and over sauced. I tried mixing it, thinking all the sauce was at the bottom. But when I tilted the bowl, it looked like I poured out half a bottle of sauce. I'm really disappointed and don't recommend this place at all."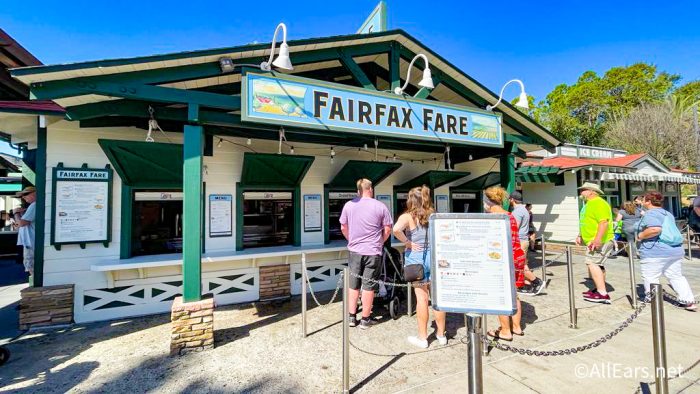 Our thoughts
Typically the spots at Sunset Ranch Market don't top our list in Hollywood Studios. They are solid choices with a convenient location, but they don't normally blow us away flavor-wise. Plus, all outdoor seating is kind of the pits in central Florida most of the time. But, we have been pleasantly surprised by Fairfax Fare! The dishes we tried were full of flavor and very filling! They were also a tad bit lighter than some other fried options, so if you're looking for something healthy-ish this is a great option.
8. IL MULINO
Next, 458 reviewers on Yelp rated Il Mulino at 3.3 out of 5.
Il Mulino 3.3 rating (458 reviews)
One review said, "This place was just okay.  My wife's pasta dish was cold.  The Branzino I ordered was cooked well but was dripping in oil.  Way too much oil, it ruined the dish.  The side of broccoli rabe was good.  The kids meals were okay.  Bread basket was good. The service was solid.  We had higher expectations and left somewhat disappointed."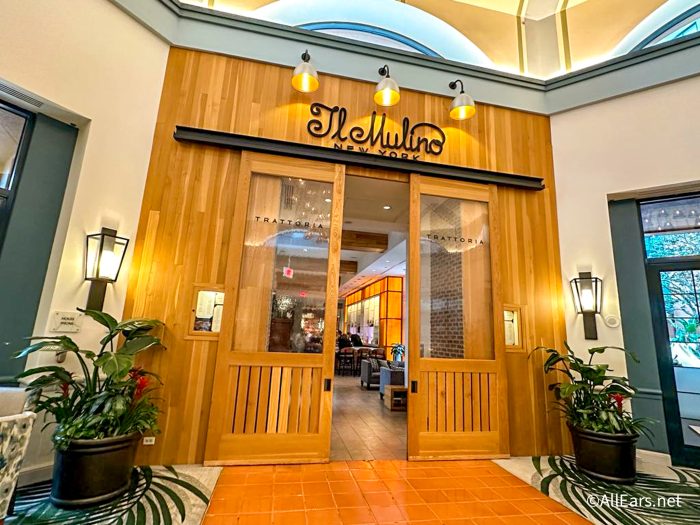 Our thoughts
This spot has been a longtime favorite. Our service has been amazing, all of our food came out quickly, and the meal was paced well — we weren't waiting long between courses. The food has been amazing. The dishes are rich and full of flavor, feeling sophisticated without coming off as overly formal. You feel comfortable while you eat here thanks to the awesome eats and the cozy atmosphere. We loved watching the kitchen from our seats too! Though Il Mulino is on the pricier side, it's still comparable to other restaurants on property. Eating here feels like you've been let in on a VERY well-kept secret in Disney World. Overall, this meal is diverse, regional cuisine done exceptionally well. If Il Mulino fits into your plans, we can certainly recommend it.
9. HOLLYWOOD & VINE
Next, 348 reviewers on Yelp rated Hollywood & Vine at 3.3 out of 5.
One reviewer summed it up when they said, "Overpriced food branded as a character dining experience. $55 plus tax and tip for adults and there's no buffet so you have to select from pre-selected options. I made the mistake of ordering the beef tenderloin, which comes with mashed potatoes and green beans. The beef was flavorless chewy and tasted like a pure cow flavor. The green beans were salty and the only good thing was the mashed potatoes. The salad appetizer was flavorless and overly dressed it weighed the salad down.  I opted for the creme brulee which was fine and huge except I couldn't eat it as I was full. Should have opted for the salmon. The kids' meal chicken tenders were tastier than my beef entree.
The characters were a cute experience and so was the AC. We saw Goofy, Minnie, and Mickey and took pics with all of them. Other than that I don't see a reason to dine here if you're into food like me. Overpriced and lackluster is the best way to sum up the experience."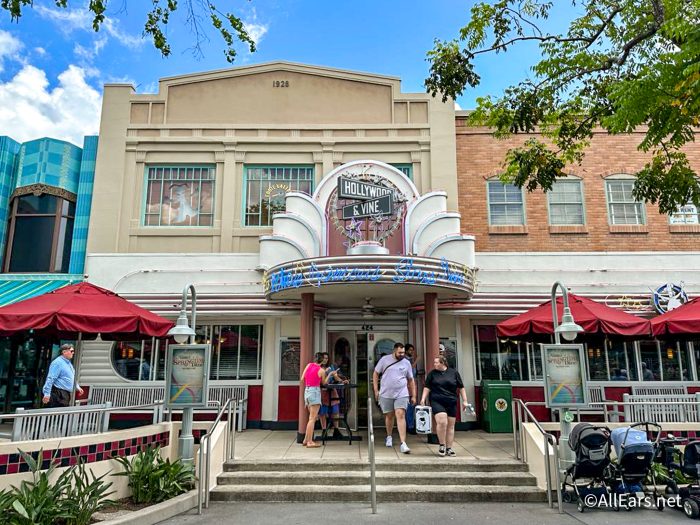 Our thoughts
We have been impressed with the quality of the food and the overall experience at Hollywood & Vine. Our servers have been fabulous and made excellent recommendations. As the only character dining location in Hollywood Studios, Hollywood & Vine can be an excellent spot to take a break, especially for families with young kids. However, this is not exactly cheap dining. At $55 per adult, you could end up with a pricey bill, especially if you order specialty beverages.
If you're on a strict budget, don't care about characters, or prefer to snack and spend more time on rides, you probably want to skip Hollywood & Vine regardless of the time of year. Consider your needs and interests and don't forget that you can begin making dining reservations 60 days prior to your visit! It can sometimes be difficult to snag a Hollywood & Vine reservation, so mark your calendar and set your alarm.
10. LOTUS BLOSSOM CAFÉ
Last up, 117 reviewers on Yelp rated Lotus Blossom Café at 3.3 out of 5.
One review said, "I am happy that I got the opportunity to try this hole in the wall at Epcot. I have got to say… this place isn't so bad. I got the chicken Goyza, ginger caramel ice cream, and lychee ice cream.
The line was crazy long.. but the goyza was good but the ice creams weren't my favorite. The menu was moderately priced at like $15 for basically everything but the portions looked decent. Can't say that I would go back but wouldn't be opposed to it if someone I was with wanted to try this place."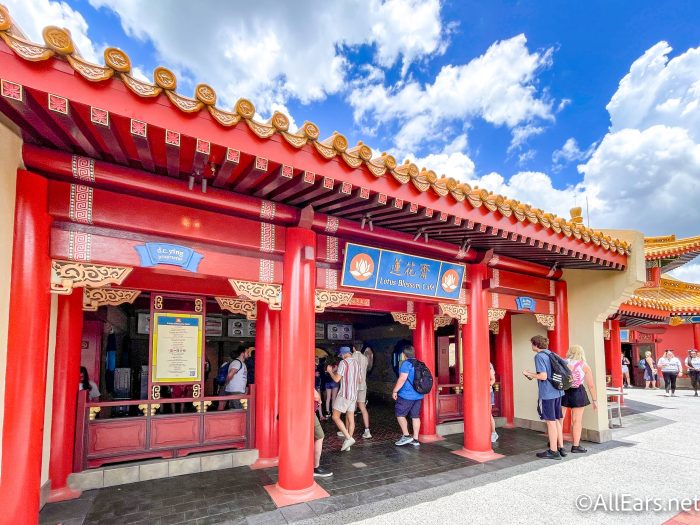 Our thoughts
Lotus Blossom Cafe isn't a bad choice, but it may not be the crown jewel of your EPCOT dining experience.
That said if you want something familiar or need a speedy meal while exploring World Showcase, Lotus Blossom Café can still be a reliable go-to. Just be aware that the value may not always align with the price tag. Keep an open mind and consider venturing beyond the ordinary to uncover hidden culinary gems.
Remember, this is just our take on Lotus Blossom Cafe. Your personal tastes and preferences may lead you on a different culinary adventure. Stay tuned to DFB for more restaurant reviews from Disney World!
Those are the final words from Yelp and our thoughts mixed in. We're always looking out for the latest Disney World news and updates, so be sure to stay tuned to AllEars for more.
Join the AllEars.net Newsletter to stay on top of ALL the breaking Disney News! You'll also get access to AllEars tips, reviews, trivia, and MORE! Click here to Subscribe!