Since its 2019 opening, the Disney Skyliner became the lastest addition to the Walt Disney World Transportation System, and it has quickly become one of our favorites! The gondola system's routes connect two of the resort's theme parks to several of its resort hotels, ranging from one of the newest Disney hotels on property to some of its most affordable value resorts.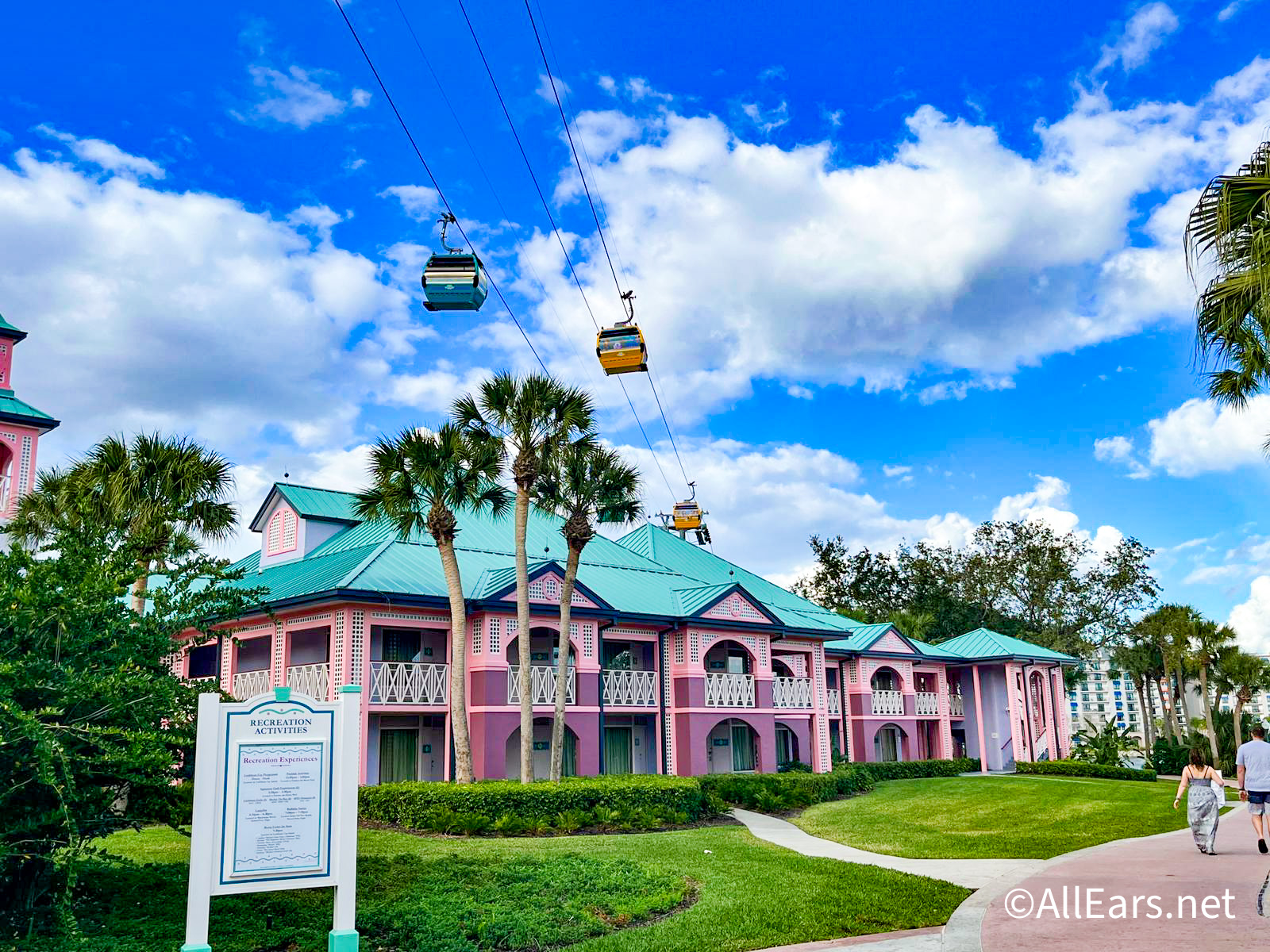 We're about to take a hard look at each of these resorts and what they offer to help you decide if a Skyliner resort is the right choice for you and which one might meet your vacation needs.
Four Disney Resorts sit directly on the Skyliner line and have their own Skyliner Depot:
As mentioned before, the Skyliner connects these resorts to EPCOT and Disney's Hollywood Studios, some are direct routes, and some might require a transfer to a different Skyliner at the connection hub. On days with inclement weather, the Skyliner might close, and resort guests will be directed to take a bus to their park destination.
In addition to the resorts directly on the Skyliner route, there are three resorts that are also in the Skyliner vicinity, Disney's Beach Club, Disney Yacht Club, and Disney's BoardWalk Inn. Though these resorts are also within walking distance or a short boatride away from Hollywood Studios and EPCOT, having these Skyliner adjacent means that guests at Skyliner resorts can also easily travel to these EPCOT area resorts to enjoy their dining options.
So without further ado, let's take a look at these Skyliner resorts and see which one best fits your needs.
Disney's Riviera Resort is Walt Disney World's newest Disney Vacation Club (DVC) Resort. Riviera Resort is the 15th DVC and the first stand-alone DVC to be built in over eight years. Styling at the Resort is inspired by the Riviera and features rich colors, elegant metallics and metals, and playful artwork and decor.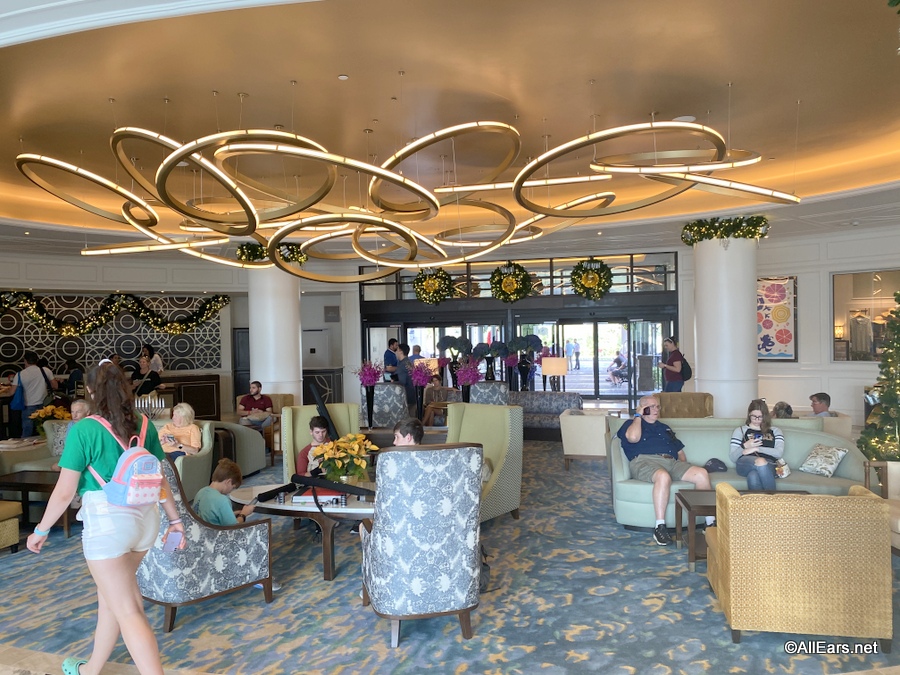 Riviera Resort offers five room types: Tower Studios, Deluxe Studios, 1-Bedroom villas, 2-Bedroom villas, and 3-Bedroom grand villas.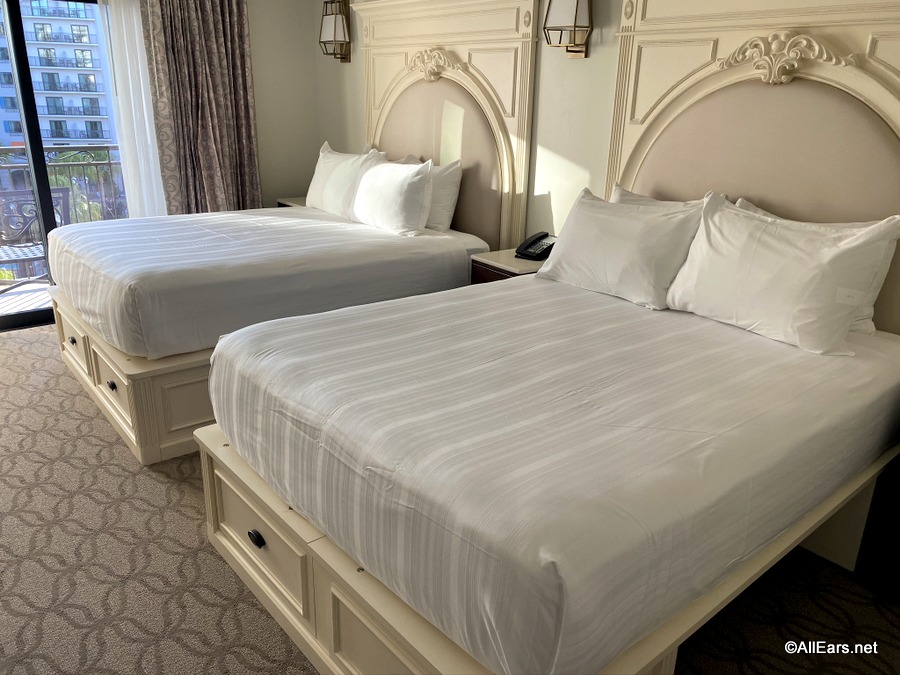 Tower Studios are a first-of-their-kind room design for Walt Disney World and suit parties of two or fewer with a Murphy-style bed.
Riviera Resort also has the distinction of having a dedicated Skyliner station with direct access to Epcot.
Room Amenities
All rooms include an ironing board, iron, hair dryer, and other standard amenities like a coffee maker.
Deluxe Studios include a small kitchenette with sink, microwave oven, and toaster.
1- and 2-Bedroom Villas and 3-Bedroom Grand Villas include a full-size kitchen with a larger refrigerator, microwave oven, standard oven, cooktop, washing machine, and dryer, dishwasher, and cookware and dishware.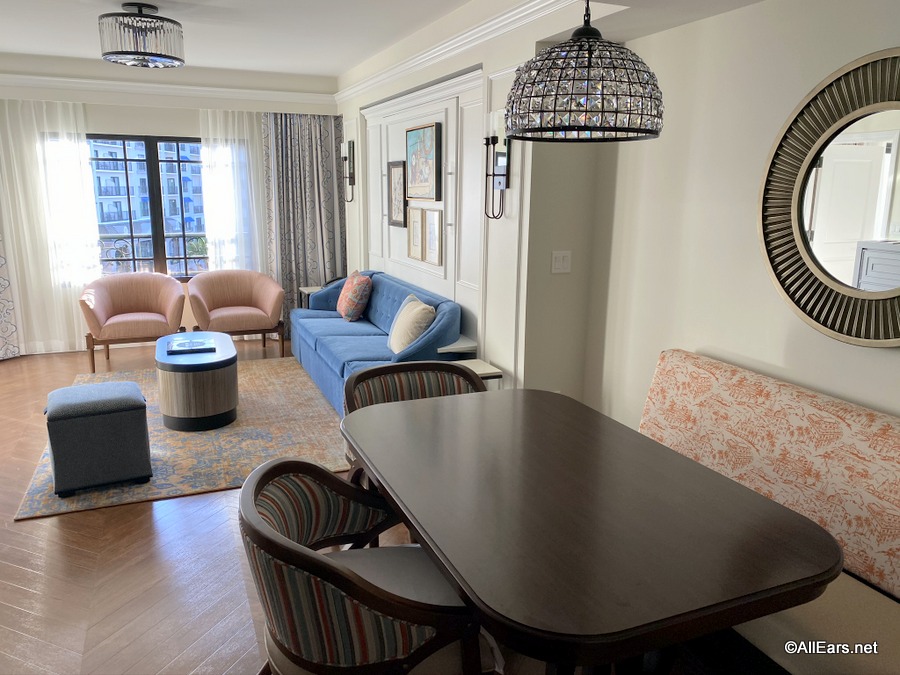 Price
Riviera Resort rooms cost between $400 and over $4500. The initial per-point cost at Riviera Resort was $188.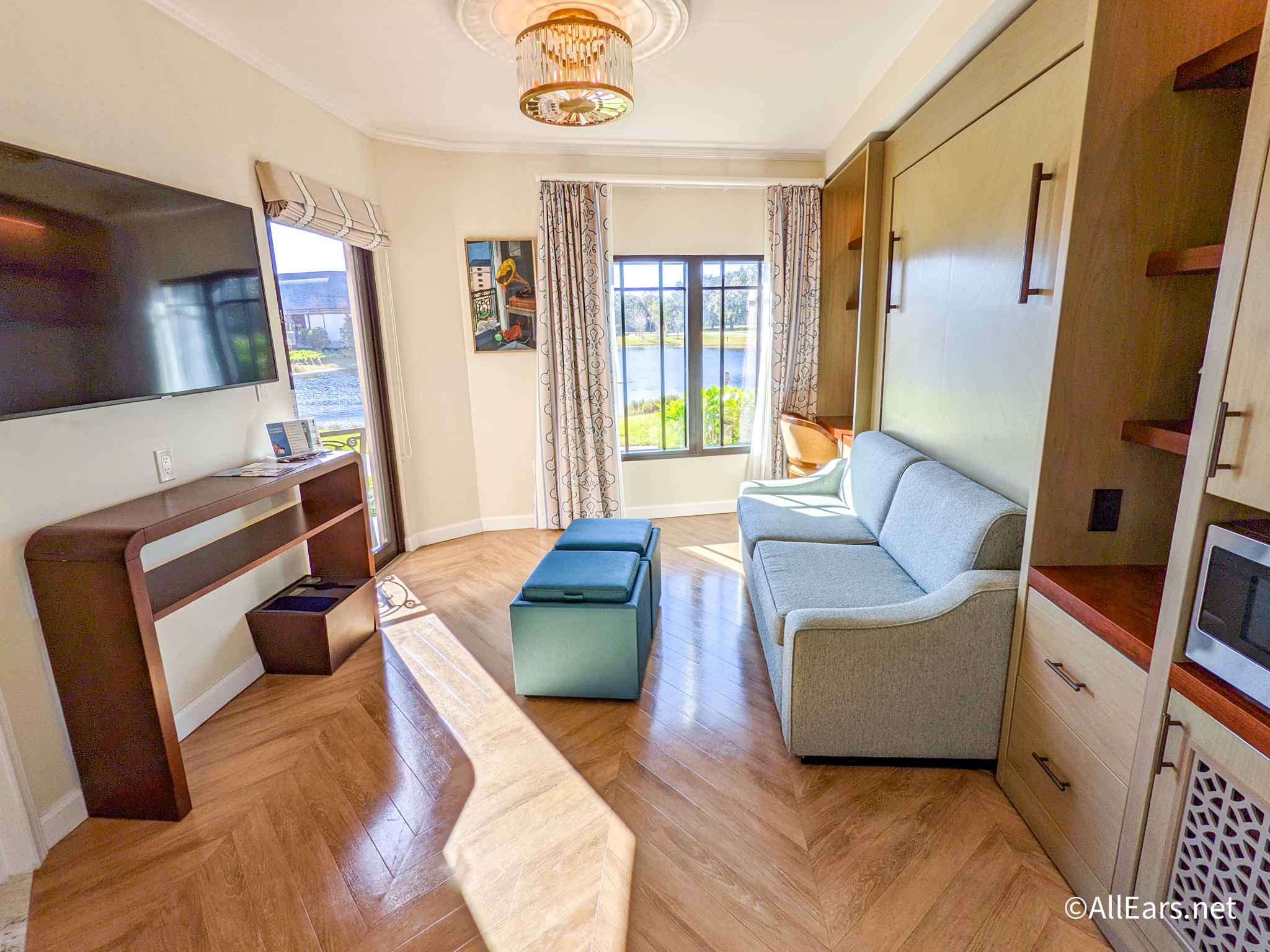 For DVC members, Tower Studios can be had from 12 points per night, Deluxe Studios for 16 or 20 points per night (standard or preferred rooms), 1-Bedroom villas for 33 or 41 points, 2-Bedroom villas for 43 or 52 points, and 3-Bedroom grand villas for 108 points per night.
Dining Options
Le Petit Cafe in the Resort's lobby will serve coffee and pastries in the morning.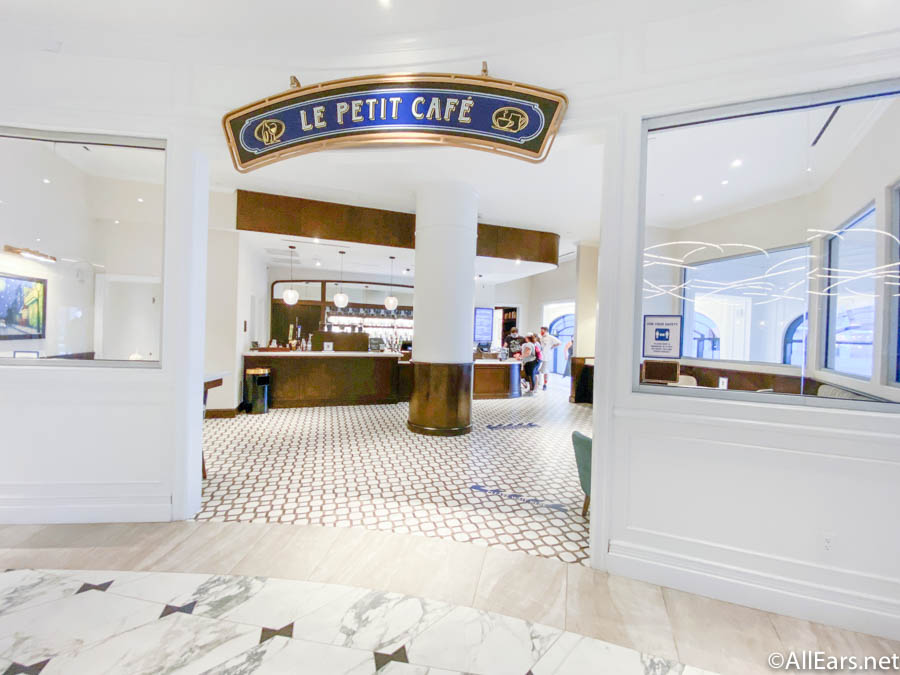 Primo Piatto and Bar Riva serve quick service food throughout the day, including coffee and grab-and-go items like Lemon and Blueberry Pancakes, Tuna Nicoise Salad, and yogurt with acai, fresh fruit, and granola.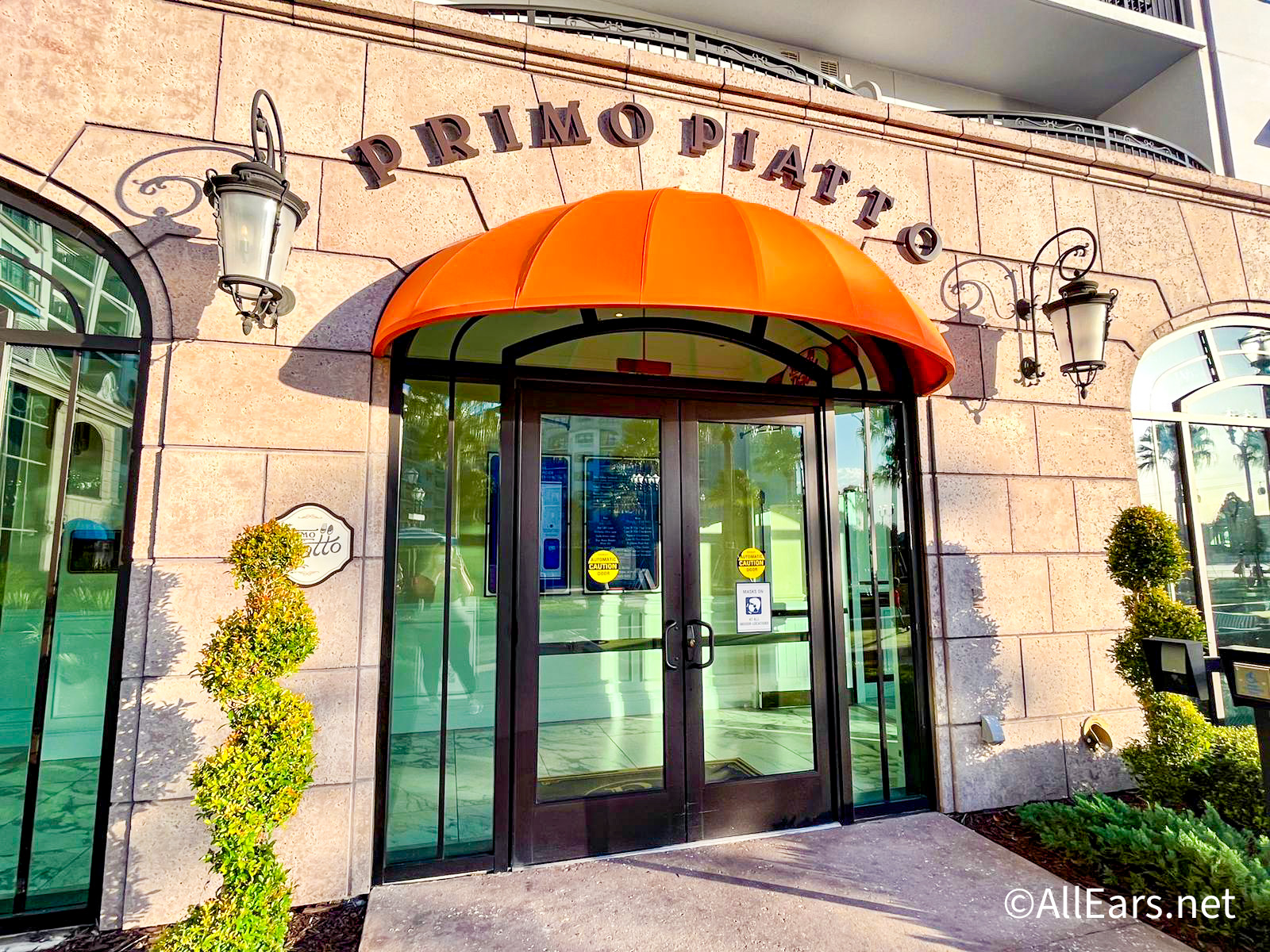 Topolino's Terrace — Flavors of the Riviera is a rooftop restaurant with an attached terrace. The Mediterranean and the Riviera inspire the menu and features pasta, fish and seafood, and fresh preparations.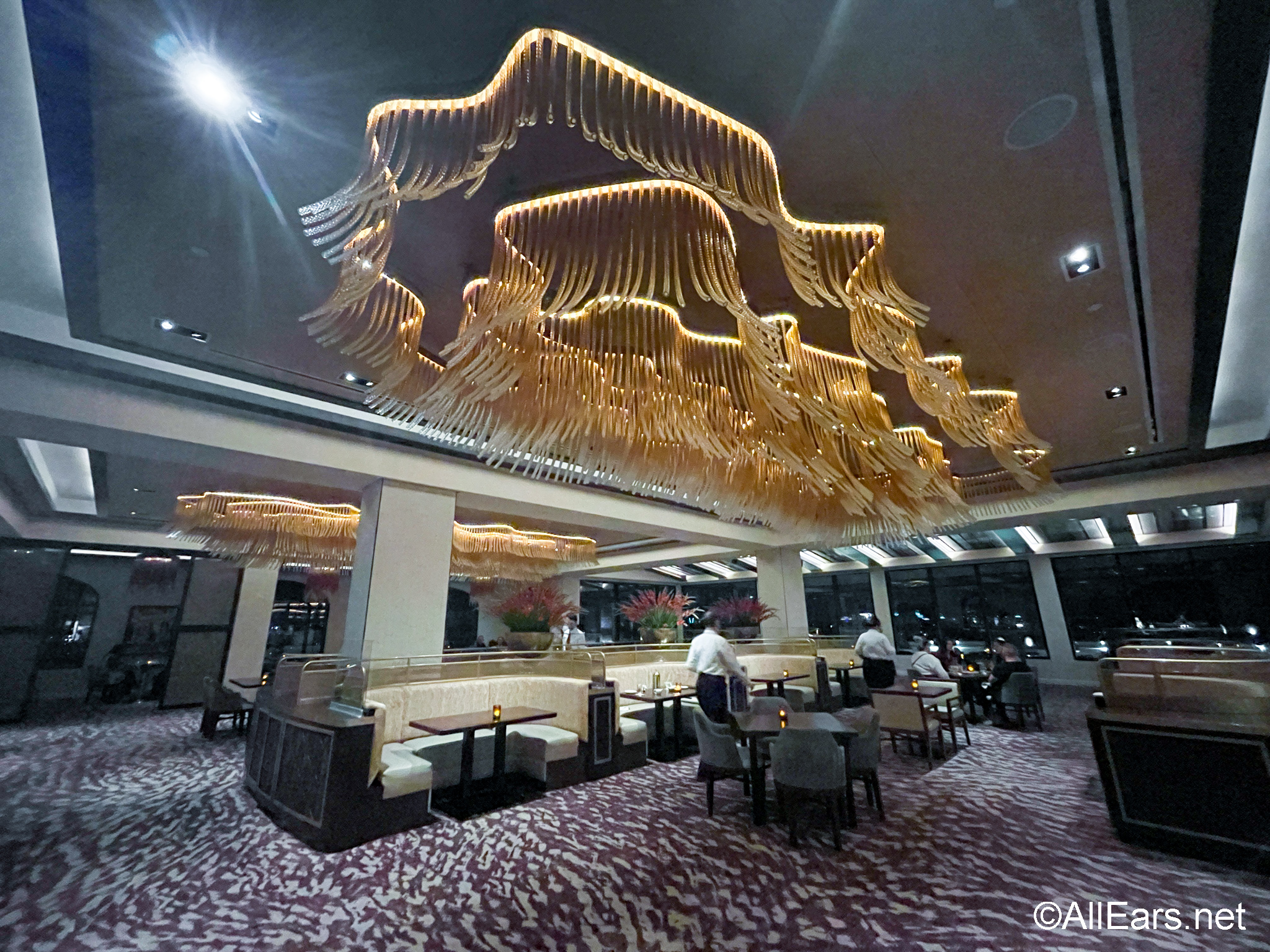 Topolino's Terrace features Breakfast a la Art, a character breakfast with Mickey the artist, Minnie the poet, Donald the sculptor, and Daisy the dancer. Breakfast is a prix fixe meal with pastries and an entree. Dinner at Topolino's Terrace is a la carte and celebrates the cuisines of the Riviera, including fresh house-made pasta.
Resort Pool
There are two pools and one splash area at Riviera Resort. The Riviera Pool is open 10AM to 8PM and is gated for use by Resort guests only. Riviera Pool is the Resort's main pool and features a winding pool slide around a stately column.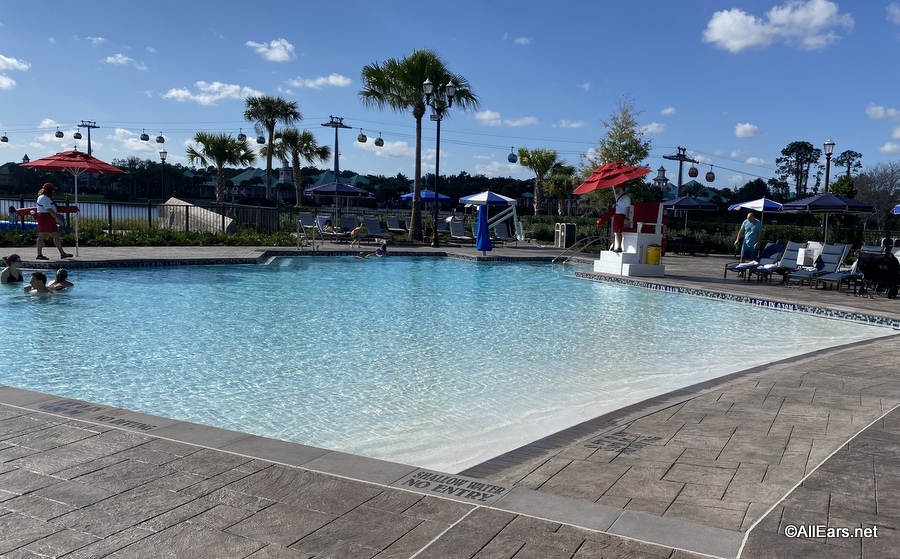 Beau Soleil Pool is the Resort's quiet leisure pool. This pool has an adjacent spa/hot tub.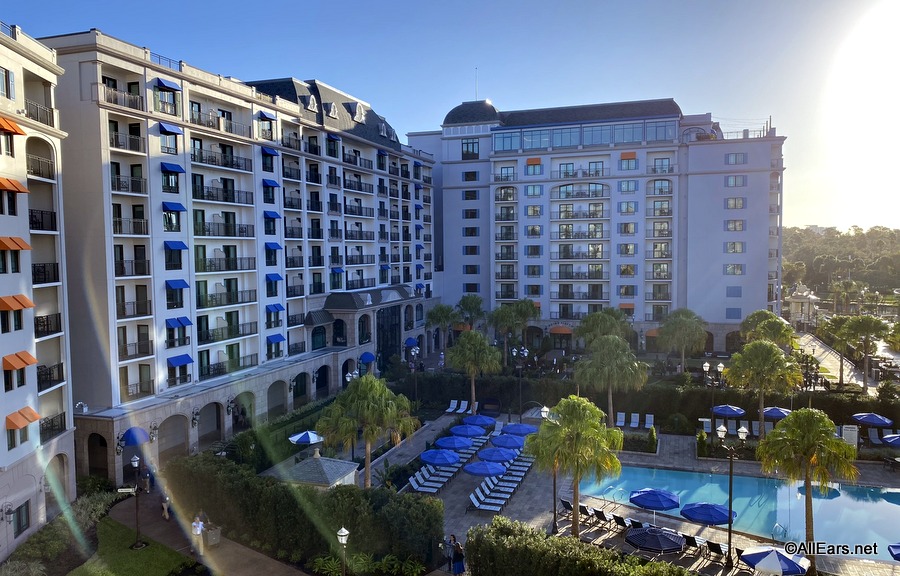 The S'Il Vous Plait aquatic play area is for kids 48″ and under. There's adjacent seating for adults and older siblings, too.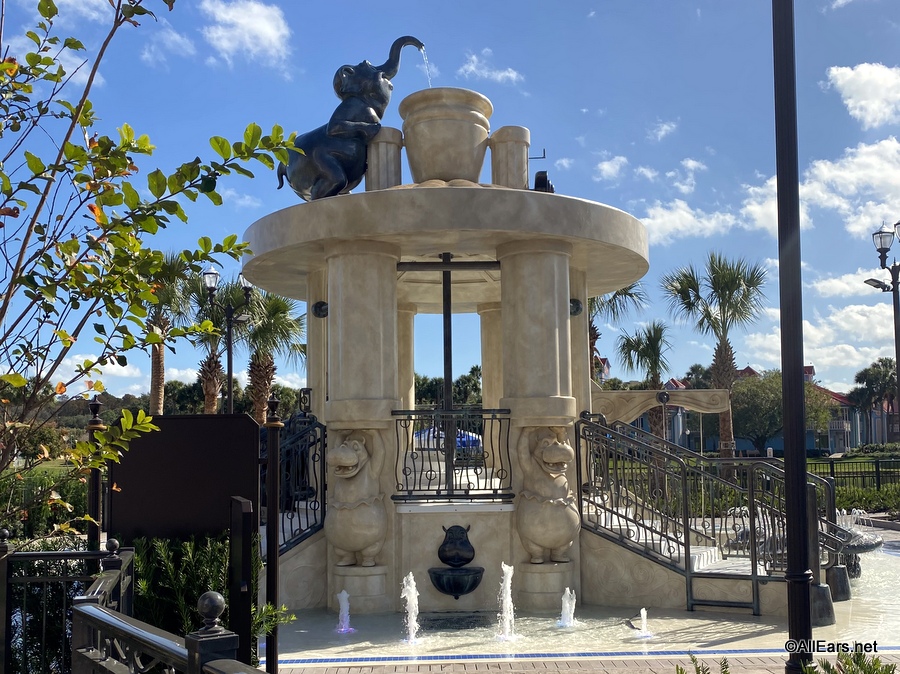 Resort Skyliner Station
The theme and elegance of the Riviera Resort is extended to the Skyliner Station.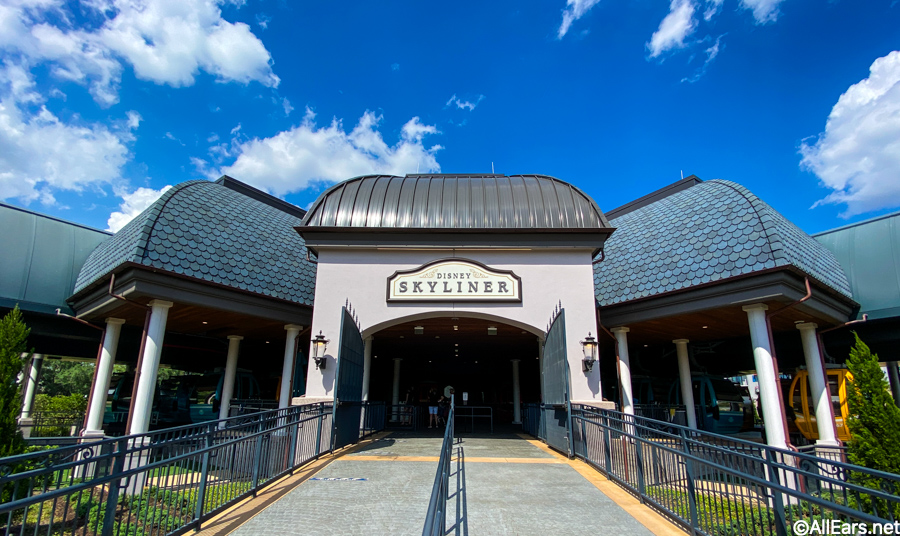 Guests stopping or waiting at the Riviera will get to experience the detailed artistry of the arched murals depicting beautiful scenes from Tangled and Peter Pan, which carry on that theme of floating through the air.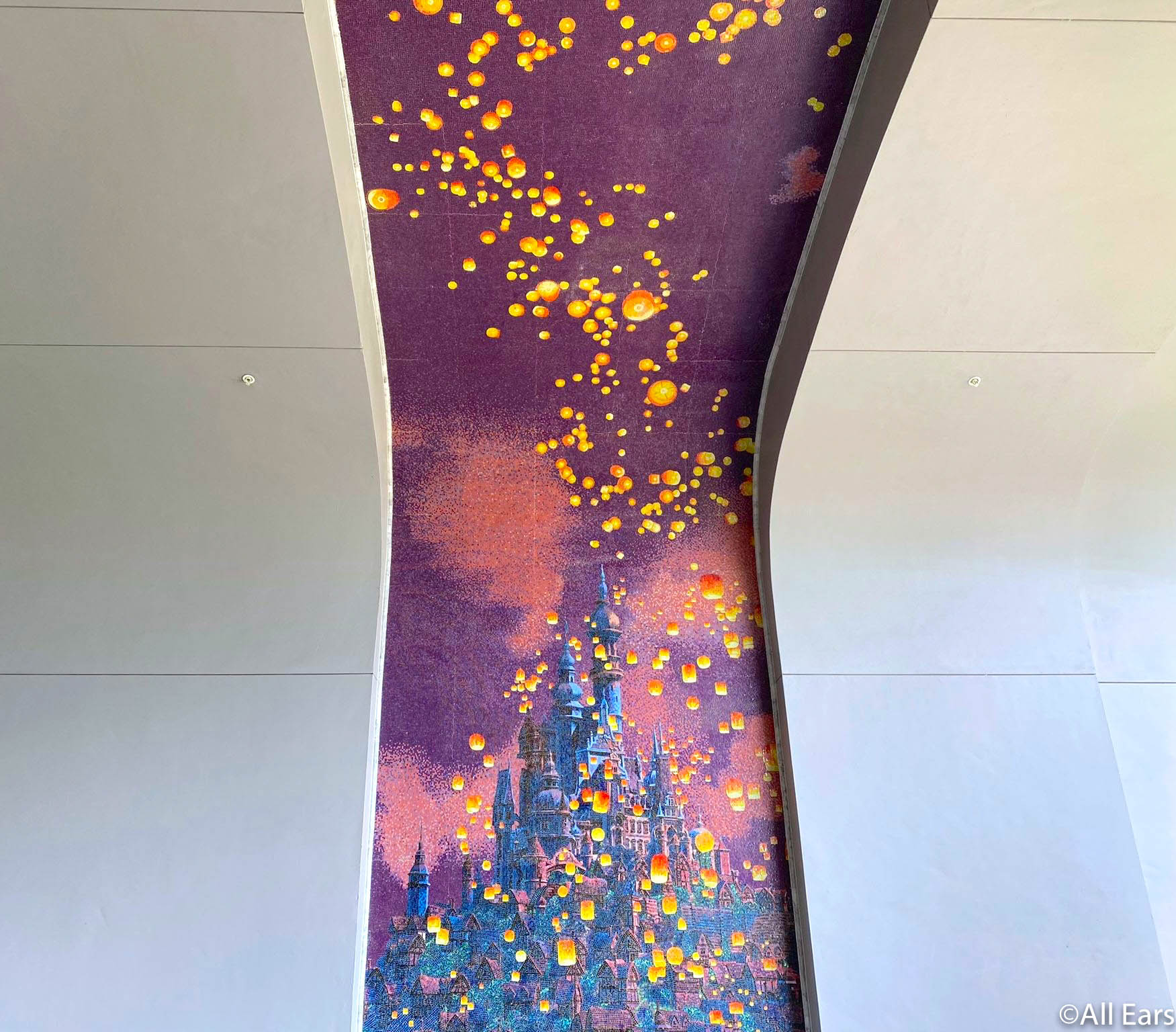 These murals make the Riviera Skyliner Station a destination spot worthy of Instagram.
The Caribbean Beach Resort opened October 1, 1988 as Disney World's first Moderate Resort. The hotel is themed after various islands, here called "villages" in the Caribbean and is easily recognized by its candy-colored buildings throughout the resort.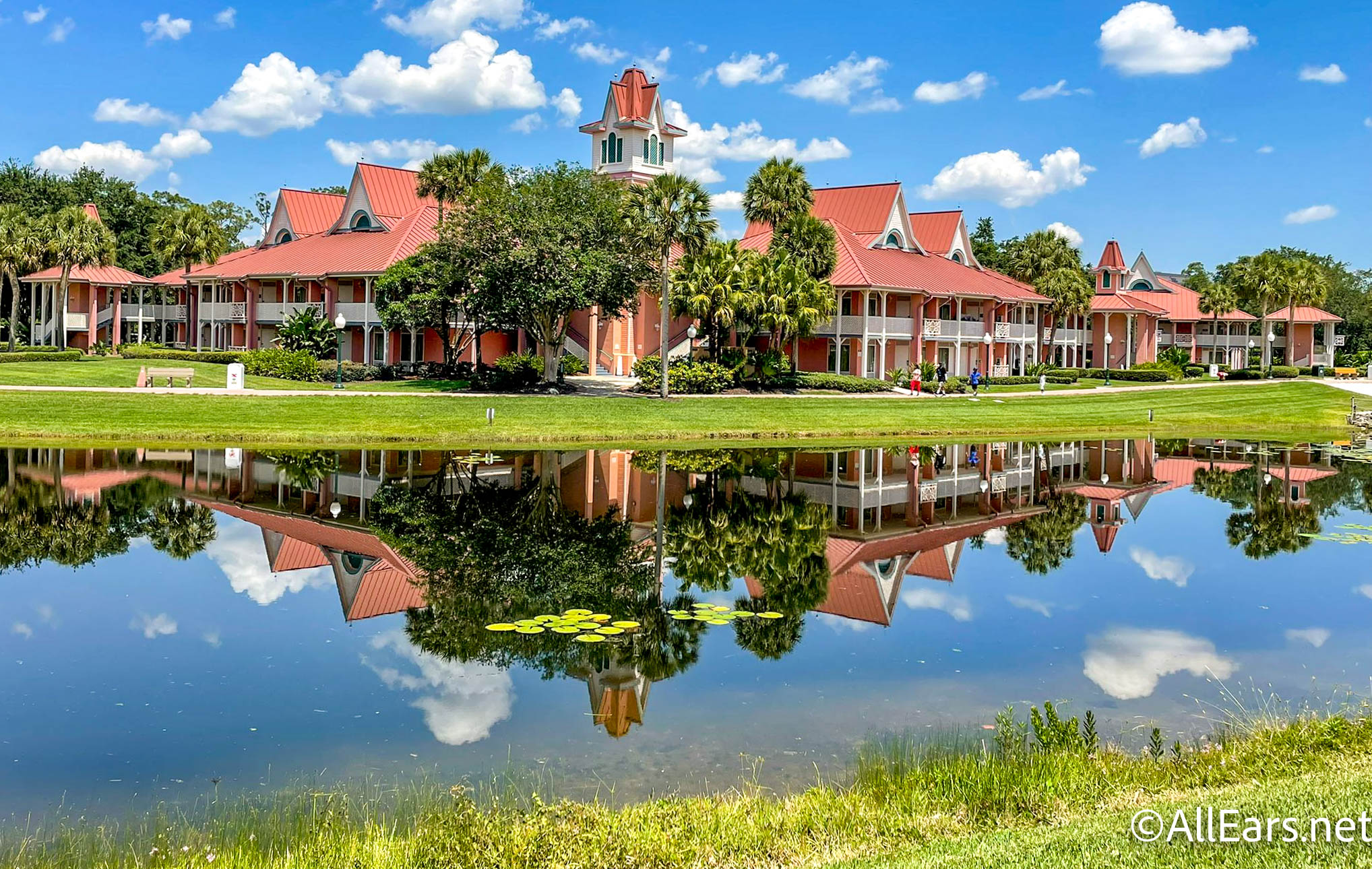 The CBR has guest rooms in colorful 2-story buildings on the shores of a 42-acre lake. The buildings are grouped in 6 villages: Barbados, Martinique, Aruba, Jamaica, Trinidad North, and Trinidad South. Each building contains 64 guest rooms. Each village has its own pool, white sand beach with hammocks and playgrounds, laundry facilities, bus stop, and parking area.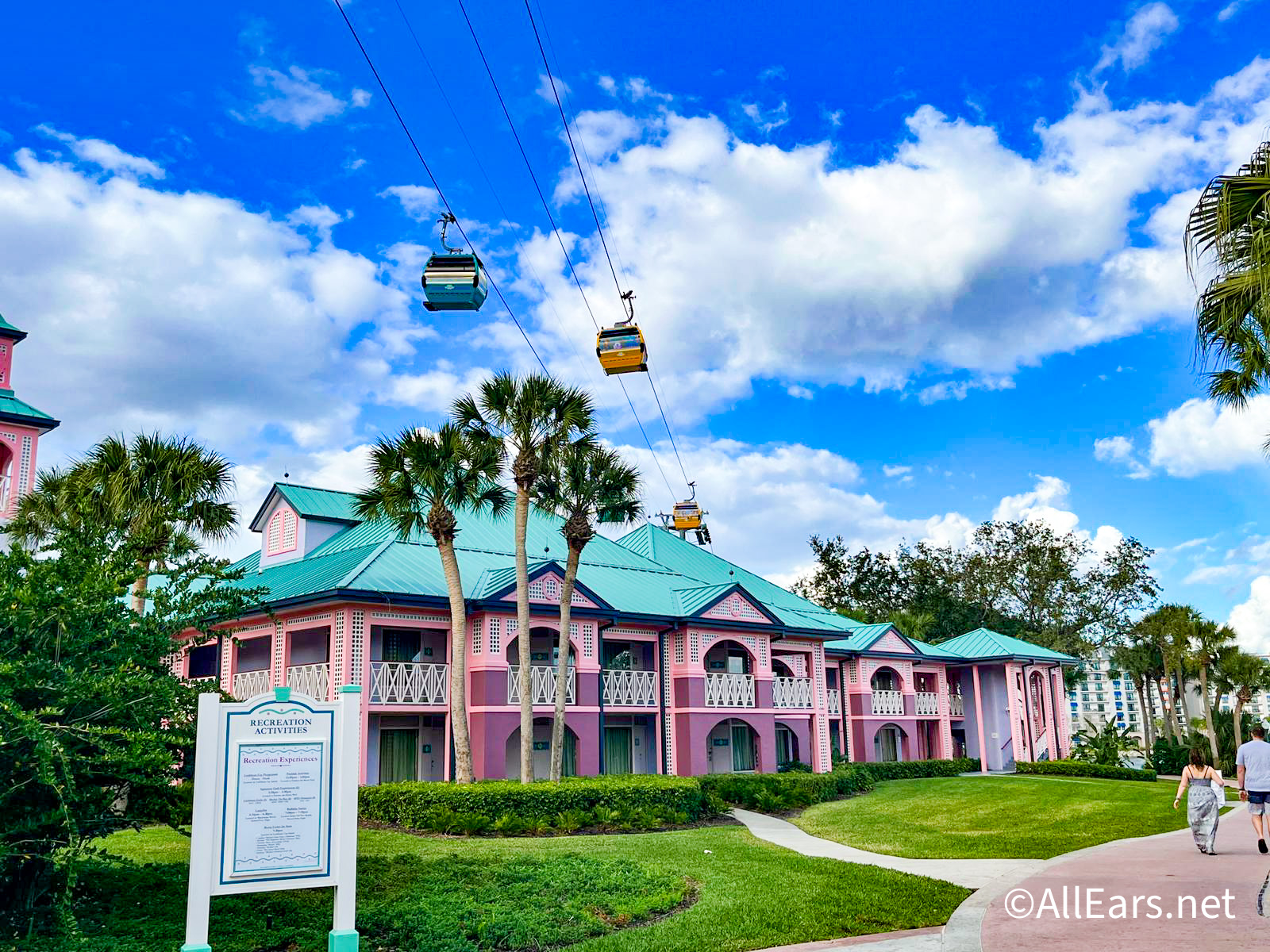 You can identify the villages by their colorful buildings:
Jamaica is yellow buildings with sky blue roofs
Aruba is pink and purple buildings with aqua roofs
Barbados is light blue buildings with coral roofs
Martinique is coral and pink buildings with aqua roofs
Trinidad North and South are light and dark coral buildings with dark coral roofs
The centerpiece of CBR is its 45-acre lake, Barefoot Bay, surrounded by a 1.1-mile promenade that connects to winding paths leading to all guest rooms and common areas. The promenade is great for strolling, jogging, and bicycling. In the center of the lake is Caribbean Cay, an island with a playground, picnic area, and lots of lush foliage. Caribbean Cay is connected to the promenade on each side by a footbridge.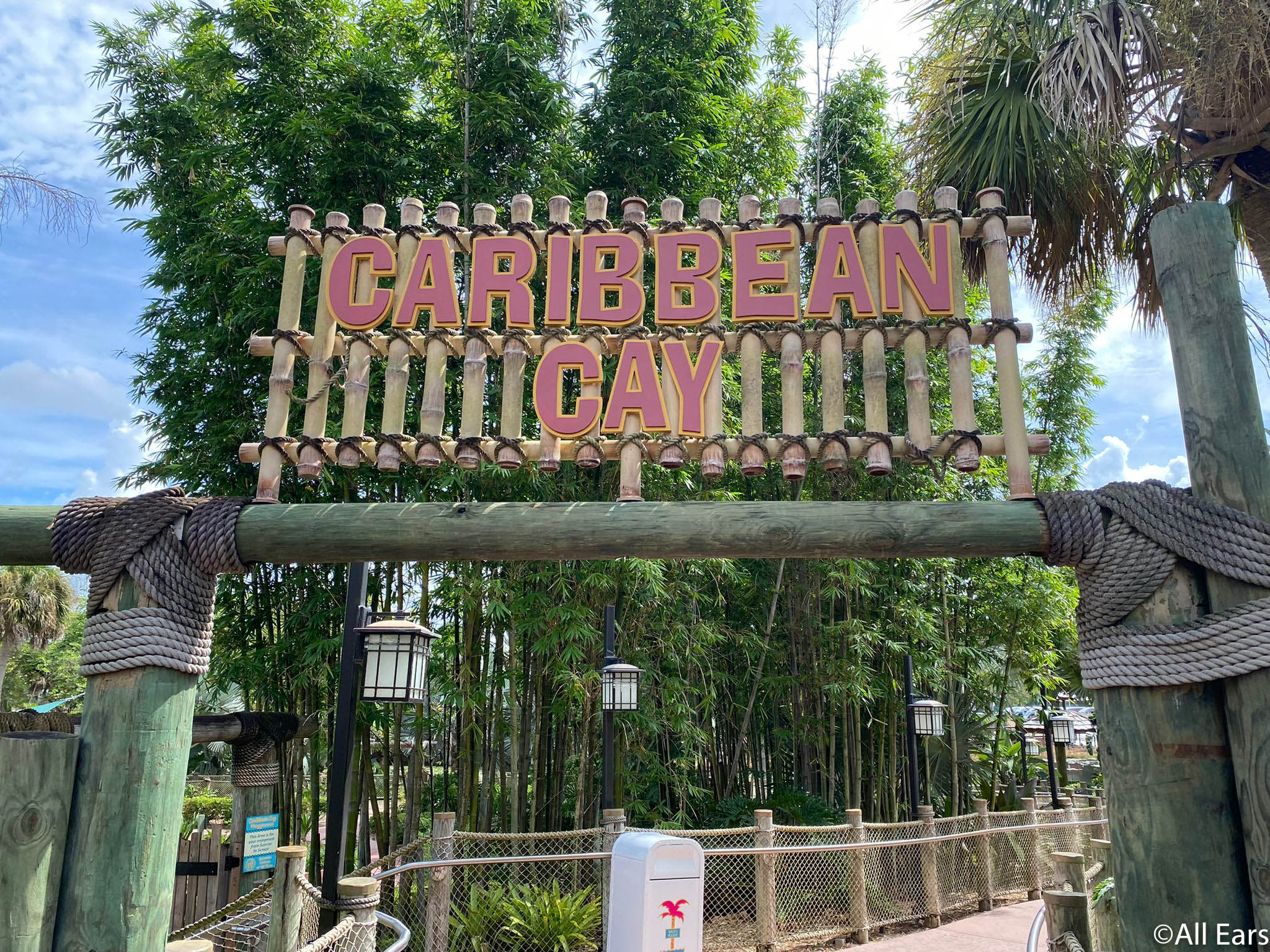 Room Amenities
There are no elevators in any of the buildings, only stairs access. Guests who are unable to use stairs should request 1st-floor rooms. All common facilities are wheelchair accessible.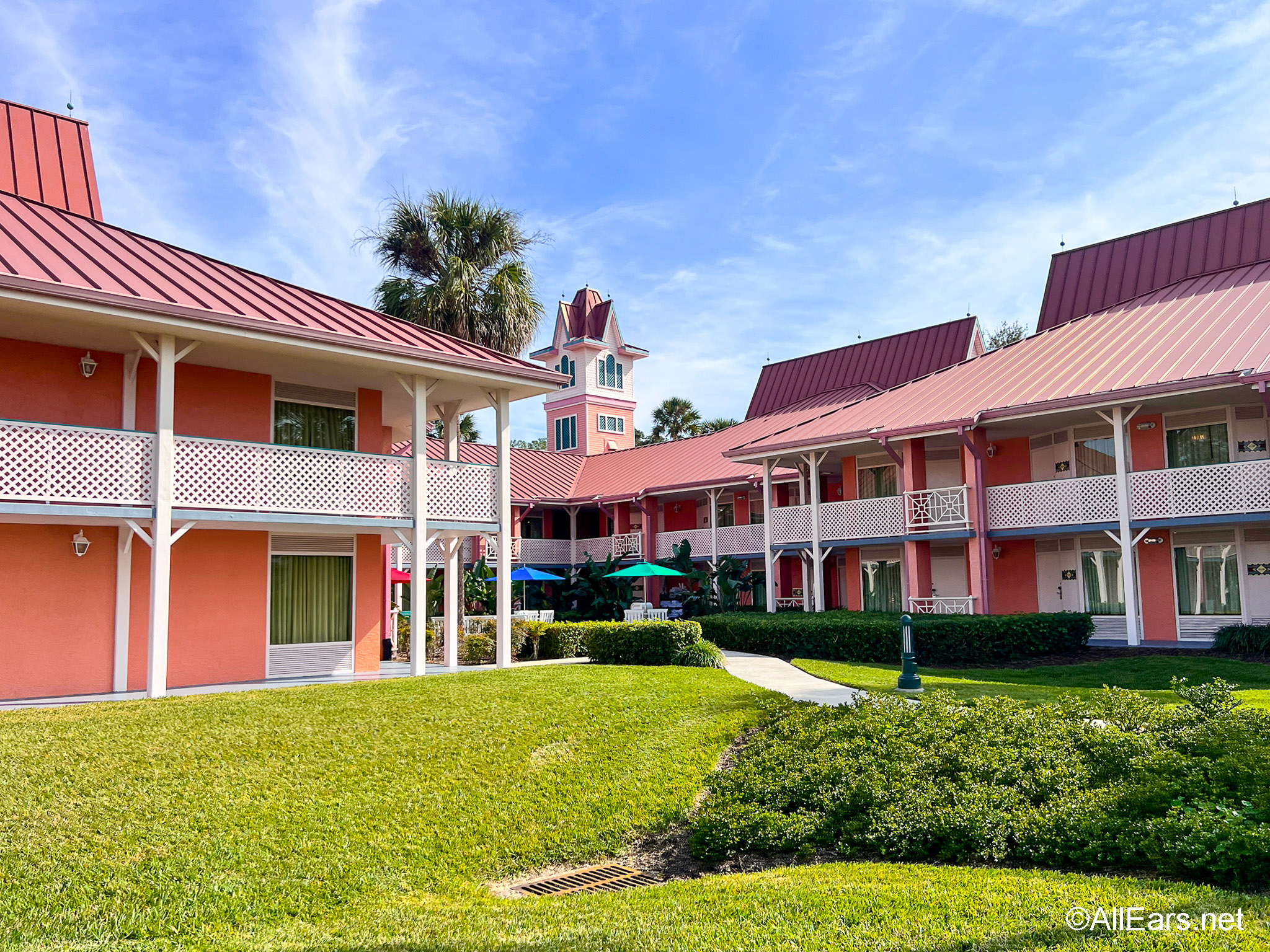 Most rooms have two queen beds, though a few rooms with king-size beds are available. Up to four guests, and one child under 3 in a crib, are allowed per room. Cots are available at $15/night; call to reserve one in advance. Many rooms (but not all) have the ability to accommodate up to five, with the addition of a child-sized fold-down bed.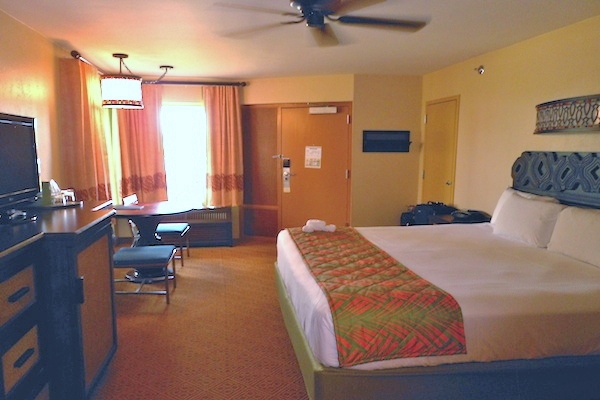 Rooms include two sinks outside the bathroom, cable TV/radio, armoire, table and chairs, phone, a small wall safe, hair dryer, iron and ironing board, a Pack and Play, and coffee maker. Complimentary coffee packs are also supplied. There should also be a refrigerator in the room — if it's not there, request it; there is no charge. Bed boards, bed rails, extra blankets and pillows, baby cribs and sharps containers are available through housekeeping. Complimentary wi-fi is available.
Price
The Caribbean Beach Resort is considered a "Moderate" resort hotel, and its prices are in the mid-price range of the hotels at Disney. These are regular rate prices and do not include the Florida Sales Tax nor the county resort tax. Rates are based on double occupancy. No charge for children under 17 years old when in the same room as the adults. If you have more than two adults in the room, there will be a $25 per night charge for each extra adult. Maximum of four per room, plus a child under 3 in a crib.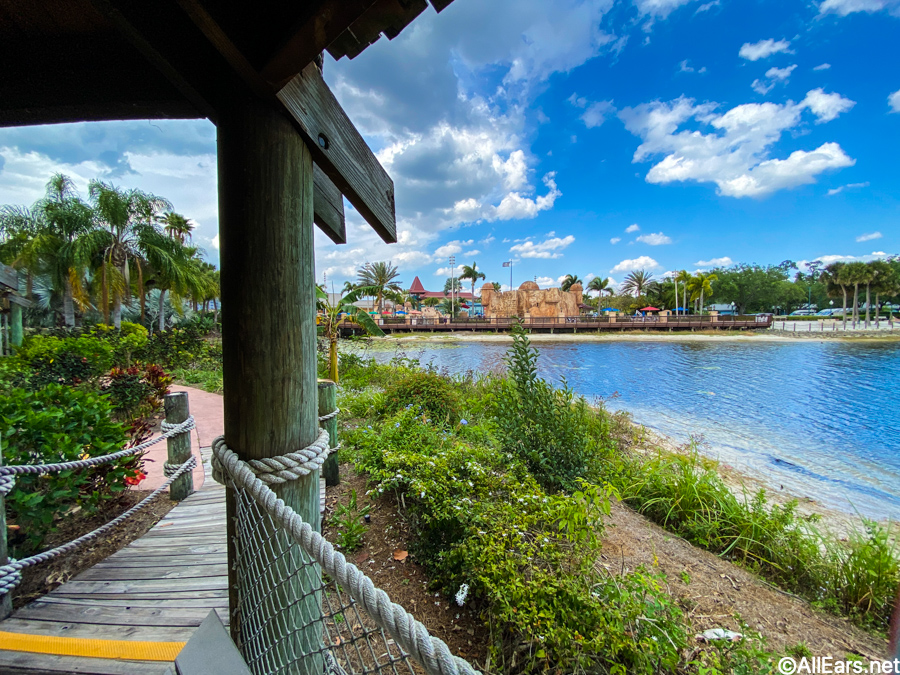 Standard Room range from $230 – $335 (Holidays up to $400)
Standard Room with a 5th Sleeper Bed range from $246 – $352 (Holidays up to $417)
Water or Pool View Room range from $262 – $359 (Holidays up to $417)
Water or Pool View Room with 5th Sleeper Bed range from $279 – $376 (Holidays up to $446)
King Bed Room range from $269 – $382 (Holidays up to $435)
Preferred Room range from $316 – $421 (Holidays up to $462)
Dining Options
Old Port Royale features the Centertown Market, open from 6 a.m. to midnight, with more limited hours for some of the counters. Breakfast selections include bagels, fresh fruit, Mickey waffles, eggs, and breakfast meats. Lunch and dinner selections include burgers, pizza, pasta, deli sandwiches, salads, and desserts.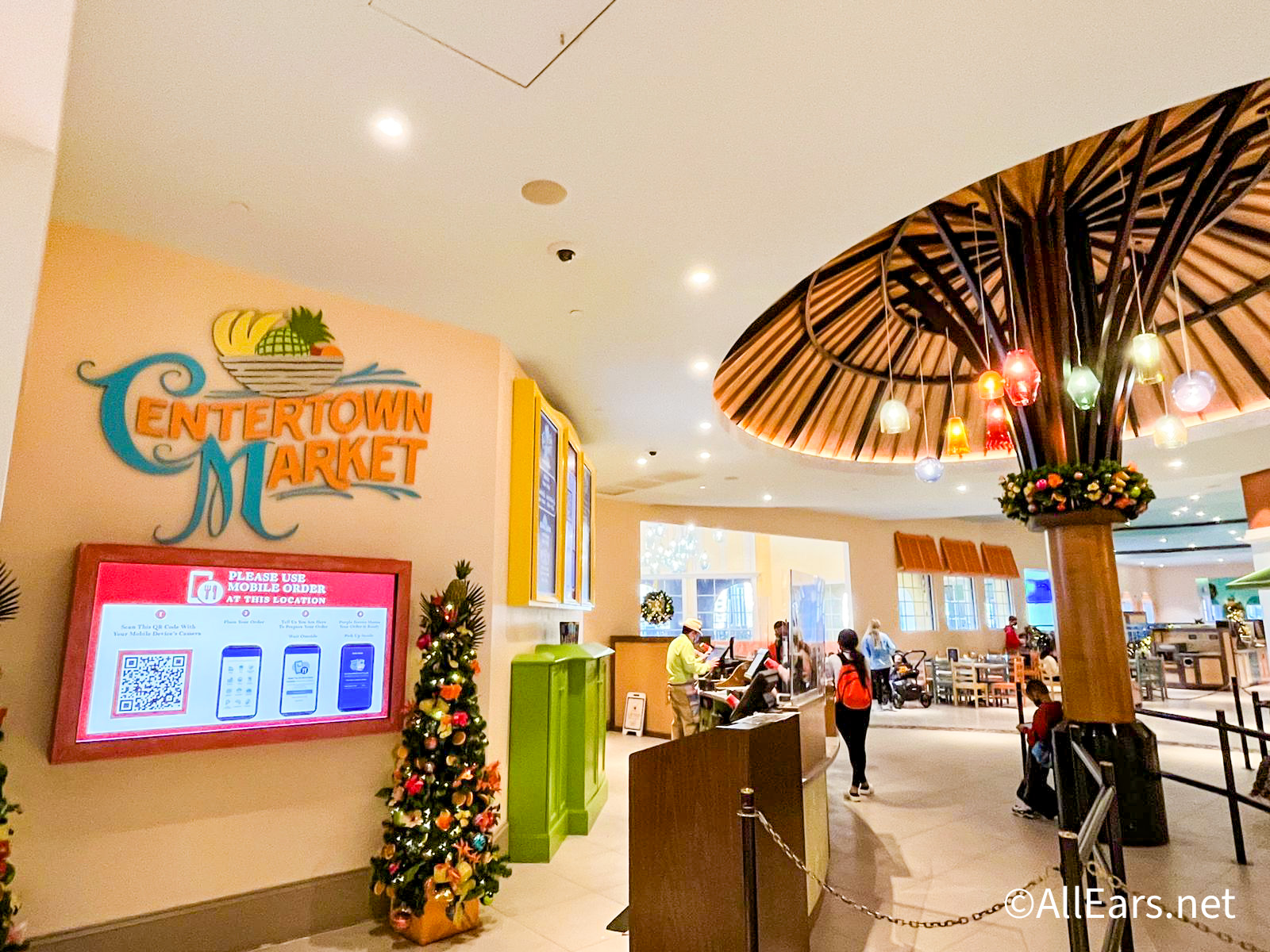 Spyglass Grill is a small quick-service spot near the Trinidad pool area. It served up sandwiches, burgers, and a selection of alcoholic and non-alcoholic drinks. Room Service options at this resort are limited to Blue Runner Pizza Delivery is also available for pizza and drink delivery to rooms from 4 PM to 11:30 PM.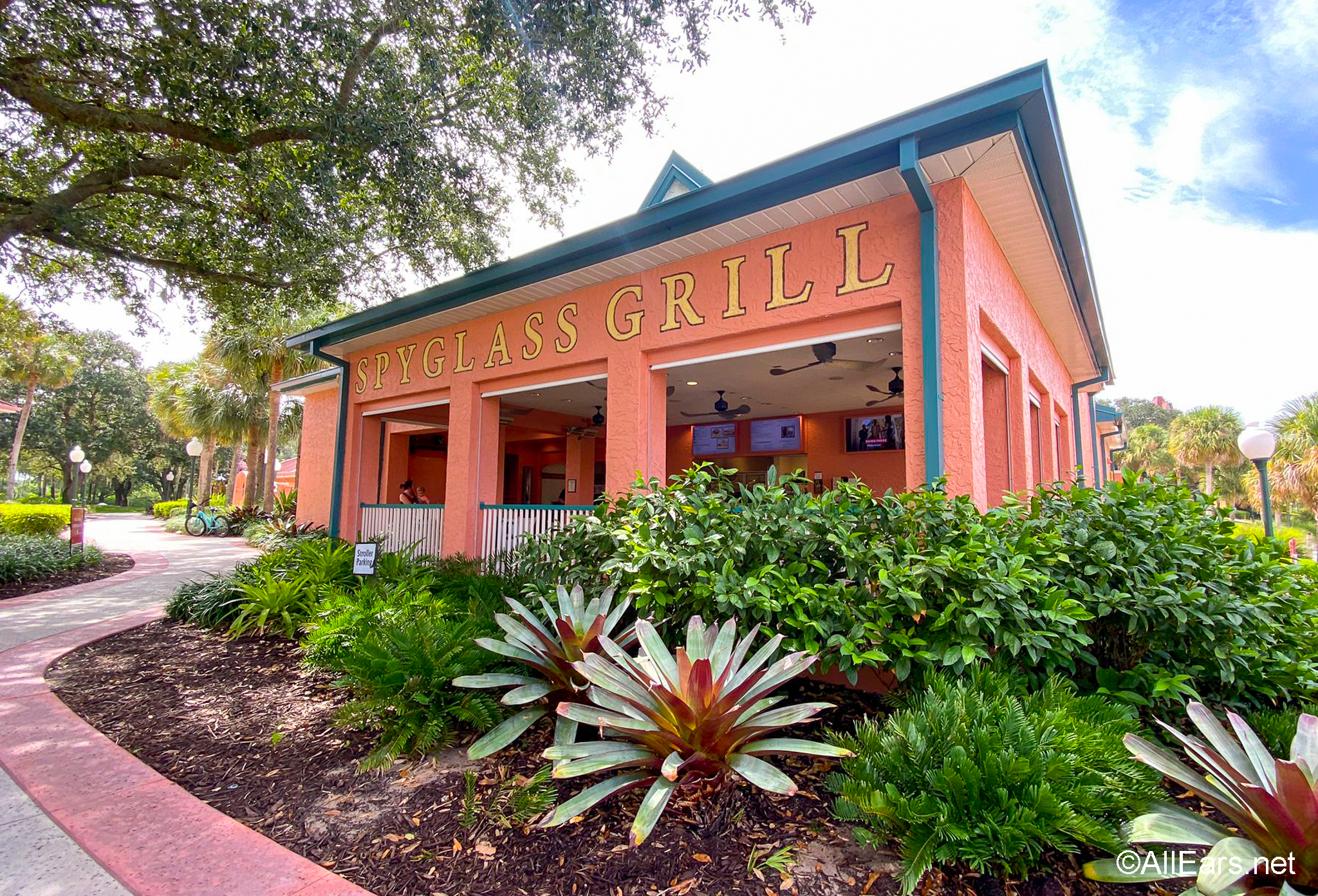 Sebastian's Bistro is a full table service restaurant located in Old Porte Royale. It is open from 5 to 10 PM and Advance Dining Reservations are available.
Banana Cabana is the resort's main pool bar, located near the Fuente del Morro pool. It is open from 12 PM til 11 PM and serves up burgers and assorted foods as well as a full bar menu.
Resort Pool
Each CBR village has a pool, plus there's the Pirate-themed main pool at Old Port Royale, with an adjacent wading pool and whirlpool. All pools are heated, which makes for comfortable swimming year-round. The whirlpool is kept very toasty. Bring towels from your room; they are not available poolside except at the Old Port Royale pool. Housekeeping will be more than happy to replace towels taken from the room. Pools hours are seasonal, and only the main pool has lifeguards on duty during official operating hours.
The main pool can get crowded on hot afternoons, and chair space is at a premium. However, village pools are rarely crowded so you can try one of those if the main pool is full.
Resort Skyliner Station
The main hub of Disney's Skyliner is located at Caribbean Beach, south of the Jamaica village, placing CBR in a prime location due to its easy access to both Epcot and Hollywood Studios via the Skyliner. Caribbean Beach is also next door to Disney's Riviera Resort. Guests in the Martinique village can easily walk to the Riviera to take advantage of the Skyliner Station located there as well.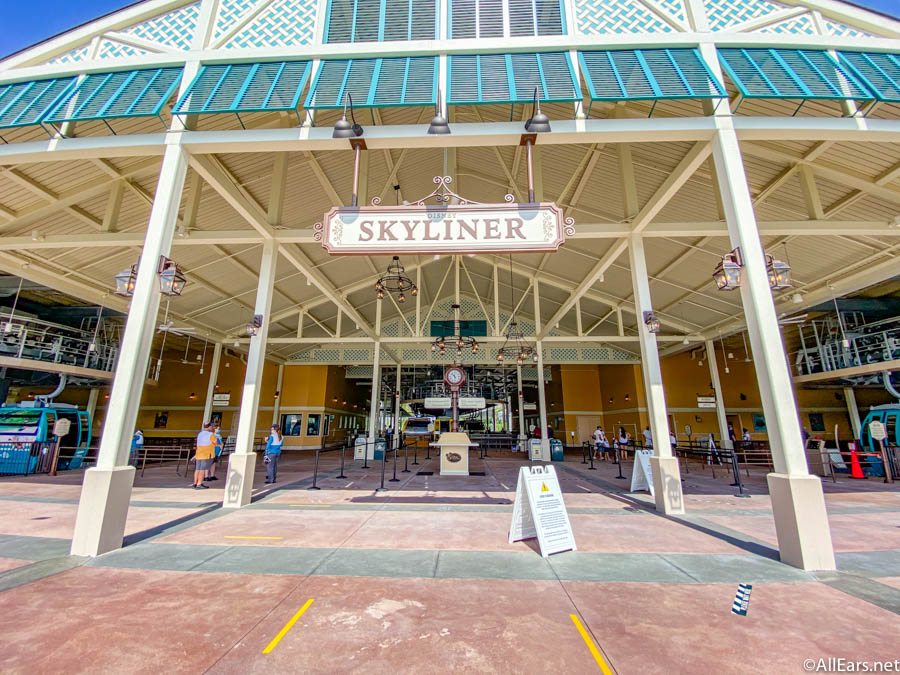 While you wait to board your gondola and take to the skies, you can stop by a Joffrey's location to grab a cold brew and float to your next destination in style.
Announced in December 1999, Disney's Pop Century Resort is a Value Resort. It is located near Disney's Hollywood Studios at Osceola Parkway and Century Way and encompasses 177 acres.
Originally the Resort was to have two completely different areas: the Classic Years (50s to 90s) and the Legendary Years (00s to 40s). However, the Legendary Years section was never completed and was "reimagined" as Disney's Art of Animation Resort.
Pop Century Resort hosts 2,800 rooms and spans 20th century pop cultures and reflects (to an extent) the way people lived, played, and communicated. It is similar to the All-Star Resorts, with oversized icons located throughout the grounds. Silhouettes illustrating dances of the decade adorn the front of each building, and the roofs are lined with catch-phrases of the time.
Room Amenities
Rooms at Pop Century were refurbished in 2017-2018. Rooms are 260 square feet with two queen beds (one is a Murphy bed) or one king bed, a table and chairs (the table is the backside of the Murphy bed), vanity area and sink with separate bathroom (with shower/tub — with new glass doors — and toilet), a large flat screen color television, in-room wall safe, iron/ironing board, a mini-refrigerator with additional storage, a clothing rod and shelf, and telephones with voicemail.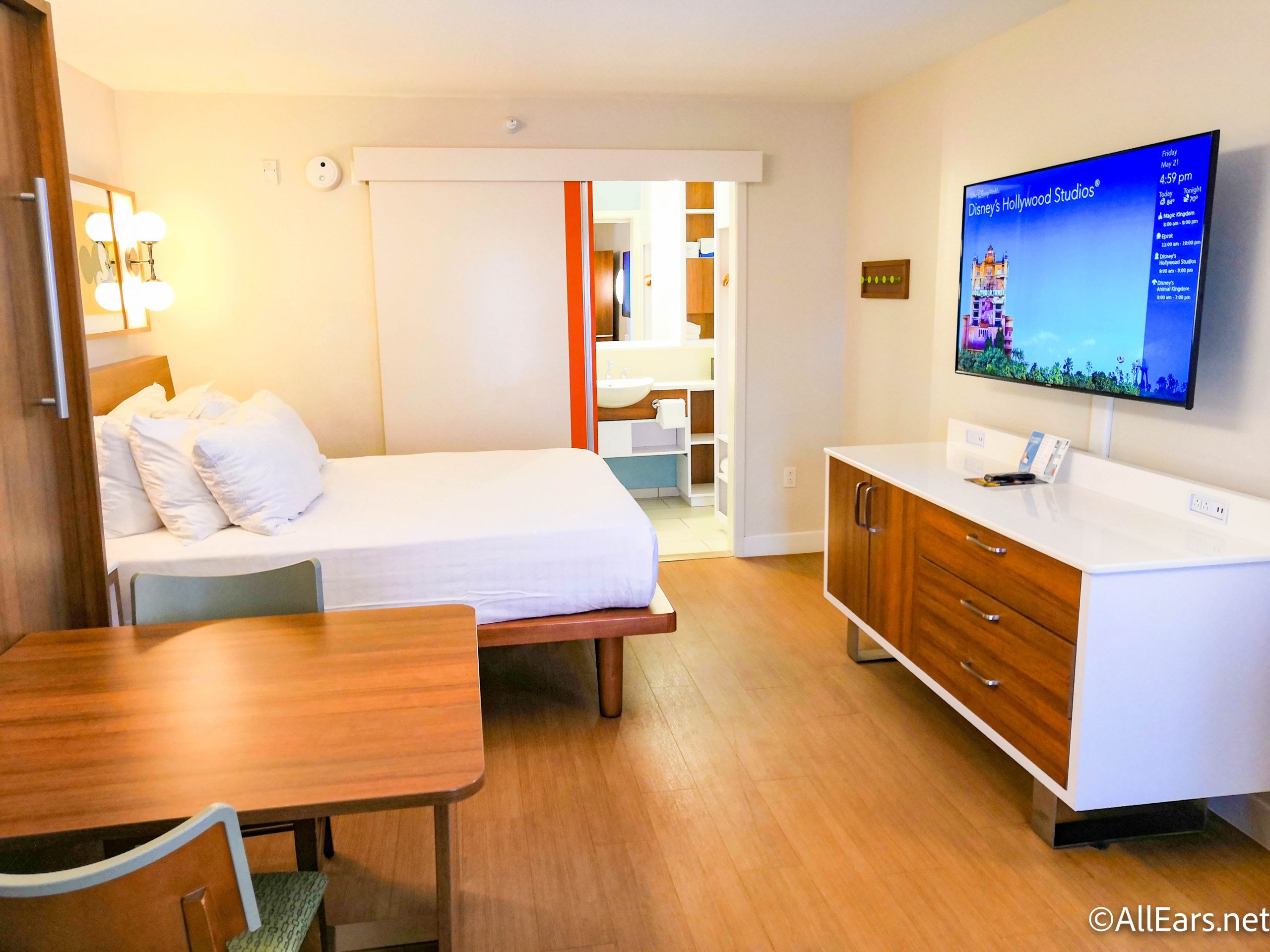 When rooms were refurbished, more outlets were added, including some USB charging ports. Available on request: rooms accessible to guests with disabilities, hearing-impaired TDD telephones, visual smoke alarms, bed boards and bed rails, and cribs.
Price
Like the All-Star Resorts, Pop Century is considered a Value Resort, and prices are among the least expensive offered at Disney Resorts. There is no charge for children under 17-years-old when in the same room as their adults, but if you have more than two adults in your room, there is a $10 per night charge per extra adult. Pop Century rooms have a maximum capacity of four guests per room, and a child under three can stay in a crib (for a total of five guests in a room).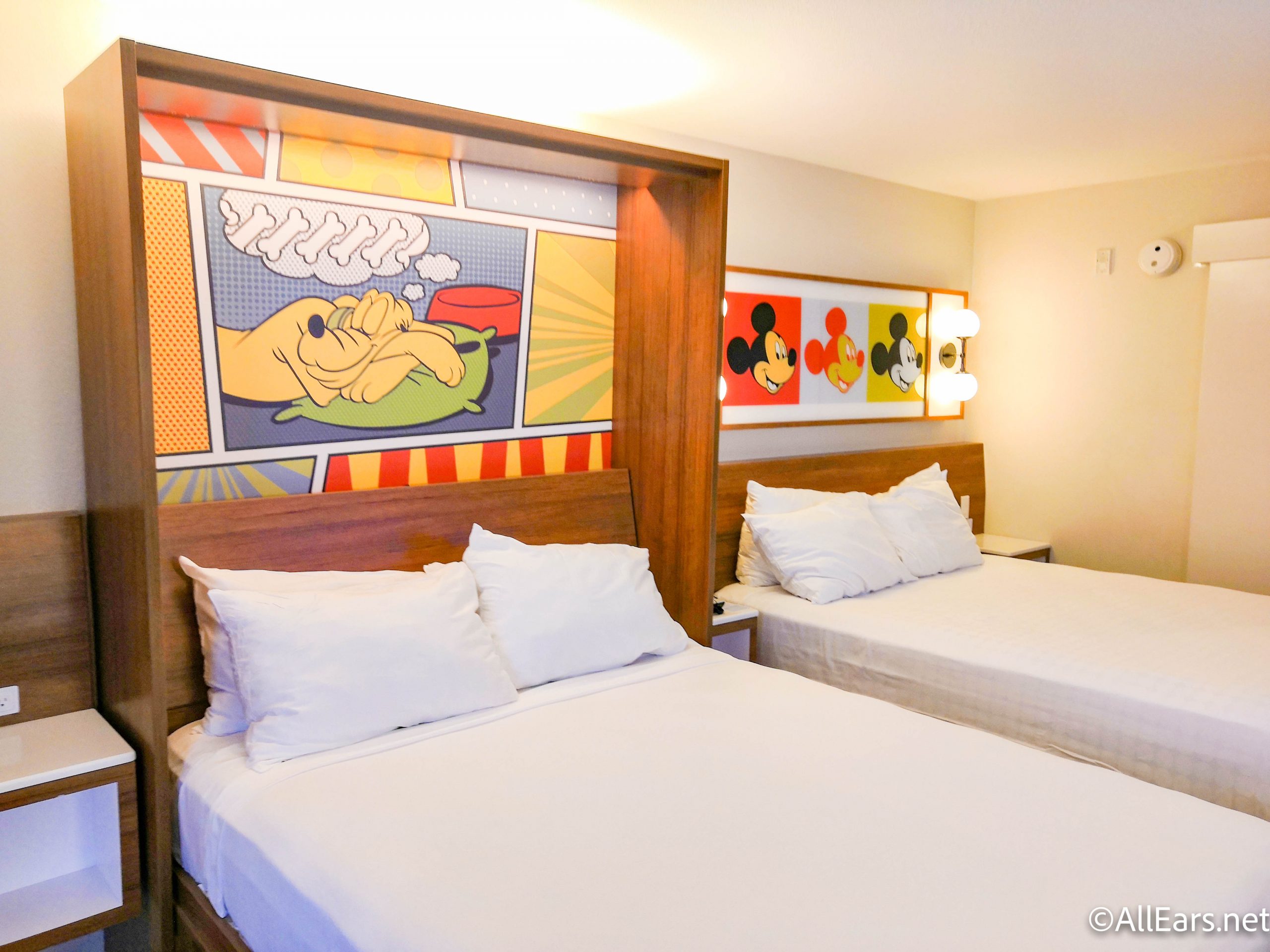 Standard Room range from $154 – $316
Preferred Room range from $171 – $338
Standard Pool View Room range from $161 – $317
Preferred Pool View Room range from $182 – $336
Dining Options
Offerings include Everything POP, a 640-seat food court; pizza delivery to guest rooms; and Petals Pool Bar (located adjacent to Hippy Dippy Pool).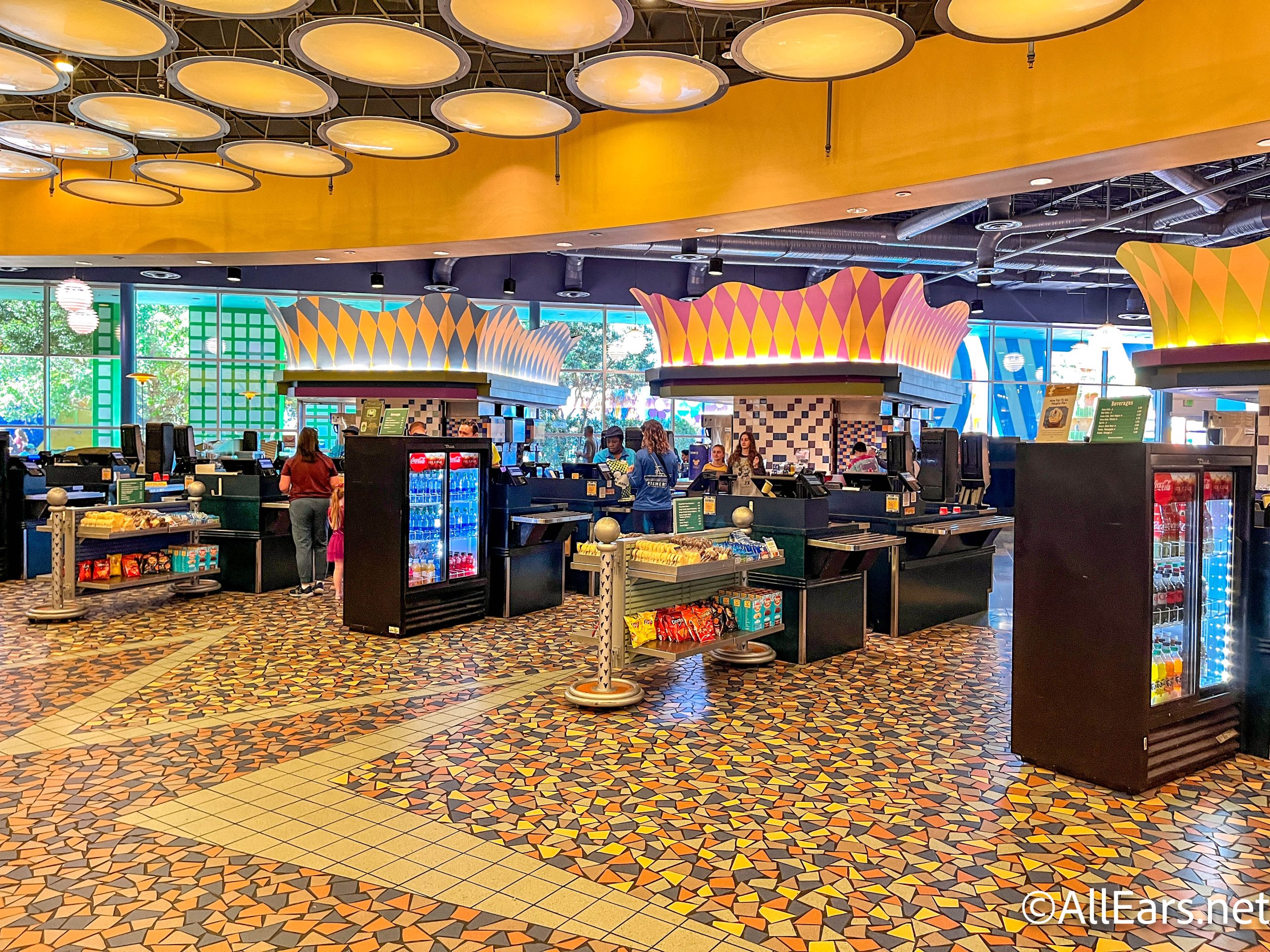 Everything Pop, the food court, has five stations: Bakery & Cafe, Market, Grill, East meets West, and Pizza and Pasta plus a self-serve grab-and-go area.
Resort Pool
The Resort has three pools — the Bowling Pin Pool, the Hippy Dippy Pool, and the Computer Pool; a kiddie splash area; a playground; and the Fast Forward arcade.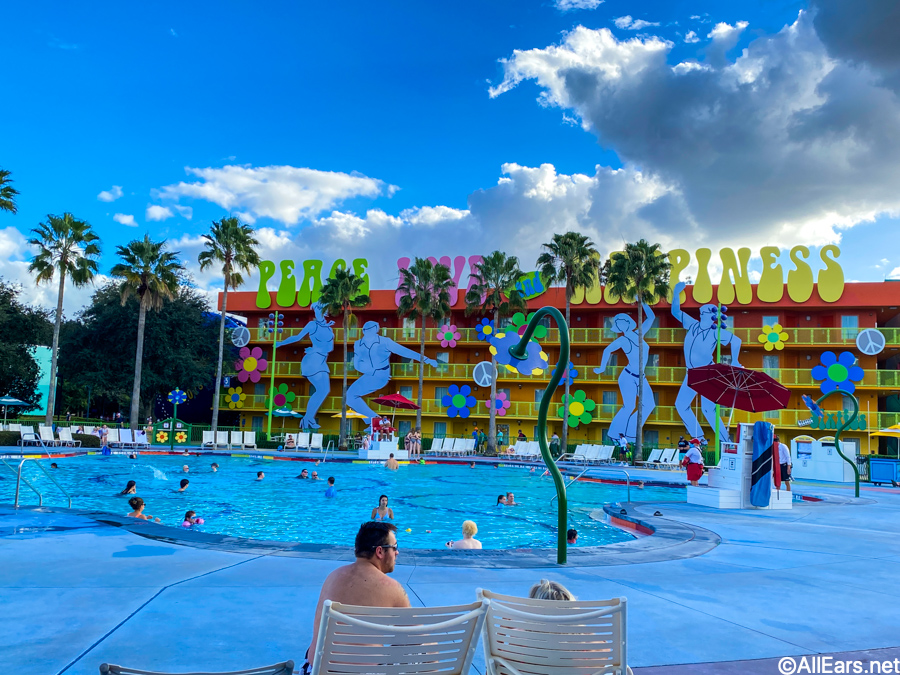 Goofy stands watch over Pop Jet Playground, a playland of popping water located near the 1970s lodge buildings.
Resort Skyliner Station
The Skyliner Station at Pop Century is a shared with Art of Animation Resort. It is situated in the middle of the Generation Gap Bridge across Hourglass Lake in between the two resorts.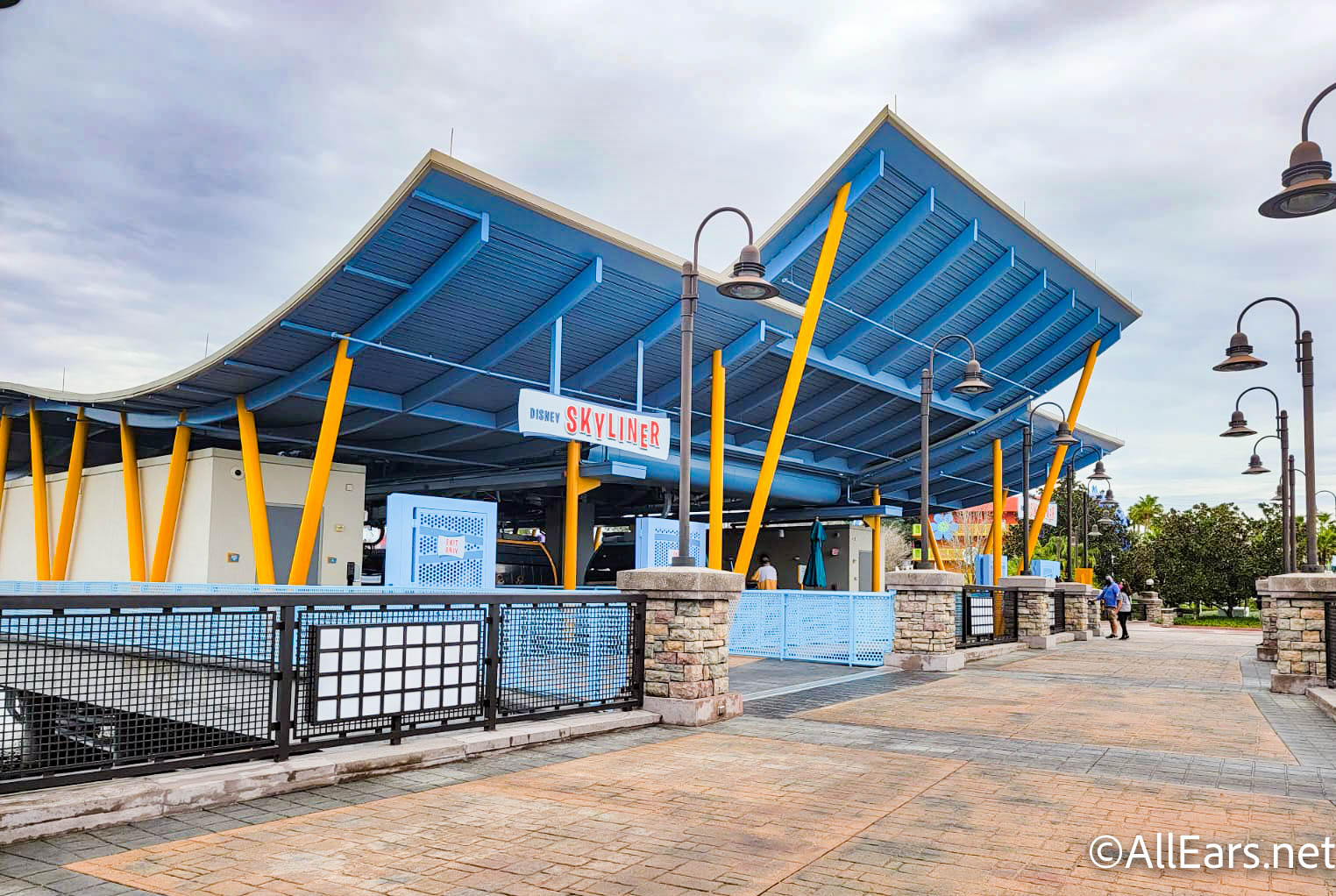 Boarding the Skyliner will take you to the Skyliner hub at Caribbean Beach, where you can transfer to the Hollywood Studios or EPCOT routes.
Art of Animation Resort
The Art of Animation began its phased opening on May 31, 2012, and continued through September 15, 2012. The Resort has nearly 2000 family suites with themed room interiors and 864 standard rooms in The Little Mermaid (non-suite) wing.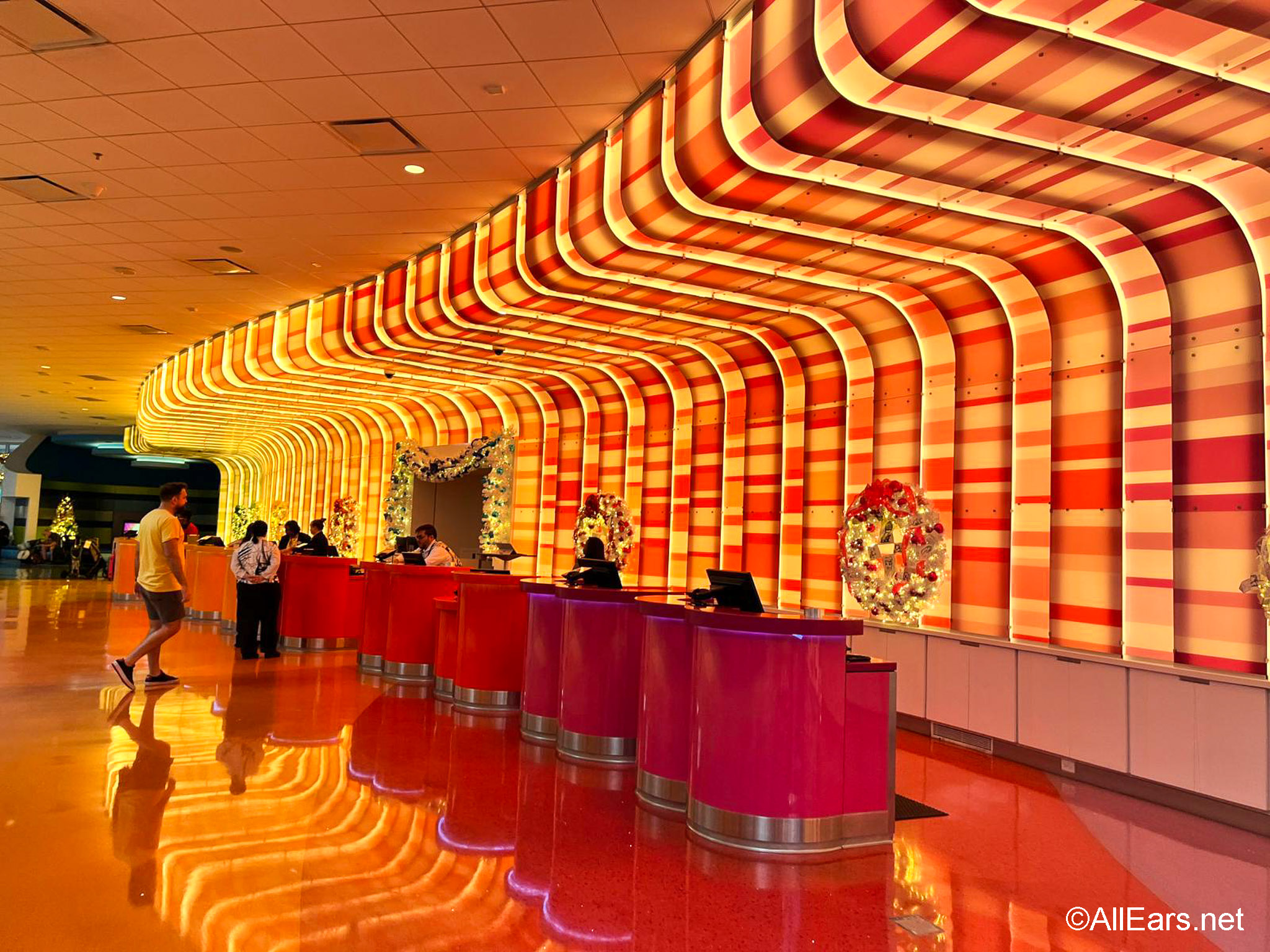 The Art of Animation Resort is located in the area that was originally planned to be the Legendary Years section of Pop Century. The Little Mermaid section of Art of Animation is located where the first Legendary Years buildings had originally been built.
Room Amenities
Standard Rooms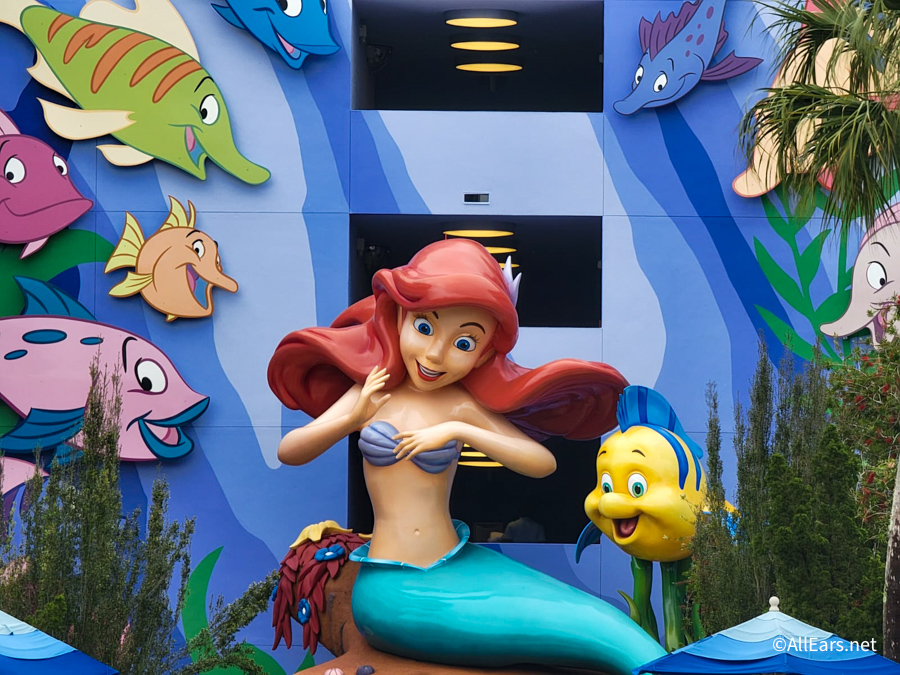 Designed to accommodate up to four guests (plus a fifth guest, age three or under, in a crib), The Little Mermaid Standard Rooms feature two double beds and a seemingly endless array of imaginative touches inspired by the world of Ariel, Sebastian, and Flounder.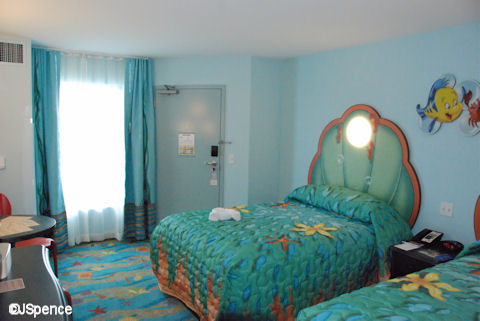 Family Suites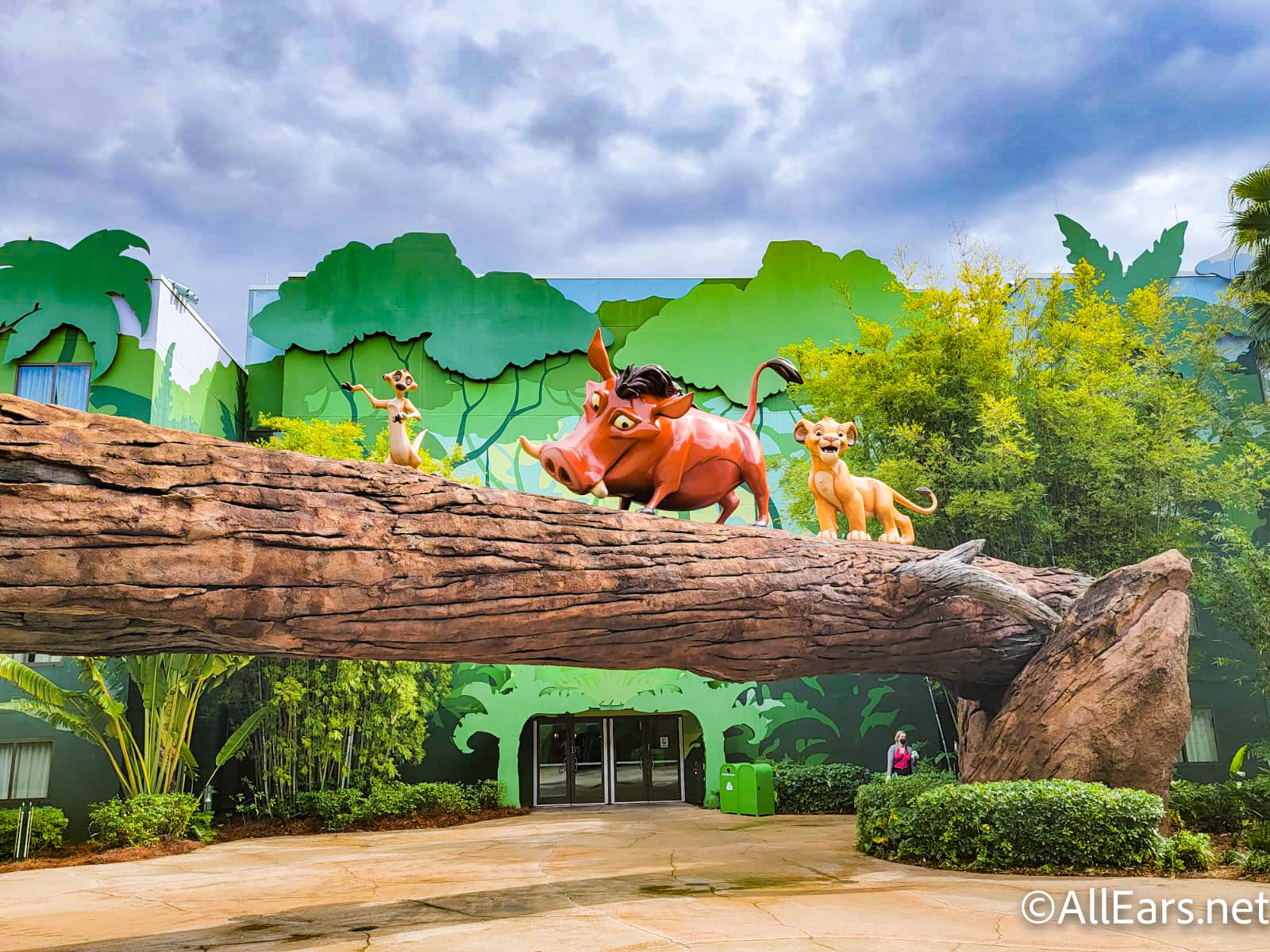 Family suites are designed to comfortably accommodate up to six guests (seven if an under-three-year-old child is in a crib) in the Finding Nemo, Cars, and The Lion King sections with two separate bathrooms, a master bedroom, and a common sitting room.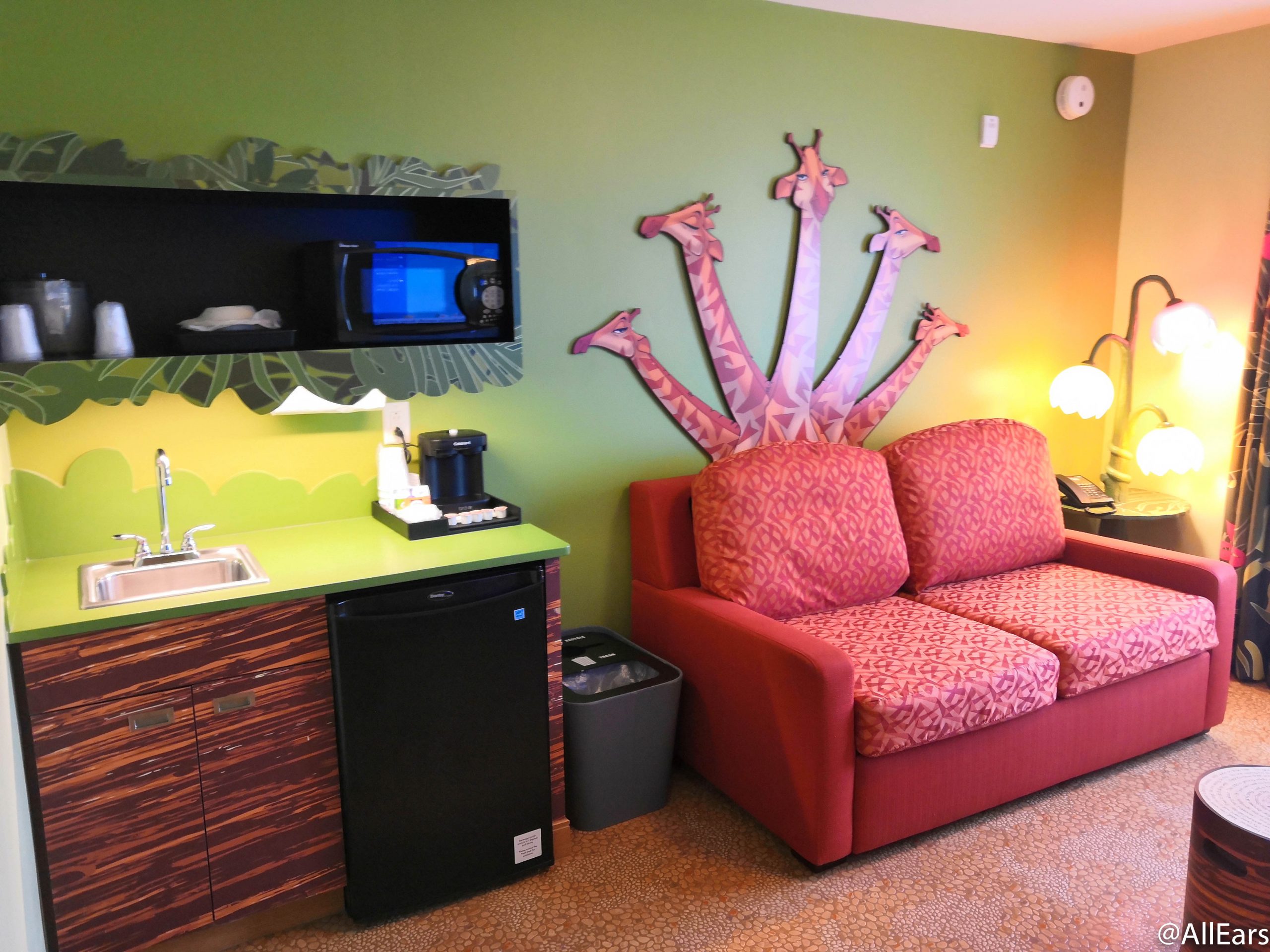 Family Suites also include:
A pull-out couch that converts to a double size sleeper sofa
A work/dining table that includes an Inovabed that can sleep 1 or 2. The table is 3′ x 4′, and the double bed opens to 4.5′ by 6′.
Queen-size bed in the master
Mini-kitchen with microwave, coffee maker, sink, and small refrigerator
Two flat-screen TVs
In-room wall safe
Complimentary WiFi
Hairdryer
Iron and ironing board
Crib available upon request
Wheelchair-accessible rooms are available
Price
Standard rooms have a maximum four-person occupancy per room. There's no charge for children under 17-years-old when in the same room as the adults. If you have more than two adults in the room, there will be a $10 per night charge for each extra adult. Maximum of four per regular room, six per suite, plus a child under three in a crib.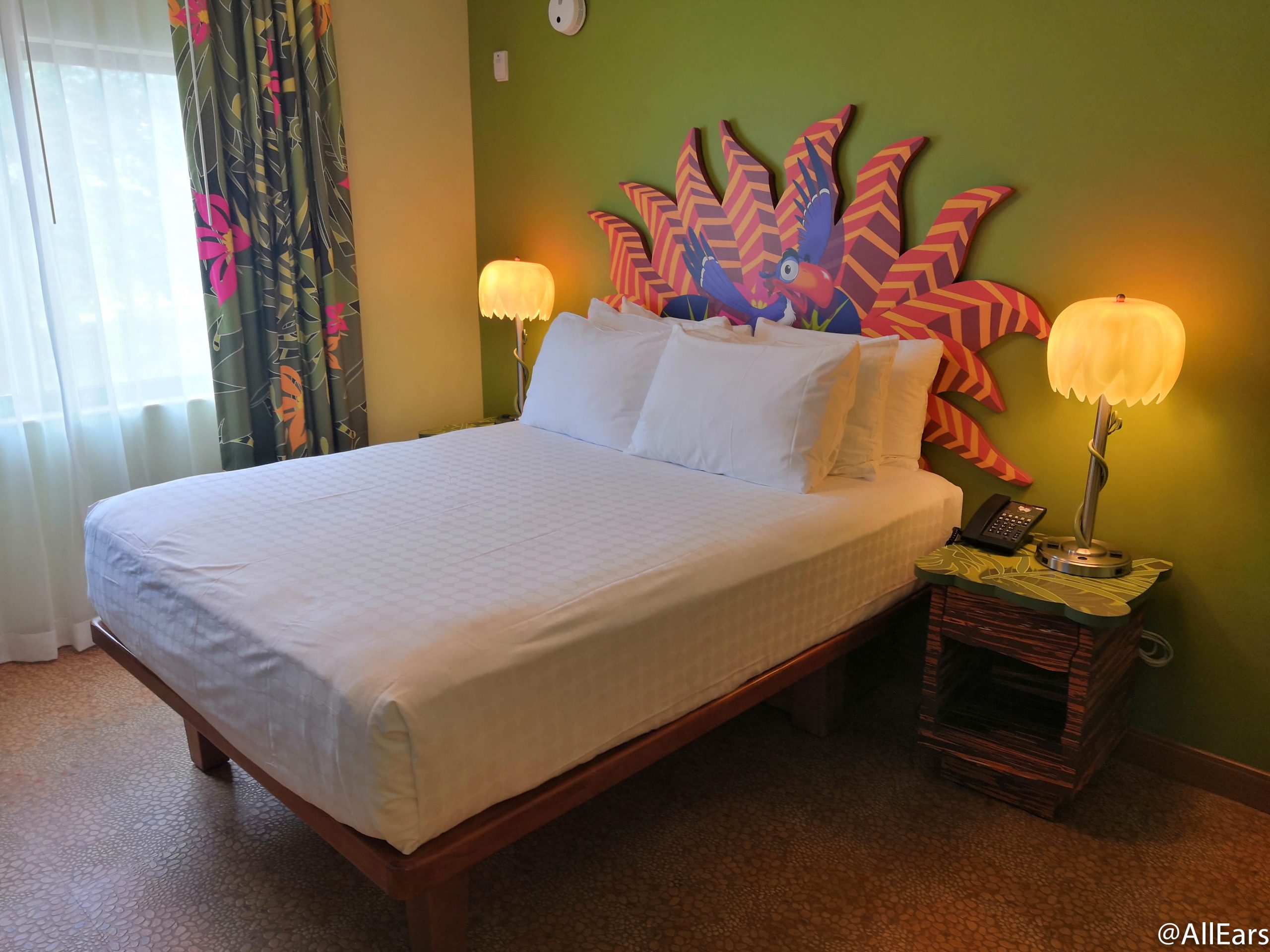 Walt Disney World Resort rates vary by season (nine seasons now) and by day of the week. The holiday season is the most expensive time of the year. It runs from mid-December to early January as well as during Easter week. Higher prices in the range below reflect holiday pricing.
Little Mermaid Rooms range from $180 – $330
Finding Nemo Family Suites range from $449 – $771
The Lion King or Cars Family Suites range from $428 – $764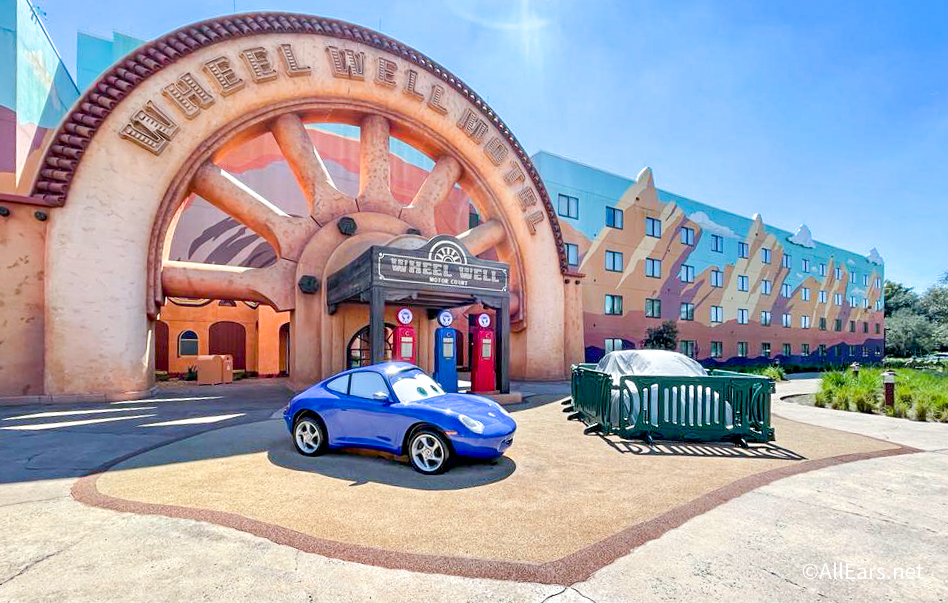 Dining Options
Landscape of Flavors offers Quick Service dining for breakfast, lunch, and dinner. It serves a wide variety of items, from hearty cuisine to healthier fare across five distinctive stations.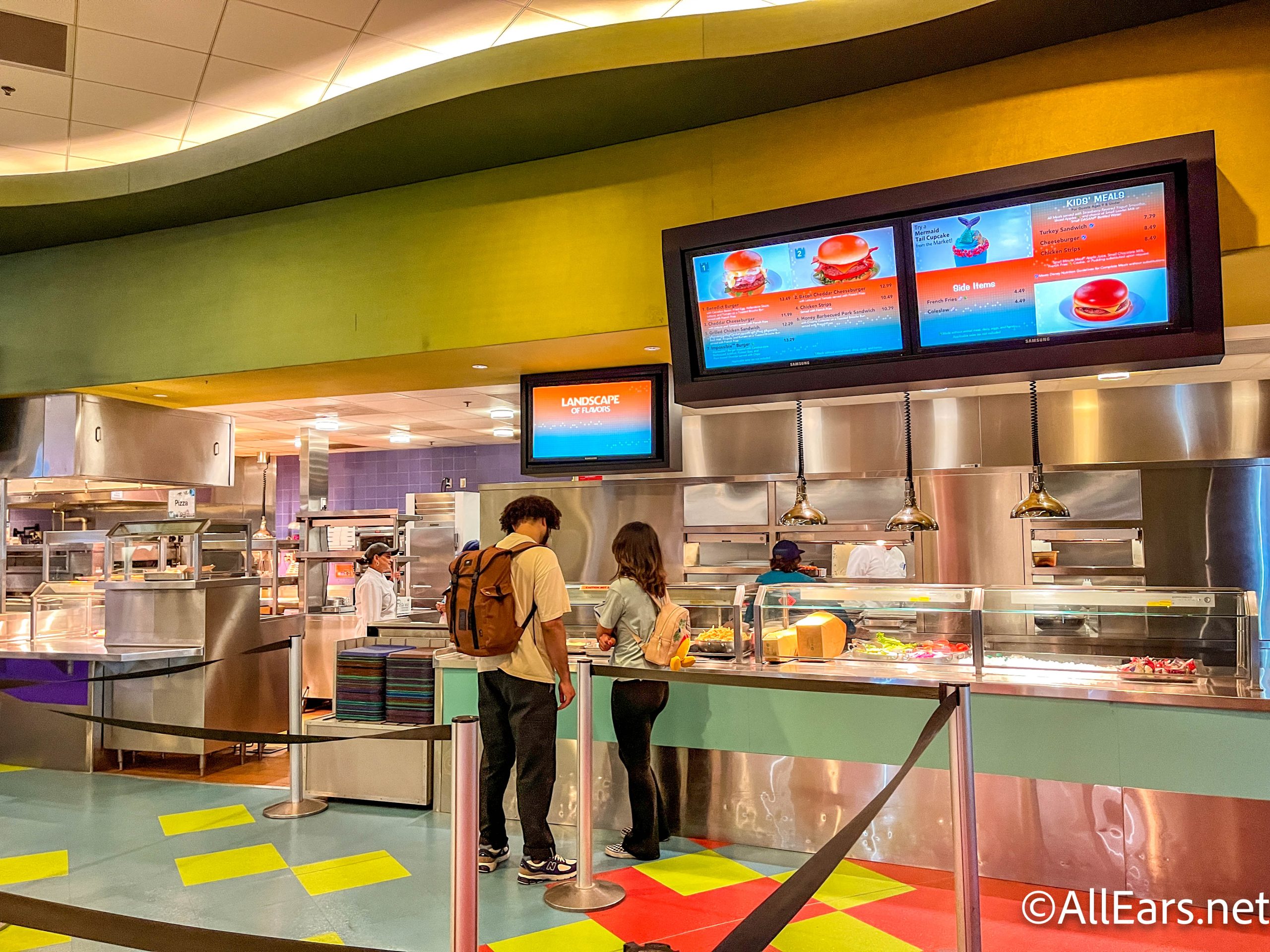 Resort Pool
Three swimming pools offer fun and refreshment. The largest,The Big Blue Pool, is located in the Finding Nemo courtyard and features a pool bar (the Drop Off Pool Bar).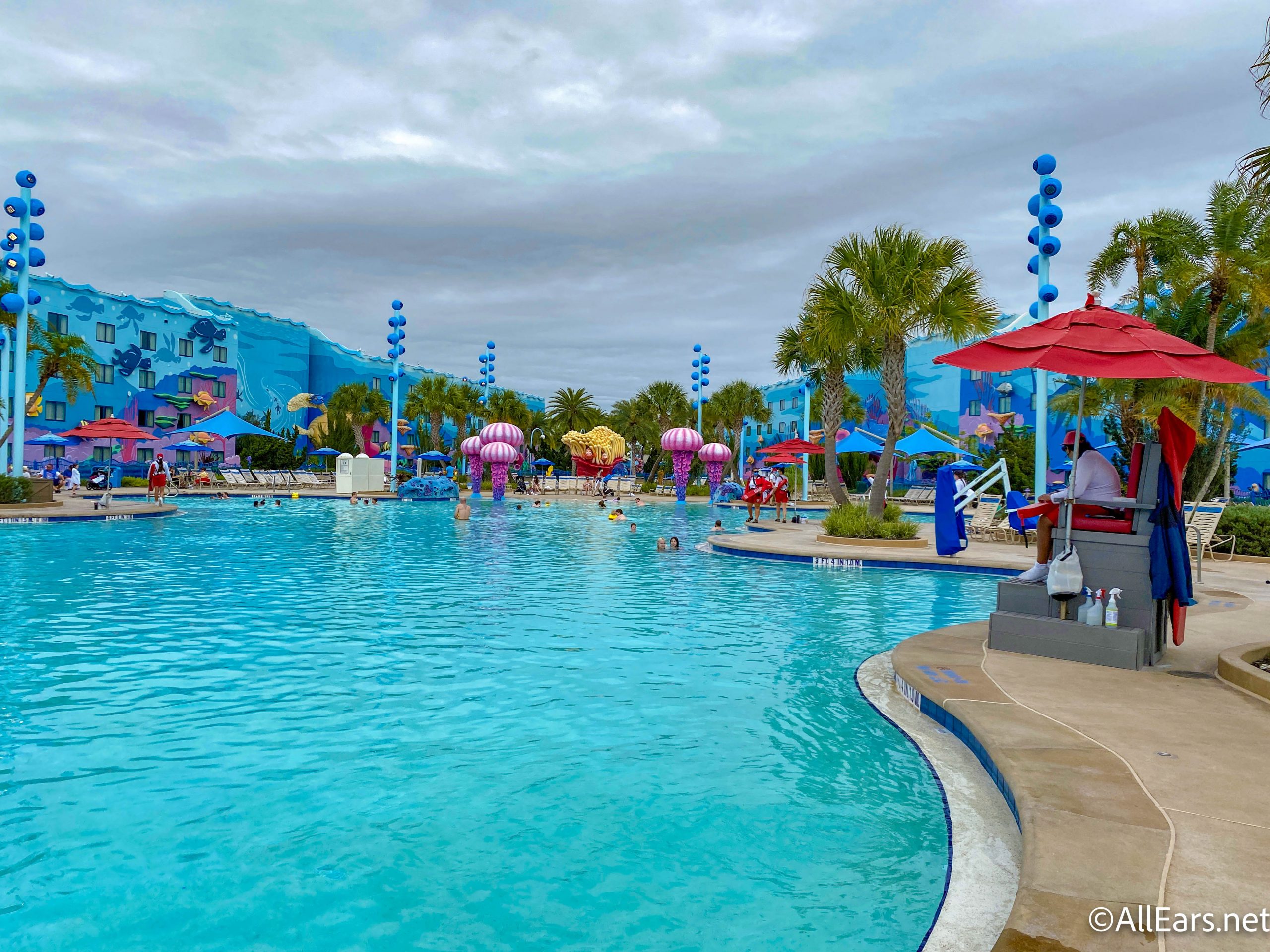 Two smaller pools in the Cars (Cozy Cone Pool) and The Little Mermaid (Flippin Fins Pool) courtyards provide additional refreshment.
The Big Blue Pool has three sections — the actual pool (swim underwater to hear sounds from Finding Nemo), the School Yard wet play area, and Squirt's Righteous Reef (a play area with no water).
Resort Skyliner Station
The Skyliner Station at Pop Century is a shared with Art of Animation Resort. It is situated in the middle of the Generation Gap Bridge across Hourglass Lake in between the two resorts.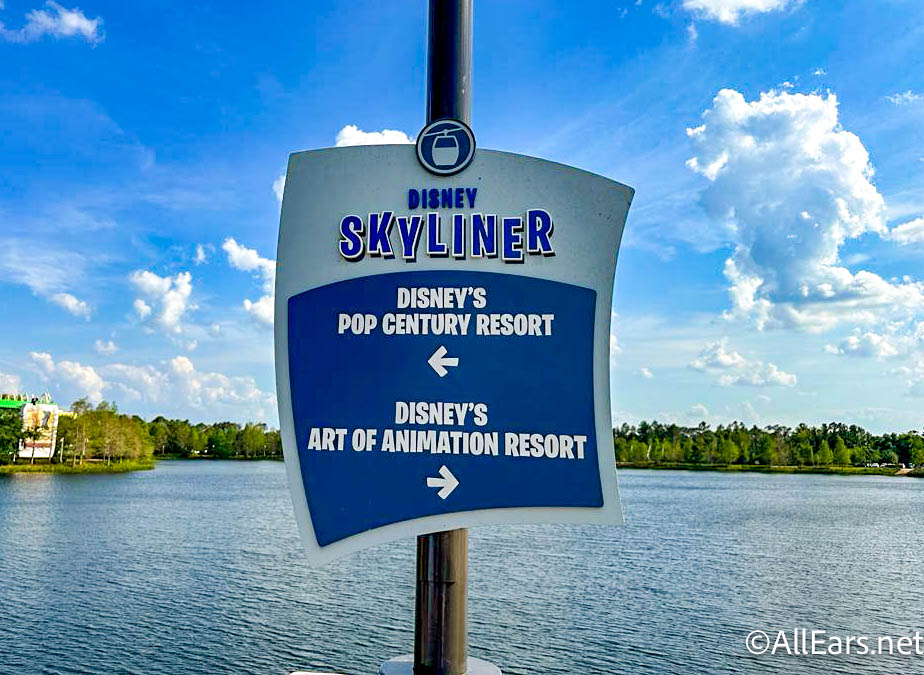 Boarding the Skyliner will take you to the Skyliner hub at Caribbean Beach, where you can transfer to the Hollywood Studios or EPCOT routes.
Is a Skyliner Resort Worth it?
The easy answer is: YES! Skyliner resorts provide you with easy access to two of Disney parks, not to mention all of the other resorts on the Skyliner route and the resorts in the EPCOT area for you to explore and enjoy an extension of dining options beyond your own resort.
You could argue that Monorail Resorts (Disney's Grand Floridian Resort & Spa, Disney's Polynesian Village Resort, and Disney Contemporary Resort) offer access to two parks as well, with the Monorail running to the Magic Kingdom and to EPCOT (though through a transfer at the Transportation and Ticket Center). But all three of those resorts are Deluxe Resorts, and you'll spend a pretty penny for that convenience.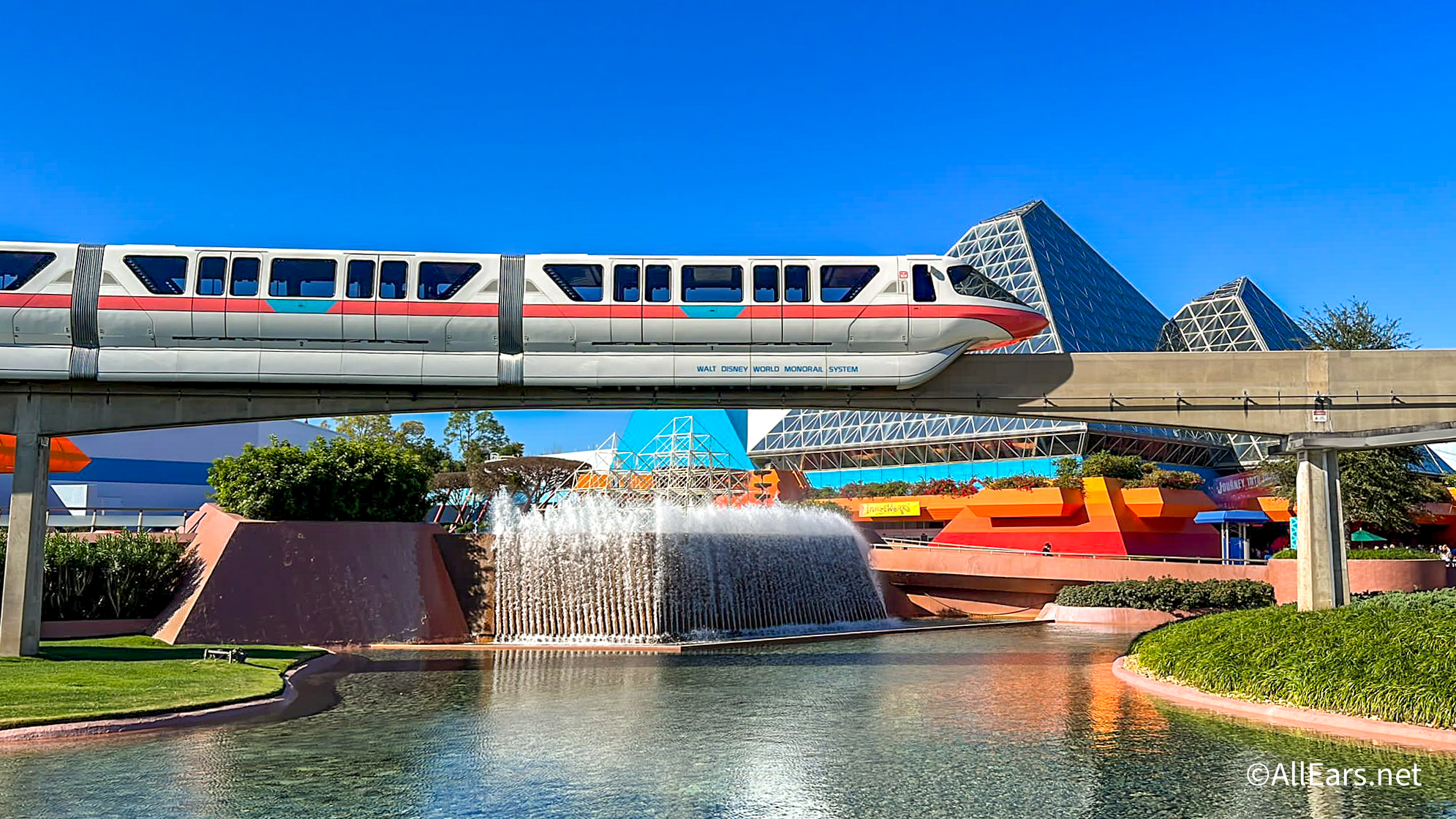 At the Skyliner Resorts, you have the budgetary flexibility of a Value Resort, one of the cheapest options Disney provides, all the way up to a Deluxe Villa, for more luxurious and spacious accommodations. So, you're sure to find something that fits your family and your wallet. And provided you don't have a crippling fear of heights, the Skyliner also provides a memorable way to experience getting around Disney World and offers views and perspectives you won't see anywhere else.
So, the real question is, not IF you'll stay at Skyliner Resort, but WHICH ONE?
Check out our in-depth article HERE for more information about the Disney World Skyliner. Keep following All Ears for all the latest Disney news!
Which of these is your favorite Skyliner Resort? Let us know in the comments below.