Heat, sweat, and crowds — those are the things that fill Disney's parks during the day. But head to the parks at night, when you can sometimes find cooler weather as the sun sets and some smaller crowds (at times), and you could have an entirely different experience.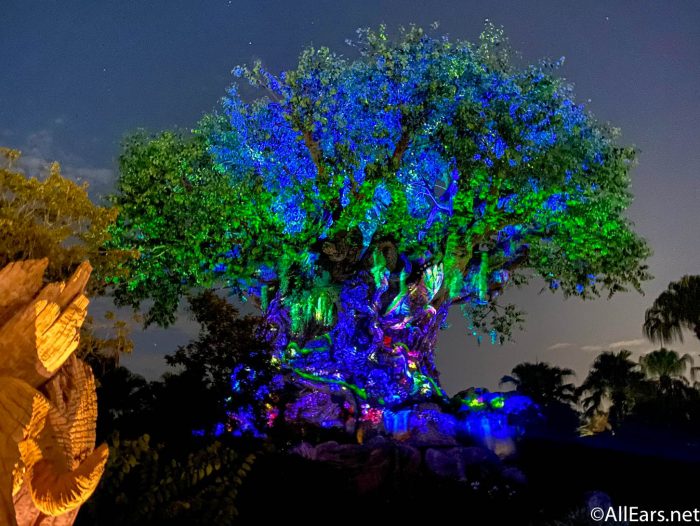 The darkness of night also presents the opportunity to enjoy some special Disney entertainment, including fireworks and projection shows. And soon some nighttime projections and more should be returning to Disney's Animal Kingdom!
The first thing that looks like it'll be coming back soon is Tree of Life Awakenings. This is a special nighttime experience where projections appear on the Tree of Life, sharing small animal stories about a young doe, hummingbirds, or even a fox.
The shows are relatively short but beautiful, and they give you the chance to see the Tree of Life in a unique way. When available, they typically are offered every 10 minutes until the park closes.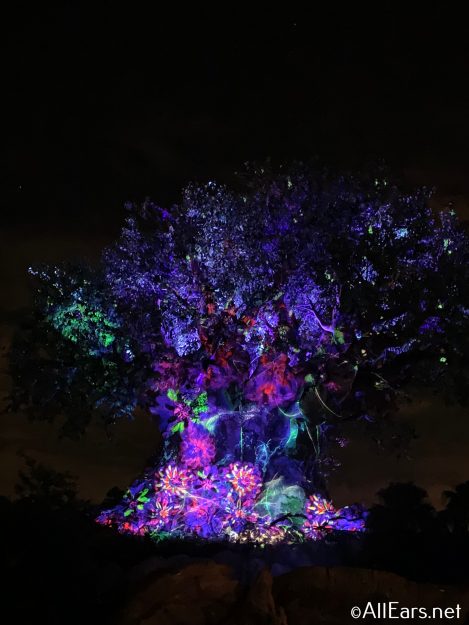 If you check the Disney World website for this experience, it does not show any available times for the remaining days in September.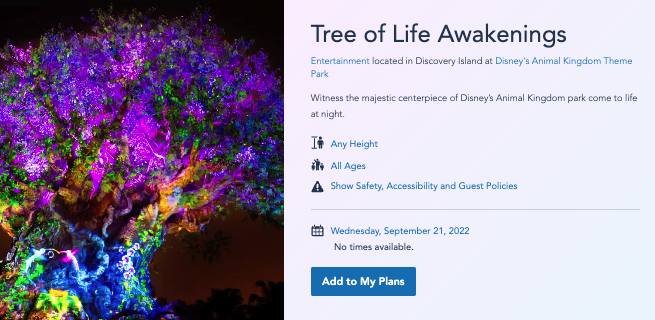 But, on October 1st, a show time is listed for 7:45PM. Showtimes continue to be listed for some days after that, but there are days when the website says there are "no available times" for the show (including October 4th-5th and 12th).
We did not check every available date in the month of October but did want to point out those dates. Be sure to check the dates of your trip to see whether the show will or will not be offered when you'll be there.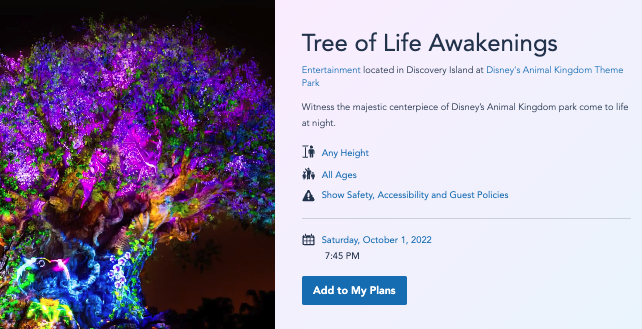 We also noticed a change in the hours for The Tree of Life: A Beacon of Magic offering. The Beacon of Magic offerings can be seen on all 4 Disney World park icons as part of Disney World's 50th Anniversary celebration. During this special moment at Animal Kingdom, fireflies gather to "call forth the magic of nature" and you'll see some special lighting effects on the Tree of Life.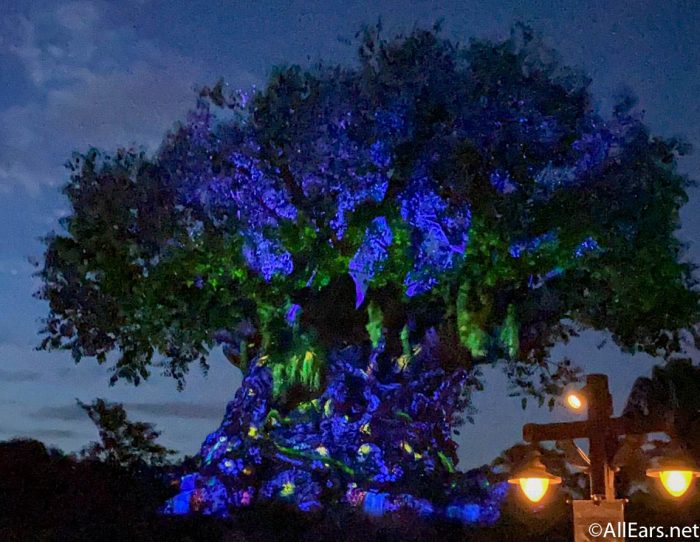 There are no available times listed for this offering for the rest of September, but times do start to be listed on October 1st.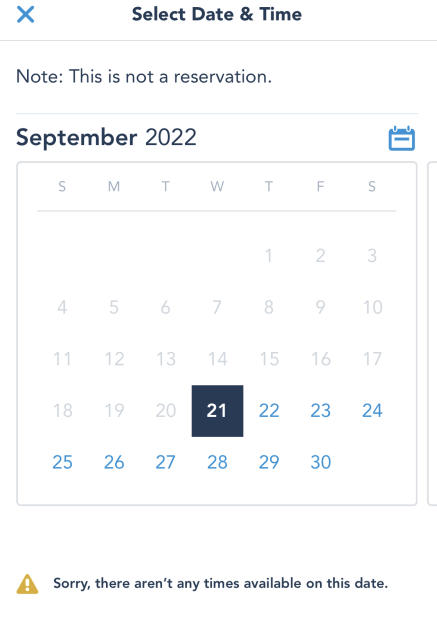 On October 1st, there is a show time listed for 7:45PM. Just as is the case with the Awakenings show, there are some dates on which the Beacon of Magic offering appears to not be available (including October 4th-5th and 12th).
Again, we didn't check every single day in October or beyond. You'll want to go to the My Disney Experience app and search for "The Tree of Life: A Beacon of Magic" to see available hours. Tap "Add to My Day" and you'll be able to see a calendar of dates and available show times.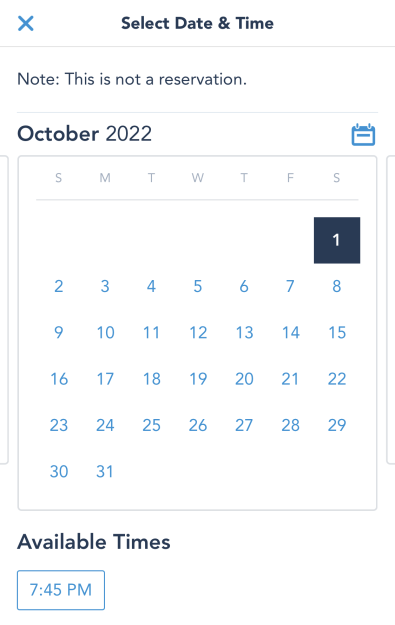 This all likely has to do with the park's hours, as Animal Kingdom will only be open until 7PM on certain days in October. You can click here to see ALL Disney World park hours from October through December 1st.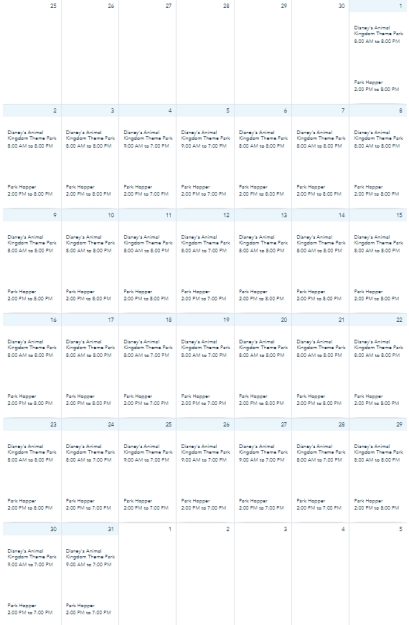 Looking for the perfect outfit to wear during your next trip to Disney's Animal Kingdom? Check out our park outfit design below!
We'll continue to bring you more updates so stay tuned for all the latest Disney news!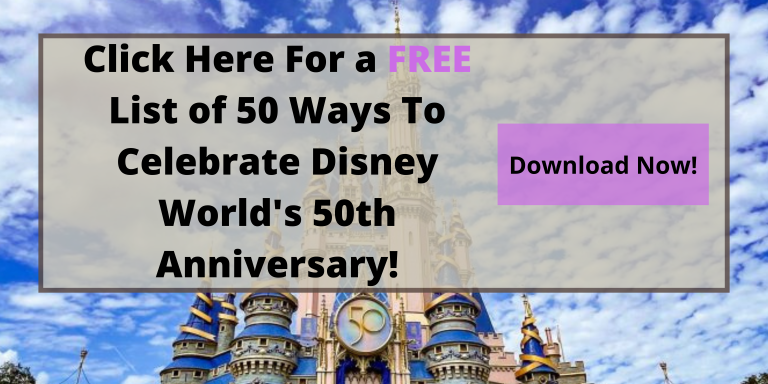 Will you be visiting Disney World soon? Ttrell us in the comments.