Disney World has a LOT of different places that you can stay, from Value to Deluxe resorts.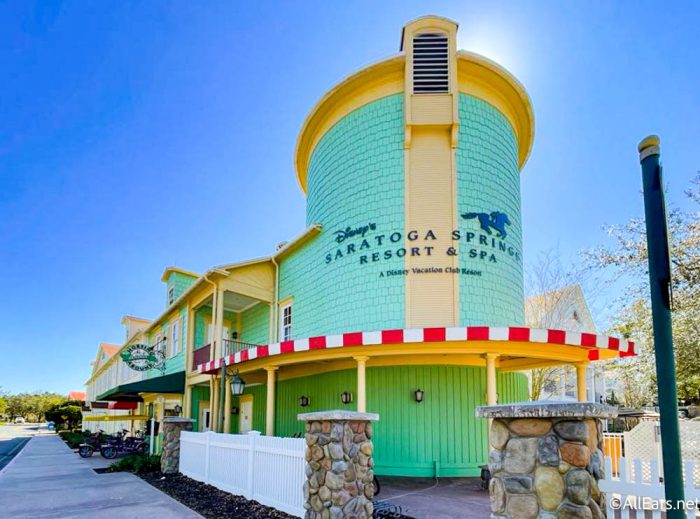 All of these resorts also have their own dining options, so there are a LOT of restaurants that you can eat at while you're on your Disney World vacation. It can be hard to know which spots are worth your time and money, but that's why we're here! We try out ALL of the food options so we can tell you what's worth it and what you can skip. Today, we're going to focus on a hotel that doesn't really get a ton of attention – Let's talk about the best things to eat if you're staying at Disney's Saratoga Springs Resort & Spa!
Saratoga Springs is a Deluxe Villa Resort, meaning it's in the highest tier of Disney World hotels when it comes to pricing. It's a Disney Vacation Club Resort as well and is inspired by New York's actual Saratoga Springs — the late-1800s spot famous for spas and horse racing.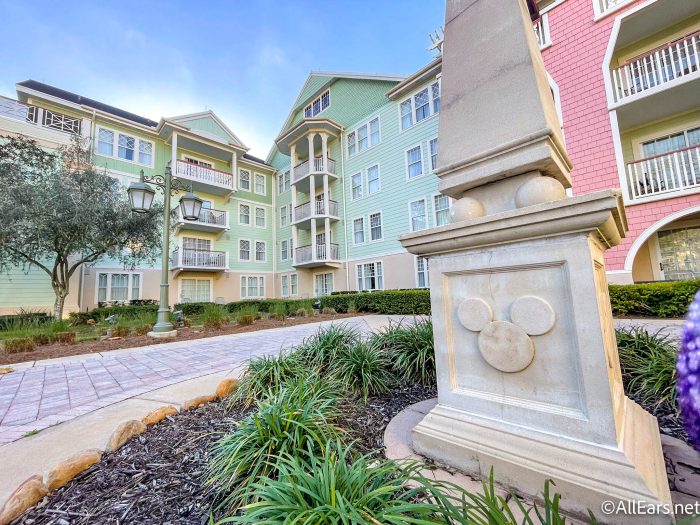 It's a Victorian-style hotel and is located right on Disney's Lake Buena Vista Golf Course. If you're a golfer, this is a great location for you! It's also right by Lake Buena Vista and very close to the Disney Springs shopping and dining district. The rooms here range from studios to multi-room villas and there are two pools that you can relax at, as well as a spa.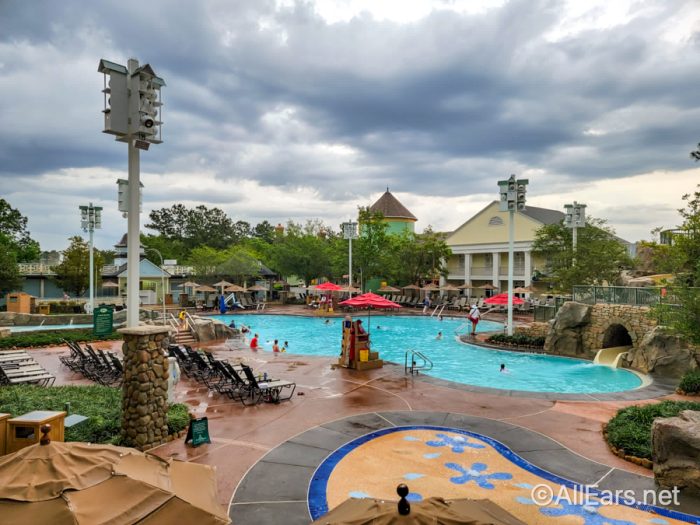 So, now that you know a little bit about the hotel, let's talk about the FOOD!
Turf Club Bar & Grill
The Turf Club is a table service restaurant located at Saratoga Springs that serves typical American fare for dinner. It might not be as popular as California Grill or 'Ohana, but there are some really delicious hidden gems here!
First up, we have the Mint Julep cocktail. They typically serve the drink in its traditional pewter cup that Mint Juleps come in — so they stay extra cold and have a classic feel! The one here has Woodford Reserve Bourbon muddled with fresh mint and agave nectar.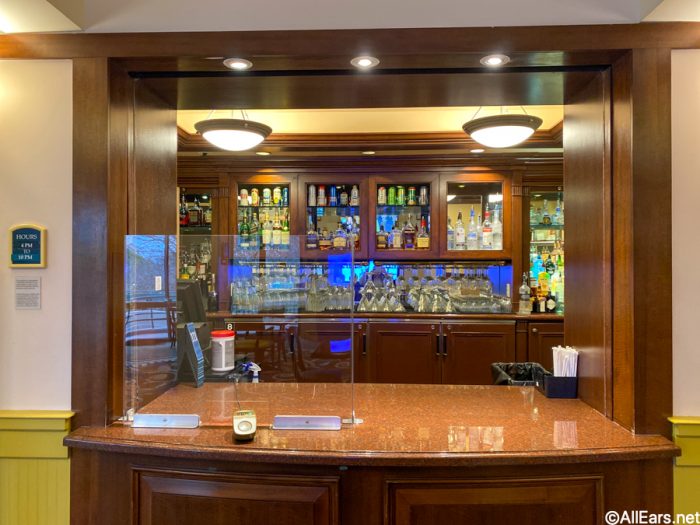 Next, we have the Parmesan Herb Bread that's served with your meal. It comes with some unsalted butter that's topped with black sea salt (fancy!). These rolls are just SO soft and taste like they're homemade. They have a ton of flavor from that parmesan and the herbs, and the cheese on top adds a nice crunch. The rolls are way more exciting that just your plain ol' dinner roll!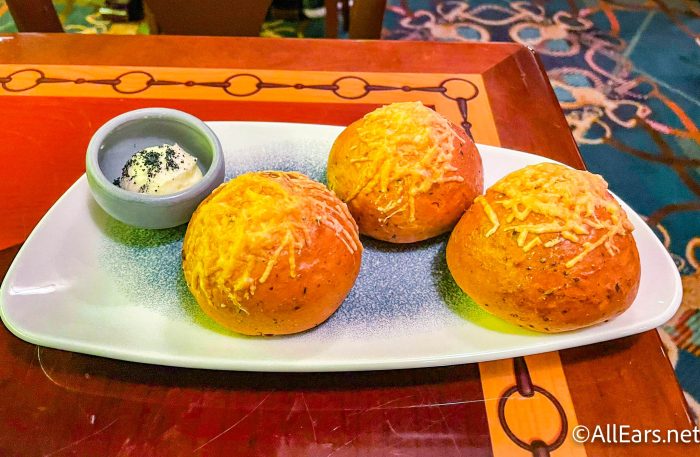 We also highly recommend the French Onion Soup here. It has caramelized onions in a rich beef broth with melted fontina and gruyere cheeses, and a house-made brioche crouton. This is one of the signature dishes here, so if you're a fan of French Onion Soup, you should for sure give it a try!
The Turf Club also makes a really great steak. There's a 6-oz Center-cut Filet here with roasted garlic mashed potatoes, smoked vidalia onion, romanesco, baby carrots, and cabernet-fig jus. Even though this isn't a steakhouse, it is a good option!
Don't want steak? We're also big fans of Grilled Pork Chop. It's a fennel pollen-dusted pork chop with sweet potato purée, Cannellini beans, baby kale, and 'nduja vinaigrette. If you don't know what 'nduja is, it's a spicy, spreadable sausage from Calabria in southern Italy. It makes this dish a bit spicy, but it goes really well with all of the other flavors!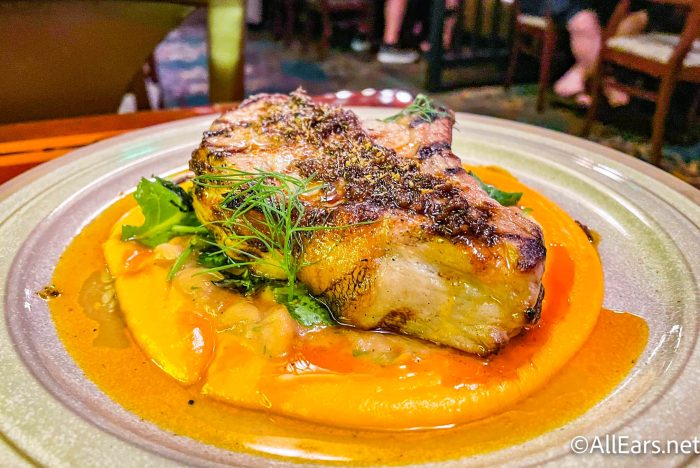 The Cannellini beans and sweet potato purée are both very velvety and buttery, and the beans actually have a great smokiness to them. The pork is moist and is a really big portion, so it's totally worth the price! If you're looking for comfort food, this is where it's at.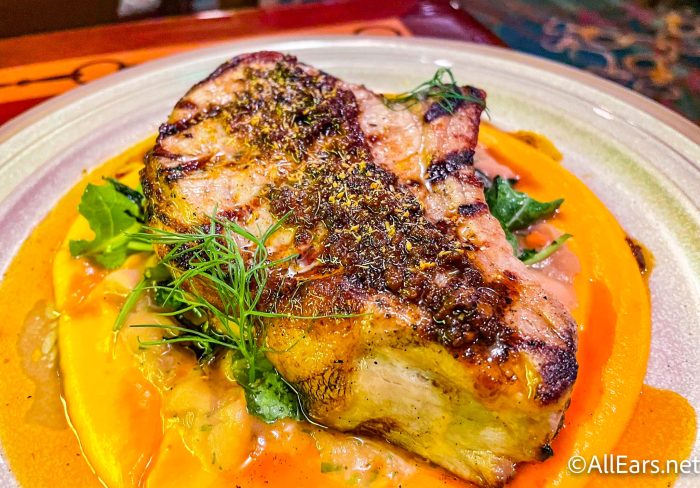 Finally, our last recommendation at this spot is The Turf Burger! Note that this is actually only available in The Turf Club Lounge, which is right by the restaurant and also has a full bar (another spot to get a Mint Julep!). The Turf Burger comes with smoked cheddar, thick-cut bacon, bourbon glaze, crispy onions, and tomato jam on a brioche bun served with seasoned house-cut fries.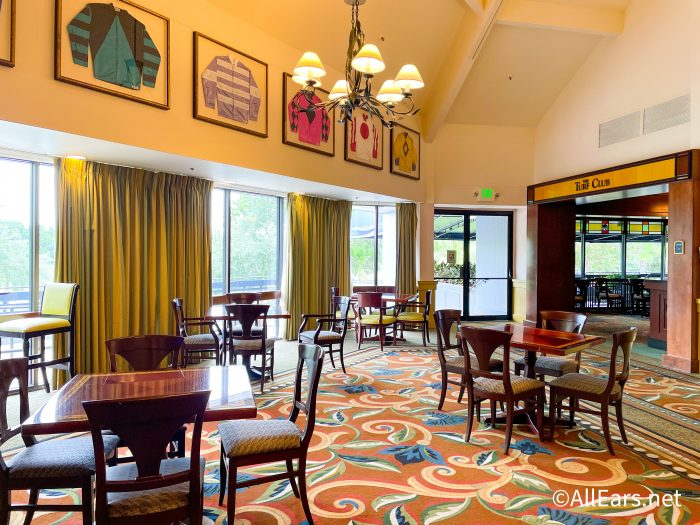 We absolutely LOVE this burger — it's the perfect size and it's packed with flavor. The bacon is thick and crispy and the tomato jam adds a great sweetness. That melty cheese and crispy onions on top also add more layers of deliciousness, and the bourbon glaze gives it some tang! It's definitely WAY better than most burgers you can find around Disney World.
Chip 'n' Dales' Cafe
Chip 'n' Dale's Cafe is a quick service spot located near the golf course. They have some breakfast items along with deli-style lunch items, as well as some beer and cocktails. There are pretty typical lunch offerings here — sandwiches and snacks — but some of the sandwiches are worth checking out!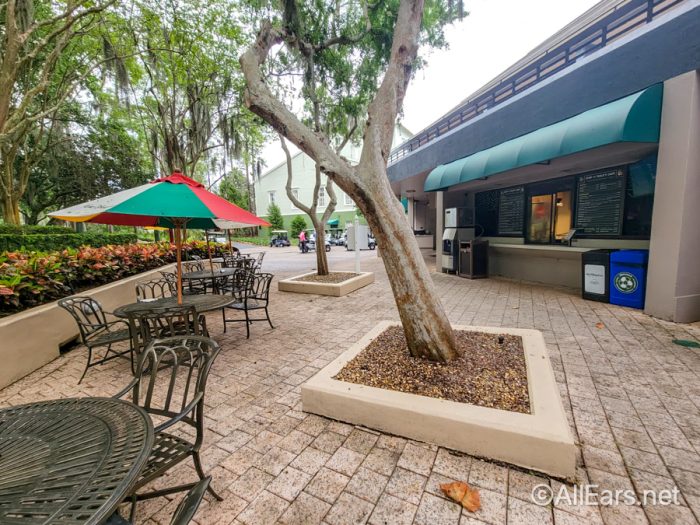 There is a REALLY good grilled cheese over at Chip 'n' Dales'! The Ultimate Grilled Cheese has cheddar, Swiss, and American cheeses melted between two slices of freshly baked bread. Give us ALL the cheese, please! This is a pretty perfect, classic grilled cheese. The bread is golden and crispy and the cheese is ooey gooey.
Another great option over here is the Country Club Sandwich. This is a golf course classic. It's a triple-decker of fresh bacon, roasted turkey, swiss cheese, deli ham, and American cheese with lettuce, tomato, and mayonnaise served on toasted white bread. It's a really big portion so it's super filling and the ingredients are all really fresh.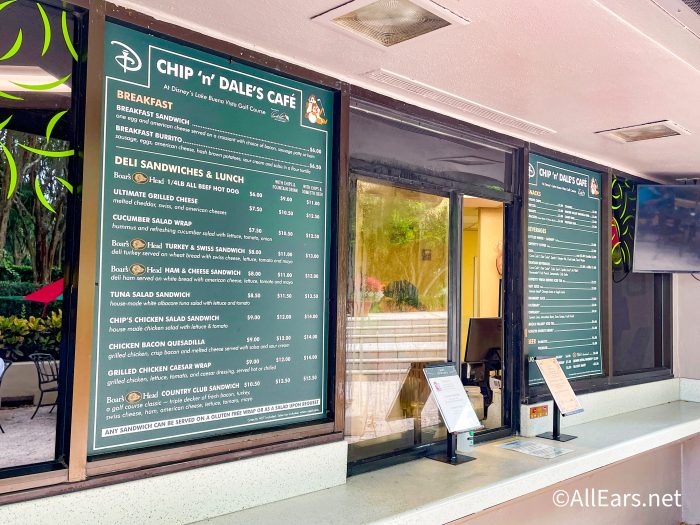 And, to wash everything down, you can't go wrong with an Arnold Palmer!
The Artist's Palette
The Artist's Palette is another quick service spot at the hotel that serves breakfast, lunch, and dinner. You can find fresh sandwiches, pizza, and salads on the menu for meals, but we want to talk about the DESSERTS! There are usually some pretty delicious cupcakes over here.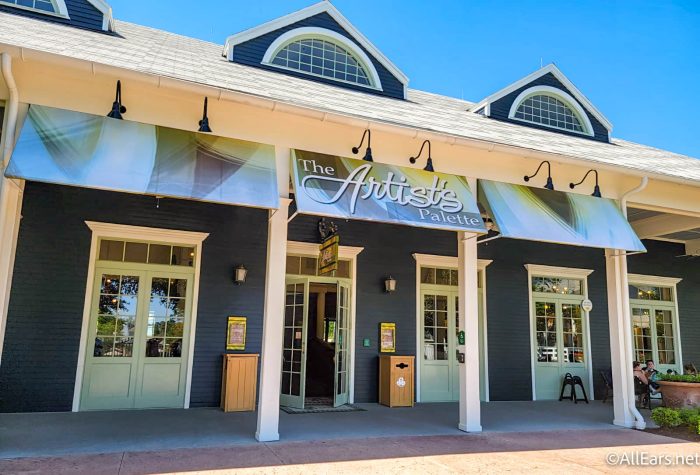 We're big fans of the Milk and Cookies Cupcake, which is a vanilla cupcake filled with edible cookie dough topped with sweet cream and a freshly-baked cookie. Yeah, you read that right — there's cookie dough INSIDE this cupcake and a whole other cookie on top! It's a dream.
Another cupcake that's worth checking out is the Bullseye Cupcake. This one is a chocolate cupcake filled with peanut butter mousse (YUM) and then topped with chocolate and peanut butter buttercream and a Bullseye white chocolate coin. Peanut butter and chocolate are just such a classic combo, and this cupcake takes it to the next level!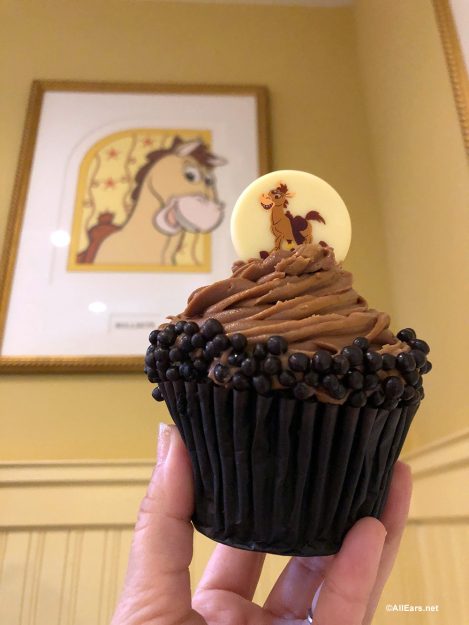 There's one other thing we need to talk about over here — the water! Yep, Saratoga Springs has its very own brand of water.
Saratoga Bottled Waters come directly from the actual Saratoga Springs with a crisp, clean taste and a low mineral content. There are both still and sparkling versions!
Disney Springs
Okay, this one is cheating a little bit, but we have to mention it! Saratoga Springs Resort is RIGHT by Disney Springs — you can very easily walk there. So, if you can't find anything that you want to eat at the resort, you can always make your way over to the shopping and dining district and check out some of the awesome restaurants over there.
Seriously, there are SO many delicious dining options at Disney Springs. Raglan Road, Jaleo, The BOATHOUSE, Morimoto Asia, Homecomin', Wine Bar George, Chicken Guy! — we could go on and on. Our point is that there are a lot of choices, so staying at Saratoga Springs gives you a good amount of flexibility. And, since you can walk over there, you don't have to worry about dealing with transportation, traffic, or parking!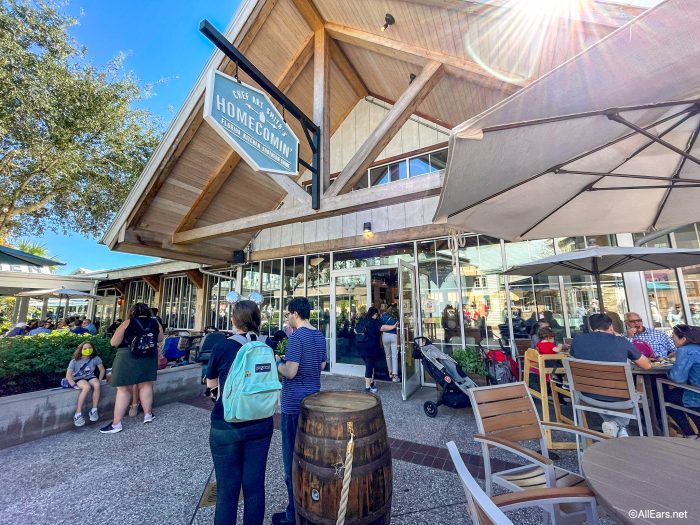 So, that's what we think are the best things to eat over at Disney's Saratoga Springs Resort! Did we miss any of your favorites? Feel free to tell us all about them in the comments below! If you want to know more about Disney World dining, you can check out The 20 BEST Meals You've Probably Never Tried in Disney World, Ranking ALL of Disney World's Fanciest Restaurants, and The Most Underrated Snack in Every Walt Disney World Park!
Stay tuned to AllEars for more Disney food tips, info, and news.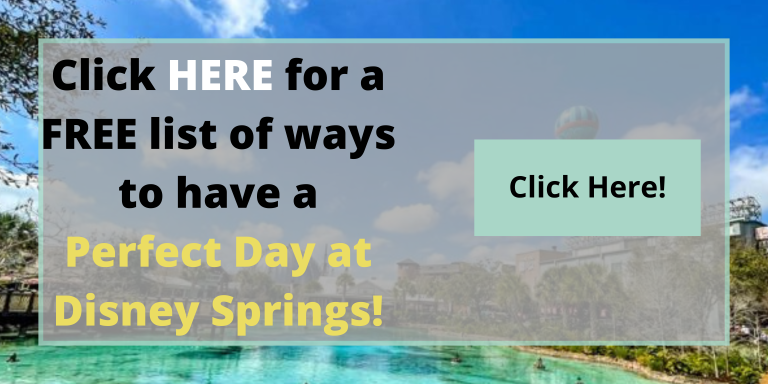 Which Disney World hotel has your favorite food options? Tell us in the comments!