It's no secret that a Disney World vacation is pricey, but did you know that most of your budget could end up going just to FOOD?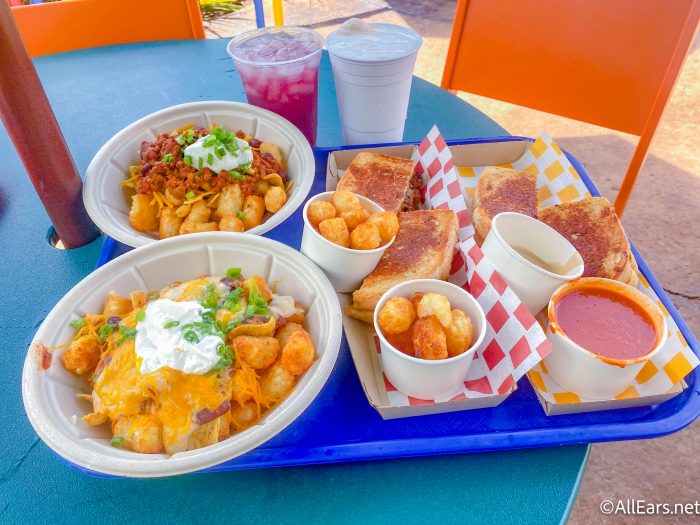 Eating in Disney World costs a lot (and it's only gotten even MORE costly in 2022) so we're breaking down how much you should really plan to spend on dining. Plus, we're giving you some BONUS tips on how you can SAVE!
Dining Price Ranges
When it comes to the cost of dining at Disney World, you'll find it broken down into four different pricing categories that are noted on Disney's website — $, $$, $$$, $$$$. But, what do all those dollar signs actually mean?
Here's a quick breakdown of what they correlate to price-wise:
$ – $14.99 per adult and under
$$ – $15 to $34.99 per adult
$$$ – $35 to $59.99 per adult
$$$$ – over $60 per adult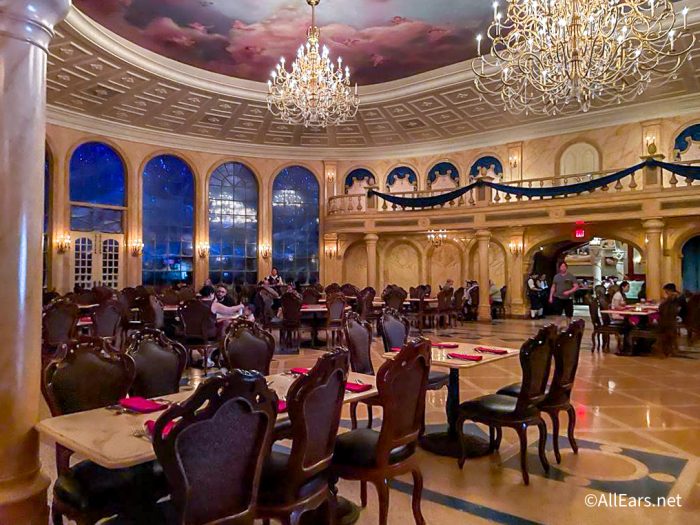 Generally, the lowest cost dining in Disney World (designated as $) includes Quick Service restaurants, lounges, and pool bars. So, while some of these locations listed as costing $14.99 or less do offer a full menu with meals that will keep you satisfied, others are more "snacker-friendly" and don't offer entrees.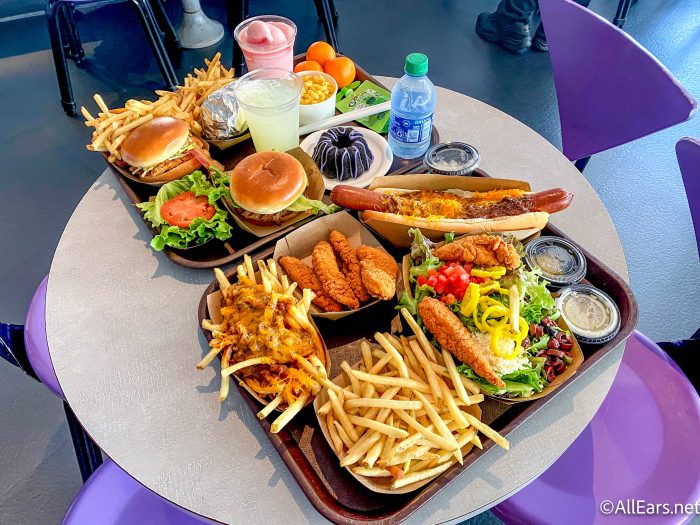 The next pricing tier ($$) is going to be your average Table Service restaurants both in and out of the parks along with some more upscale bars and lounges across the resorts.
And, when it comes to that $35 to $59.99 price range ($$$), you'll find this at nicer Table Service restaurants including character dining experiences and buffets. So, you're usually either getting more food for your money or you're getting an extra "experience" on top of your meal.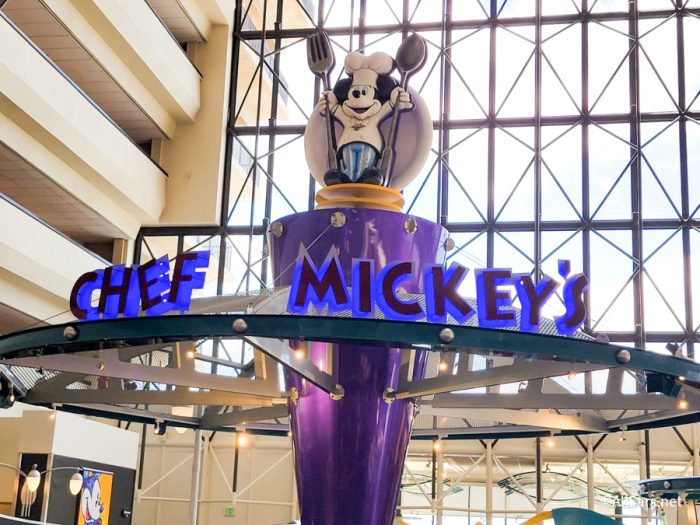 The most expensive dining in Disney World is $60+ ($$$$) and includes signature dining restaurants like California Grill at Disney's Contemporary Resort, some character dining experiences like Cinderella's Royal Table, dessert parties, and other special dining packages.
Now, when it comes to your Disney dining budget, the average family is going to dabble a little bit in all of the different price ranges. But, for the purposes of finding out how much it will really cost you to eat in Disney World, we'll consider three different scenarios – a family of 4 that is dining on a tight budget, the average family of 4 who isn't necessarily pinching pennies but not going all out, and then a family of 4 that is taking advantage of all that Disney dining has to offer. And, we'll say that all of these families are traveling for 5 days and 2 kids and 2 adults.
Low-Cost Dining For Family of 4
First up, let's consider a family of 4 that is looking to dine in Disney World on a low budget. They're spending 5 days in the parks with 2 adults and 2 kids in their party. Because they are trying to save as much as possible on the food part of their trip and spend the most time in the parks, they're skipping out on any Table Service restaurants and snacks and opting to eat three Quick Service meals per day.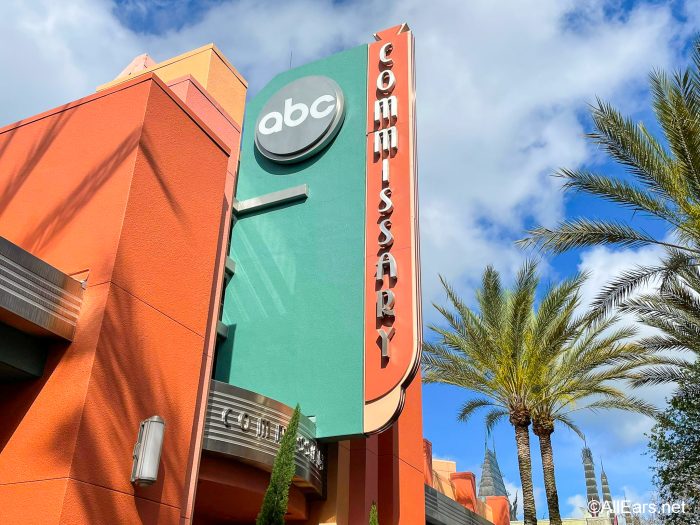 They're staying at a Disney World Value Resort (let's say Disney's Pop Century Resort), so each morning they start their day at the food court for breakfast. They want to be sure that the meal holds them over until lunch so one adult gets the breakfast platter which costs $12.49, the other gets the adult Mickey Waffles meal which costs $10.49, and both the kiddos get the Kids' Mickey Waffles which costs $7.29 each.
So, all in all, breakfast costs $37.56 every day of their trip.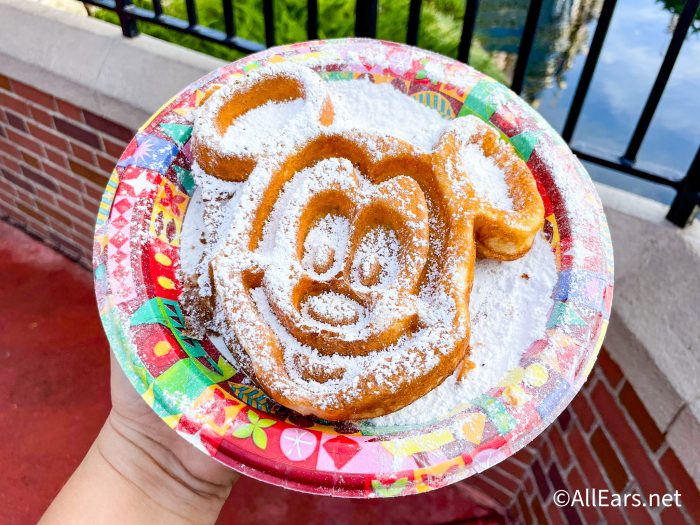 Then, it's time for lunch! They opt to choose a Quick Service location in the parks which usually costs $14.99 or under per person. Let's say they stop by Cosmic Ray's Starlight Cafe in Magic Kingdom where one adult gets a burger and fries for $10.99, another gets a chicken sandwich and fries for $11.99, and the kids get kids' chicken nugget meals for $7.99 each.
This brings their total for lunch to $38.96.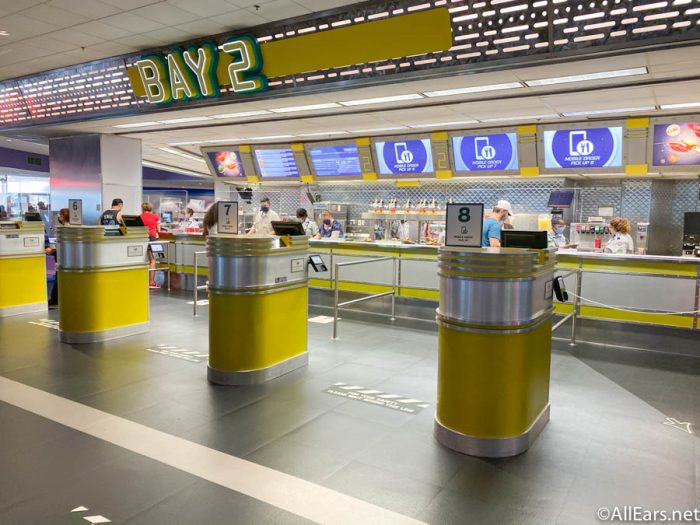 For dinner, the family opts for another Quick Service location in the parks like Flame Tree BBQ in Disney's Animal Kingdom. They get one Smoked Pulled Pork Sandwich entree ($11.49), one Baked Macaroni & Cheese with Pulled Pork entree ($12.49), and two kids' Pulled Pork Platters ($7.19 each).
The total comes out to $38.36 for dinner.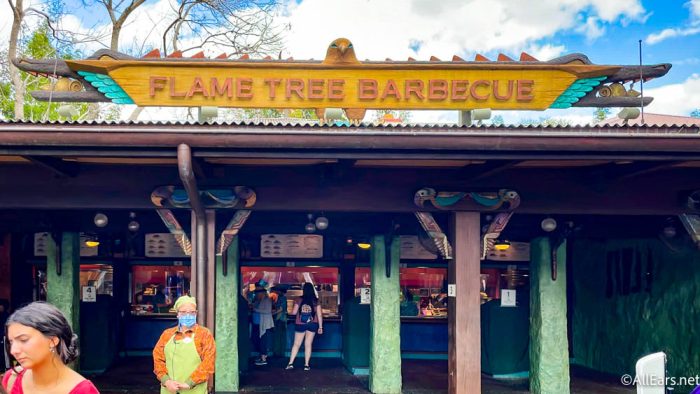 Now, we're going to assume that this family is foregoing purchasing drinks and opting to order free water cups with their meals to avoid the extra cost, so in total, they spend about $114.88 in total for dining per day or $575 for their entire trip.
This is a pretty good estimate of the cheapest way to dine in Disney World, and, as you can see, each meal comes out to about the same cost if you're just opting for Quick Service dining. In more general terms, you can probably expect to budget $12 per adult and a little under $8 per kid — so this family would probably want to budget about $120 per day for meals.
Middle of the Road Dining For Family of 4
Now, the average family visiting Disney is usually going to have a bit of a mix of both Quick Service and Table Service dining. So, what if you want to visit one sit-down restaurant a day and then do faster options for the other two meals, plus grab a snack or two? Let's take a look at how much that would cost that same family of 4!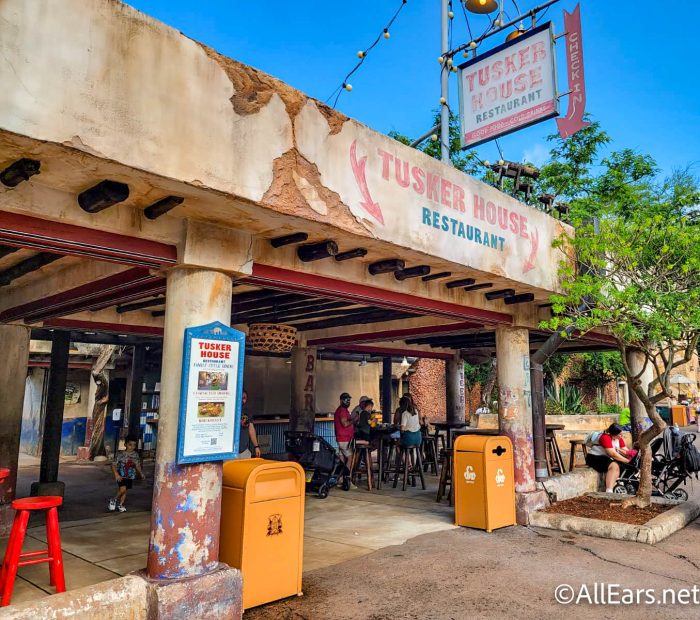 Instead of a Value Resort, let's say that this family is staying at one of Disney World's Moderate Resorts like Disney's Port Orleans Resort — Riverside. They stop by the Quick Service restaurant here in the mornings to grab breakfast ordering a breakfast platter ($12.49), a Mickey Waffles meal ($10.49), and two kids' Mickey Waffles meals ($7.29 each).
Even though the hotel is a bit pricier, the cost for breakfast comes out to the same as dining at a Value Resort at $37.56.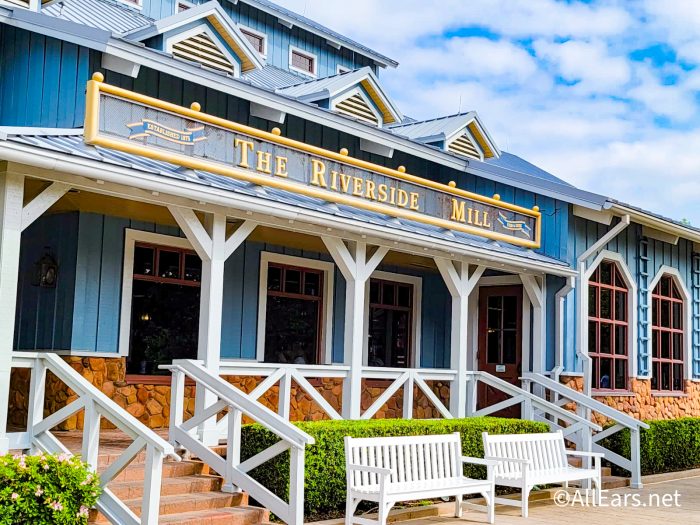 At the parks, they choose another Quick Service location like ABC Commissary in Disney's Hollywood Studios. Here they get the Pork Tacos for $11.49, the Buffalo Chicken Grilled Cheese for $11.29, and two kids' Pork Taco meals for $7.49 each.
This totals out to $37.76 for lunch.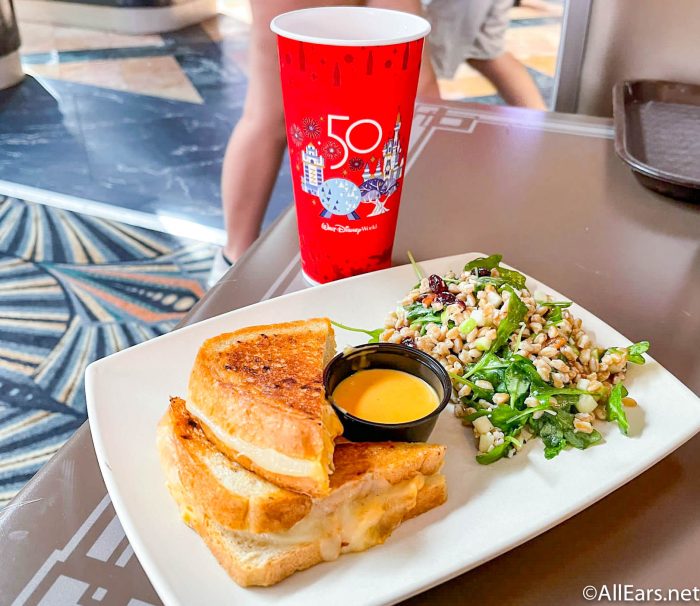 Halfway between their lunch and their dinner reservation, they find themselves hungry for a snack, so they grab two Mickey Pretzels ($7.19) and two churros for the kiddos ($6.39 each) to hold them over. A total of $27.16 for snacks.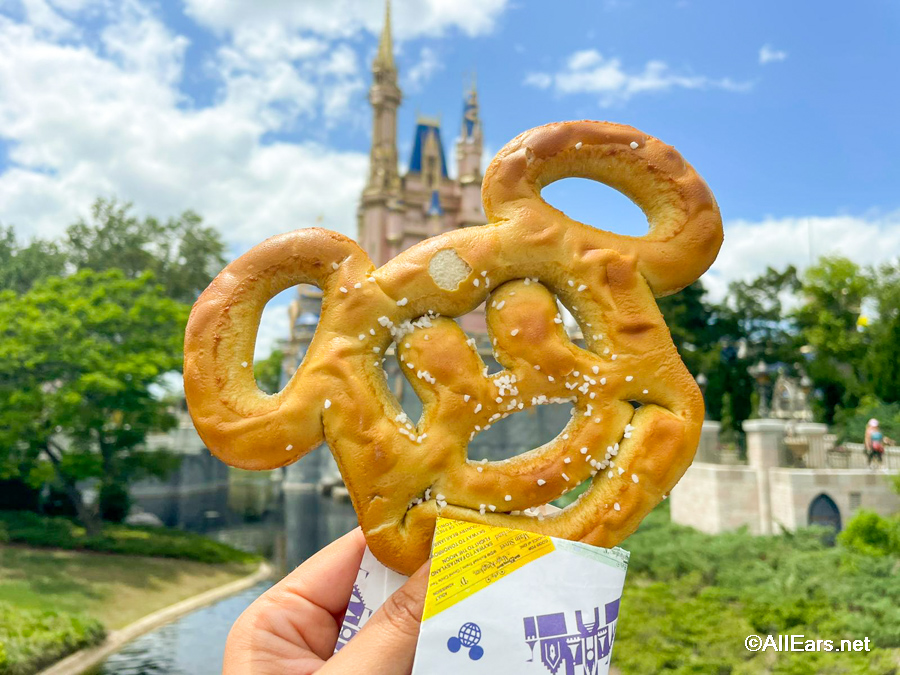 And, each night, they opt to dine at a Table Service restaurant either inside or outside of the parks. Depending on what restaurant you're visiting, they're either priced per person or per dish, but for this example, we'll say that they opted to make a reservation at Crystal Palace in Magic Kingdom, which is currently a buffet and costs $39 per adult and $23 per child.
So, dinner costs them $124.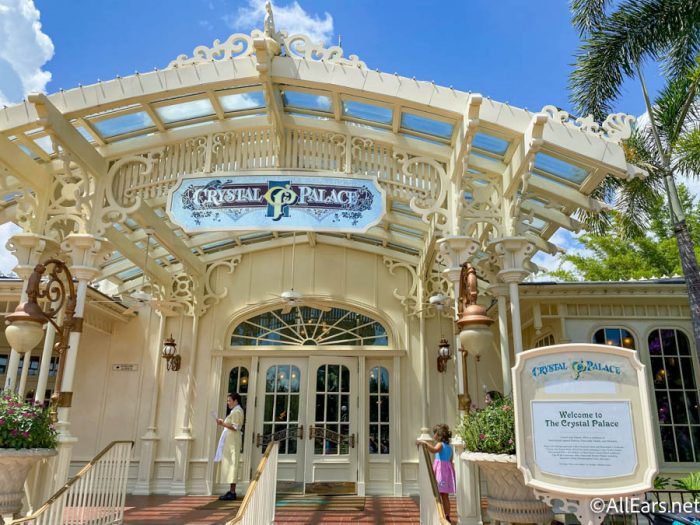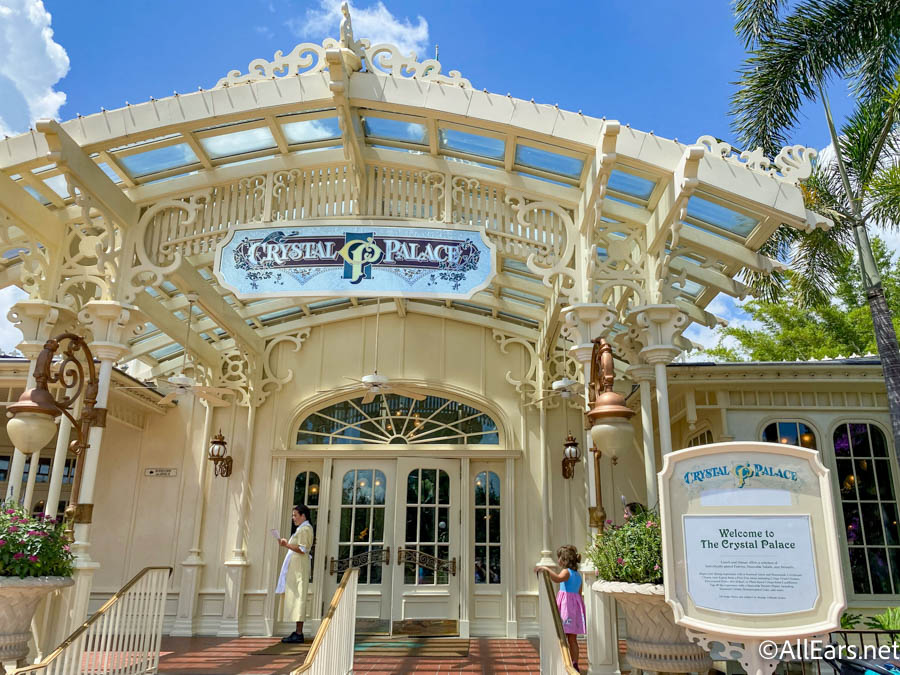 In total, just for meals, this would be $226.48 for the day or about $1,133 for food over a 5-day trip (adding drinks would be about an extra $50 per day). And, for two Quick Service restaurants, one Table Service restaurant, and a few snacks per day, this is about right — generally, we'd say to budget about $200 to $250 if this is your plan.
All-Out Dining For Family of 4
So, what if you're not really putting any limits on your dining at Disney World? You want a snack? You get the snack. Want to eat and meet characters? You're booking character dining. Want to watch fireworks without the crowds and enjoy a snack? You're adding on a dessert party. Well, here's an estimate of how much that would really cost for a family of 4!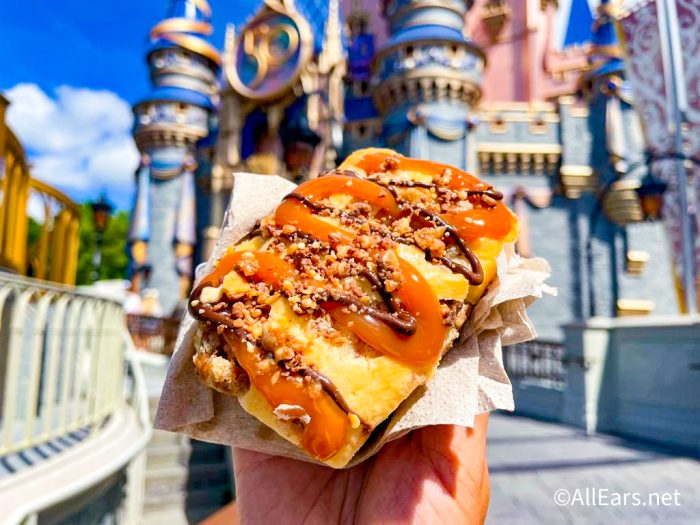 In this case, let's say that the family is staying at a Disney Deluxe Resort (like Disney's Grand Floridian Resort & Spa). Like the other scenarios, they stop at the Quick Service restaurant in the morning for breakfast getting a breakfast platter ($12.99), an adult Mickey Waffles entree ($10.49), and two kids Mickey Waffle meals ($7.29 each).
This actually ends up being a little pricier than the Quick Service restaurants at Value and Moderate Resorts with the total for breakfast coming out to $38.06.
For lunch, they opt for an easy Quick Service meal like the new Connections Eatery at EPCOT. Here they get the French Bistro Burger ($12.99), a slice of pizza ($10.99), and two kids' chicken strip meals ($7.99 each). And, they can't resist trying the new Liege Waffle they've heard all about so they get two to share ($5.29 each).
Lunch costs $50.54.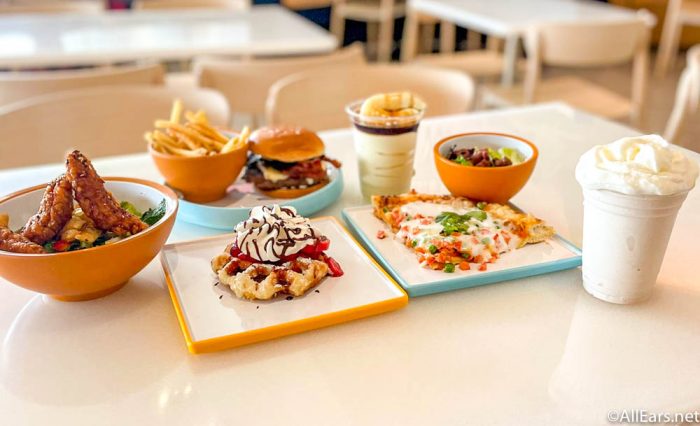 Mid-day they decide to grab a snack, ordering up a Dole Whip for each person (which costs $5.99 each). And, then a little later on they get two Mickey Pretzels to split to hold them over until dinner ($7.19 each). This brings their total for snacks to $38.34.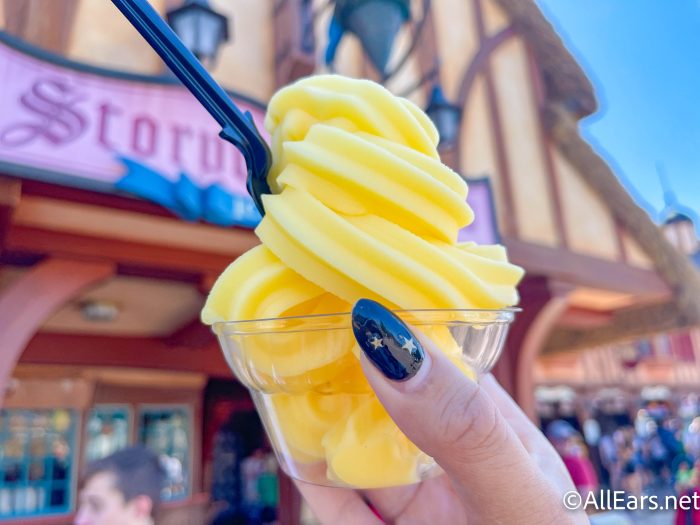 For dinner, they choose a character dining experience like Chef Mickey's at Disney's Contemporary Resort, which costs $42 per adult and $27 per child. In total, that's $138.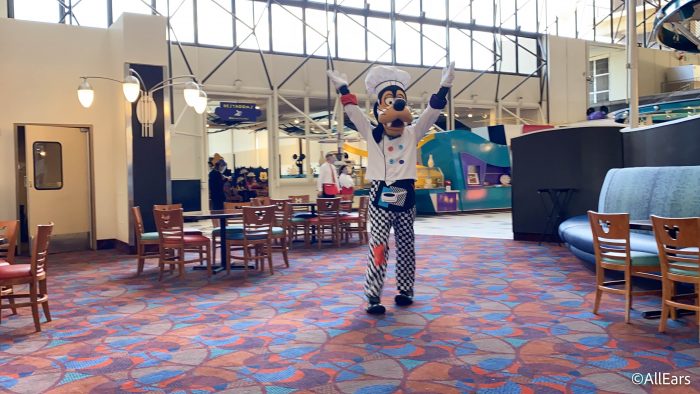 And, they've got to find room in their stomachs for more because they booked a Disney Enchantment Fireworks Dessert Party so that they could get prime views of the Magic Kingdom fireworks show. This dessert party costs $114 per adult and $69 per child, adding an extra $366 on top of all their meals.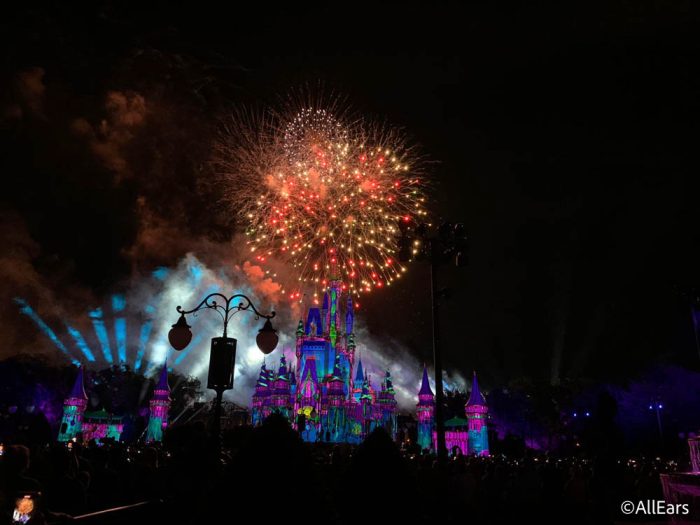 In total, this day at Disney World cost the family of four $620 on dining, and even without the dessert party, it would have cost $255 — a total of $1,400+ for food over 5 days. Generally, we don't recommend booking more than one Table Service restaurant per day since they can eat up about an hour or more of your day in the parks, but some families may opt to do more than one sit-down meal per day in which case the cost would increase even more.
So, as you can see, families could spend well over $250+ for food if they're opting for character dining (Cinderella's Royal Table is even pricier), snacking often, or adding on additional dining experiences.
Tips For saving on Disney Dining
Now, before you panic about your Disney dining budget, know that there are A LOT of ways that you can save on food — it just takes some planning!
One of the easiest ways to save is to take advantage of deals and discounts available to you if you're part of any loyalty groups. For example, Disney World Annual Passholders can save at most dining locations throughout the resort, Disney Visa Cardholders can save 10% at select Disney World dining locations (and 20% off Joffrey's coffee), Disney Vacation Club members can save on Disney World dining, and D23 Members can save at select Disney Springs dining locations. Several Disney Springs restaurants also offer happy hour specials.
Plus, you might even want to look at your local grocery store! We've seen deals on gift cards to several Disney Springs restaurants at Costco in the past and Target Redcard members can save 5% off Disney Gift Cards that can be used on dining (or anything else in Disney World really!).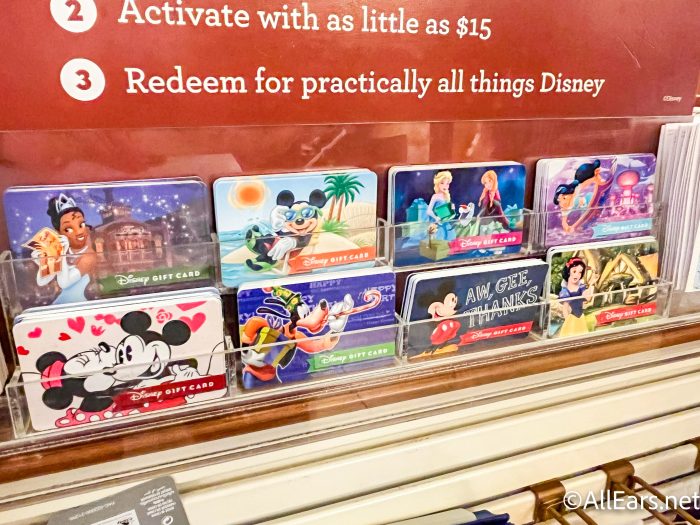 And, if you aren't part of any of these groups, you can still shave some of the cost off dining in Disney World by splitting meals. A lot of the restaurants in Disney World serve meals with big portion sizes, so if you're heading into a table-service restaurant, do a little bit of research to find out which plates might be shareable portions. We have pictures of food items on each AllEars restaurant's page, so you can see how big much food you get with certain dishes.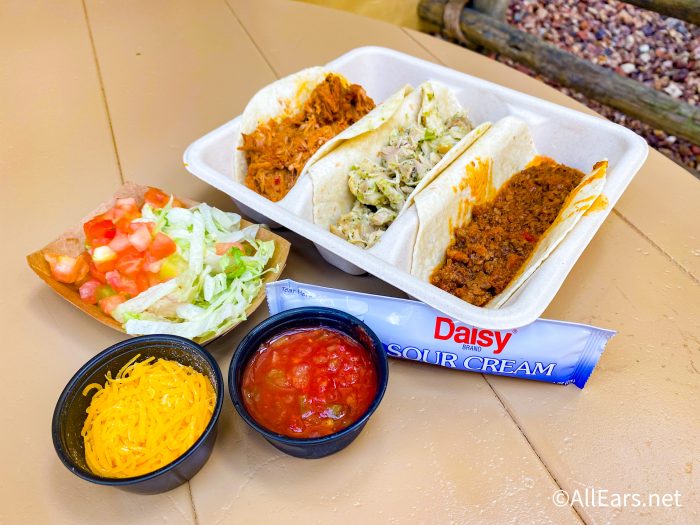 Speaking of Disney portion sizes, one of our favorite ways to save on Disney dining is opting for a large snack rather than a meal from a restaurant. You can usually get a much more unique snack (like the Fresh Fruit Waffle Sandwich at Sleepy Hollow in Magic Kingdom, for example) for a little lower cost and you'll still be full. Check out 12 snacks at Disney World that are so big they could be your lunch here.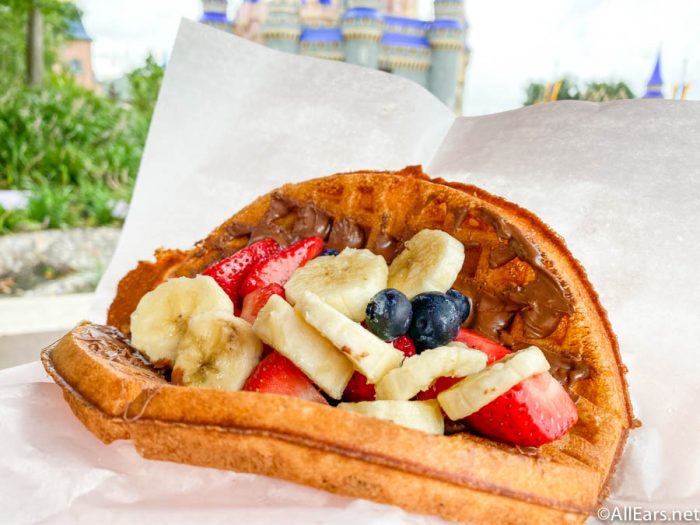 You can also usually order a kids' meal (even if you're an adult) from Quick Service restaurants. This can save you about $3-$5 per meal and the portions are still large enough to be filling! Just keep in mind that Table Service restaurants tend to limit this.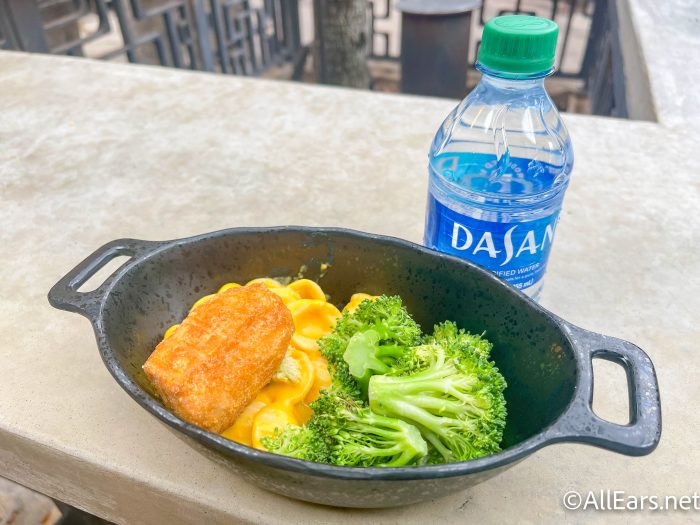 Now, you might also be thinking — "what about the Disney Dining Plan?" While this can be a great way to budget for your trip, it doesn't necessarily always save you money. You can see under what circumstances the Disney Dining Plan is "worth it" for guests in our here, but do keep in mind that right now, all Disney Dining Plans are currently suspended (though Disney has confirmed that they will return at a later date).
And, of course, we'll be keeping an eye out for more ways to save at Disney World (and all other Disney dining news, so stay tuned to AllEars for more!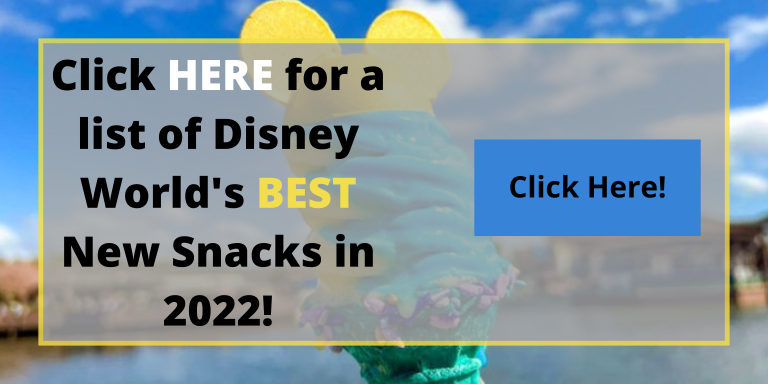 How do you budget for food in Disney World? Let us know in the comments!