You expect to find lines inside a Disney Park, but what about OUTSIDE the parks?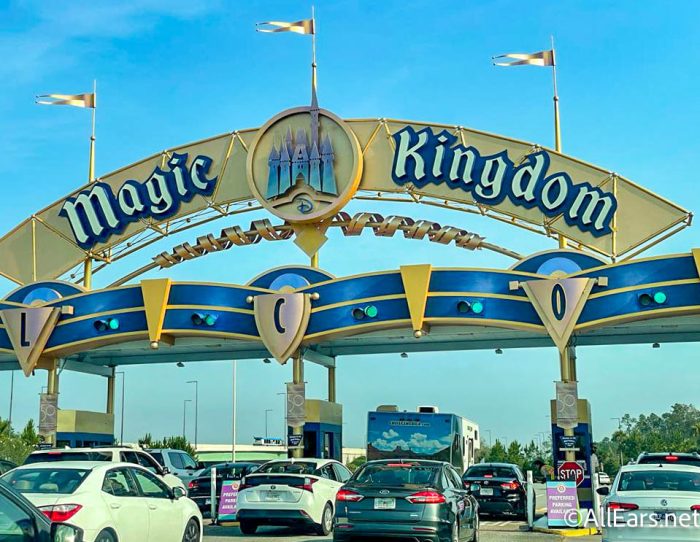 It's easy to forget that you might encounter lines all over Disney World, including in parking lots, for buses, to buy tickets, and plenty more. This morning we were reminded about this the hard way and here's what you could expect — and how to deal with it.
You might think getting into a Disney Park is as simple as walking up to the gates and scanning your ticket, but that's not exactly the whole picture.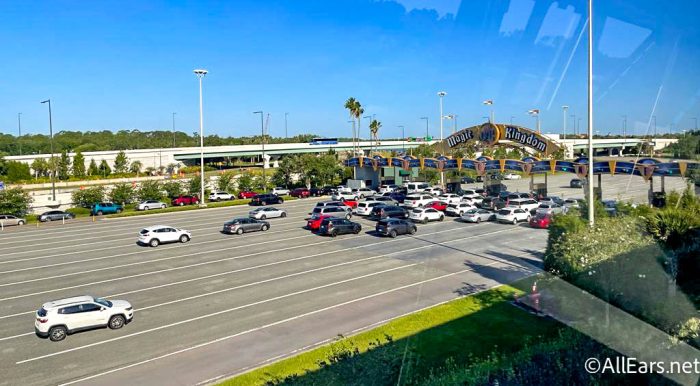 If you're driving, it's not uncommon to encounter long car lines just to get into a Disney World parking lot. Each park has a toll plaza where guests can pay for parking and at peak times (like first thing in the morning) these lines can get pretty long. This morning, it took us about 10 minutes to get from this area to our parking spot.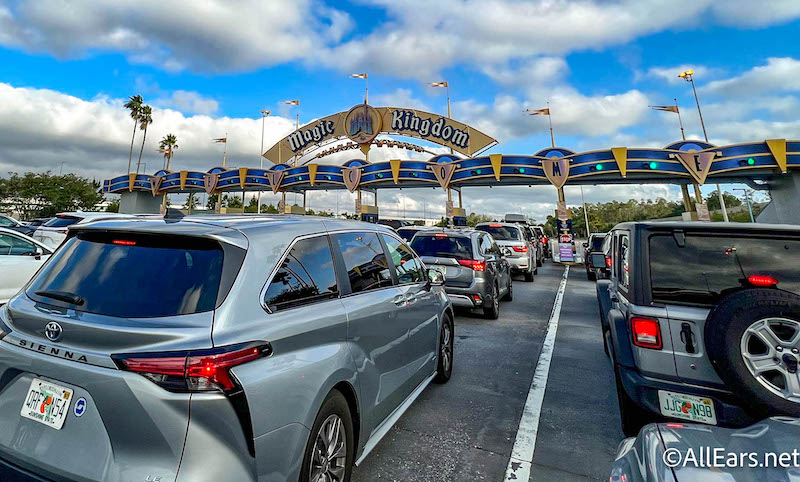 Once you're directed to your parking spot, it's not unusual to have a long walk from your car to the park entrance. In Magic Kingdom's case, you park at the Transportation and Ticket Center (TTC), which means you're walking from the parking lot to the second form of transportation to the actual Magic Kingdom gates.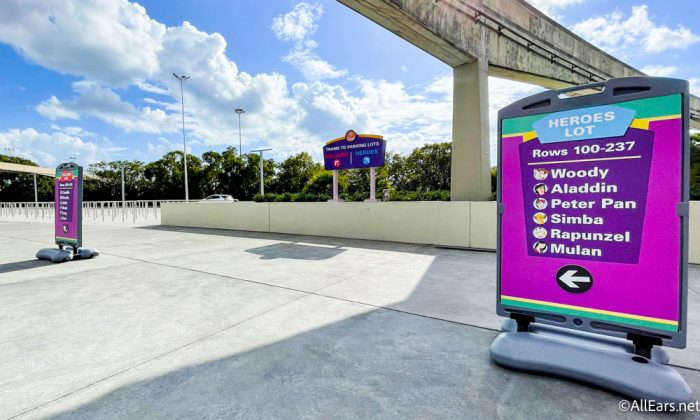 Parking trams can help shorten your walk to the front gates, but they aren't always a solution. This morning, the line for the trams at the Magic Kingdom parking lot was so long that it probably would have added an extra 20 to 30 minutes just to get to the TTC!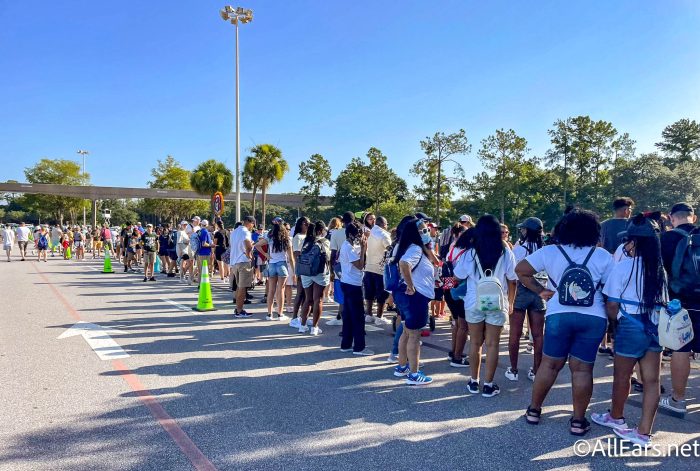 We opted to walk to save time, which can take upwards of 15 minutes depending on where you park and how fast you walk. When you're facing a long day of walking inside the park, this isn't usually the ideal option.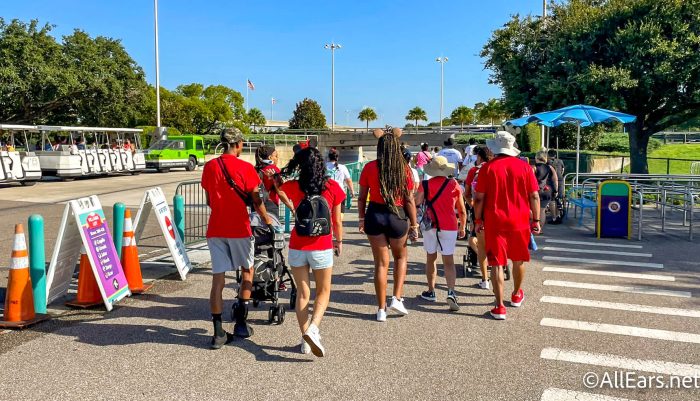 One thing you can do to save time is to buy your park tickets online. You can sync them with your account in the My Disney Experience app — in general, you don't actually need physical tickets. You can use the app or your MagicBand to get into the park and avoid waiting in line to buy tickets.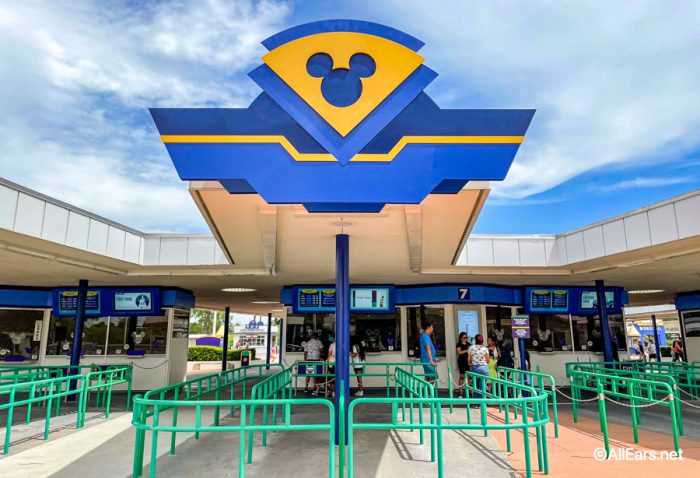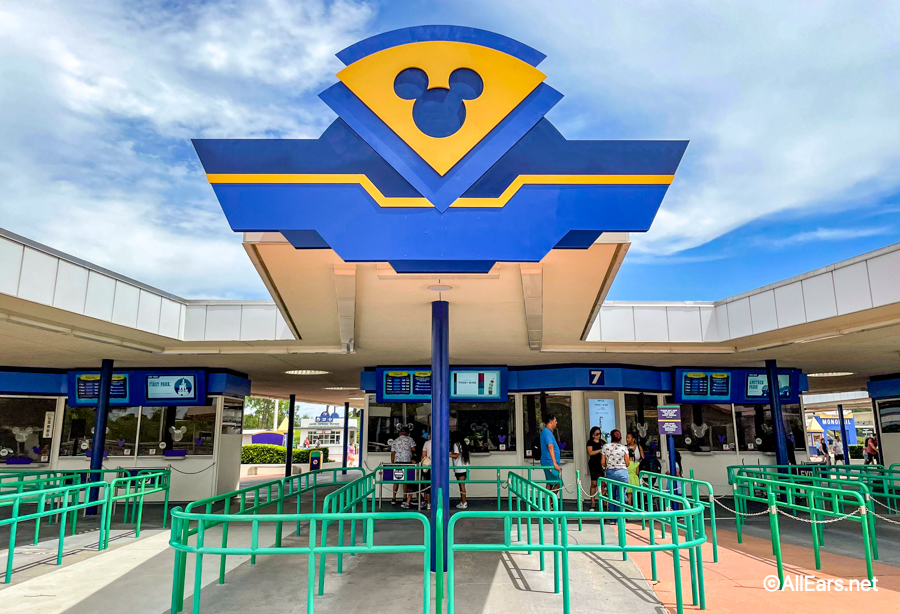 At the Transportation and Ticket Center, you're faced with three different transportation options to get to the Magic Kingdom gates — ferry boat, the Monorail, or a bus (when they are running). But when the Monorail goes down like it did this morning, most people choose the ferry, and it can be a big setback if you're trying to beat the crowds inside the park.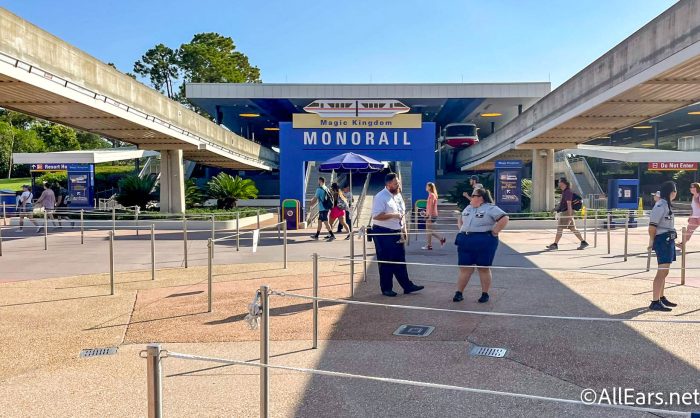 The line for the ferry boat can get VERY long as a result of the Monorail being closed, and you might have to wait for a second ferry depending on how many people are in line. Each ferry boat can hold approximately 600 people, but they fill up faster than you think.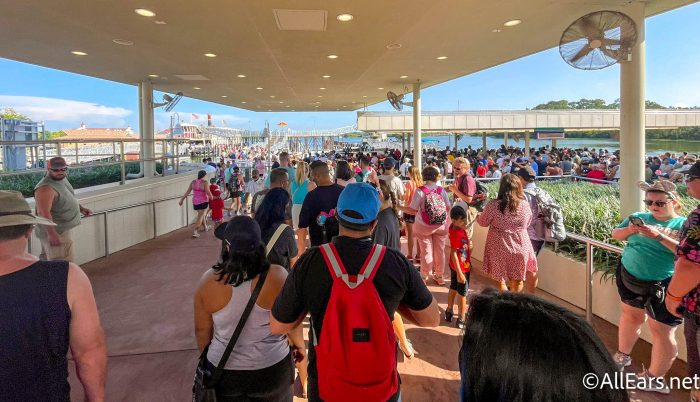 In our experience, the majority of people choose between the ferry boat and the Monorail, so we recommend giving the bus a try if you want to avoid a long ferry boat or Monorail line! If you're staying in a Disney World hotel or Park Hopping from another Disney Park, you can avoid the TTC altogether by taking a bus directly to the Magic Kingdom gates — or book a Minnie Van (through Lyft) to drop you off.
Once you get to Magic Kingdom's gates, you're looking at two more lines — one for security and one for the actual gates. We visited without a bag today so we were able to get through security quickly, but if you're carrying a large bag or pushing a stroller, security can take longer. And then there's the gate!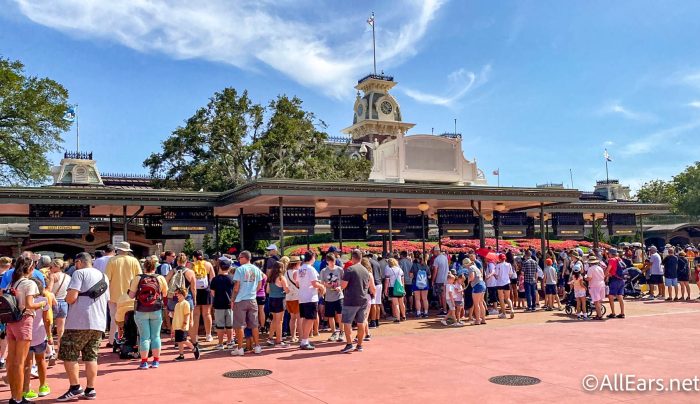 Sometimes the lines aren't too long but at peak times (like first thing in the morning), the lines for the gates can back up pretty far. We recommend getting in line at either the far left or the far right. Why? In our experience, most people tend to get in line in a central location. If you can walk a little farther than everyone else, you might find a slightly shorter line.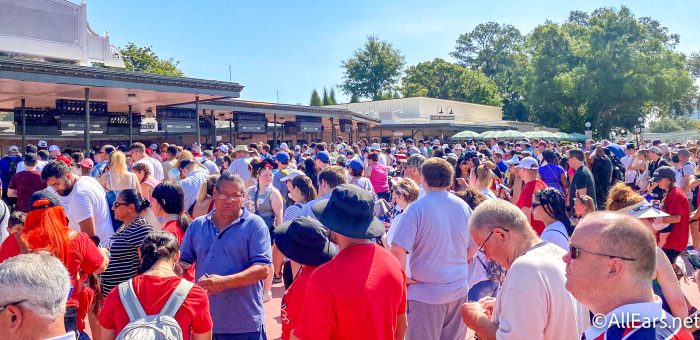 Ultimately, it took us a full hour from the Magic Kingdom toll plaza to enter the park. A FULL HOUR, y'all! That's a huge chunk of your day if your goal was to get there early to beat the crowds. Note that on a typical day, this journey usually takes about 25 to 35 minutes, but it's a safer bet to plan on it taking longer.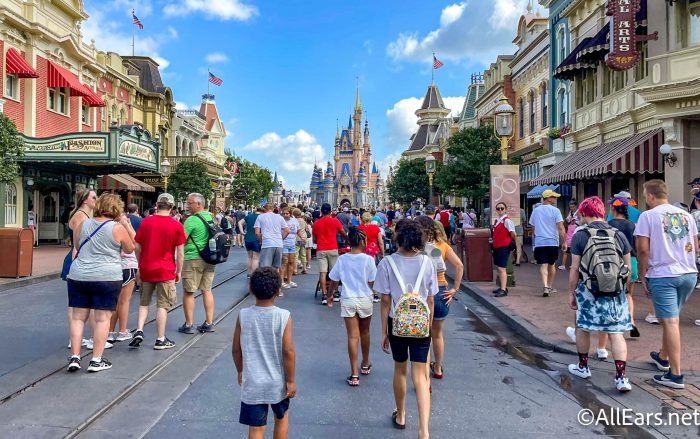 So don't forget about the other lines you might encounter in Disney World! If you really want to maximize your time in the parks, you might want to consider the following:
Keep reading AllEars for more Disney news and updates!
Join the AllEars.net Newsletter to stay on top of ALL the breaking Disney News! You'll also get access to AllEars tips, reviews, trivia, and MORE! Click here to Subscribe!

What's your favorite way to beat the lines in Disney World? Tell us in the comments!