Walt Disney World has a LOT of restaurants, and some are better than others in terms of the menu, the quality, the ambiance, or all of the above.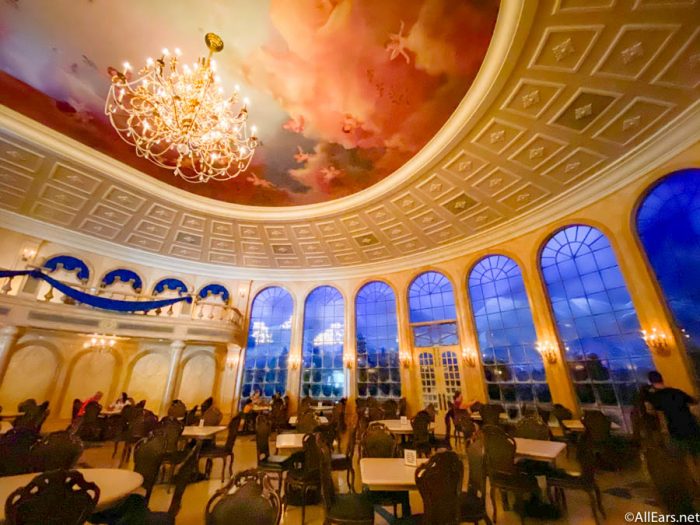 We could talk all day about the best ones, but we also want you to know which restaurants to avoid. Some of these are fine, but you can find better options; others are just plain bad.
We're here to let you know which Disney World Restaurants you need to stop wasting your time visiting!
The first category of restaurants we're going to talk about are the ones that are just too ordinary. They're not bad necessarily, but you can find something super similar around where you live usually. If you don't live near any places like these, then feel free to try them out, but if you do, there are sooo many better options for you at Disney World!
Tutto Italia Ristorante
Located in the Italy pavilion in EPCOT, Tutto Italia is just your basic Americanized Italian food. They have chicken parmesan, lasagna, fettuccine alfredo, etc. It's nothing you can't find at your local (or even a chain) Italian joint. 

If you still want to indulge in the food, at least go next door to Tutto Gusto Wine Cellar! It's the same menu but a much more interesting atmosphere. Plus, it's a wine cave, so it's got that going for it.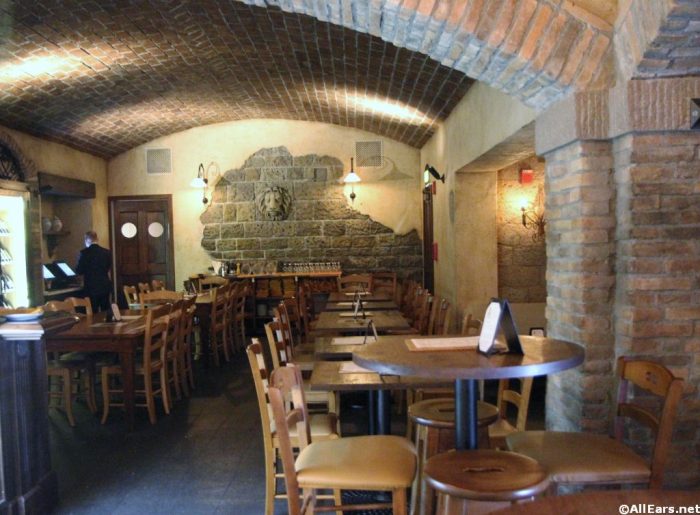 And if you want really good Italian food, that you might not be able to find everywhere, go over to Via Napoli for some pizza or make time for an extended meal at Il Mulino at the Swan hotel!
Lotus Blossom Cafe
This is basically just a Panda Express. Actually, Panda Express has more options. This is like Panda Express Lite (which, if that's something you love, could be a good thing!). Lotus Blossom has average Americanized Chinese food you could find in a mall food court.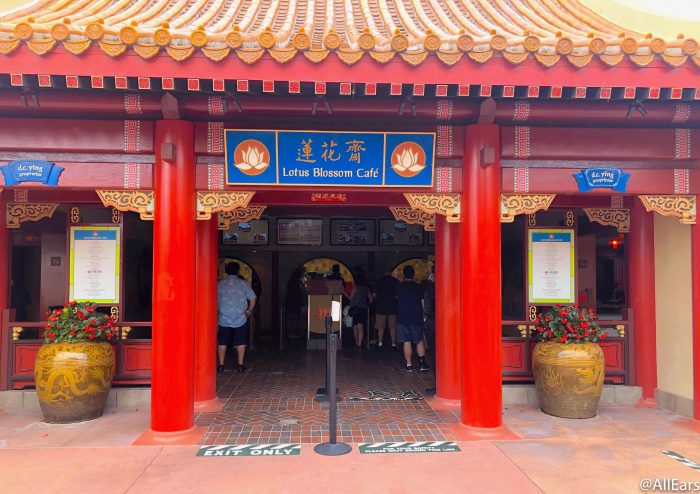 So while it is fine and will fill you up, we think hungry guests can do better than this.
Katsura Grill
Just like Lotus Blossom… but the Japanese version. Katsura Grill in EPCOT's Japan pavilion has mediocre ramen and udon and unimaginative sushi rolls.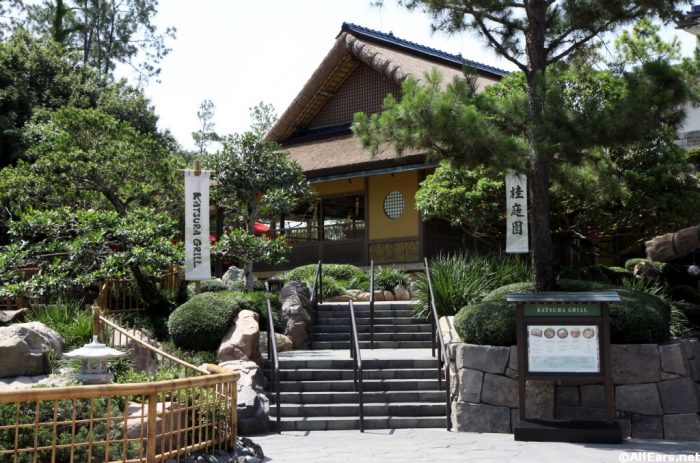 If you really want sushi, check out Tokyo Dining or one of the festival booths that are in Japan throughout the year; there's usually some sort of fresh fish offering.
And honestly, the noodle dishes at the food festivals, like The Noodle Exchange, are usually better than the ones here.
Coral Reef Restaurant
There is something weird about eating fish while *looking* at fish; it's unsettling. The aquarium is cool, but the food at Coral Reef is nothing special, especially when you're at EPCOT, the park with some of the most diverse and unique food offerings.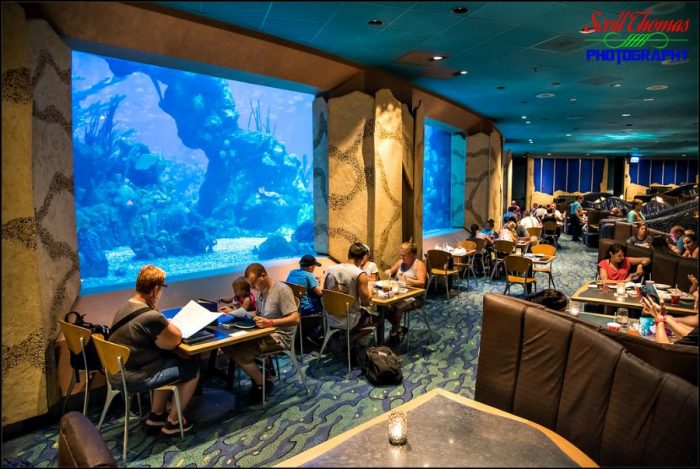 If you're looking for good seafood there are WAY better options like over at La Hacienda de San Angel or even Yorkshire County Fish Shop.
Sunset Boulevard Restaurants
Yep, all of these spots, EXCEPT for Hollywood Scoops (we love you, Scoops!). These Quick Service restaurants include Anaheim Produce, Catalina Eddie's, Fairfax Fare, and Rosie's All-American Cafe.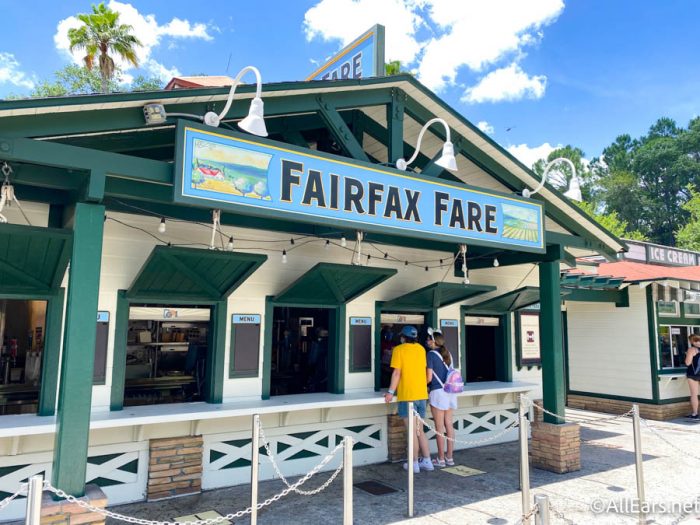 These restaurants are mostly fine, but they're pretty standard theme park food. If you venture into some other areas of Hollywood Studios, you'll find some way better choices! Woody's Lunch Box or Docking Bay 7 Food and Cargo are better themed and have more exciting eats.
Okay, now let's get into the bad restaurants. We want you to know that all of these have some appeal — and that appeal might be perfectly suited to you or someone in your party. But food and the dining experience are subjective, and we just aren't fans of these spots overall.
These two have super basic, expensive food and gimmicky themes. We would say they're like Applebees but with over-the-top theming. They're ridiculously overpriced for what you get in terms of food quality; the mixed drinks average around $15, the burgers around $20.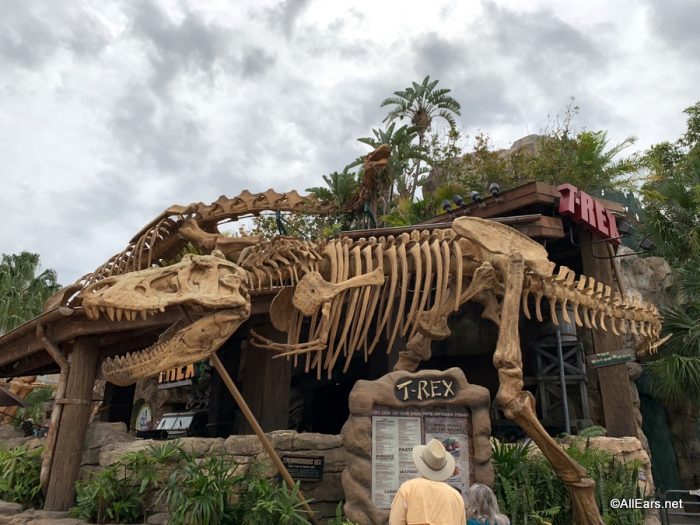 And can we talk about the animatronics and decor? How realistic do you think it is that they regularly clean all the foliage to dining standards? Just imagine all the dust *shivers.* Plus, a lot of the elements are looking outdated these days.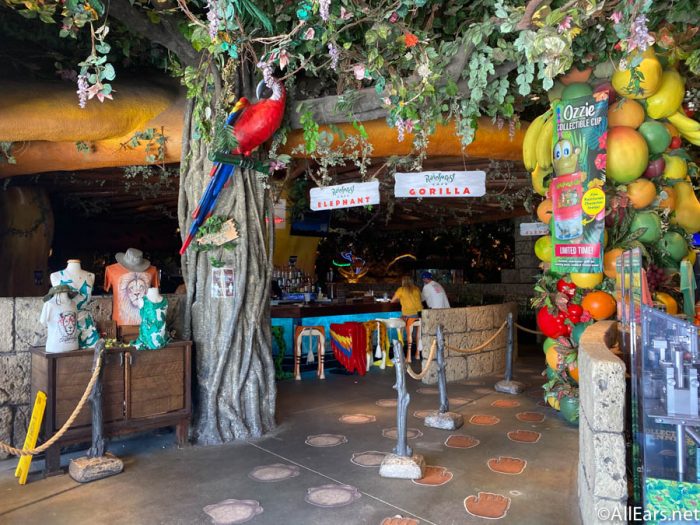 If these places will make your kids' entire lives, consider stopping here for a few appetizers or just to enjoy dessert…then maybe try introducing them to some places with better food. There are places in Disney with heavy theming that still have good food, like Raglan Road in Disney Springs and Yak & Yeti in Animal Kingdom.
It's a big NO from us! These two are also chains and kind of fall into the same category for us, so we're putting them together. You can find other locations for Planet Hollywood and House of Blues elsewhere in the country, but if you choose to partake in these restaurants, set your expectations low. They're like Times Square restaurants: they've got a lot of flash, but they're not known for their food.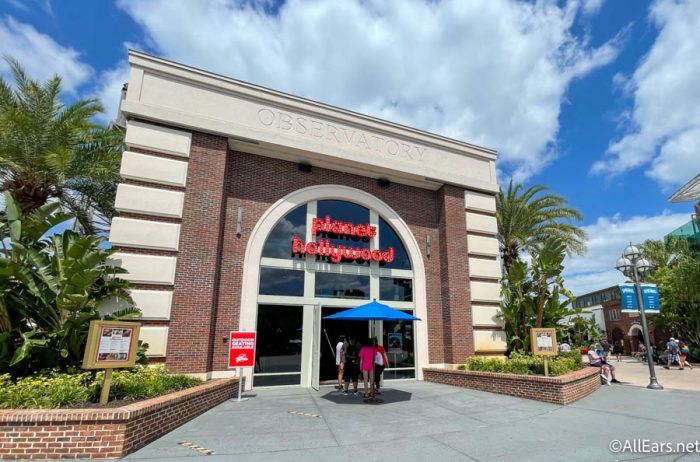 They also aren't the most kid friendly restaurants, either, and you can find significantly better options in Disney Springs. Chef Art Smith's Homecomin' offers much better quality eats with items kids will love, or grab some Quick Service at D-Luxe Burger or The Polite Pig.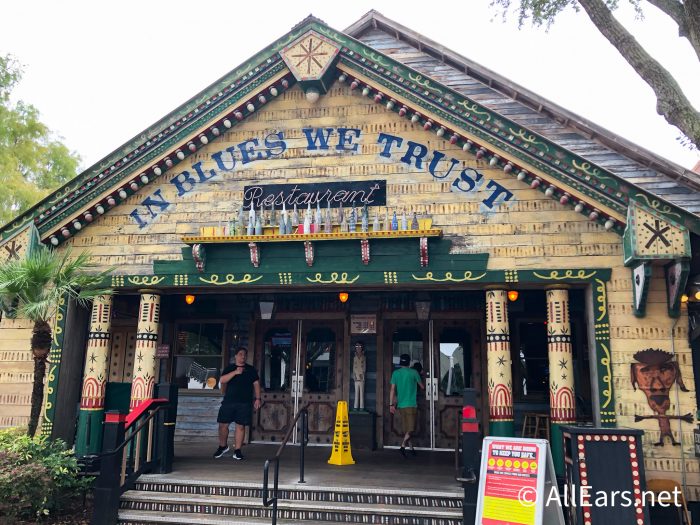 Pinocchio Village Haus
This Fantasyland spot has basic flatbreads, a Caesar salad, and chicken strips. Yawn. One non-food reason to check out Pinocchio Village Haus is the windows looking out over "it's a small world". You might pop in here to share a snack like breadsticks with a side of tomato basil soup or to try specialty desserts like the Tangled Eclair.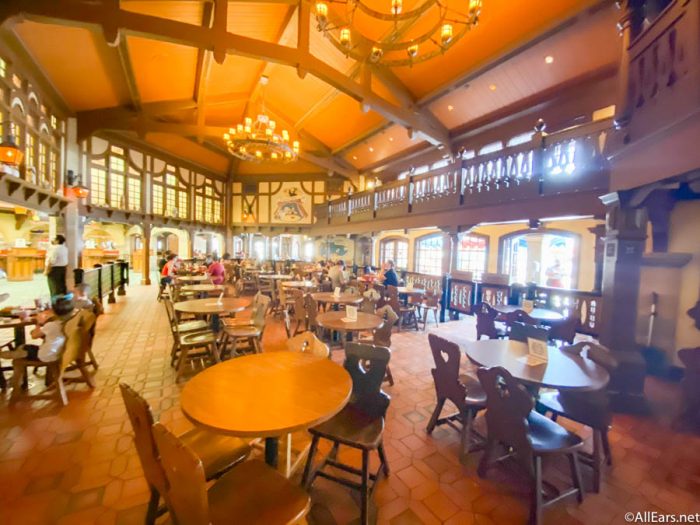 We can do better, and we don't even have to go far! Grab something at Friar's Nook or Columbia Harbour House instead. The offerings are more interesting and better quality, respectively.
Puffy Pizza Places
You know what we're talking about! Those personal pizzas that are more dough than pizza that you find at carnivals or football games. Places notorious for this in Disney World are Pizzafari in Animal Kingdom and PizzeRizzo and Catalina Eddie's in Hollywood Studios.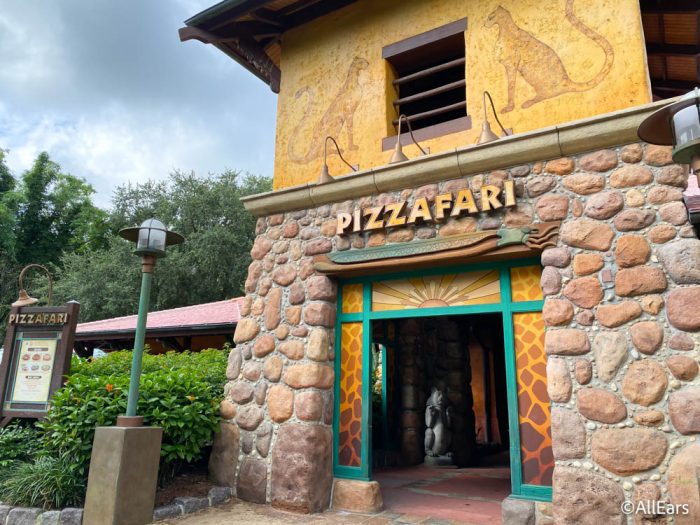 It's just so "meh" when you're surrounded by other amazing options! We've already discussed some of the better places in Hollywood Studios, but in Animal Kingdom you could have anything from Satu'li Canteen to Flame Tree BBQ. We totally understand if your kids will only eat plain cheese pizza, but we want you to get a chance to try something better!
Tony's Town Square
Tony's in Magic Kingdom is commonly called the Olive Garden of Disney World, but we've heard some people think it actually might be worse! And for $22 for a plate of spaghetti, that's definitely not worth it.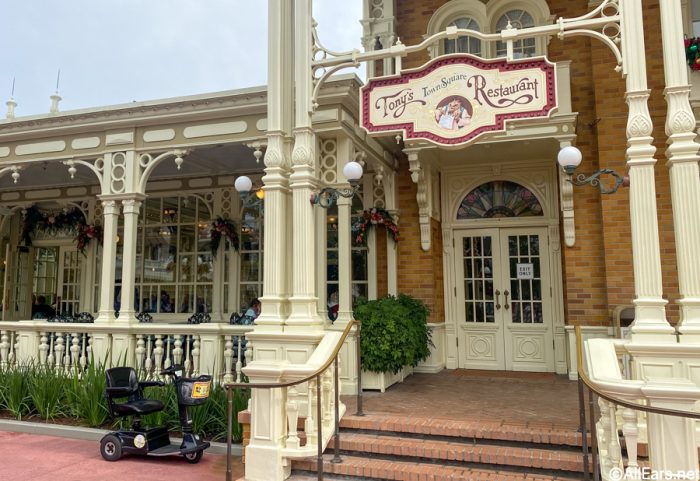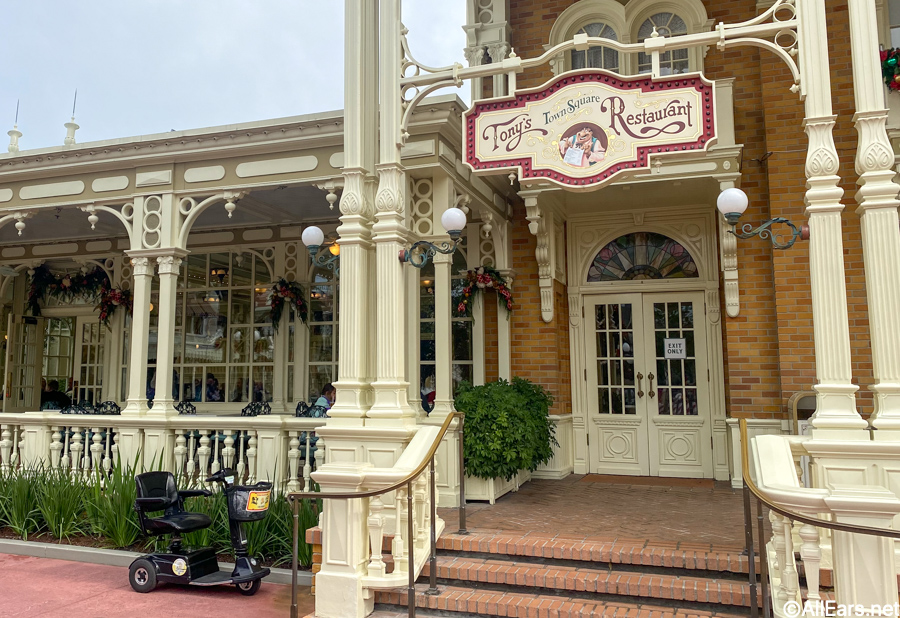 You can find much better Italian food around Disney World — and better food all together in Magic Kingdom, like over at Skipper Canteen or even Plaza Restaurant.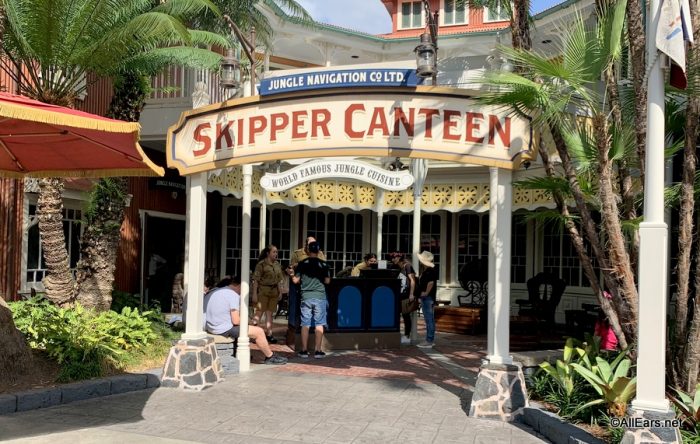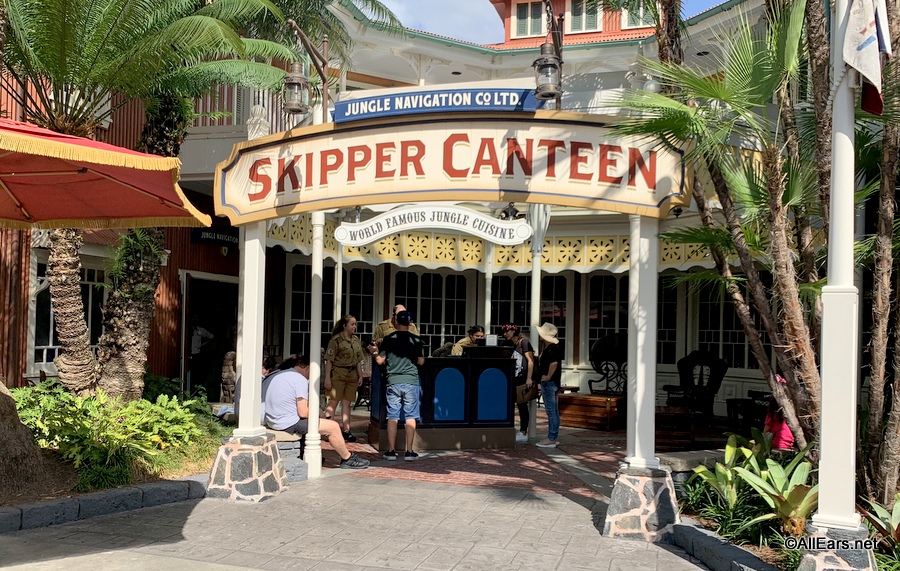 Those are all of the restaurants we don't think are worth your time or your money at Disney World. We know plenty of folks enjoy these options, and we love that you have your favorite spots. For our money, though, we think these are not up to par.
Do you think we missed any restaurants that should be on the list? Let us know  in the comments!
Join the AllEars.net Newsletter to stay on top of ALL the breaking Disney News! You'll also get access to AllEars tips, reviews, trivia, and MORE! Click here to Subscribe!