If you've got a specific food allergy or sensitivity, you may be thinking that a trip to Walt Disney World would be out of the question or incredibly difficult.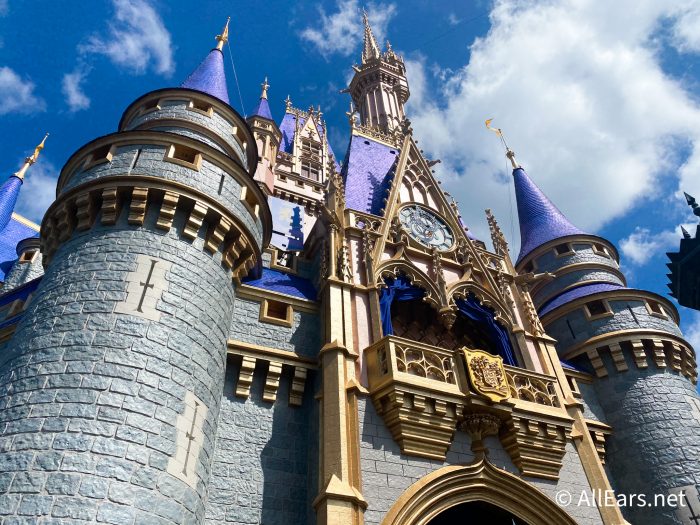 But over the years Disney has developed lots of food options for those with specific allergies and dietary needs.
Plan Ahead to Eat Gluten Free
There are several things you can do to plan ahead for your Disney trip if you're concerned about what foods you'll be able to eat. First, you can contact Disney and ask to speak with a member of their team about your specific allergy concerns. Disney World also has a webpage with some information (here), and they supply an email address for those who wish to reach out in writing. Email [email protected]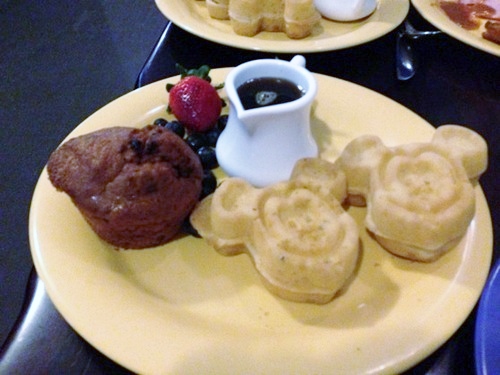 You will also want to note it on your Advance Dining Reservations. You can try directly calling the restaurants at which you've made an Advance Dining Reservation to discuss your options, but because menus frequently change, you may not get into specifics. You can also browse the AllEars menus here (they're searchable by dietary need) or Disney's official restaurant menu pages (note that these are sometimes a little out of date, particularly with regard to seasonal offerings).  
On-Site Tips to Eat Gluten Free
when you're on-site at Disney World, you will always want to advocate for yourself but speaking with a Cast Member about your allergy or dietary needs. When dining Table Service, ask to speak to a chef about your options. When dining Quick Service, request to see the ingredients binder and/or to speak to a manager.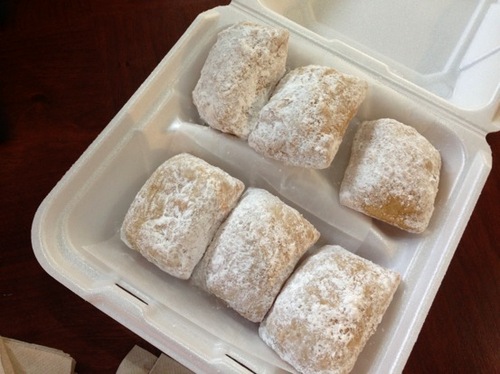 AllEars Team Gluten Free Favorites
More and more, Disney has been making specific foods and treats for those are vegan, dairy-free, or gluten-free. If you only eat gluten free foods, but still want to enjoy some of the best snacks Disney has to offer, here's our list of the ones you'll definitely want to check out in Magic Kingdom! In fact, some of these may be a favorite of yours that you didn't even realize was gluten free!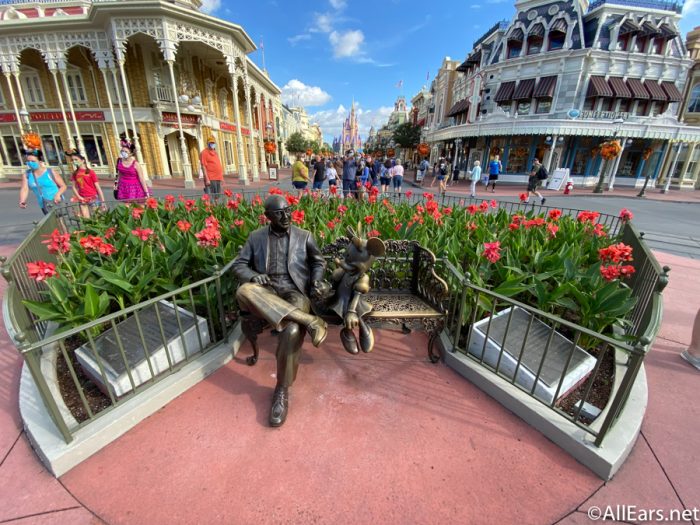 Disclaimer: This list is based on our understanding of these treats and their ingredients from what we have been able to see online. However, you will always want to confirm for yourself before you order. Disney sometimes changes their ingredients, and many of these snacks are prepared at snack carts or other locations where there may be a risk for cross-contamination. We reached out to Disney about some of these snacks, and this was their response:
At our outdoor food carts, stands, and kiosks, the food items are prepared in very small areas, and this increases the chance of what our chefs call "cross-contamination"—elements of other ingredients potentially occurring in the food products vended at these locations. Because of this chance of cross-contamination and the frequently changing ingredients, we are unable to accommodate special dietary requests at our kiosk locations as we do at Walt Disney World Restaurants or provide the information that you have requested. You may request an ingredient list and food labels, however, when you arrive at the location. Please ask a Cast Member upon arrival for assistance.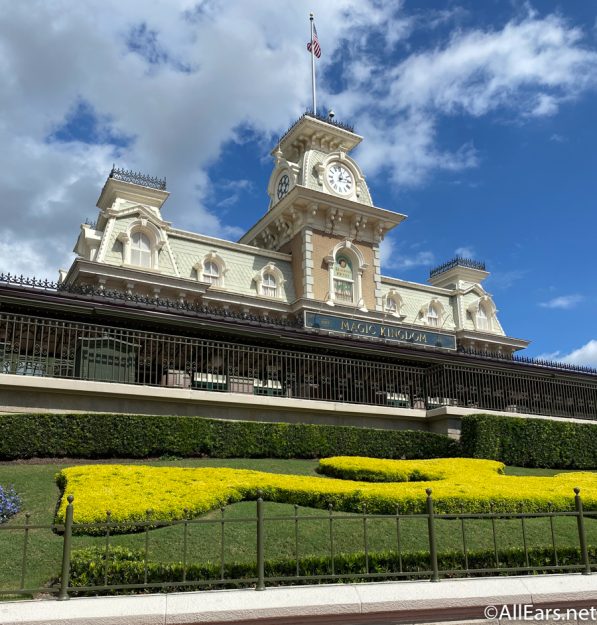 Okay, now to the food!
1. Citrus Swirl
A traditional Citrus Swirl features classic frozen orange juice slushy swirled with vanilla soft serve ice cream. If you grab a Citrus Swirl from Sunshine Tree Terrace with just the frozen frozen orange juice portion (no vanilla ice cream) you can get a delicious gluten free snack!
This snack is an absolute FAN FAVORITE! The tartness of the orange is really refreshing and can definitely help cool you down after some time in the Florida heat. 
2. Pineapple Dole Whip
Another classic — the Pineapple Dole Whip — is both dairy free and gluten free! Hooray!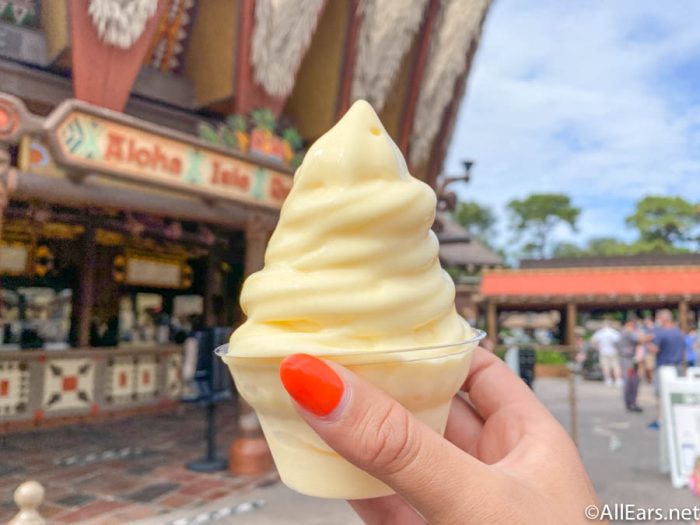 Who said eating gluten free means you can't have fun?! Grabbing a Pineapple Dole Whip from Aloha Isle and people-watching as you sit back in Adventureland and listen to that awesome music loop sounds like a perfect way to spend an afternoon in Magic Kingdom, and now you know it's the ideal gluten-free experience, too!
3. Popcorn
Another classic Disney World treat is that delicious popcorn you can smell from the moment you walk under the train tracks into Magic Kingdom. You can munch away all day on freshly popped popcorn with a fun, themed popcorn bucket, and leave your gluten-free worries behind you!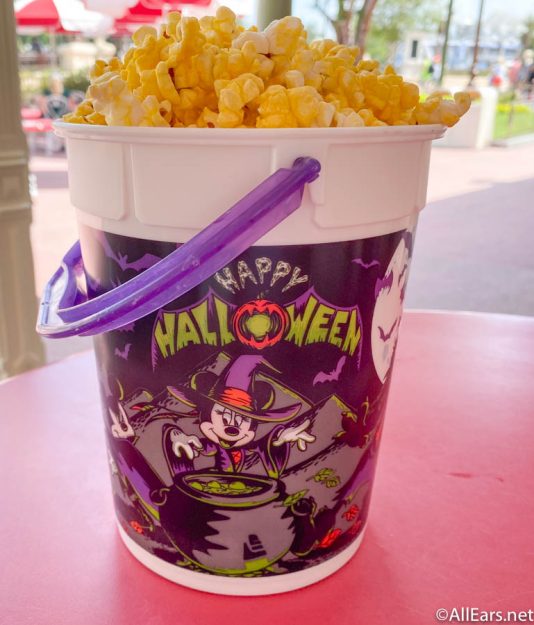 All standard Disney popcorn is gluten free, so grab those popcorn refills and enjoy!
4. Mickey Premium Bar
Sometimes there really is just nothing better than enjoying a Mickey Premium Bar while walking right down the middle of Main Street, U.S.A., and admiring the beauty of Cinderella Castle.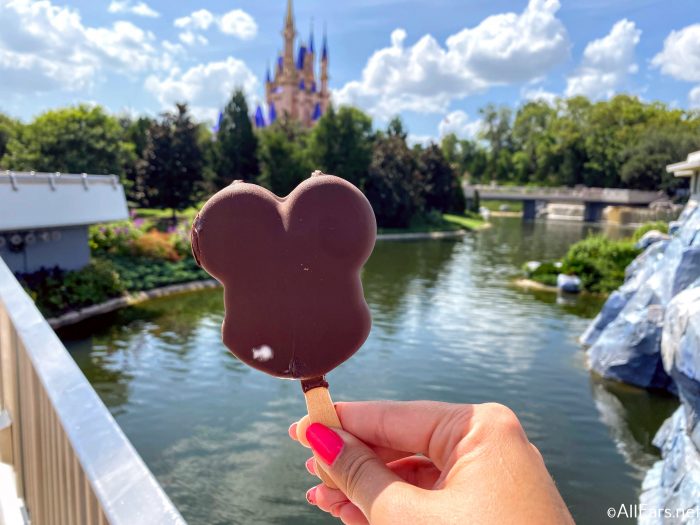 Our understanding at this time is that these treats are gluten free, but we have not been able to confirm that directly with Disney, and we've heard some reports indicating that they may not be entirely gluten free, so be sure to check with the Cast Member for a full list of ingredients to confirm before you take a bite of Mickey's ear!
5. Enjoy Life Snacks or Snacks with Character
If you're looking for a packaged snack that's gluten free, you can look for snacks from Enjoy Life or the "Snacks with Character" line at a variety of locations around Disney World. The Enjoy Life snacks in the teal packaging are generally free of various allergens, including diary and gluten. Some, but not all, of the Snacks with Character are gluten free. You'll definitely want to check the packaging to be extra sure. 
At Magic Kingdom, you'll likely find these snacks over at the Confectionary on Main Street, U.S.A.. The snacks include cookies, brownies, and more.
6. Peter Pan Float
From what we understand, the Peter Pan Float from Storybook Treats, which features key lime ice cream, Sprite, and chocolate feather, can also be gluten free if you take off the chocolate feather!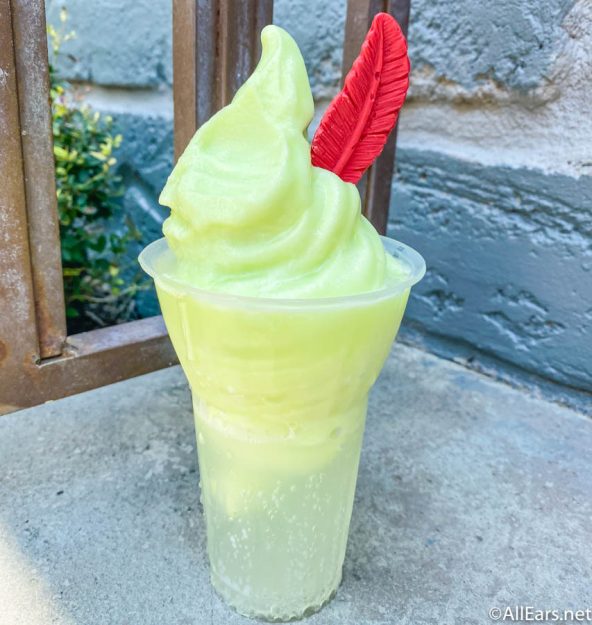 This treat is super cute and very tasty! Pair it with some of your merchandise from the Minnie Mouse: The Main Attraction, Peter Pan's Flight series (if you were lucky enough to snag some of the cute items from there), and you'll be ready to fly off to Neverland!
7. Quick Service Options
While you may be looking at Quick Service spots in Magic Kingdom for a lunch or dinner meal, don't count these spots out for snacks as well! If you check the menus for these restaurants on the Mobile Order feature in My Disney Experience app, you can look at specific items that are gluten friendly. For example, here's a look at some of the items you can get from the Gluten/Wheat Allergy-Friendly menu at Pinocchio Village Haus, which includes gluten free cookies, a brownie, and chocolate gelato.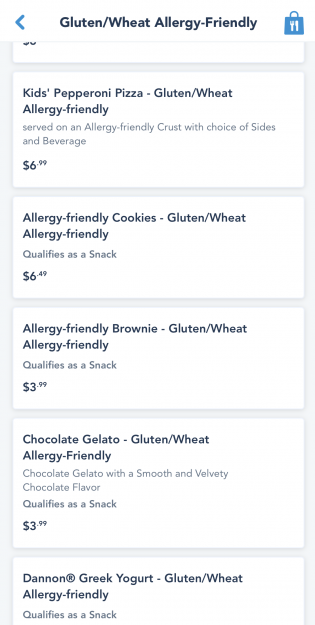 They can also make gluten friendly Chicken Breast Nuggets. Fun!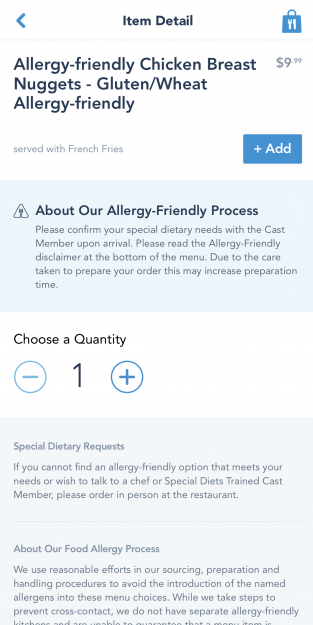 Again, always be sure to check the ingredients of any packaged product or ask for an ingredients list from the Cast Members to make sure these items are safe for you.
That's our list of the best gluten free snacks you can get in Magic Kingdom right now! What did we miss from our list that is a big favorite of yours? Let us know!
We've got all
the information you need to plan any Disney World trip with specials needs

. Check out our Special Needs main page here!
Join the AllEars.net Newsletter to stay on top of ALL the breaking Disney News! You'll also get access to AllEars tips, reviews, trivia, and MORE! Click here to Subscribe!