While exploring the themed lands of Walt Disney World's Magic Kingdom, you'll probably notice how immersed you feel in the story.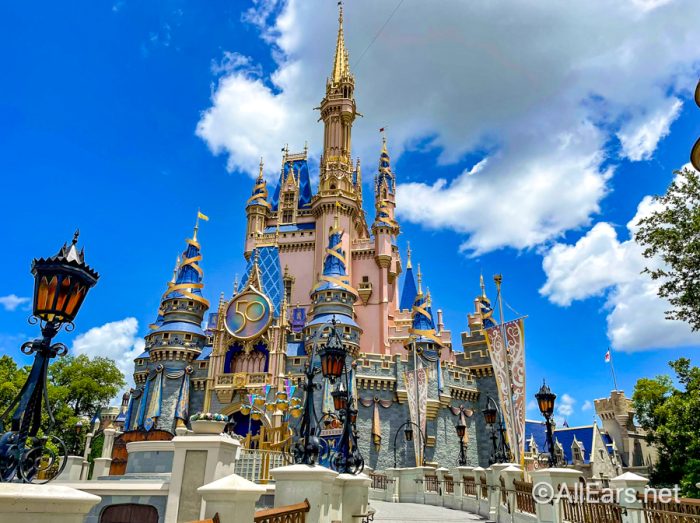 As you move from land to land, everything around you changes — from the music to the landscaping to the architecture. But what you may not notice are the incredible details hidden in each land!
The Imagineers put obscure details and hidden touches in the land to fully immerse you into your surroundings in subtle (and not-so-subtle) ways.
Here are 17 of those little things to look for the next time you're in Magic Kingdom.
1. Bella Notte
Have you seen Lady and the Tramp? If so, you may recall that on Lady and the Tramp's "Bella Notte" they add their paw prints to a heart drawn in wet cement.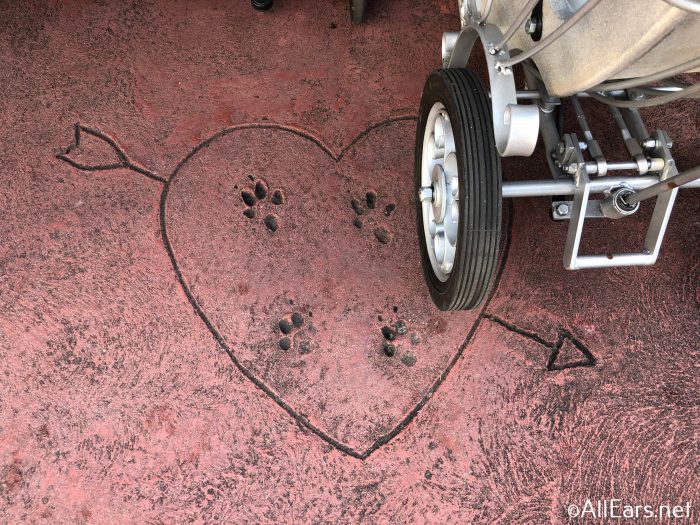 And right outside Tony's Town Square Restaurant, you can see a heart with their paws drawn into the cement! Fitting considering Tony's is the restaurant where the pups share spaghetti. Cue the "awwwws."
2. The Circus is here!
Next time you're dashing off to soar with Dumbo, look down!
You'll spot elephant footprints and peanuts — you are at the circus after all!
3. One Restaurant – Two Lands
Have you visited the Crystal Palace before to dine with friends from the Hundred Acre Wood? Or rather, have you ever stopped to look at the outside?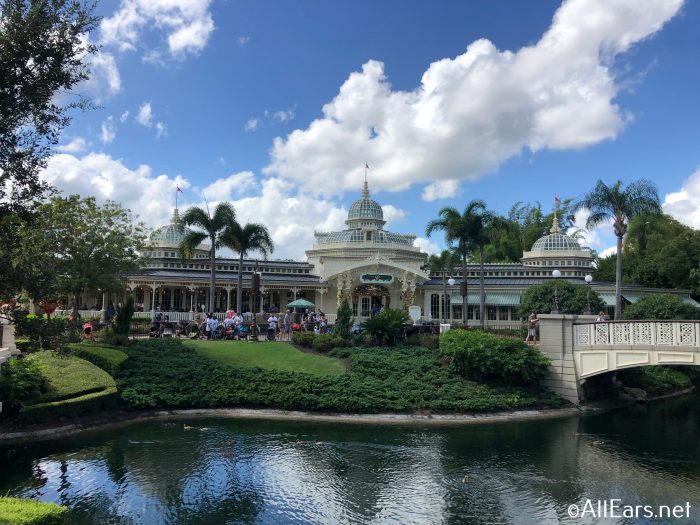 Crystal Palace serves as a transition between Main Street U.S.A and Adventureland, and you can see this in the front design. The left side, which is the Main Street Side, has ornate railings and a veranda that reflects the turn of the century style. But the right side, the Adventureland side, has green awnings to protect you from the harsh jungle sun.
4. One if by Land
Remember the expression about Paul Revere? "One if by land, two if by sea." That was the way we'd know how the British were arriving.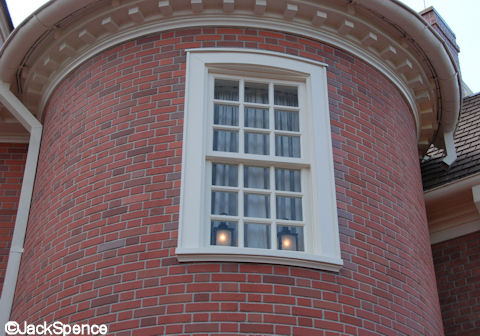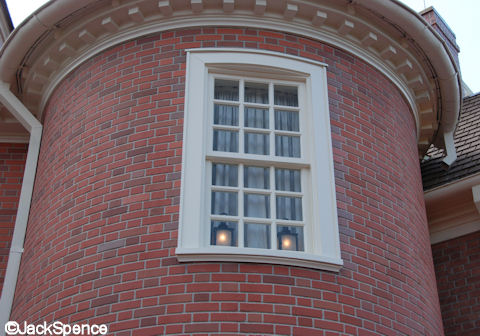 If you look up near the Liberty Square Market, you'll get the answer.
5. Davy Crockett
You can find a nod to "the King of the Wild Frontier" in Magic Kingdom. No — not in Frontierland…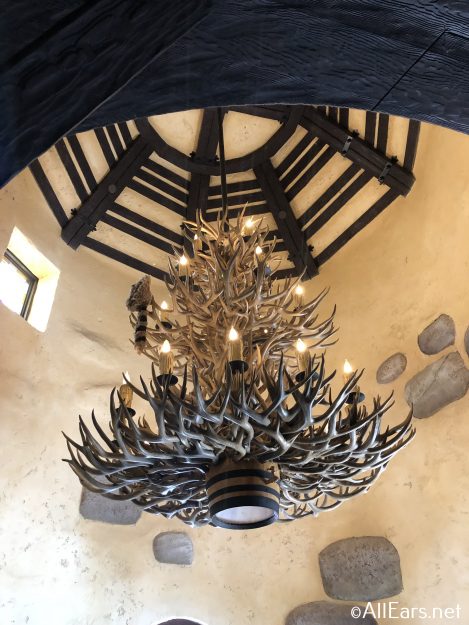 …in Gaston's Tavern. Looks like he uses more than antlers in all of his decorating.
6. Grandma's Alive!
In order to make their lives easier (and save a little money of course), Imagineers often reuse molds for animatronics on different attractions. One of the most iconic examples of this is in two favorite attractions! Remember the Grandma in the Swinging Wake scene of Haunted Mansion? Think about her…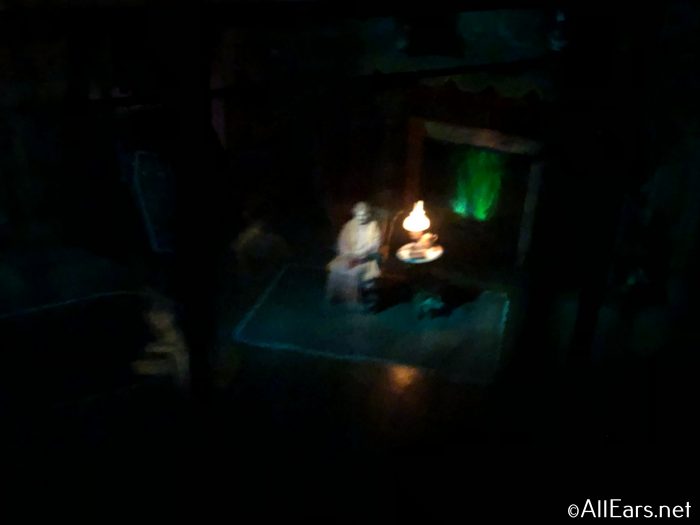 Now look at the Grandma from the Carousel of Progress! It's the same lady — She lives!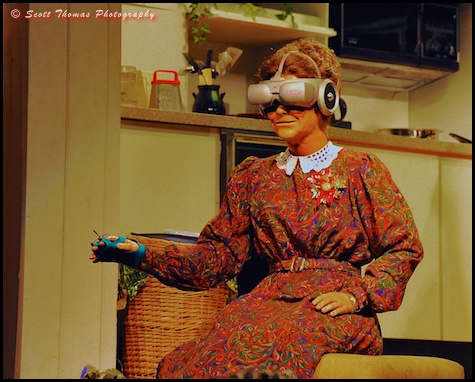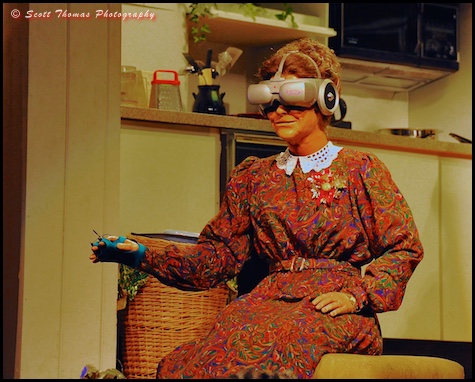 7. Maximus was here
It's time to look down again — this time near the super-awesome Tangled restrooms. You'll see lots of horseshoes, but some belong to an infamous horse…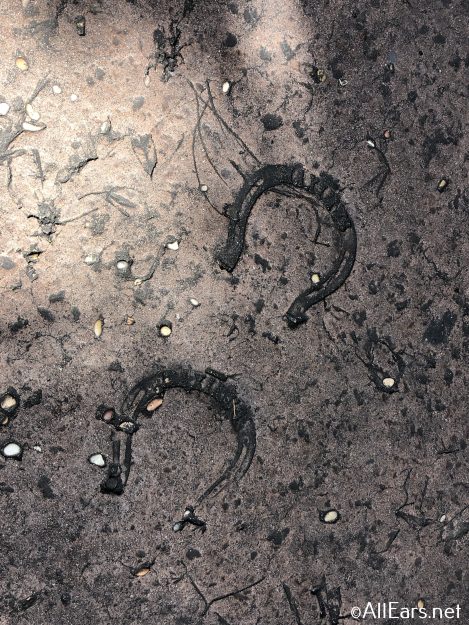 Maximus! I hope he's getting some apples.
8. Go Florida State!
It's no surprise lots of folks visiting Walt Disney World are Florida State University fans. But there is one little fan who may shock you…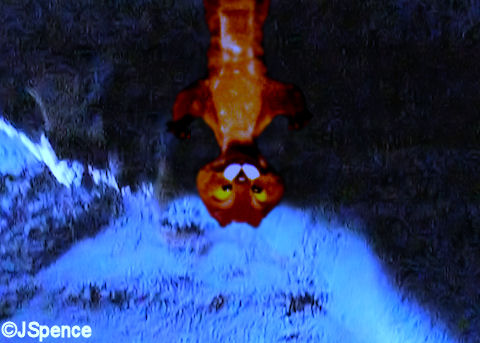 This little gopher from Splash Mountain! He pops out from the ceiling and quickly says "Go FSU!" Turns out the Imagineer who made him was a Seminole fan and wanted to leave his mark.
9. Sister, Sister
Color is often used to represent emotions throughout Disney movies and parks. And a great example of this is in the stunning mosaic in Cinderella Castle.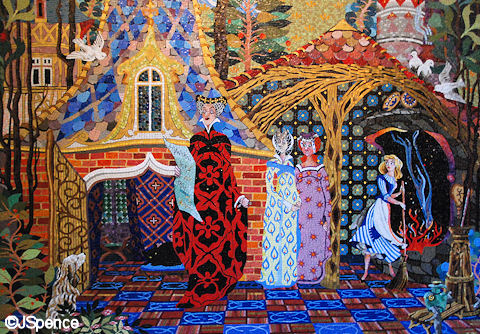 You'll notice Cinderella's Stepsisters are green and red in the face. Drizella is "green with envy" and Anastasia is "red with rage" over Cinderella getting invited to the ball.
10. Howdy Folks
If you've strolled through Frontierland,  you may have noticed part of the sidewalk near the shops and restaurants is raised wooden platforms.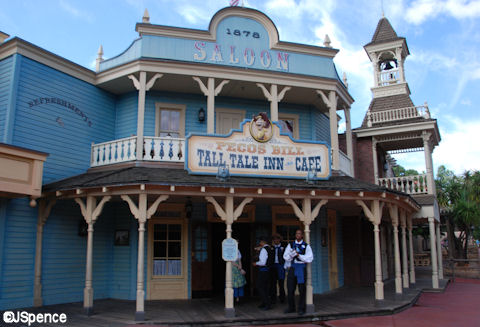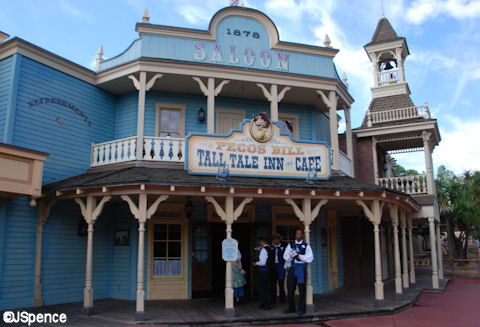 This is of historical significance! In the Western days, ladies wouldn't want their skirts to drag through the mud and dirt, so towns had raised sidewalks. Also keep an eye out for hitchin' posts in case you need to tie up your horse.
11. Tale as Old as Time
Have you dined in Be Our Guest Restaurant? If so, you may have noticed the large Belle and Beast music box in the Rose Gallery.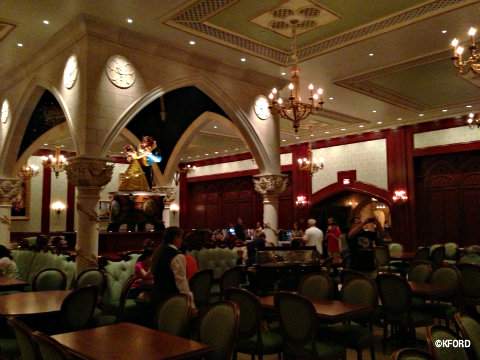 Next time you go to Enchanted Tales with Belle, you can find out where they got such a gorgeous gift! Look at Maurice's desk in his workshop — you'll see the plans for the music box!
12. Yo-ho, yo-ho, a Pirate's Life for… Smee!
Captain Jack Sparrow isn't the only famous pirate on Pirates of the Caribbean. In fact, he's not even the OG famous pirate…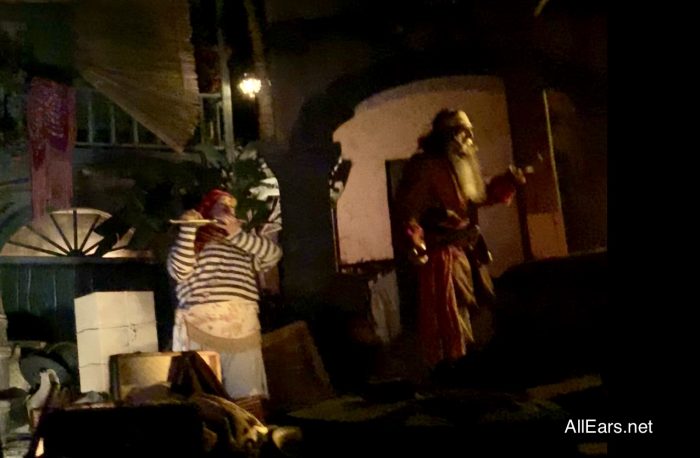 If you take a look at the Pirate drowning Mayor Carlos and his buddy playing the flute, they may remind you of a few iconic pirates. Notice one has a hook hand and the other a striped shirt? These guys are a nod to Captain Hook and Mr. Smee!
13. Passing the Deed
A lot of folks were bummed when Mr. Toad's Wild Ride closed up shop to make room for the Many Adventures of Winnie the Pooh. But as it turns out, Mr. Toad was okay with the deal.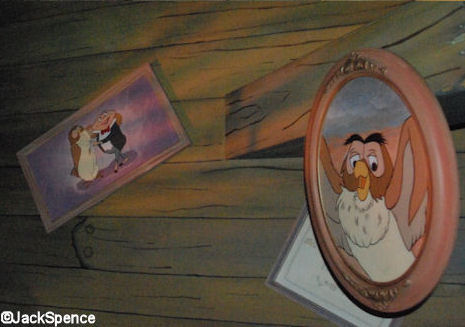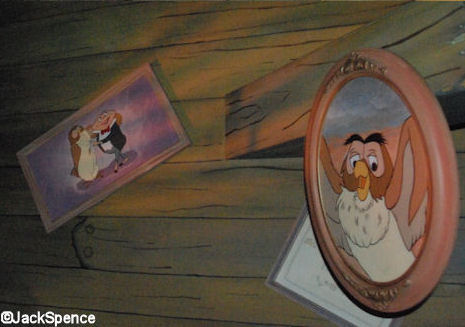 Hanging in Owl's house in the attraction, you can see a portrait of Mr. Toad handing the deed to Owl and shaking his hand…er, wing.
14. Singing Lessons
Have you ever walked down Center Street, the offshoot of Main Street? If so you may have heard some singing!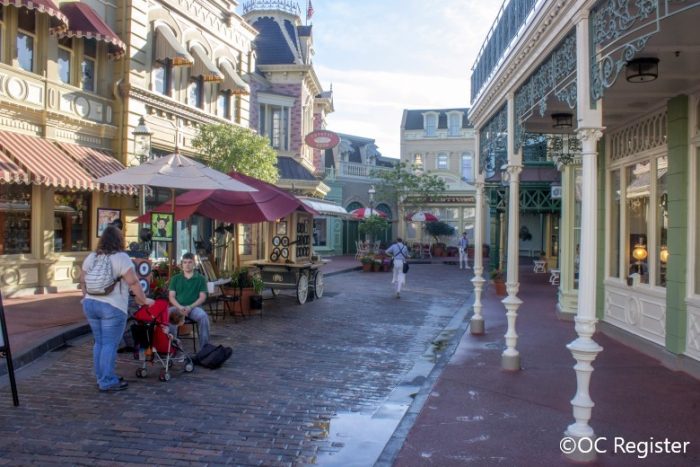 In one of the second story windows you can see that it's home to vocal lessons, and if you listen closely, you can hear them in progress.
15. A New Source of Energy
The Tomorrowland Power Company is all about new sources of power. Including harvesting palm trees!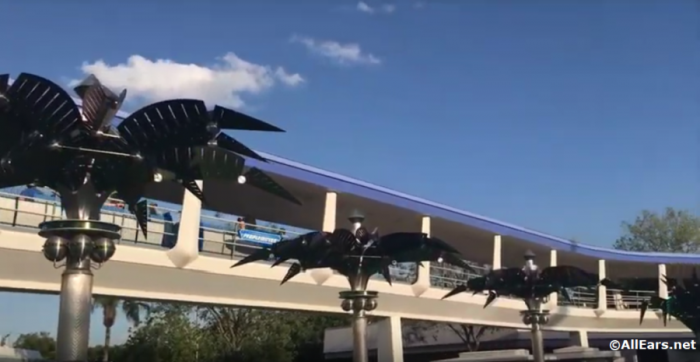 Well, power Palm Trees! These metal trees collect solar energy and store it in the coconuts. One of them is all done collecting, as the the leaves are curled up. Sadly, these don't actually work but they are cool!!
16. Under the Sea
Another nod to a former attraction is located in the queue of Under the Sea – Journey of the Little Mermaid.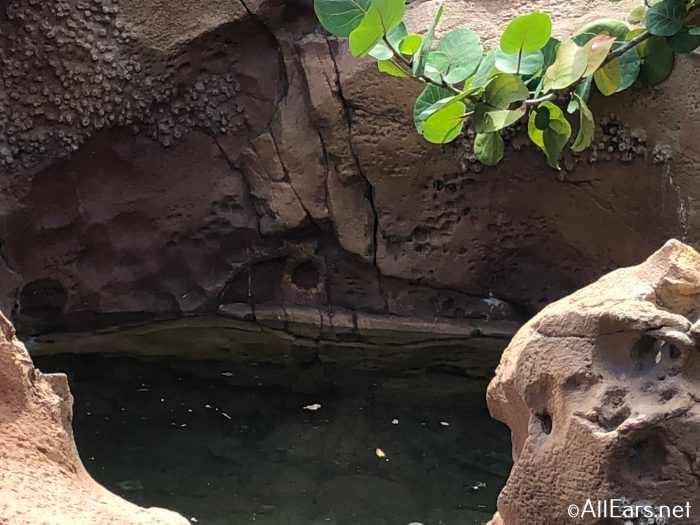 Located in the rock work, you can spot the Nautilus. This is the submarine from 20,000 Leagues Under the Sea, a former Fantasyland resident.
17. Vocal Lessons that will make you lose your head
Head to Liberty Square and you may pop into the Christmas Shoppe. Hanging off the entrance, you can spot a sign letting you know who lives there, and their occupation.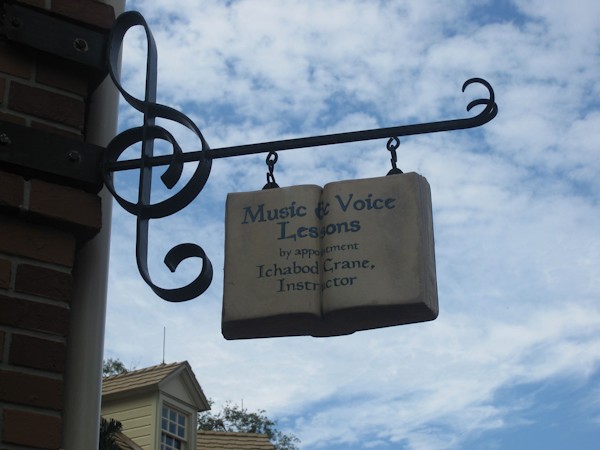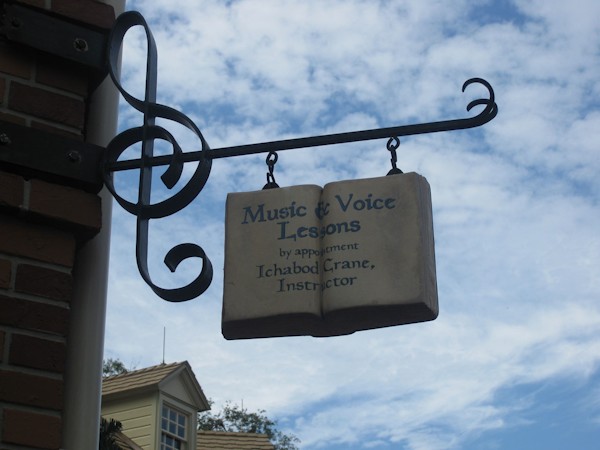 No surprise that Sleepy Hollow Refreshments is right across the way, now is it!?
Have you noticed these details in Magic Kingdom before? Which is your favorite? Let us know in the comments!
Interested in Disney history and Imagineering details? Take a look at these recent posts:
Be sure to follow @allearsnet on Instagram and Twitter!