The Haunted Mansion in Magic Kingdom will be the site of a few eerie opportunities on April 13 to kick off becoming the 13th attraction in Disney World to offer an on-ride photo.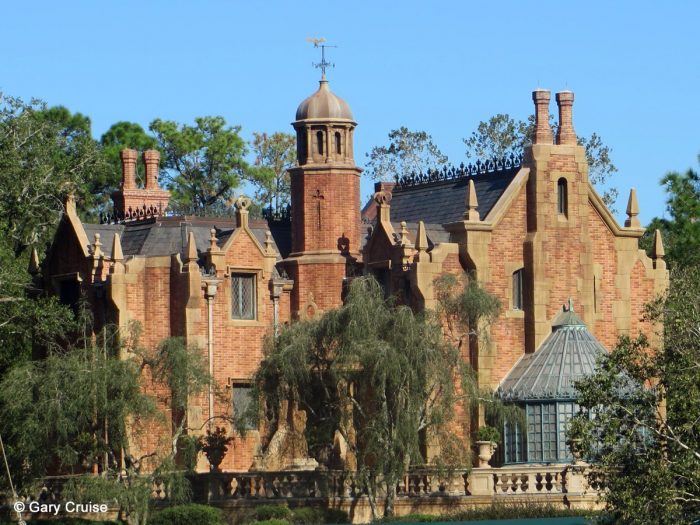 Your Doom Buggy awaits…
New Ride Photo
In the new ride photo, a ghost — or two or three — will now follow you home!  Remember to wear or carry with you a MagicBand that's linked to your My Disney Experience account while riding in your Doom Buggy — your photo will "automagically" be added to your account!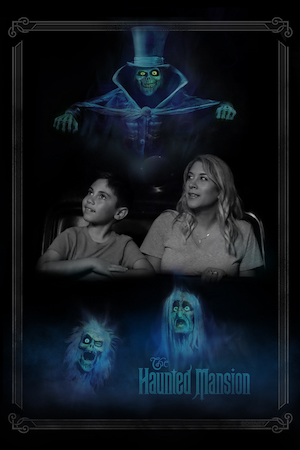 More Photo Opportunities
On top of the new on-ride attraction photo, a few special one-day-only photo ops will be available around the Haunted Mansion! These opportunities will begin at 9 a.m. on April 13.
Daytime shots will take place near the exit. This photo op will include aTomb Sweet Tomb prop for you to hold as you pose.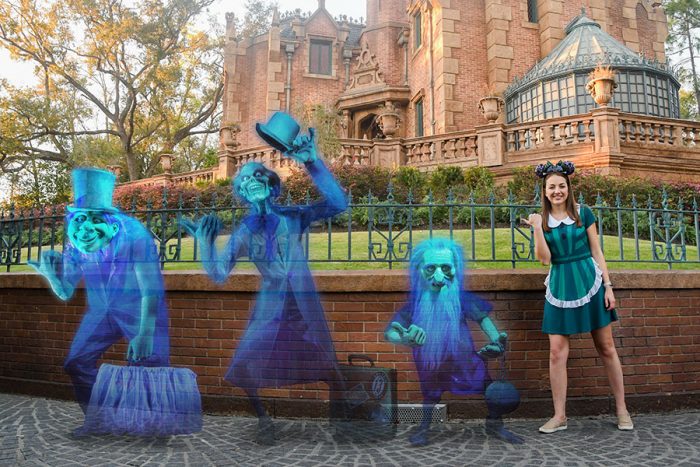 In front of the Haunted Mansion near the hearse will be the chance to pose for  Magic Shot photos featuring the Hitchhiking Ghosts! Some "extra magic" will be added to your regular photo at this location. An additional Magic Shot will feature your head in the Hatbox Ghost's box!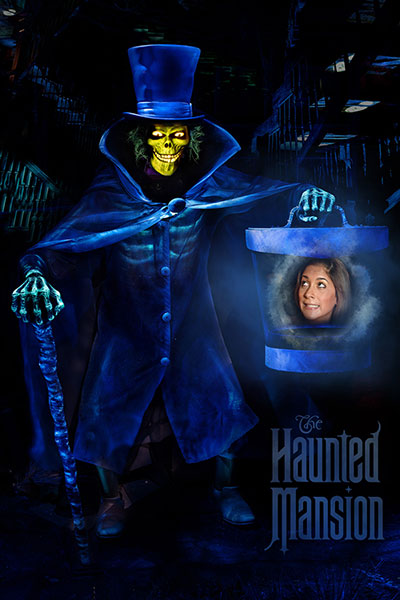 The evening will offer two other photo opportunities. One will include purple and green Mickey-heads floating eerily through the picture.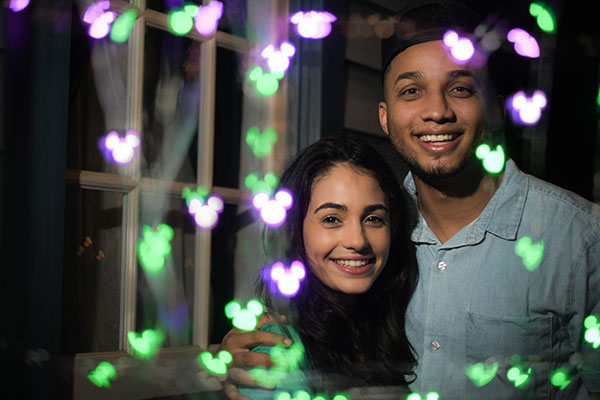 The other will allow you to pose for a photo with the Mansion caretaker's lantern.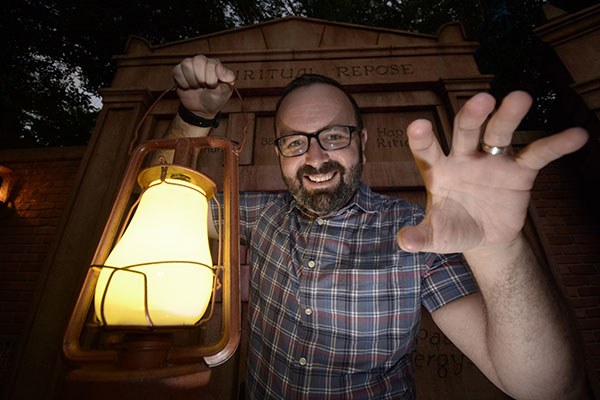 You'll find the PhotoPass Photographer for these nighttime shots just outside the attraction's nearby shop, Memento Mori.
Cadaver Dans
Once the sun goes down, the Cadaver Dans — the other-worldly alter ego of Magic Kingdom's barbershop quartet — will perform in Liberty Square!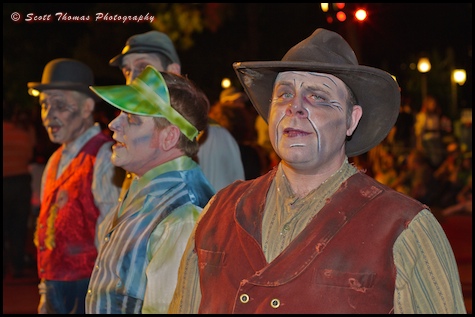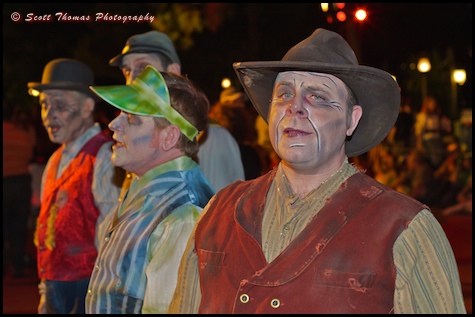 Spooky Snack
There will also be a special Midnight Fright Delight "browkie"  available for $6.99 at Liberty Square Market. The brownie cookie combo is inspired by the famously haunted grandfather's clock inside the Haunted Mansion.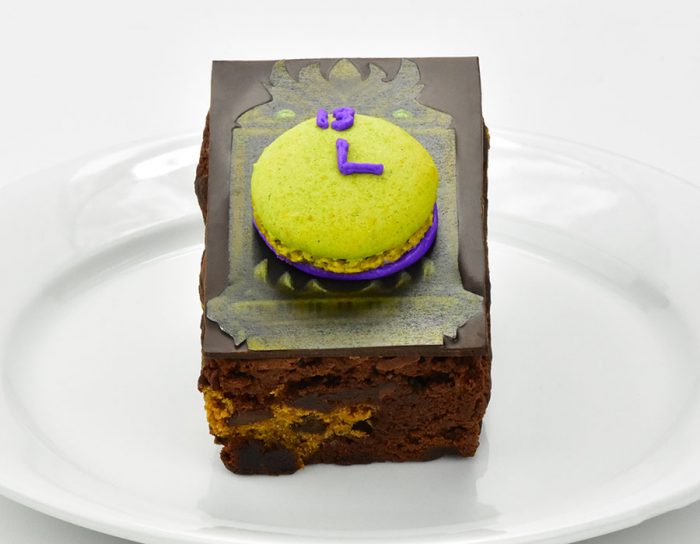 Memento Mori Deal
On April 13 only, you'll be able to take home an 8″x10″ lenticular image showing your ghoulish side for the special price of $13.13 + tax. Stop by Memento Mori to take advantage of this chilling challenge!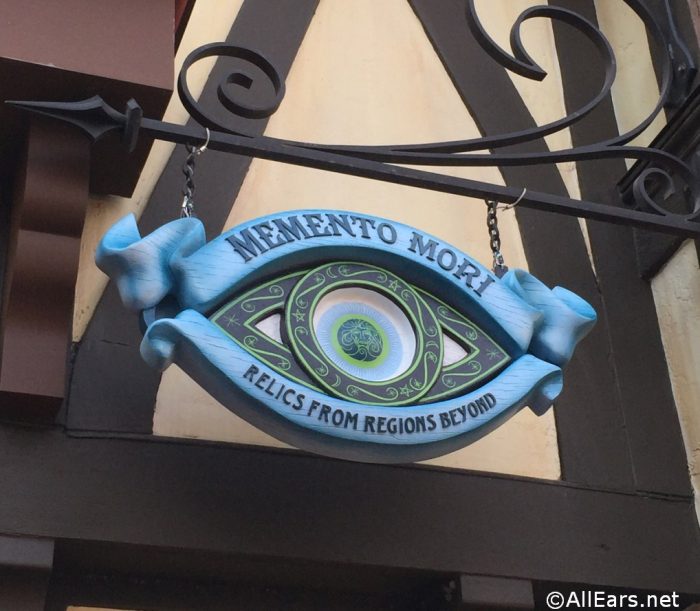 All of these limited-time offerings are available in celebration of the new on-ride attraction photo at Haunted Mansion through Disney PhotoPass.  If you're a Passholder, you already get unlimited digital downloads from PhotoPass, but if you're not, April 13 is the perfect time to purchase Memory Maker One Day! With it you'll receive unlimited digital downloads of all your Disney PhotoPass photos and videos taken in a single day for $69. That includes photos taken at the 13 Walt Disney World Resort attractions with photo capture, participating dining locations, Character Experiences, and of course the photos captured by photographers at the most scenic locations around Walt Disney World Resort.
You can purchase Memory Maker One Day in the My Disney Experience mobile app once you've linked at least one Disney PhotoPass photo to your account from the day to which you plan to apply the entitlement. You can also visit Box Office Gifts inside Town Square Theater at Magic Kingdom Park to purchase.
We think it's about time the Haunted Mansion had an in-ride photo! Will you stop by on April 13 for the special photo ops? Which one are you most excited to take? Let us know in the comments below! 
Are you a Haunted Mansion fan? Don't miss our other posts on this classic Disney attraction!
Stay on top of all the latest Disney attraction news! Click below to subscribe to the AllEars® newsletter!