Shakespeare in the House: The Music of Walt Disney World's Haunted Mansion
by Al Krombach
AllEars® Guest Columnist
Feature Article
This article appeared in the November 17, 2015 Issue #843 of ALL EARS® (ISSN: 1533-0753)
Editor's Note: This story/information was accurate when it was published. Please be sure to confirm all current rates, information and other details before planning your trip.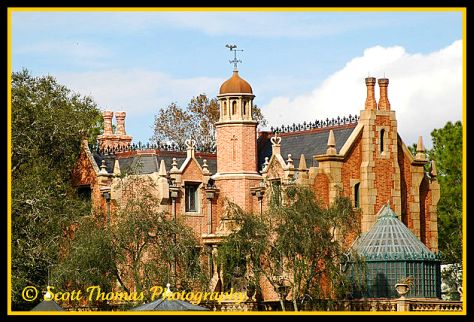 "Our guests don't go out of the parks whistling the lights or the architecture."
Those words from Imagineer John Hench neatly summarize Walt Disney's thinking when it came to theme park attractions: Behind every attraction is a story, and where there's a story, there's usually a song.
Disney attractions are virtually unique in the theme park world in that many have songs written specifically for them – not reworked movie tunes or pop melodies, but original music that helps to welcome guests, set the mood, "sell" the story and keep things moving from beginning to end.
Show-specific music fluttered into Disneyland with a clatter along with the age of audio-animatronics. The birds sang words and the flowers crooned when The Enchanted Tiki Room opened in 1963 with the catchy "The Tiki Tiki Tiki Room" penned by Richard and Robert Sherman.
At about the same time, the brothers created songs for two of the Disney attractions planned for the 1964 New York World's Fair. "There's a Great Big Beautiful Tomorrow" neatly tied together the separate scenes of the General Electric-sponsored Carousel of Progress. And perhaps the most famous – some would say most notorious – park tune ever to worm its way permanently into the ears of guests accompanied Pepsi's It's a Small World pavilion.
"Small World" was packed up after the fair to be reopened in Disneyland in 1966. The Carousel of Progress followed on July 2, 1967. A few months before "Carousel's" opening, another Disneyland attraction took audio-animatronics to new heights. Pirates of the Caribbean, one of the last park attractions vetted by Walt Disney himself before his death in December 1966, opened on March 18, 1967. Former animation artist Francis Xavier "X" Atencio wrote the story for the ride and sketched out a few lines of a song for Walt's approval. Walt told him to work with studio music director George Bruns, and the result was "Yo Ho, Yo Ho, a Pirate's Life for Me."
The sail-away success of "Pirates" provided Imagineers with the necessary kick in the pants to get back to work on a long-planned Haunted Mansion attraction. Nine hundred and ninety-nine grim, grinning and impatient ghosts were, after all, not to be eternally denied. Which brings us to the topic of this essay. But first, a little backstory:
A haunted-house attraction had been proposed for Disneyland since at least 1952, when preliminary design sketches of the theme park included a dilapidated Victorian mansion on a hill. Beginning with Ken Anderson, a who's who of Disney Imagineers took turns drawing up their ideas for the show and vying to sell them to Walt Disney. Initial plans called for a walk-through attraction; guests would be led through a series of rooms by a "ghost host" in order to view presentations in each one. However, planners soon realized that a walk-through wouldn't accommodate enough people. When the Omnimover system was developed, "Doom Buggies" became the preferred means of locomotion.
Plans for the façade were finalized in 1962. When the building went up in 1963, park visitors were presented with a starchy white New Orleans manor house instead of a run-down, spooky Addams Family-style heap. Walt Disney was not about to allow anything remotely shabby-looking in his Disneyland. "We'll take care of the outside and let the ghosts take care of the inside," he famously said.
Plans for the ride itself were not ready along with the building. Imagineers' debates over the story line continued, first sidelined by the more immediate demands of the 1964 New York World's Fair, then thrown into confusion when Disney was no longer around to bestow his blessing on a final course of action. The building sat vacant for six years.
Eventually the story debate coalesced into two factions: Claude Coats's scarier version and Marc Davis's more humorous, light-hearted take. X Atencio was once again brought in. He combined the two viewpoints along with Rolly Crump's and Yale Gracey's special effects and tied everything together in a coherent story line – the show that millions enjoy today in multiple Disney theme parks.
And again, the story suggested a song. Atencio wrote several verses and enlisted Disney studio composer Buddy Baker to come up with the melody. Baker was fast becoming the go-to guy for theme park music. With his background in movie and television scores, he had developed the expertise to orchestrate and synchronize the sound track with specific scenes in the rides so that guests on a moving conveyor would hear the appropriate music that matched each scene.
Baker said he was conducting an orchestral recording session years later when the engineer asked him if he could work with two-track recording. "I told him I thought so, since I had gotten 152 tracks in sync at the Haunted Mansion," he told an interviewer in 2001.
The result of Atencio's and Baker's collaboration was, of course, "Grim Grinning Ghosts."
Happy haunts materialized and began to vocalize when Disneyland's Haunted Mansion opened to "foolish mortals" on August 12, 1969. Within a week, park attendance set new records. By that time, work on Walt Disney World in Florida was well under way, so Disney had simply manufactured two of every Haunted Mansion feature. Consequently, the Magic Kingdom's version of the Haunted Mansion, longer and more elaborate than Disneyland's, was essentially ready to run six months before that park opened on October 1, 1971.
Let's take a spin through the Magic Kingdom's version, with special attention paid to the amazing variety of musical sounds Buddy Baker has created from a single theme:
Entrance doors creak open as a servant ushers us into the Foyer. An organ groans a slow, simplified version of Baker's melody as funereal chimes echo in the background. When the foyer is filled, the guests are shown into one of two octagonal Portrait Galleries (or Stretching Rooms). The room stretches, a thunderclap bursts and the lights go out, revealing a corpse dangling from a noose above.
After the stretch, a wall opens to a corridor of portraits. Guests are led to their Doom Buggies as a melody — or is it the wind? — moans softly, accompanied by more distant bells.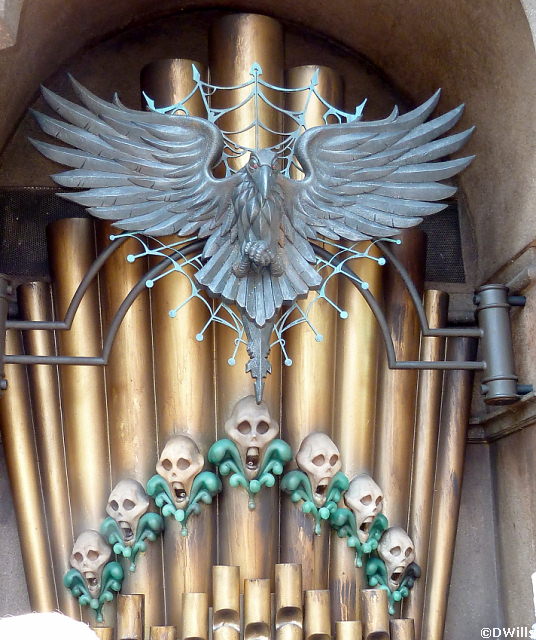 Passing more portraits and then a Library with moving busts, The Doom Buggies enter the Music Room. An antique square piano appears to be played by unseen hands in a vaguely Russian version of the theme. (Square — actually rectangular — pianos date from the invention of the instrument around 1700. They were limited in volume and keyboard range and were supplanted by the more normal grand and upright models by 1900.)
Sounds of the phantom organist return as we travel through a roomful of staircases, the Conservatory and its soon-to-be-breached coffin, and a corridor of lively doors.
Madame Leota, or at least her head floating in a crystal ball, greets us as we enter the Seance Room. Leota calls forth the spirits of the dead. Visions of musical instruments drift around her. As the organ continues, sounds of the instruments, including a trumpet and a harp, fade in and out.
Our Doom Buggies roll onto a balcony above the Ballroom, where a lively party is already under way. Now we finally see the organist, or what's left of him, as ghostly diners and dancers float through the scene. The organist has morphed the tune into a devilish waltz; he and the instrument are having a hard time of it, and the discordant melody is barely recognizable, shape-shifting from minor to major keys. Shadowy spirits fly from the pipes along with the notes. (The organ itself is a copy of the Nautilus pipe organ played by Captain Nemo in the 1954 Disney film, "20,000 Leagues Under the Sea." The original movie prop is installed in Disneyland's version of the Haunted Mansion. Disney seldom throws anything away.)
The Doom Buggies proceed into the Attic, where the only mansion melody that's not "Grim Grinning Ghosts" creeps in. It's Wagner's "Bridal Chorus," intended to reinforce the tale of the greedy and homicidal bride who once ruled the mansion. Baker has cleverly modified the wedding song's harmonies to match the music we begin to hear emanating from the Graveyard.
The music draws us into the Graveyard where the "happy haunts materialize," and we hear X Atencio's words for the first time. The music is lively and up-tempo, with tambourines and bass prominent in an almost-Dixieland arrangement. Various combinations of singers fade in and out as mayhem reigns.
Prominent among them is a quintet of singing busts, the Phantom Five. The Imagineers have named most of the characters in the Haunted Mansion; the five singers are called Rollo Rumkin, Uncle Theodore, Cousin Algernon, Ned Nub, and Phineas P. Pock. Famous basso Thurl "Uncle Theodore" Ravenscroft led the group, otherwise known as the Mellomen, and those are their real faces projected on the busts. (Walt Disney is not among them, as has been rumored.)
Opera singers, dueling knights, howling dogs and a multitude of others join in the swelling choruses, masterfully blended by Buddy Baker, until our Doom Buggies exit the cacophony. A fading barbershop quartet urges us to "Hurry back, we would like your company."
"Hurry ba-ack," Madame Leota repeats as we return to the living.
"Grim Grinning Ghosts" isn't confined to the Magic Kingdom Haunted Mansion's interior. Small bits of the tune are generated when guests in the standby queue touch the instruments and keyboard decorating one of the crypts in the outdoor waiting area.
But where, among all these "Grim Grinning Ghosts," is Shakespeare?
He's in the song title itself. The phrase occurs in a lengthy poem by the bard titled, "Venus and Adonis." In the poem, Adonis, an attractive but typically clueless male mortal, tells the love goddess he'd rather go boar-hunting with his buddies than surrender to her amorous advances. Adonis soon learns to his disadvantage that sometimes you get the boar, and sometimes the boar gets you. A broken-hearted Venus scolds old Death for stealing her love interest:
"Hard-favour'd tyrant, ugly, meagre, lean,
Hateful divorce of love – thus chides she Death –
Grim-grinning ghost, earth's worm, what dost thou mean
To stifle beauty and still his breath…"
Shakespeare's narrative and the Haunted Mansion's story line seem unrelated. Was X Atencio familiar with the poem? Did he find the line in a book of quotations? Or was it a happy coincidence, knowing Atencio's fondness for alliteration ("crypt doors creak and quake… happy haunts… silly spook… daft disguise… creepy creeps… start to shriek")? While the Shakespeare poem is quoted in other references to the song, we're still looking for an explanation in Atencio's own words as to how the Disney Legend tied on that terrific title.
AUTHOR'S NOTE: Among many other Disney releases, a five-and-a-half-minute version of "Grim Grinning Ghosts" can be found on every Walt Disney World "official" parks music CD, most recently the 2013 edition. A very collectible LP titled "The Haunted House" was released in 1969 along with the Disneyland attraction's opening. That was eventually re-released on CD, and 30th and 40th anniversary "The Haunted House" CDs have been produced with music tracks taken from the Disneyland version of the ride. The song has also been recorded by numerous outside artists including Canada's Barenaked Ladies and Los Lobos. Listen carefully, and you'll detect a few seconds of "Grim Grinning Ghosts" occurring during Riley's nightmare about her new house in the 2015 Disney-Pixar release, "Inside Out."
= = = = = = = = = = = = =
RELATED LINKS
= = = = = = = = = = = = =
Haunted Mansion Attractions Page
Al Krombach previously wrote for the AllEars.Net Guest Blog:
The Music of Impressions de France
-=-=-=-=-=-=-=-=-=-=-
ABOUT THE AUTHOR: A professional journalist for more than 30 years, Al Krombach has served with several Florida newspapers and retired in 2015. He is an alumnus of the Florida State University College of Music and has worked with a variety of musical groups (as an instrumentalist) and choirs (as a director). He and wife Vicky have three children and five grandchildren, every one a Disney fan. They are longtime Disney aficionados and have accumulated more than 250 park visits since the World began.
-o-o-o-o-o-o-o-o-o-o-o-
Editor's Note: This story/information was accurate when it was published. Please be sure to confirm all current rates, information and other details before planning your trip.