Those Disney Imagineers are a clever group. Imagineers are the amazing people who think up all of the great rides, lands, details, and graphics that we experience every time we enter a Disney Park anywhere in the world.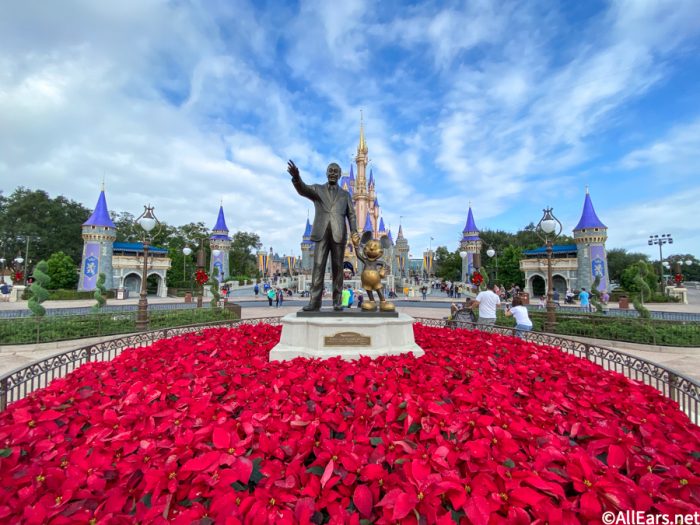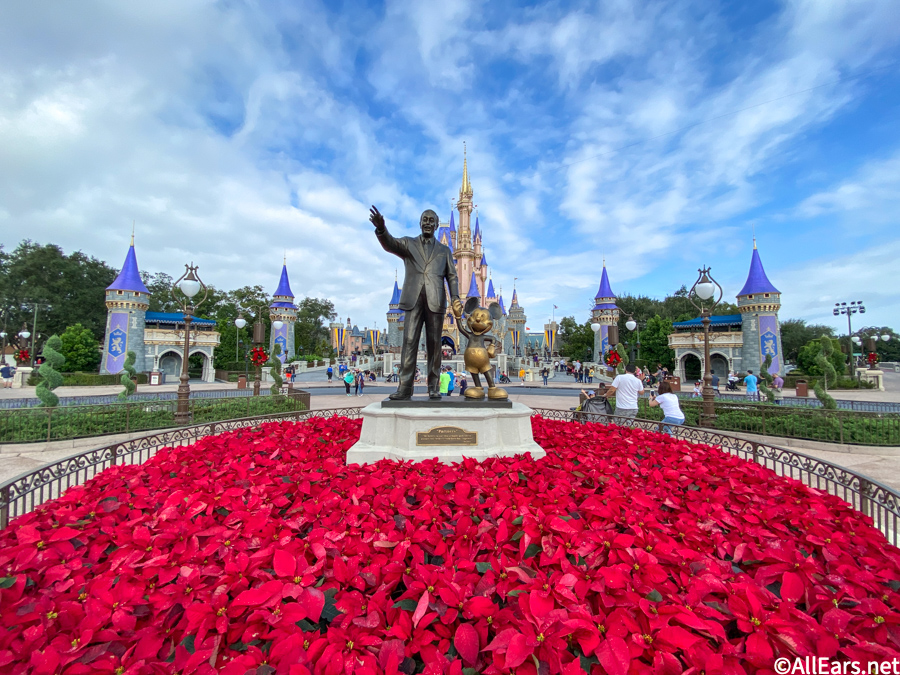 Think of all of the details that are in the queues for rides as well as the details we are immersed in as we walk around the Parks. Each of those ideas sprouted from the minds of the Imagineers. At AllEars®, we often talk about the "Overlooked Attractions" around the Walt Disney World Resort, because many times we take these little bits of magic for granted. Let's take a moment to highlight 20 of these mini "overlooked attractions" that you might not have known about Disney World.

The American flags on the buildings on Main Street, USA are not official flags.
Look closer, those aren't official American flags! They may be missing a star or have too many stars — the same with the stripes. Protocol states all American flags need to be lit at night.
By having flags that are not quite American flags, Disney gets around this requirement. Rest assured, though, that the flag on the flagpole in Town Square is an official flag and is taken down each evening during the Flag Retreat Ceremony, according to protocol.
Those cute cherubs in Be Our Guest restaurant are real people!
The next time you are in the Ballroom in Be Our Guest restaurant look up and you'll see cherubs looking down at you.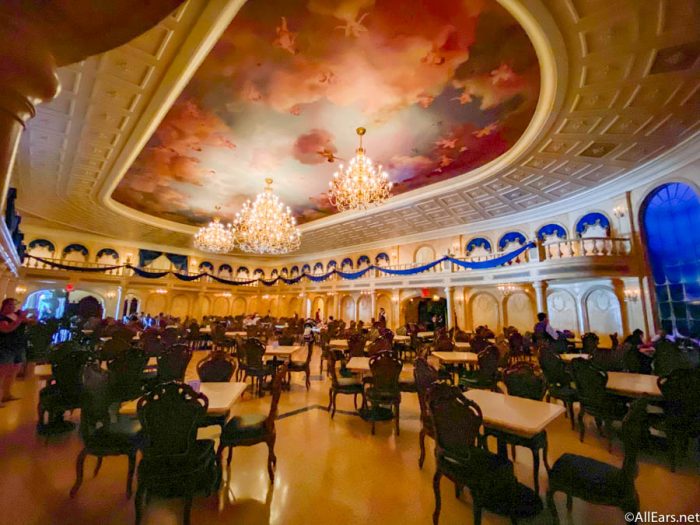 The faces on those cherubs are the faces of Imagineers, or their children, who worked on bringing Be Our Guest to life!
You've seen that snowstorm in Be Our Guest restaurant before
Yep, that snow on the back wall of the Ballroom in Be Our Guest is from animation cels used in the animated version of Beauty and the Beast.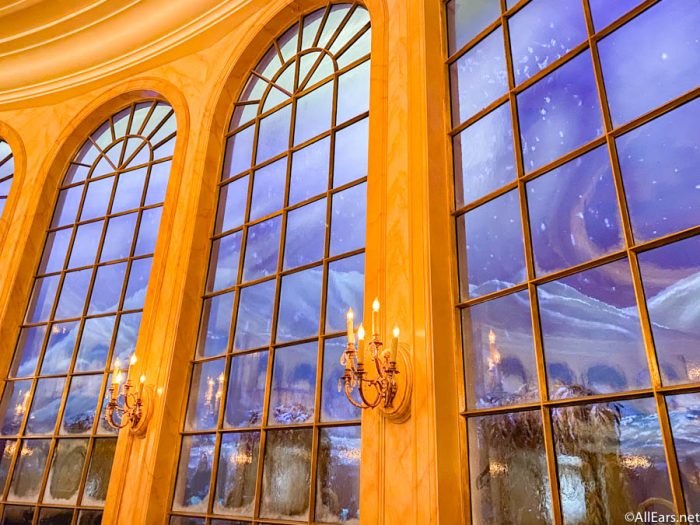 Those creepy chairs at the Boardwalk Inn Resort have names and a purpose
If you've ever stayed at, or been in the Boardwalk Inn Resort lobby, you may have seen two chairs – one on either side of the fireplace that look like some creepy kids. Well, turns out they have names and a purpose. The chairs are called Nanny Chairs and they have names — just look on the back.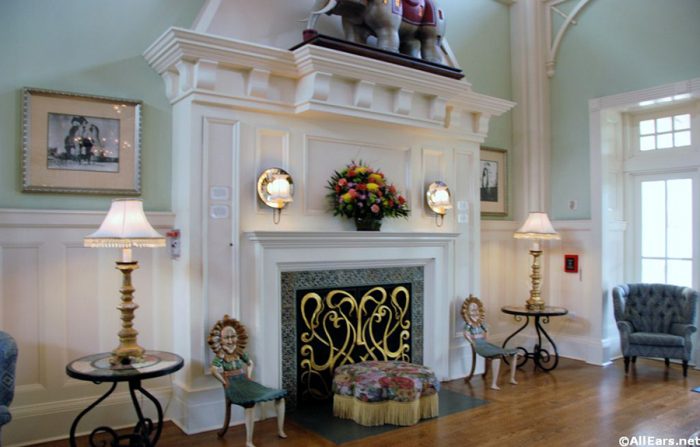 They are replicas of chairs that were on carousels on boardwalks back in the day that were intended for parents or nannies to sit in while their kids rode the carousel. There are two more creepy chairs downstairs by the gym – so if you're ever in the Boardwalk Resort keep your eyes open for these "kids" — Paul, Todd, Carrie and Alix.
There is a piece of Star Wars in the Indiana Jones themed Jock Lindsey's Hangar Bar
The next time you stop in Jock Lindsey's, when you walk in look to the left and you'll see a hidden R2D2 (not necessarily in character form – look at the text on the wall).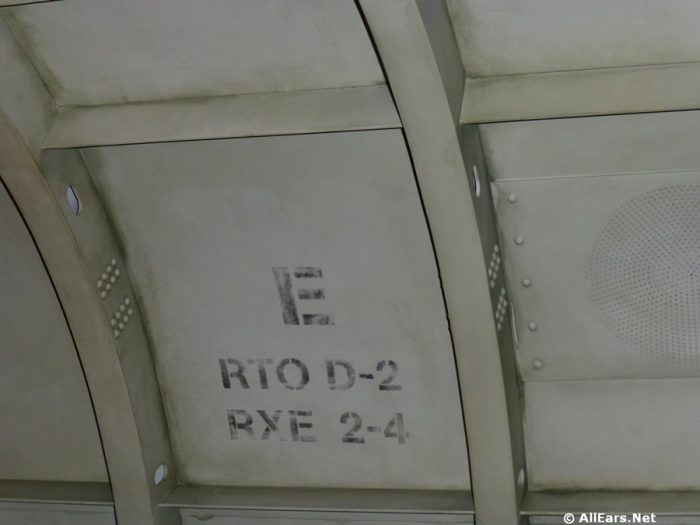 Why? George Lucas helmed both the Star Wars and Indiana Jones franchises, so this is a nod to his creative genius.
The Tower of Terror is part of ECPOT?
When you're in EPCOT, stand between Future World and World Showcase and look at the Tower of Terror. You'll notice it looks like it is part of the skyline of the Morocco Pavilion. Once the Imagineers realized this they added detailing to the top of the Tower of Terror to make it blend in better with the Moroccan skyline of Epcot.
Who signed the Tower of Terror's elevator inspection certificate?!
When going through the line at the Tower of Terror be sure to check out the elevator inspection certificate. You'll notice it is signed by Cadwallader. This is a reference to the devil character in the "Escape Clause" episode of The Twilight Zone.
You can crown Cinderella
Behind the castle in Magic Kingdom there is a fountain featuring Cinderella wearing her pre-transformation clothes. Behind her on the wall is a painting featuring a crown. If you line up just right with the fountain and the painting you can make it look like Cinderella is wearing that crown. You may need to squat down a little as we hear this was done to work from a child's perspective.
There's a sand-bottom pool in Disney World!
Yes, we are not making this up!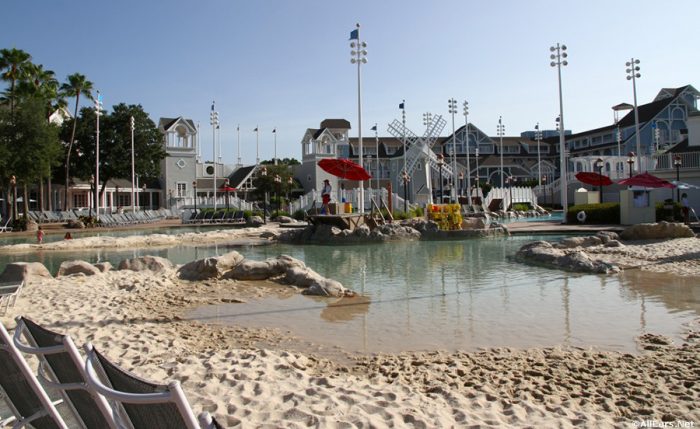 If you are a guest at Disney's Yacht Club or Beach Club resorts you can enjoy exclusive access to Disney's sand bottom pool named Storm-Along-Bay.
Make Lady jump out of a hat box
If you stand in front of the window with the picture of Lady and Tramp on it in Tony's Town Square restaurant in Magic Kingdom at the correct angle you can make it look like Lady is jumping out of the hatbox of the Le Chapeau sign.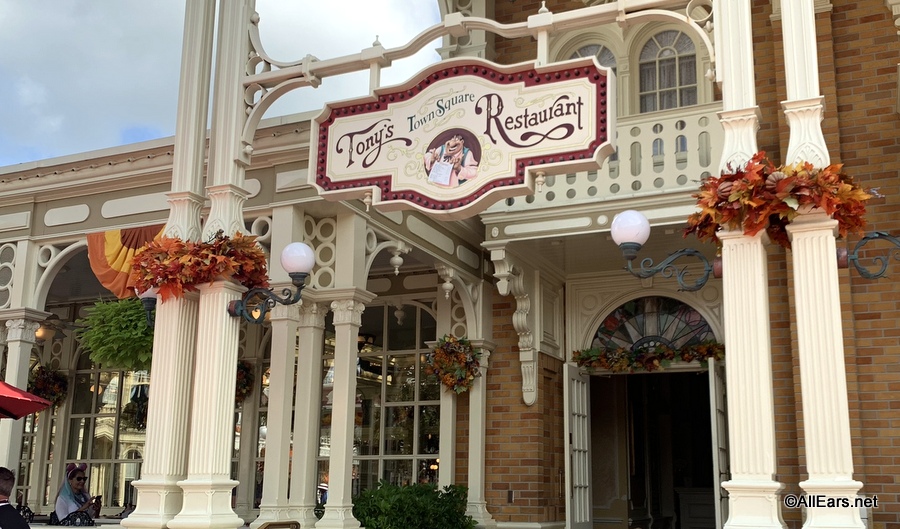 Devoted Lady and the Tramp movie fans will remember this is a duplication of the scene in the movie when Lady jumps out of a hatbox when given to her mistress for the first time.
The sidewalks really do sparkle at night in EPCOT
When you're leaving the park at night in EPCOT navigate to your left as you leave the park before you pass Spaceship Earth and you'll notice this part of the sidewalk is sparkling thanks to the magic of fiber optic lights. The is great fun for kids and adults alike to walk, skip, or dance along this part of the sidewalk.
Be on the lookout for artistic custodial Cast Members
Keep your eye out for any of the hardworking custodial Cast Members who are walking along with a broom and bucket. They might just add some magic to your day by "painting" a favorite Disney character on the sidewalk with their water.
You have to keep a keen eye out for them as the water art disappears just as quickly as it appears!
Yes, you do smell popcorn on Main Street, USA
Disney is known to pump some fun and interesting scents into their rides and queues, but did you know they also do that on Main Street in Magic Kingdom?
They currently pump the smell of popcorn out; they used to do the scent of chocolate chip cookies baking. We are fairly certain the smell of waffle cones by the Plaza Ice Cream Parlor is authentic though!
There are no restrooms in Liberty Square
When in the Magic Kingdom's Liberty Square you may notice there are no restrooms there. That is evidence of the Imagineers' wish to be as authentic as possible.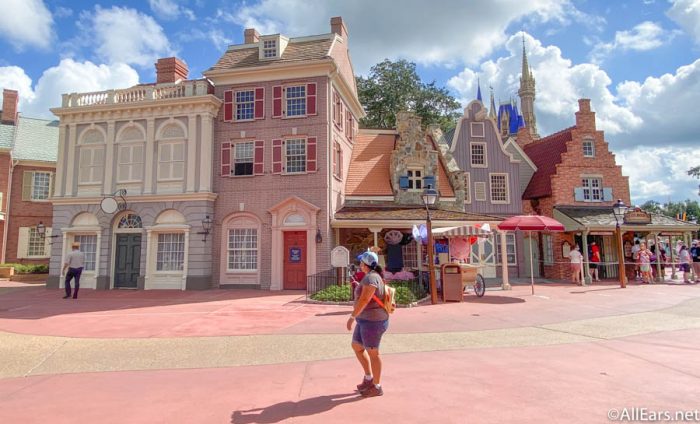 Since there were no restrooms in the Liberty Square time period they did not put any in Liberty Square. Even the restrooms in Liberty Square restaurants are placed so far back in the buildings that they are not even in the boundaries of Liberty Square!
You've heard of Hidden Mickeys, but what about a Hidden Donald?
Find what appears to be a Hidden Donald on a straight back chair on the Haunted Mansion ride the next time you are in Magic Kingdom. This takes some imagination, so look carefully!
How many things did you already know? Which fun facts were new for you? Share your Disney World facts with us and they just might make it into a future post!
Join the AllEars.net Newsletter to stay on top of ALL the breaking Disney News! You'll also get access to AllEars tips, reviews, trivia, and MORE! Click here to Subscribe!