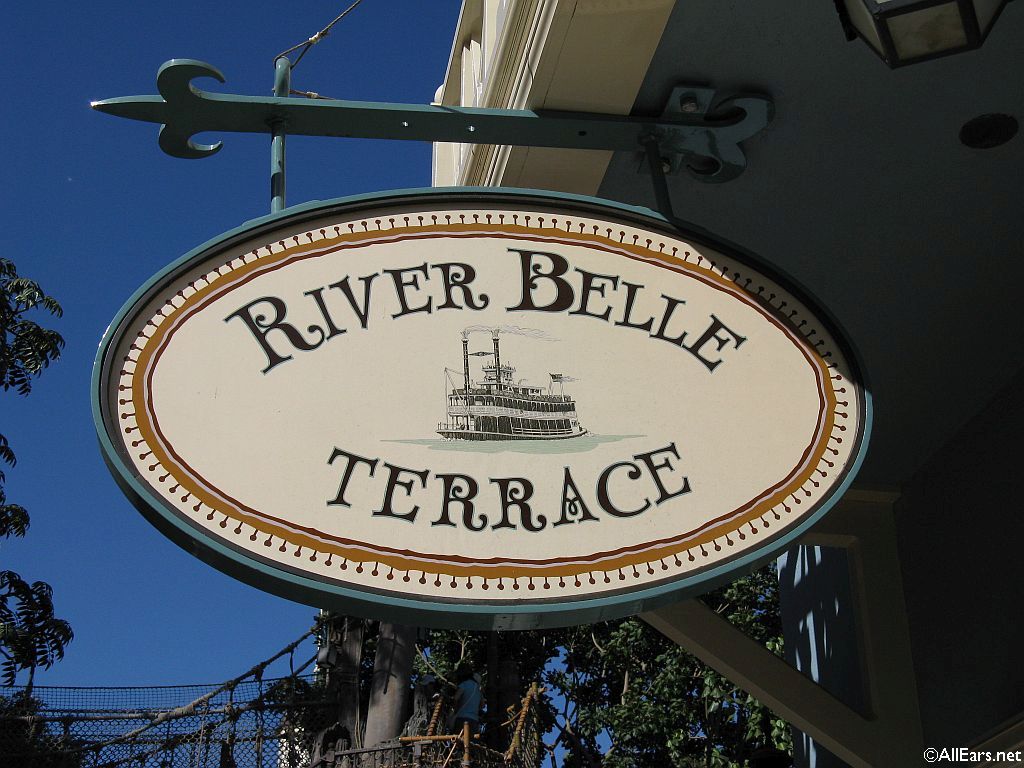 For many years, the River Belle Terrace restaurant in Disneyland's Frontierland was a "buffeteria" location serving breakfast, lunch and dinner. A couple years ago it was converted to a table service restaurant serving only lunch and dinner. This was quite a disappointment to many of us who enjoyed starting our park day with a leisurely breakfast while we looked out over the Rivers of America. The breakfast platters had names like "Steamboat" (pancakes, eggs, and breakfast meat), and "Mark Twain" (eggs, breakfast meat, potatoes, and biscuit), but I think the guest favorite was the smiling "Mickey Mouse Pancake."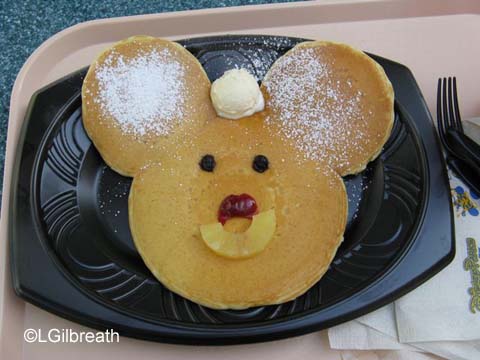 Last week River Belle Terrace re-opened for breakfast with a new menu of southern-inspired breakfast dishes – which fortunately also includes the return of a couple old favorites. Lee and I checked it out on Monday.
Breakfast is served from park opening until 10:45 a.m. – 10:45 being the latest time that guests will be seated. The restaurant is not yet accepting reservations for breakfast, so it's walk-up only. We arrived about 10:15, and were seated a few minutes later. We had a choice of indoor or outdoor – outdoor is always my favorite. It's very peaceful and far less noisy than inside. Most of the tables are shaded by umbrellas or the building itself. Between the fact that it's a new offering that most guests aren't aware of yet, and that it was a late hour for breakfast, the restaurant was only about 1/3 full.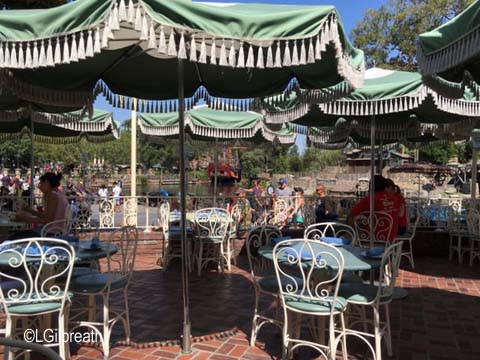 The new menu (which you can view HERE) features breakfast entrees like Southern Fried Bone-In Pork Chop, Short Rib Skillet, and Country Biscuits and Gravy. The Mark Twain has returned from the previous menu, as has the Mickey-Shaped Pancake (yay!). (Unfortunately my favorite, the Cinnamon Roll French Toast, did not return.) Several entrees include sunny side-up eggs, bacon gravy, and signature potatoes and a choice of chicken sausage or applewood-smoked bacon. Vegetarian dishes include a fried green tomato with deviled eggs and a granola and mixed berry parfait. For kids the Disney Check meal is Oats and Mixed Berries; the Silver Dollar, with pancakes, scrambled eggs, and breakfast meat, is also available.
The new item on the menu that I was most looking forward to trying is the Monkey Bread ($8) – and it did not disappoint. It's more like a breakfast appetizer than an entree, and indeed, ours was served quite quickly by itself soon after we placed our order. It's sweet bread with pecan butter, maple syrup, candied pecans, and powdered sugar, served hot in a small skillet.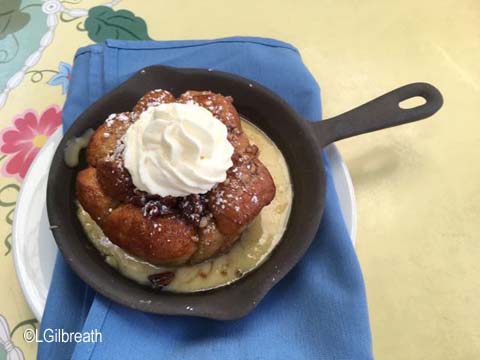 The sweet bread had just enough of a crust outside but was soft and tender inside. It didn't soak up the pecan butter and maple syrup and get soggy – and in fact we used the bread to get more of the yummy sauce that was on the bottom. The candied pecans were mostly in the middle. For my taste it could have used more spices like a cinnamon roll – but that didn't stop me from finishing my half of it. I'd recommend sharing this with one other person – maybe two people if they aren't real hungry. I suppose it could be breakfast for one person – if you're the type that enjoys a large gooey cinnamon roll as breakfast.
As an entree Lee went with the Short Rib Skillet ($19). This was slow-cooked shredded beef short rib, two sunny side-up eggs, potatoes, onions and peppers, and Texas toast. He loved it. Unlike me he enjoys peppers, and these (along with the onions) were nicely sauteed. He was surprised that the Texas toast wasn't served with any jam, butter, or honey, but he said it really didn't need it. Our server told us that those were available upon request, as well as ketchup and other breakfast condiments.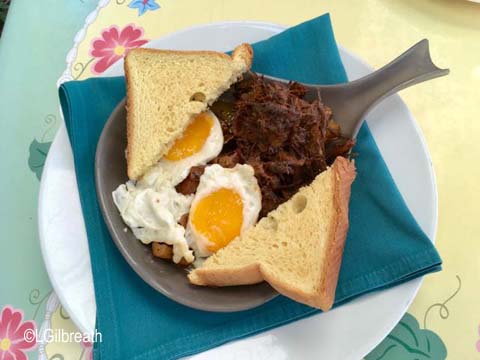 I chose Becky Thatcher's Fried Green Tomato ($16). The tomato was sliced into rounds, breaded and fried, then covered with a delicious roasted corn and avocado relish. That might have been my favorite part – I could have eaten a lot of that with some tortilla chips! There were also three deviled eggs – one of them dyed purple. We couldn't decide if it was pickled or just colored. The filling in the eggs was a little bit spicy, which surprised me. Our server told me it contains some of their pimento cheese in the filling. The eggs were very good, though – just a little unexpected heat on the finish. Typically the dish is served with chimichurri and red pepper coulis, but I requested that the coulis be omitted. The final touch on the plate was blistered tomatoes. These didn't do much for me – I would have preferred some fresh fruit (especially some berries) instead. It's not a lot of food, especially compared to some of the other options, but it was plenty for me. I really enjoyed the dish, and would order it again.
The service was good – our server was attentive and engaged. We both ordered iced tea (which was REAL brewed iced tea and not that fake Gold Peak stuff), and he kept our glasses full, and answered any questions that we had. He told us that it's still a very new menu, and there are quite likely to be additional changes. I mentioned my disappointment that there was no Cinnamon Roll French Toast, and he said they had tried something like that with the Monkey Bread. So who knows, maybe that, or another French Toast option, will show up soon.
Now for the downside – prices are significantly higher than they were before. The Mark Twain and Mickey Pancake are $17 (previously $8.49 and $7.99, respectively), biscuits and gravy is $17 and the pork chop is $21. Bottomless drinks (soft drinks, coffee, tea, iced tea, cocoa) are $3.99. Then of course you have to add on a tip. So it's not an inexpensive meal, and it's several dollars more per person than breakfast at the Carnation Cafe, the other table service breakfast option in Disneyland.
Is it worth it? I think it depends on what you're looking for. If you're looking for a quick inexpensive breakfast you'll be better off at Galactic Grill, Market House, or Red Rose Taverne. If you're looking for table service and something beyond the usual scrambled eggs and bacon, breakfast burritos, and breakfast sandwiches, then you might give it a try. For a table service experience I prefer the River Belle Terrace to Carnation Cafe – it's a more relaxing vibe and there's a lot more to look at. It also isn't nearly as claustrophobic as the Cafe, where the tables seem so close together.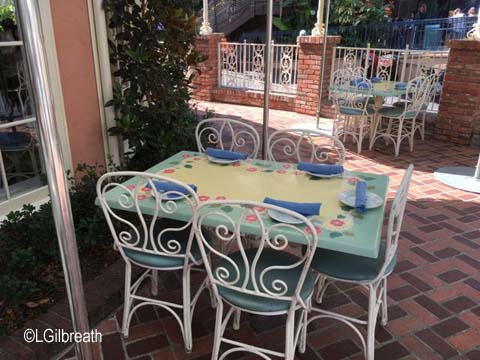 It's not something I would do on every visit to the park. We found it a very nice way to begin our park day and we enjoyed the food. I should also mention that by eating a filling breakfast late in the morning, we didn't need another meal until dinner – just an afternoon snack. (Because you HAVE to have some kind of frosty cool treat on a hot day!)
So, maybe not for everyone, but you know, I might go back again just for the Monkey Bread.