San Diego Comic-Con has come and gone again, providing somewhere in the vicinity of 130,000 attendees an opportunity to immerse themselves in all aspects of pop culture.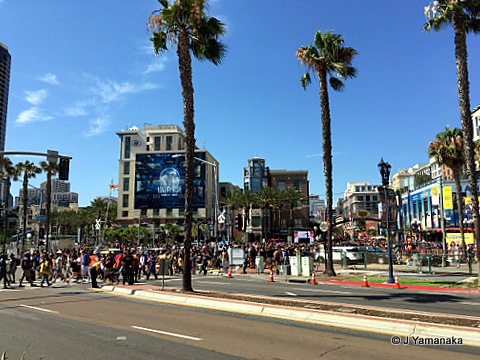 While Disney's main SDCC perennials Star Wars and Marvel passed on their usual big Hall H presentations this year, they made a strong showing with D23, their official fan club. As its first big foray into the madness that is Comic-Con, D23 put on two panels and a member mixer.
[The first panel, "Celebrating 90 Years of Mickey Mouse with D23: the Official Disney Fan Club," I outlined here.]
To celebrate the 25th anniversary of "The Nightmare Before Christmas," D23 held what has become their annual SDCC mixer in a new locale, The House of Blues San Diego.
Members who made it through the line to get in were treated to any number of Nightmare-themed foods, such as the "Lock, Shock, and Tacos," and the traditional D23 SDCC mac & cheese bar.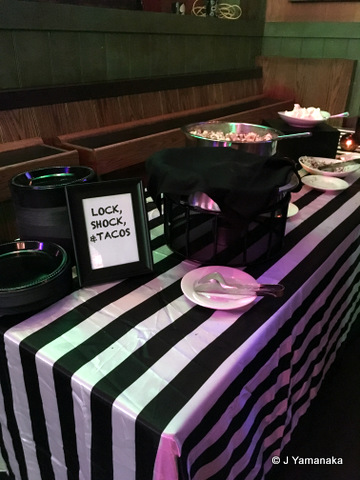 Photo opportunities were available with Jack Skellington, Sally and the infamous Oogie Boogie, along with the spirited D23 crew.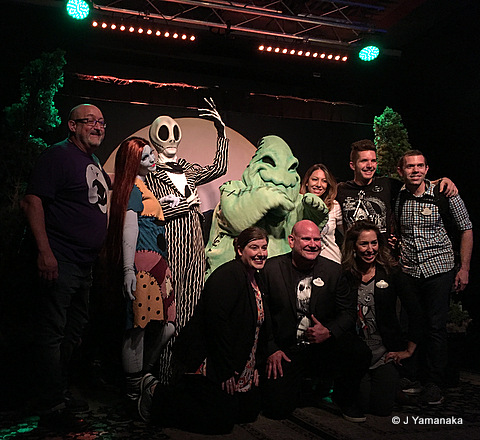 The event was topped off with the gift of a Nightmare Before Christmas swag bag, including patches, manga, and an insulated bottle.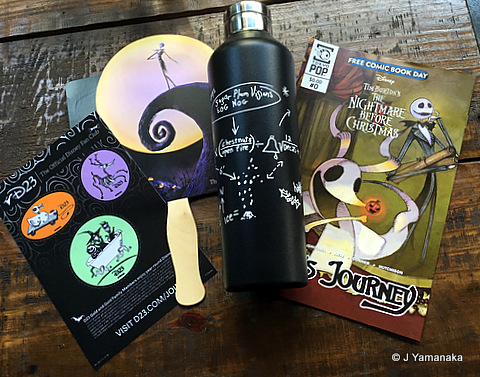 Afterwards, Con attendees could sprint back to the convention center to attend the second D23 panel, "25 Years of Tim Burton's The Nightmare Before Christmas with D23: The Official Disney Fan Club."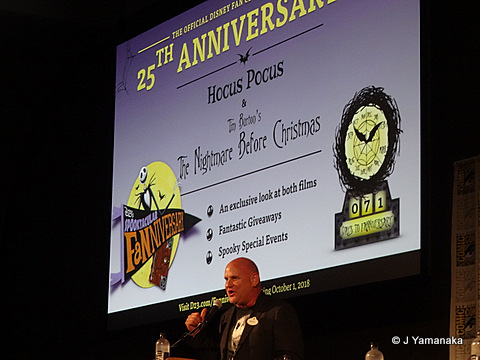 The panel, made up of Director Henry Selick, Animator Anthony Scott, Associate Editor Edie Ichioka, and Assistant Art Directors Kelly Asbury and Bill Boes, was joined by surprise moderator, author Neil Gaiman.

Video selections from the panel. *Some adult language*
Some highlights from the talk:
–While Burton had written the original poem back in the '80s, and come up with Jack, Zero, and Sandy Claws, there were no other characters at the start of the project. He later worked with author Michael McDowell to expand the story, Danny Elfman to develop the songs, Caroline Thompson to write the screenplay (while production was ongoing,) and a separate story department headed by Joe Ranft.
–Discussing the rate of stop-motion animation, a good day has them accomplishing about two seconds of film time.
–Scott's favorite scene was the "Poor Jack" song, because it is such a moment of transition for Jack as he realizes who he is and what his power is. It took him six months to animate.
–Ichioka said they never told Scott that they later considered cutting out the whole sequence.
–Stop-motion has particular challenges as far as editing because of the small amount of work that can be produced on a daily basis. All of "Nightmare" was shot on film and edited without the use of current digital non-linear processing techniques that came later.
–Influences on the look of the film included German Expressionism and "Cabinet of Dr. Caligari."
–At one point, there was some concern that Jack would be relatively expressionless without pupils in his skeletal eye sockets, but they found other ways to make him emote.
–Boes brought a one-quarter scale model from the film.
All in all, a great sortie into SDCC from D23 this year–hopefully there will be even more to come next year!
Fans can join D23 at Gold Membership ($79.99), Gold Family Membership ($104.99), and General Membership (complimentary) levels at D23.com and at shopDisney.com/D23.