"Doing nothing often leads to the very best kind of something."
-Winnie the Pooh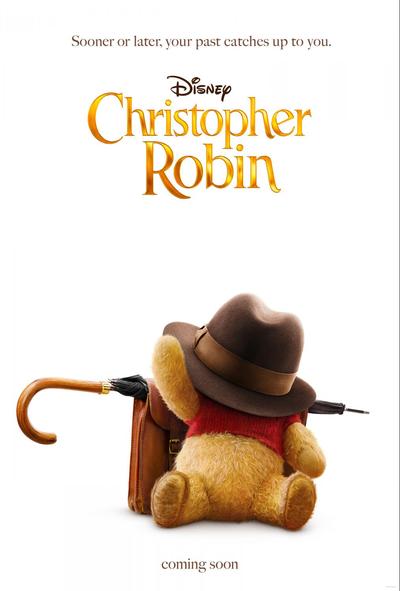 Seven years after the animated feature "Winnie the Pooh," Walt Disney Studios takes another trip back to the Hundred Acre Wood with the live-action "Christopher Robin."
"Christopher Robin" shows us a man (Ewan McGregor) a few decades removed from the young boy that romped with his stuffed animals in the wood. Years of fighting in WW II, coupled with the responsibilities of providing for his wife Evelyn (Hayley Atwell) and daughter Madeline (Bronte Carmichael) have turned Christopher into an anxious workaholic who treats his family with benign neglect. When matters at work and home eventually come to a boil, only a small stuffed bear and a trip through a magical tree can teach the harried adult to reconnect with the boy within and rediscover what things are truly important.
At a recent press junket, director Marc Forster and stars Ewan McGregor, Hayley Atwell, and
Jim Cummings ("pooh" and "Tigger") took time for some round table discussions on the upcoming release.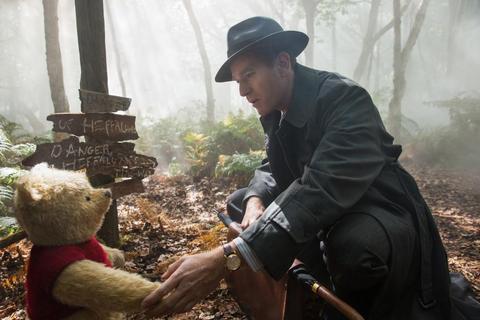 Ewan McGregor
McGregor on Christopher Robin's journey: "He's opened and he finds what his truth is, I suppose, through the movie. We see it very quickly, through the montage at the beginning, the pure seven-year-old who leaves his friends at the lovely farewell ceremony which is just heartbreaking, isn't it, right off the bat. It's like 'Bambi.'"
Atwell: "The opening credits! When Dad's dying! The opening credits, and I'm already crying!"
McGregor: "So then we see that very quick montage of what his life has been, and I think especially experiencing warfare and going off and having to fight, and the impact that that seems to have on him when he comes back…and then he's in a job, and just the stress of the job, and he has responsibilities, adult responsibilities that he shoulders and carries. But when Pooh asks him 'are these people you're trying to save your friends,' he's like 'well no, I don't want to think of them as friends, because that makes it harder when you have to let them go.' There's some disconnect in him, and I think just what happens through the movie, is that he's opened up and the things that are important in his life become the things that he's able to express that to–his daughter, his wife, and also to his work, and he has a better relationship with that, and he comes up with a great idea at the end.
"And I think, within that, it could be a story about somebody finding anything–just finding their way back to who they really are, of course, is the important message."

Hayley Atwell

Atwell on what "Christopher Robin" says about the human condition: "What I found so heartbreaking, is that Pooh, who's almost kind of this…this beacon of love, pure, unconditional love, as pets are, as dogs–as my dog is, really–and when he is hurt by Christopher Robin, unintentionally…but when he is hurt, how he processes it…and instead of choosing to act out or to attack back or become in any way defensive…he's still so open. That, to me, is a beautiful, tender moment of unconditional love that's almost something that we kind of feel like we're born with a little bit more and then we learn more sophisticated tactics of defense and attack that make us slightly more bitter as we get older when we feel hurt by something, especially something that we love. And so the purity of that moment of when he says 'did you forget about me?' And it almost says it as a genuine question and then just is able to contain the pain of what that feels like. I find that actually in its humanity and its dignity, quite profound."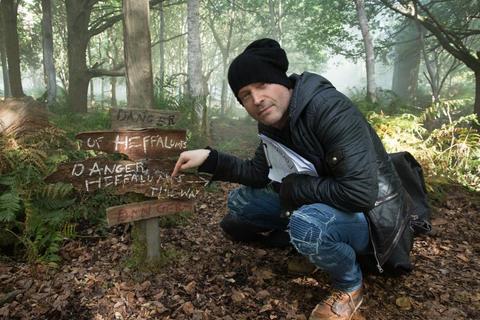 Marc Forster
Forster on Richard Sherman: "I've been a great admirer of the Sherman Brothers–obviously their work speaks for itself. I asked early on if Richard Sherman would be willing to write a song. I just wanted one song, because as an attribute of the history of Disney and Winnie the Pooh…and then he said 'absolutely' and suddenly he wrote three songs! And he obviously wrote the first song, when Christopher Robin leaves, and the other two songs I loved so much and I couldn't really figure out where to put them…so I thought at the end, which wasn't originally in the script, that I said 'you know, we just should finally have a scene that they're all on vacation, and you see all the employees, they're finally doing nothing and on vacation–all the hoi polloi as Mark Gatiss' character says–on the beach, with the gramophones and cider. And then when we're there, why don't we have a piano there and have Richard Sherman play the piano? And unfortunately, he wasn't able to travel at the time to England, so I had our second AD who was in his 70s…I said 'why don't you sit there and play the piano?' And he said 'no, I don't know how to play the piano.' And I said 'just pretend.' And then ultimately, we got back to here and I had Richard Sherman sing the song and basically put his head on the second AD's head…but so the second AD can't play the piano, so I now have Richard Sherman sitting on the beach and the guy's just playing [mimes pounding on the piano keys] So Richard Sherman hasn't seen the movie yet, when he sees himself singing, but doing [more mime], I hope he will not be 'oh my God, what am I doing?'
'So I just love that song and wanted Richard Sherman to sing that song on the beach, and then the third song ultimately, it's also Richard Sherman singing, live performing just him in the studio, and it's just beautiful."

Jim Cummings

Cummings on resuming the role of Tigger after the initial casting of Chris O'Dowd: "You know, it was a surprise–it took some wind out of my sails, but like the song says, you put one foot in front of the other…it's all you can do anyways. I think what happened–because my 13 year-old and I saw it–and she just didn't know…and I think what happened was you just get used to a sound, a voice, an attitude, and in this case it was decades old. And I think they just said 'well gosh, this is such a wonderful project…we don't want to introduce such a radically new wrinkle maybe, and maybe we just go back with something that everybody's gonna glom onto, and something that they've heard.' And next thing I know, they're bringing in the Tigger lines and I hope it worked."
Previously, Jim Cummings had been kind enough to spend a few minutes with AllEars answering even more questions.
On getting started with Pooh: "Back in 1987, I had really just broke into the business, and some genius had the idea to bring back good old Winnie the Pooh from the 60s and I was there at the right time, thank goodness. I auditioned with everyone else–I understand people like Burgess Meredith auditioned and E.G. Marshall, which was kind of amazing."
On taking on a famous character: "…For the past 33 years it's been a bigger presence than it was in 1987. In 1987, he hadn't been around for 20 years. I mean, they had made three shorts, and that was it. Actually Disney Channel had 'Welcome to Pooh Corner,' but that was folks in costumes and it wasn't the same, obviously. So it wasn't really daunting because it wasn't there at the time. It would probably be daunting to take over now, but too late. They're already stuck with me."
On preparing for voice acting similarly to live acting: "Oh yeah, that's the way I do it. I played Captain Hook in a play when my daughter Raleigh was younger–she would draft me to be in plays in children's theater out in Thousand Oaks–and instead of going with a classic Captain Hook, I played him as Don Karnage from 'Tailspin.' 'I am a pirate, you know, it was too amazing…I going to gets you Peter Pans!' People just ate it up, it was so funny. I credit Chuck McCann with that idea, the late, great, Chuck McCann. He said 'kid, you gotta do your Don Karnage. Don't do that Brit. Everybody expects the Brit. Give 'em some Karnage."

On voicing Pooh in the parks: "That's me. My kids have a little mini-tradition…they'll end up at Disneyland and they'll be all 'ok Dad, guess where we are?' They'll hold up their phone and I'll hear myself going 'hoo hoo hoo hoo!' on the ride or whatever and I'll say 'let me guess: You're on the Winnie the Pooh ride.'"
On his favorite ride: "My favorite one right now is…I'm going to mess the name up…Flight of the Phoenix? [Flight of Passage] In Pandora, at Disney World. That's crazy good! I could live on that ride. It's amazing."
Disney's "Christopher Robin" will be released nationwide August 3, 2018.