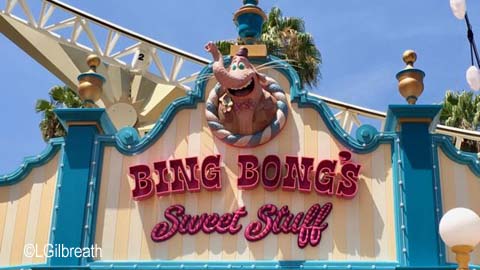 Calling all candy lovers! Bing Bong's Sweet Stuff is now open at Disney California Adventure's Pixar Pier. Bing Bong, the imaginary pal of Riley from Pixar's Inside Out movie, along with Rainbow Unicorn and Jangles the Clown preside over a shop filled with a variety of sweet treats and colorful merchandise.
Here's our video tour of what you'll find inside.
On our look inside we'll start with Bing Bong himself… if you recall the movie, he cries candy tears. In the shop those take the form of salt water taffy. It's available in bags, both single flavor such as watermelon, orange, and neapolitan, or as an assortment.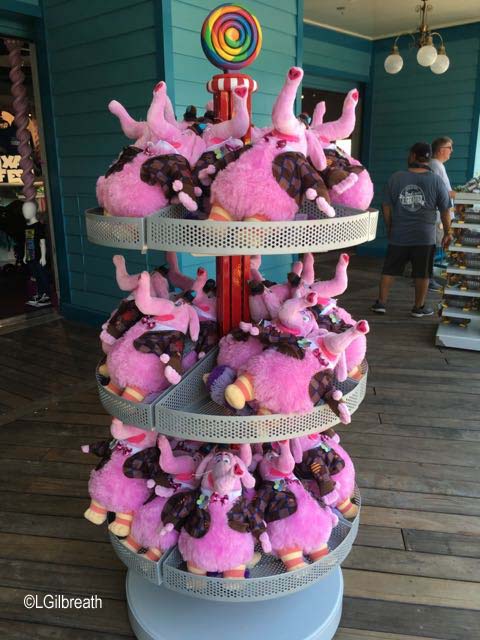 There's lots of other pre-packaged candy available as well, inspired by beloved Pixar characters, like Mike's Sour Apple Balls, Sulley's Blue Raspberry Jellies, and Woody's Strawberry Licorice Wheels.
Flavored popcorn, inspired by the Inside Out gang, includes Anger's Red Hot Candy Popcorn, Joy's Confetti Popcorn, Sadness' Blue Raspberry Popcorn, and Fear's Fruit Punch Popcorn.
I'm not sure what this is, but it's obviously inspired by Rainbow Unicorn.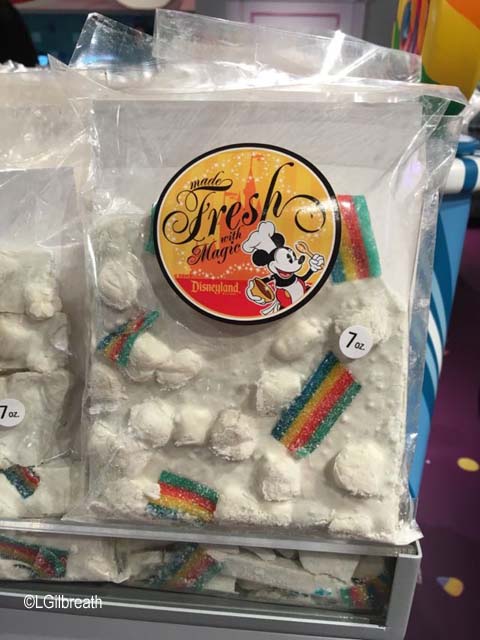 Moving over to Jangles the Clown's side of the store we find the Memory Refreshers center and candy counter.
Memory Refreshers are frozen slush drinks. Six flavors are available: cherry, pink lemonade, mellow yellow, Hi-C lime, blue raspberry, and grape. A single flavor is $5.99, but there is a menu of layered drinks which feature multiple flavors. The drinks are colorful, with imaginative names like Rainbow Unicorn, Sunshine in a Cup, and Slow Burn. Those are $6.49. Unfortunately we weren't able to try any of them because the slush tanks hadn't frozen enough yet.
Jangles also oversees a candy counter where Pixar-themed cake pops, candy apples, and crispie treats, as well as other candy selections like English toffee, fudge, and marshmallows, are sold.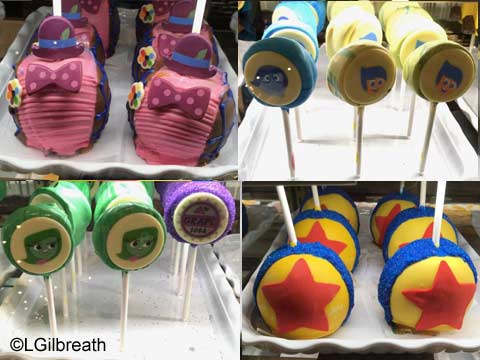 And oh, the plethora of Pixar plush! In addition to the stack of Bing Bongs at the entrance, there is a wall of plush at the back of the store. From Toy Story, Finding Nemo and Finding Dory, the Incredibles, Cars, Up, Inside Out, Coco… well, if you could cuddle a rainbow, it would be here.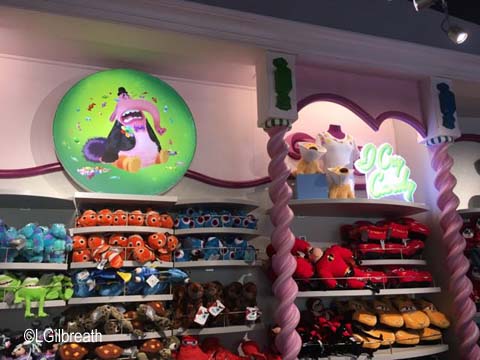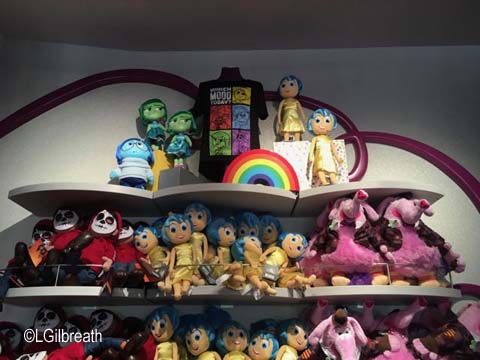 The plush of Dug wearing the "Cone of Shame" might be my favorite.
There's also apparel for adults and kids, with quite a selection of Pixar-themed t-shirts.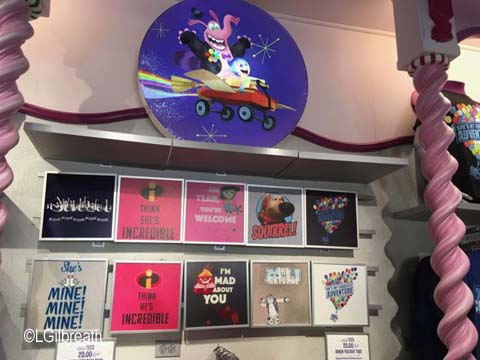 Most of the displays are organized by movie. Up:
Inside Out:
Monsters, Inc.: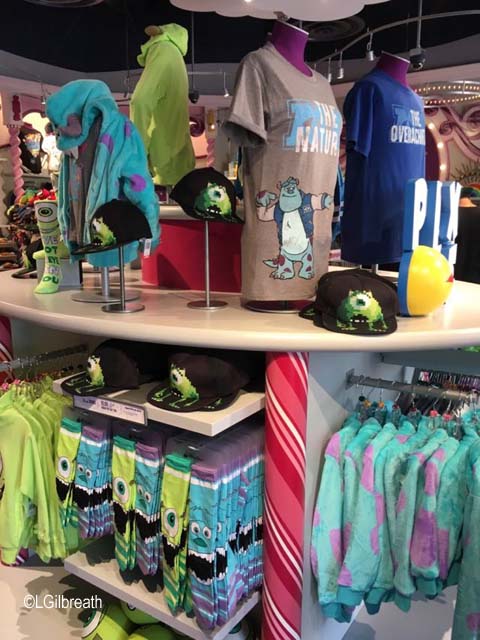 Did you notice that the supports are striped like candy canes?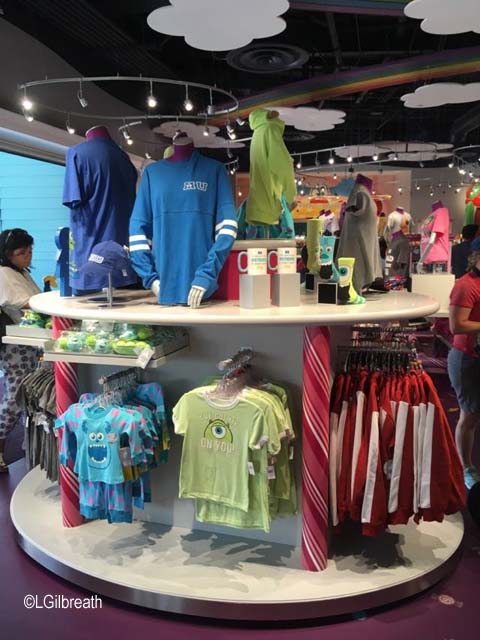 Also Pixar-inspired ear hats and ear bands.
There will eventually be a large figure of Bing Bong in the center of the shop – but apparently he still hasn't been recovered from the Memory Dump and will make his appearance later.
The shop is fun – so colorful. Make sure you look up at the ceiling!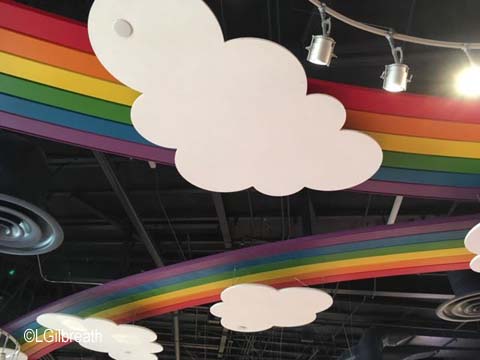 And also down at the floor.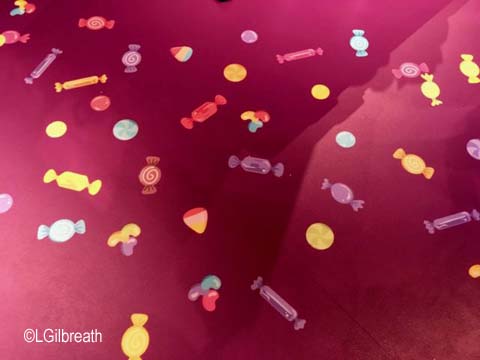 If you're searching for Pixar plush or apparel – Bing Bong's is the place to go.