Splitsville Luxury Lanes, an upscale bowling alley and restaurant complex, opened in Disneyland's Downtown Disney earlier this year. I attended the opening media event, where I had the opportunity to sample a few of the menu offerings, but hadn't gotten back there for a meal. Until earlier this week, when Lee and I stopped in for an early dinner.
It was a Monday afternoon at about 4:30, and the restaurant wasn't busy. We could have opted for bowling AND dining, but we were only planning to eat. We were seated immediately in the room downstairs near the bar – the large upstairs area was not in use at the time. And then we looked over the menu.
When I think of bowling alley food I think of hot dogs, nachos, and maybe pizza… none of it really all that appetizing. But the food at Splitsville is a HUGE step up from that… so much so that I don't think you can really consider it "bowling alley food." Yes, there are hamburgers, but they are made of certified Angus beef, and topped with things like sauteed mushrooms, caramelized onions, or fried jalapeños. The pizza crusts are hand-tossed, using dough made fresh daily. And while yes, you can get cheese and pepperoni pizzas, how about Meat Loversor Philly Cheesesteak pizza?
Or it would be easy to make a meal out of some of the appetizers (but bring a friend or two to share them with) like Macho Nachos or Loaded Fries. There's also several choices of sliders: Cheeseburger, Filet, or Chicken Thighs.
And then there's the sushi! Large rolls made with various combinations of salmon, tuna, tempura shrimp, and Krab, and veggies like cucumber, asparagus, and avocado (OK, so avocado is technically a fruit).
So we had some "difficult" choices to make. I really wanted some sushi, and Lee really wanted pizza. He also wanted to try the Cone of Fries, which I had tried at the media preview and spoken highly of.
The fries were initially a disappointment. When I'd had them before they were golden brown and crisp and crunchy. These were somewhat pale, not that crisp, and some of them were actually limp. I told our server when he came by to check on us and he immediately took them back and we quickly had a new order. And they were everything that I remembered. The fries are good on their own, but the chive dip really puts them over the top. At $10 they are pricey, but there's a lot of fries and they should be shared.
Our sushi choice was the Super Tuna roll, which is ahi tuna, tempura shrimp, and cream cheese rolled and then topped with seared ahi, avocado, eel sauce, tempura flakes and spicy mayo. I thought it was a large serving for $19. It was excellent – very fresh, very tasty. The tempura flakes gave it a nice crunch and texture. Sushi is something I've only recently developed an appreciation for, but in my limited experience this is the best roll I've ever had. Lee really enjoyed it, too.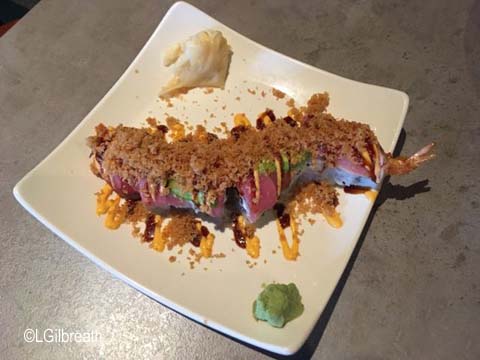 For pizza we chose one of the more interesting ones: Fig & Prosciutto ($21). We weren't sure how big the pizzas were…we were thinking it was more of an individual-sized pizza. But…we were wrong. By itself it would have been enough for both of us. The pizza is topped with mozzarella and dollops of goat cheese and "fig jam maraschino onions" in addition to the fresh figs and prosciutto. Fresh arugula goes on top before it's served. This may all sound like an odd combination, but it's really, really good.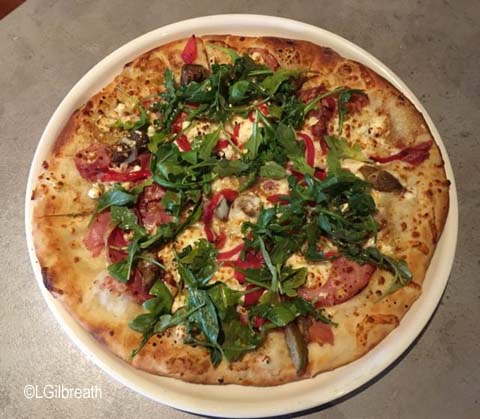 Everything was great, but it was too much food – we ended up taking over half the pizza home with us, though we enjoyed the leftovers the next day. That's not necessarily a bad problem to have, though.
If you take a look at the MENU you'll see that there's a pretty varied selection of items available – a "something-for-everyone" menu. I've found the danger with those kinds of menus can be "jack of all trades, master of none", but that's not been an issue for me at Splitsville. Everything I've sampled has been delicious. We will definitely be back.