If you're going to be at the Magic Kingdom any time in the near future, you might want to check out two new unadvertised items that have visitors waiting in long lines. With a little planning, you may be able to winnow that wait time and still enjoy the experiences.
First, there is a new "Tangled" photo opportunity that takes place in front of the Rapunzel-themed bathrooms. Anyone who has seen the elaborately themed facilities surely has wondered, as I have, why so much care was spent on bathrooms — even ones at Walt Disney World. The area certainly lends itself to a variety of photos with beautiful backdrops.
And … now we have an official Disney PhotoPass spot. About a month ago, Walt Disney World's photographers began a test period of taking guests' photos holding a lantern from the iconic boat scene in Disney's "Tangled." Visitors are positioned with the hanging lanterns behind them and then asked to pose in a few different ways with the lantern they are holding.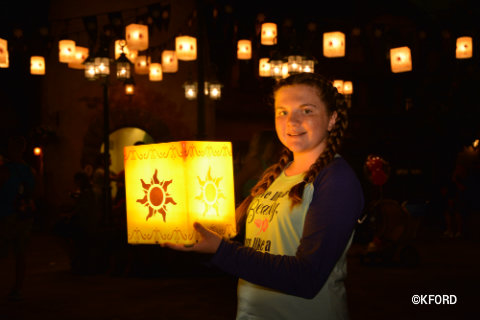 This unpublicized photo op has been hugely popular, commanding hours-long lines each night. My family and I waited in the queue for an hour and 45 minutes on Saturday. The set originally was scheduled to end yesterday, but on Monday, Disney's PhotoPass announced on Twitter that it "will be available on a nightly basis (weather permitting) until further notice!"
Things to know:
** PhotoPass photographers will bring out the lantern and begin taking photos once it is completely dark outside. They told me they need an "inky" sky for the photos to work. On Saturday, that meant they began taking pictures at about 7:15 p.m.
** On the day we were in the park, guests began lining up at about 5:30 p.m. So, our wait of an hour and 45 minutes seemed to be the average.
** I walked past the "Tangled" area in Fantasyland (between the Haunted Mansion and it's a small world) several times throughout the night, and the only time the queue appeared shorter was in the last hour before the park closed at midnight.
** Many of us stayed in line during the Wishes fireworks, so that nighttime show was not a deterrent as it sometimes is for certain queues in the park.
The second unadvertised item is another kind of souvenir. In a promotion for the release of the live-action version of Disney's "Beauty and the Beast," Disney Parks has created an Enchanted Rose tumbler. The clear plastic cup features the rose in the middle of the base, a lid with various light-up features, and a clear plastic straw.
The cups originally were for sale at Disneyland in the Red Rose Taverne, which is a limited-time "Beauty and the Beast"-themed overlay at the Village Haus restaurant in Fantasyland. They were so popular that they sold out within a day of being placed on sale at the quick-service restaurant about three weeks ago. Almost immediately, the cups, which cost about $13 in the parks, showed up on eBay and have been selling for $50 to $75 apiece. No word about when the Disneyland location will restock.
In the meantime, last week they made an appearance in Orlando and are being sold for the same price at Be Our Guest restaurant in the Magic Kingdom. So, far there are no reports of the cups being sold out, but some purchase limits have been put in place to prevent that:
** You must dine at Be Our Guest in order to purchase an Enchanted Rose cup. Each table or reservation can purchase up to five tumblers.
** The restaurant already is so popular that guests typically have to have reservations to eat there, and reservations are made months in advance. Those who are having breakfast or lunch at Be Our Guest, which are considered counter-service meals, can pre-order their food to speed up the process and the Enchanted Rose tumblers are listed on the forms.
** If you don't have a reservation, continue checking My Disney Experience because guests' plans do change. Reservations must be cancelled the day beforehand or no-show guests will pay a penalty of $10 per person. So, you may be able to score a last-minute reservation.
** Occasionally, Be Our Guest has room for walk-ups, and guests can be seated without a reservation, so it could be worth your while to stop by the outdoor podium to check. This most often happens for breakfast and lunch.
Are you excited about the new Princess souvenirs at the Magic Kingdom? Tell us your thoughts in the comments below.