Way back in the mists of time, in the long lost days of yore, before there was a Disney Cruise Line, avid Disney fans sailed with a cast of Disney characters on The Big Red Boat!
Premier Cruise Lines, which operated the Big Red Boat, was formed in 1983 by two veterans in the cruise industry. These two men were mavericks who had a vision; they wanted to create a new niche market — Family Cruising. Until that time cruise ships had been opulent floating palaces catering to well-heeled older patrons who wanted a luxurious vacation experience. The two entrepreneurs behind Premier Cruise Lines thought that some of these patrons might like to bring children or grandchildren along with them and that was the niche market they were hoping to capture.
They raised more than a few eyebrows in the rather stodgy cruise industry when they bought the Oceanic and refurbished it in a "not-so-luxurious" fashion to accommodate the needs of cruising families.
At the same time the Walt Disney Corporation was looking for ways to add some variety to their theme park vacations. It wasn't long before Premier and Disney signed an agreement and began jointly marketing Disney vacations with a "land and sea" option. When it was re-launched after refurbishment the Oceanic was christened by none other than Minnie Mouse!
Click on the image above to see a larger version
In 1985 Disney characters began appearing on the Big Red Boat; special Disney themed ship-board activities were offered for children and on-board entertainment was family oriented. The ship had a staff of more than 30 youth counselors on-board and programs for the children were divided by age group. They even had a special menu for children and provided free onboard babysitting. This approach to family cruising was an instant success!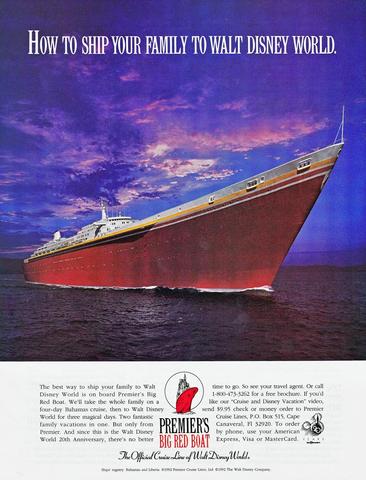 Click to see a larger image
Disney fans just loved the idea of three or four days at sea followed by three or four days at the theme parks! By 1988 family cruising was so popular that two more ships, the Majestic and the Atlantic, joined the Premier Cruise Lines fleet. The hulls were painted bright red and all three were marketed as "The Big Red Boat"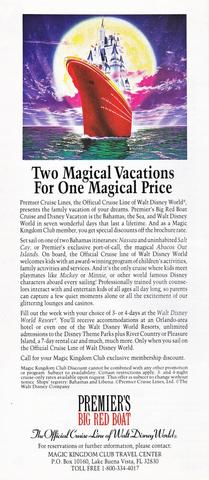 Click to see a larger image
The three and four day cruises sailed from Port Canaveral and offered several different itineraries. Ports of call included Freeport, Nassau and Salt Cay, a small island just a few miles from Nassau.
Carol and I didn't sail with Disney until 2007, but a few people have shared their experiences on the Big Red Boat with us.
Karen O. from Illinois told me, "We took a cruise in March 1992. My husband Rudy, son Greg and I boarded the Majestic in Port Canaveral. We really enjoyed the package that included a three day cruise followed by four days at Walt Disney World. One of the highlights was anchoring off of Abaco Island in the Bahamas. It's almost hard to say what was our favourite thing because everything was great. Of course we loved the food, the service, and the activities; but we especially loved the snorkeling. Our son Greg even got to swim with the dolphins. He was a year-round swim competitor, and at the time was eight years old. It was a very special trip and vacation for us."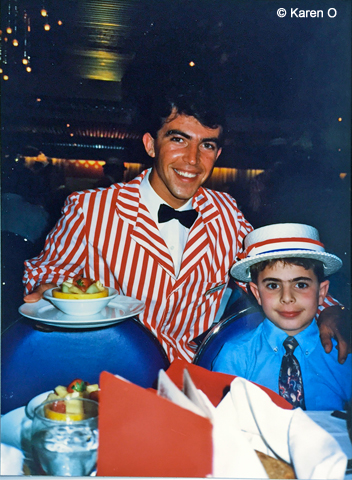 Rob R. from Virginia described his experience for me; "My wife Kathy and I honeymooned on the Big Red Boat in September 1993. We boarded about 2:00 p.m. and sailed away from Port Canaveral at about 5:30. There was a Bon Voyage party on the main pool deck; we were all given streamers and confetti to throw, there was a live band playing and Mickey, Minnie, Donald, Goofy and Pluto were interacting with guests as we left port. That was the last time I remember seeing the characters on board but I'm sure they were around for later functions. The movie theater was showing Disney movies."
"Our ports of call were Nassau and Freeport. At Nassau we could go to the straw market, take an excursion to Atlantis to go to the casino, take an excursion to Salt Cay, a nearby private island to snorkel or rest on net hammocks. Salt Cay was used in the opening credit shots for Gilligan's Island . . . that was neat. Kathy and I enjoyed the snorkeling and then walked around the straw market"

"In Freeport Kathy and I went parasailing. It was fantastic! Flying high above the crystal clear water was wonderful. From up that high, you could see the coral reef, some of the colourful fish and the ocean bottom. I wish I had taken a camera up with me to take pictures of how clear things were."
Rob and Kathy must have sailed on one of the last of the Disney themed cruises since the deal between Premier and Disney ended in late 1993 and was not renewed. Disney reportedly had discussions with both Carnival and Royal Caribbean lines, hoping they could replace Premier, but neither seemed to be interested. On May 3, 1994 Disney announced that they would be starting their own cruise line.
Premier soon negotiated a deal with Warner Brothers and before long Bugs Bunny and many of the other Looney Tunes characters were interacting with vacationers on the Big Red Boats.
It was during the Looney Tunes era that AllEars.net Photo Blogger Scott Thomas and his family sailed. "We sailed just after Disney had announced they were building their own ships and pulled out of the Big Red Boat. All the Looney Tunes characters were on the ship. The weather during our cruise was terrible, so bad that we didn't go on a single excursion. The kid's programs were very strange; they allowed our daughters, aged 6 and 9 at the time, to leave unescorted and roam the ship looking for us. We didn't like that at all; the girls found us each time but it certainly did not give us a good feeling!"

"The boat was old and small, everything seemed very cramped. The food and the service were okay. They only had one dining hall which I believe was the norm on ships back then, but nothing about the cruise was as well done as we have since experienced on Disney Cruise Line."

Most of you know the rest of the story. In 1996 Disney purchased Gorda Cay and spent 25 million dollars transforming it into Castaway Cay. The Disney Magic began sailing July 30, 1998 and was joined by the Disney Wonder about a year later. The Disney Dream and the Disney Fantasy followed in 2011 and 2012. Two new ships are now under construction and both should join the Disney fleet within 6 years.
As for Premier, they struggled after Disney pulled out. Their fleet was old and the smaller ships had a hard time meeting the needs of more demanding consumers. The company was bankrupt by September 2000 and almost all of their ships have since been sold for scrap.
It's a sad ending for Premier Cruise Lines, a company that helped incubate the Disney Cruise Line. There is no doubt in my mind that those 8 years when Disney fans sailed on the Big Red Boat gave the Imagineers a wonderful model to use when they began to design the ships, the children's programs, the ship-board entertainment and the shore excursions that we all enjoy today.
How about you? Do you have any fond memories of the Big Red Boat?