Good news for us Hidden Mickey hunters: the re-imagined Disney Wonder has some great new Hidden Mickeys! (And, as you might expect, some Hidden Mickeys have been removed; sad, but I'll get over it). The Disney's Oceaneer Lab redo is similar to the Disney Magic Oceaneer Lab redo of several years ago. For example, the gold coin classic Mickey at the lower left corner of this wall painting is on both ships; it hangs to the right of the main entrance to the Lab and near the walkway to Disney's Oceaneer Club. (Thanks to Bill and Kari Middeke).

On a rear wall of the Lab, another painting has a tiny classic Mickey made of falling peas (at the left middle of the photo and on the middle right of the falling plate) and another Hidden Mickey nearby on the end of the handle of a kettle. (I studied the same painting from the Disney Magic, and I believe the kettle Mickey is there as well!)

A new image is at the left side of a wall mural behind the Port Adventures counter. Bubbles in the water behind King Triton's trident seem to form a sideways Mickey shape. What do you think about the image; is it close enough? (Thanks to Bill and Kari Middeke).

This Hidden Image is still in place: the tiny Donald Duck car hood ornament in a wall painting entitled "Get Your Kicks." Find the painting along a forward stairwell between Decks 3 and 4.

On Castaway Cay, my friend and neighbor Dennis found this image at Conched Out Bar. It's under the laminated surface at the middle of the rear counter, near a roof support post. Does this pass muster as a classic Hidden Mickey? (Thanks to Dennis Wazaney).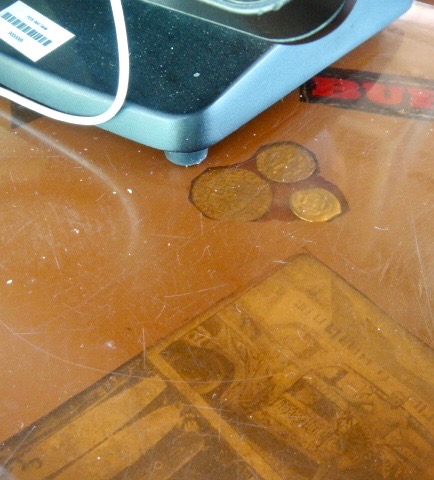 Enjoy cruising with Hidden Mickeys!