By Guest Blogger: Michelle Buchecker
As part of a business trip to Shanghai in late October 2016, I decide to add an extra day and visit Shanghai Disneyland. What follows are my experiences and impressions and hope that this helps anyone who may also be going for their first time.
Getting There
Shanghai is in the Peoples Republic of China. Normally you need a Visa to visit China. Shanghai has this 144 hour exception rule that if you are just going to Shanghai and spend less than 144 hours there, you can go without a Visa as long as Shanghai is just a stopover for you in route to another destination. In other words, you are not permitted to fly directly home from Shanghai. This is not a well-known rule and you may have trouble when people check your passport and don't find a Visa. I had a Visa and it was easy to use. Not so easy to get though. You have to be very careful in filling out the Visa form.
When you arrive, be sure to hit up an ATM. There are currency exchanges right after you pass Customs, but if you go farther down in the terminal you will find plenty of ATMs which gives you a better exchange rate.
Shanghai Disneyland is not that far from Shanghai Pudong airport (PVG). A taxi ride will run you approximately 100 RMB (as of October 2016 it's about 6.7 RMB for US Dollar, so under $20 US). Be sure to get in the regular Taxi line and don't fall for those people hawking "Taxi! Taxi!" inside the terminal as they are not metered.
Also, and I cannot stress this enough, have a picture on your phone or a printout of the hotel name and address in Chinese for the taxi driver. Most drivers do not speak English. And the area where Disney is in is so new that even with the address in Chinese they may not know where it is. Saying "Disney" helps somewhat.
Address of Toy Story Hotel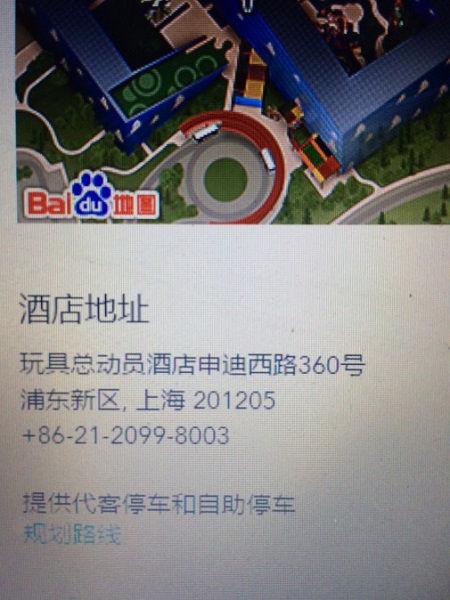 Toy Story Hotel
I opted to stay at the Toy Story Hotel. This is the equivalent of an All-Star value hotel in Walt Disney World with a few differences. One difference is that the rooms all open to an inside hallway instead of an outside walkway. Additionally, there were 8 bottles of water in the room that were complimentary since the tap water in China is known for parasites.
The room is well-themed in a Toy Story motif. My room had two full sized beds, small table with 2 chairs, dresser, nightstand, mini-fridge, small closet, and bathroom with tub/shower combination. The outlets are equipped to accommodate American 2 prong plugs. The only time you'll need an adapter is if you have a plug that's grounded.
The TV has a version of CNN, BBC, and the Discovery Channel in English. In addition, it has complimentary on demand movies of a handful of Pixar movies, Mulan, TRON, and Pirates of the Caribbean.
I think the hotel may have Wi-Fi but my employer implored on me not to connect to Wi-Fi, or connect to cell service except to text (so no email, social media, etc.) due to controls that the China government imposes, and that devices are susceptible to hacking. So I cannot comment on the speed or reliability of the internet or Wi-Fi.
The hotel boasts a small food court and a grab-and-go area.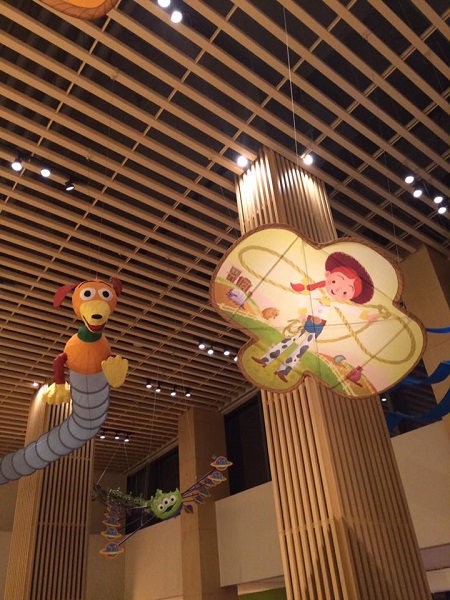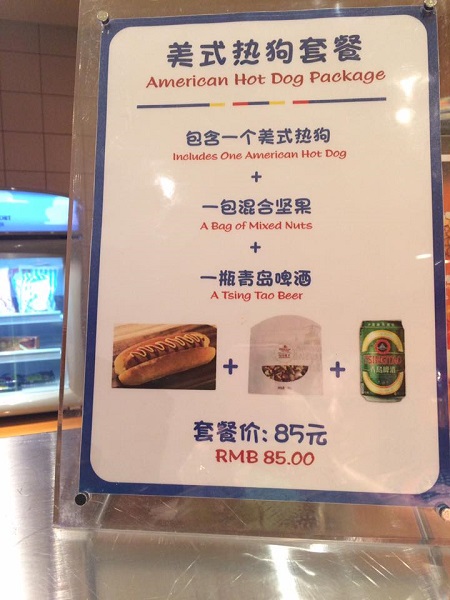 The food court has 4 stations. Three are devoted to Chinese tastes with lots of fish (even for breakfast) and pork. The fourth station is for Western tastes with eggs, sausage, croissants, etc. for breakfast. There are 3 combo meal options for breakfast. You cannot get any of it ala carte or mix and match between the combo meals.
For dinner, I had the chicken satay from the Western station. The chicken was dark meat chicken with a delicious peanut sauce, and included rice, and vegetables that were a little too spicy for me, but I'm a wuss when it comes to spicy. Beverages include apple juice, orange juice, coca cola, water, bottled green tea, and milk. With your breakfast meal you will get a cup at checkout for tea or coffee. Equal and sugar is available. If you want salt you will have to ask for it. Chopsticks and western utensils are available as well.
Differences compared to the All-Stars is that the cast members will bus your trays for you from the table. Also I visited in late October and there were more cast members than guests. It's a little eerie with SO many cast members just standing around as you have the restaurant virtually to yourself.
The grab-and-go area features pastries, hot dogs, chicken bau buns, and similar small items. In addition, beer, and small bottles of wine are sold. Hot Dog, nuts, and beer for about $11
Cast members at the hotel spoke conversational English, enough to greet you, ask how you are and wish you a magical day. If you have a question that is involved, you are best off going to the concierge.
Shopping at the hotel: The shop is called Lotso Shop.
It has many Toy Story themed items plus regular Disney items. Not much that is Shanghai Disney specific.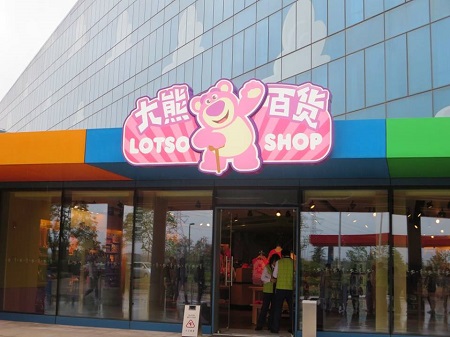 A complimentary shuttle drops you off at the stop for both Disneytown and Shanghai Disney. If it's not raining, it's not that far to walk.

Shanghai Disneyland
Shanghai Disneyland is owned and operated by the Walt Disney company, unlike Tokyo Disney which has a licensing arrangement. As such you will notice many similarities as the United States versions. For instance, when you go to the website for Shanghai Disneyland you'll notice the same look and feel as Walt Disney World and you can log in with your WDW website user id and password. Likewise, the app is similar to My Disney Experience app.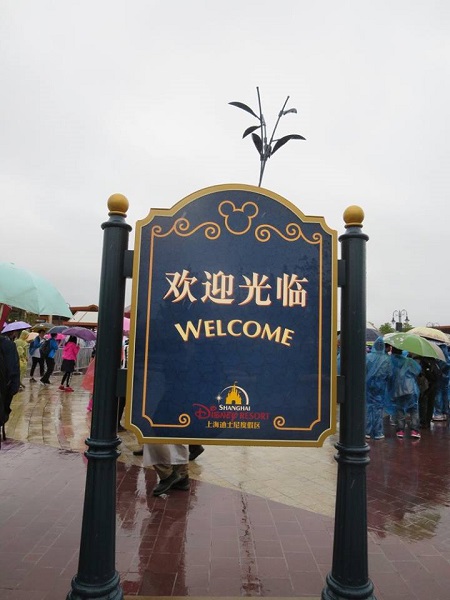 As with any Disney park, getting there for park opening will permit you to ride lots of attractions before the lines really start. FastPasses are available for several rides. To get a FP, there is a Guest Services area in each land where you get your FP for an attraction in that land. You will receive a return time window and can get a new FP when you use that one or after the window expires.
Rides with FastPasses are TRON, Buzz Lightyear, Seven Dwarfs Mine Train, Peter Pan's Flight, The Many Adventures of Winnie the Pooh, and Soaring over the Horizon.
Shanghai Disneyland also has many Single Rider lines. Take advantage of this as it significantly reduces your wait time. Single rider lines are TRON, Seven Dwarfs Mine Train, and Pirates of the Caribbean.
When you arrive at the park, you will go through a metal detector and bag check which is much more thorough than WDW. After that, when you go through the turnstiles you will be on Mickey Avenue which is similar to Main Street USA but about half the length.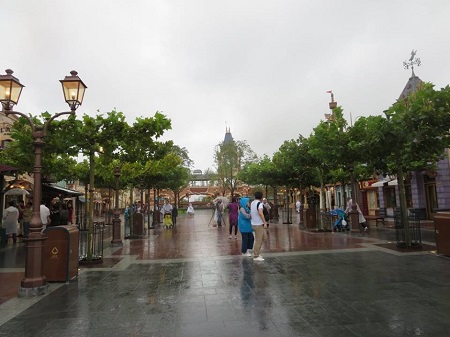 ust like Main Street, there is shopping and confectionery on Mickey Avenue. At the time of this writing, they were offering 10% discount off all merchandise purchased before noon on Mickey Avenue. Discount is planned to run through the end of November 2016. I wouldn't be surprised if this continued during slow periods though.
Just like WDW, you can have purchases sent to the front of the park for later pick-up or to your Disney hotel. Unlike WDW if you shop early enough in the day, your purchase will arrive at your hotel on the same day. So take advantage of shopping early in the day and not have to carry your purchases around.
Gardens of Imagination – Beyond Mickey Avenue is Gardens of Imagination which hosts the Carousel, Dumbo, Meet Mickey, and meeting various Marvel characters.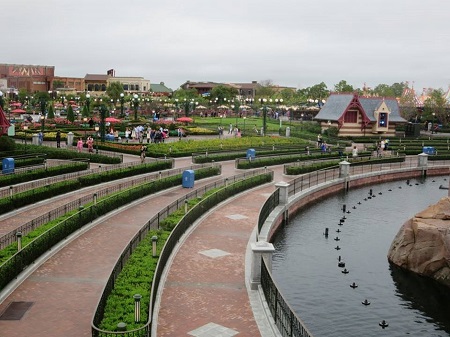 Carousel in Gardens of Imagination — In addition, this is a great photo op with the Storytellers Statue (Partners statue) with the castle in the background.
Rainy Day – There are Photopass photographers at this point but you really have to approach them and get their attention as they don't approach guests.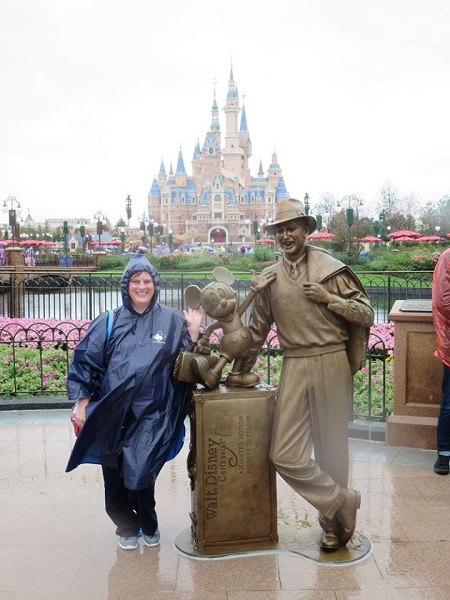 This is one of the differences I noticed at Shanghai Disney, is that cast members rarely look guests in the eye. Occasionally they will greet you, but they are not effusive. It's not a language barrier as that was the same behavior they exhibited with all guests.
Stretching out from Gardens of Imagination going clockwise from the left is: Tomorrowland (yes it's on the opposite side as the US parks), Fantasyland, Treasure Cove, and Adventure Isle.
This castle is the most elaborate of all Disney Parks. And is best experience in-person. It is second best experienced with lots of pictures.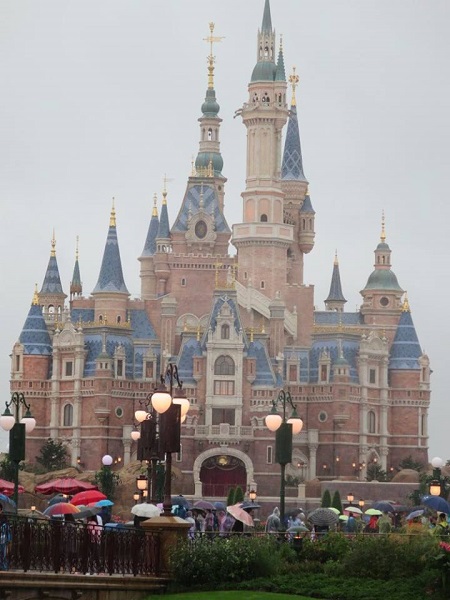 A few of the many murals in the castle.
Panorama of murals in Castle rotunda

Here is a castle make out of crystals in the Crystal Shop in the Castle (almost a little MC Escher if you think about it)
Tomorrowland boasts a few attractions.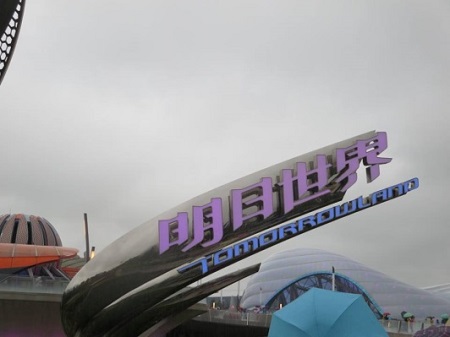 One of the headliner attractions is TRON Lightcycle Power Run.
This is similar to Rock n Roller Coaster except you are positioned like you are riding a motorcycle and there is no inversion. But it's a great high-speed indoor coaster. You will have to put all belongings in a locker prior to getting in line. Lockers are free, just go up to one of the touch screens by the lockers, create a pin number and you will be assigned a locker to store your belongings.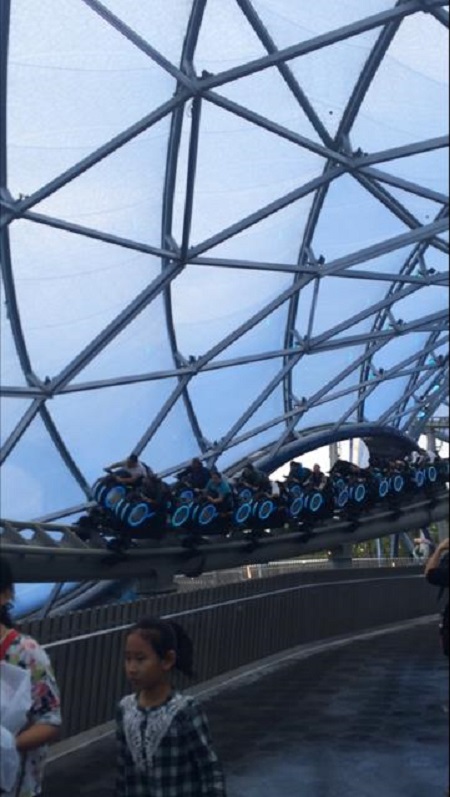 Buzz Lightyear Planet Rescue is similar to Buzz Lightyear Space Ranger Spin except it's MUCH easier to shoot the targets and you get good visual feedback.
Tomorrowland also has the Jet Packs similar to the Rocket Rods, an interactive Stich Encounter, and meeting Star Wars characters.
Fantasyland boasts the most attractions.
"Once Upon a Time" Adventure" – This attraction in the castle takes you through the story of Snow White. In small groups you walk through the various scenes that come to life. I think the scene with the woodland animals is interactive as a lot of kids were waving their hands and it looked like the creatures were reacting to it. Be aware that there are a LOT of stairs that you have to climb to get to the attraction.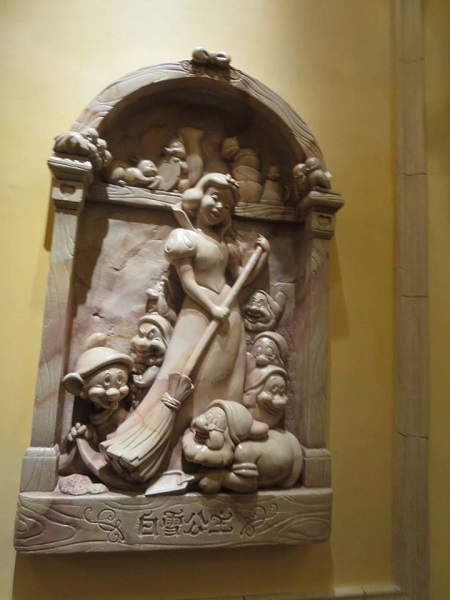 Seven Dwarfs Mine Train — similar to the Magic Kingdom version. However, since there is no FP+ here, you can get a FP for this more easily if you do so at the beginning of the day. In addition, the single rider line is a great option here. Peter Pan's Flight — was closed when I was here.
The Many Adventures of Winnie the Pooh – This ride-through attraction takes you through Pooh's world and is very whimsical.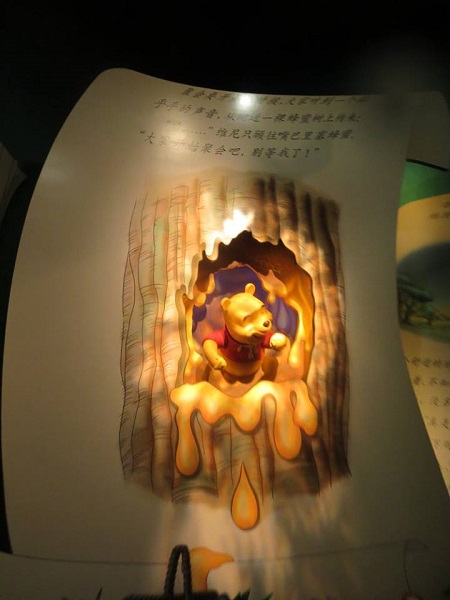 Voyage to the Crystal Grotto — I have to say that I don't get the attraction of this ride. It has long lines and uses boats similar to Jungle Cruise that take you by scenes of a handful of Disney movies. If the line is short, go ahead and do it. But otherwise I don't think you'd be missing much. Here is a scene from Voyage to the Crystal Grotto
Hunny Pot Spin — Tea cups but with hunny pots. Alice in Wonderland Maze is a wander-through area that shows whimsical components of Alice in Wonderland. Cute and worth a walk-through.
Frozen: Sing-Along Celebration — Check your times guide for when this occurs. Somehow I missed this so I can't comment on what language it's conducted in.
Treasure Cove – Pirates of the Caribbean — Battle for Sunken Treasure: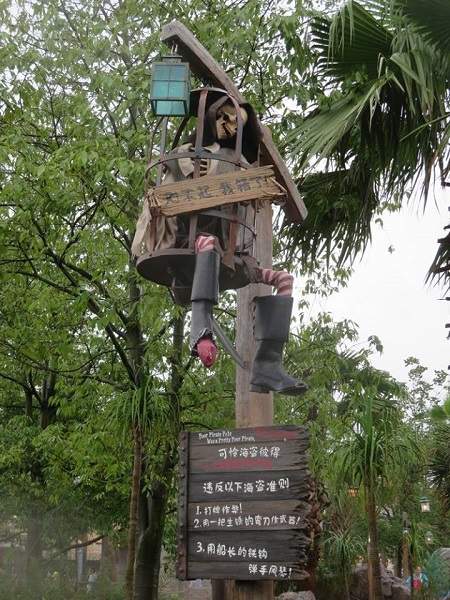 This was the single best attraction I experienced. It's like if Spiderman from Universal Studios and Pirates in WDW had a baby. It is the most intimate and immersive storyline I've encountered in an attraction. The boats are similar to the boats on the WDW Pirates ride, but all of the animatronics are really close to the boats and the ceiling alternates from being high like WDW Pirates, or more enclosed.
In addition, there are overly large screens in some areas like Spiderman to give the sensation of more movement and visuals than what you are actually doing. Go on this multiple times and take advantage of the single rider line.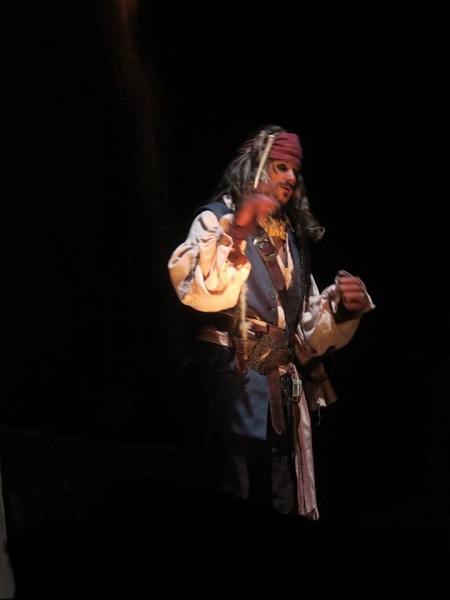 Due to weather I didn't get a chance to experience the Explorer Canoes. The other attractions in this area are Shipwreck Shore which is a kids play area, Siren's Revenge which is a walk-through a pirate ship (think Swiss Family Robinson treehouse but a ship), and a Jack Sparrow Stunt show.
Adventure Isle – I realize that I didn't do any attractions in this land. Attractions are Soaring over the Horizon (we have FP+ for this next month in WDW so I didn't feel the need), Roaring Rapids (this is like the raft ride in Animal Kingdom. Fastpasses were already gone by 2 PM on a day where the park was relatively empty and the wait was 40 minutes. Plan accordingly when you go.),
Camp Discovery which is a collection of trails, rope courses, and an archaeological dig site for kids. In addition, there is a Tarzan stage show.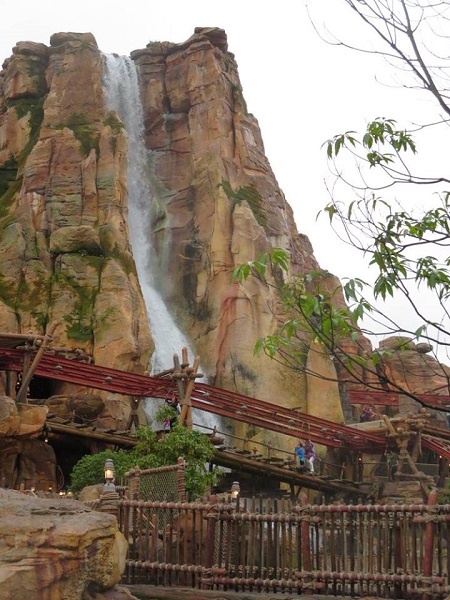 Food
Traveling by myself I am more likely to eat counter service. Also I am not a particularly adventurous eater, so I had a cheeseburger and fries in Tomorrowland. However, there were several table service restaurants that looked interesting: Barbossa's Bounty overlooking the Pirates attraction, and Wandering Moon Teahouse.
The Royal Banquet Hall, which is in the castle, is where you can meet the princesses (sound familiar?). What isn't familiar was the cast members standing in front of the Royal Banquet trying to entice guests to come and eat at the restaurant. Please come eat in the Castle!
Tortuga Treats sell Turkey Legs but didn't open until 2 PM the day I was there. But there was already a long line by 1:30.
Sadly, I did not see any Dole Whips. But Remy's Patisserie had plenty of goodies to satisfy when I needed a snack like this bread with savory pumpkin filling.
Bathrooms are readily located throughout the park. I can't speak to the men's restrooms but in the women's restrooms most of the stalls are squat toilets, but if you head farther back you will see the "Western" toilets. Easiest way to recognize the difference from the outside of the stalls is that the squat toilets have 1 or 2 steps leading up to the stall and the western toilets don't.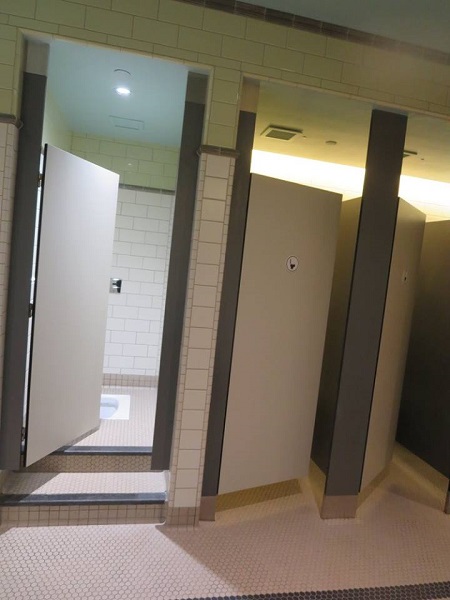 There was plenty of toilet paper. I'm a little hesitant about the water, so I just used Purell to cleanse my hands.
You may have heard on other parts of the internet that one of the Chinese cultural behaviors is that young children have split pants and when they have to "go" they just squat and go where they are. I did not see any of that, but I did see an 8-year-old boy peeing into the landscape from the sidewalk as his mom was nearby just waiting for him to finish. There were a handful of locations in the park that had a slight urine smell. Not as bad as a summer day in a Chicago "L" station, but noticeable nonetheless.
DisneyTown is like a miniature version of Disney Springs or Downtown Disney in Anaheim. It is located next to the theme park and you can access it either from the bus drop off and car parking lot, or there is an entrance from inside the park next to Tomorrowland. In fact, if it's a busy day, you may want to consider walking through DisneyTown to enter the park from this entrance instead of the main entrance. Kind of like using the International Gateway entrance at Epcot.
There is a World of Disney Store, Wolfgang Pucks, Cheesecake Factory, local Chinese eateries, and other shopping like Sephora and Lego.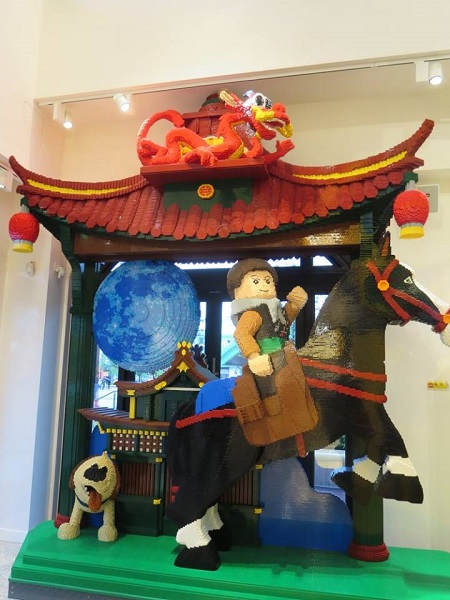 The World of Disney store had many of the same items as WDW. The selection of Shanghai Disneyland items was best here but still not as large as I expected. Prices were reasonable.
I think the most surprising for me is that I was expecting a lot more Mulan merchandise. Mulan is my favorite Disney princess but just like the US she seems to be relegated to minor princess status.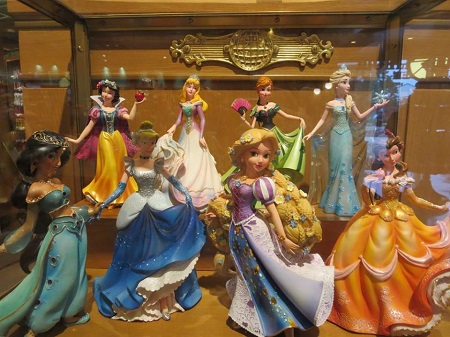 Credit cards are readily accepted. No Disney Visa card or DVC discounts. Also a bag to put your purchases in costs 1 RMB each. Currently it is about 6.7 RMB per US dollar.
I enjoyed my time here and as Tigger says "Ta-ta for now"!
Michelle Buchecker is a lifelong Disney fan having received a stuffed Mickey Mouse doll on the day she was born. She is the creator of the iPhone app "500 Things to do in Walt Disney World Before You Die". Michelle married her husband at the WDW Wedding Pavilion with a dinner reception in the Boardwalk Hotel, and a dessert reception in Epcot watching Iluminations. She has visited Disneyland and Walt Disney World countless times and has been fortunate to check off Disneyland Paris, Tokyo Disneyland, Tokyo DisneySea, and Shanghai Disneyland off her bucket list. Watch out Hong Kong Disney, you're next!