To all who come to this photo trivia game, Welcome! Along the way, the photos can make us relive memories and see details Walt's Imagineers put into everything we love in Walt Disney World!
Now for Challenge #443:

And here's the answer: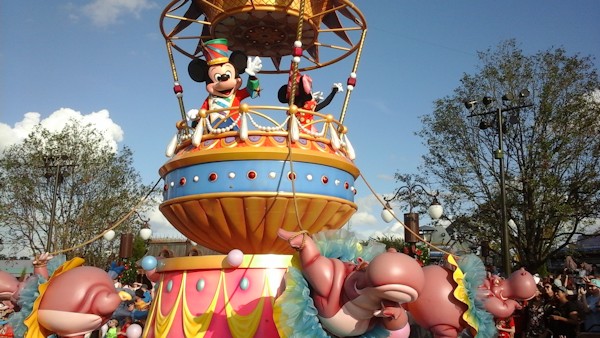 Copyright © Erin Blackwell
It's Mickey in the Festival of Fantasy parade in the Magic Kingdom! I so FOOLED you, Players! Ha! Okay, not at all, but it wasn't that kind of challenge. 😉
I adore this parade; I have so many photos of it!


(OK, I admit it, the dragon's the wrong color. Let's just roll with it.)
I bet that anyone here who has been to this parade has this photo (or close to it) and at least three of the dragon. 🙂
Jim & Lorie Sonnen was the first to send in the correct answer! Congratulations to Jim & Lorie and to all our winners this week! Sharon Powell, Margaret Convery, The Kertes Family, Kris Nixon, Kristi Strembicki, Tom Koval, Matt Wildey, Sandie Albrecht, The Olszak Family, Vicki Britt, Smitty, Evanna Huda, Emily Hudson, Christi Ison, Mary Beth Tarbet, Melissa Such, The Gunnels Gang, Kristan Bertelmann, Jim Finley, Carol Baranowsky, Phyllis, Mike O'brien , Michaela O'brien , Karen O'brien, Lee Anastasi, Grumpy's Groupies, Kerri Coggins, Team Hill, Linda Ranatza, Karen Schlumpf, Hillary Waldroop, Julia Wickware, Maryann Eckenrode, Joseph M. Zafia, Gloria Martin, Carol Lyons, Vanessa Stjohn, Deb Ragno, Ryan Mccorrisitn, Vera Dercole, Kimberly Langh, Ed Suscreba, Jessica Joslin, Mark Donahue, Tinkerbellw, Ed Adams, Sarah And Chris, Nan Amor, Eric Berger, Lori Rienhardt, Karen Nablo, Emily Eldridge , Renee Fischer, Paula Majoros, Stacie Doughty , Vera And Izzy Williams, The Anzurs, Jen Tremley, Kara D & Jay R, Evald Olson, Paul Dickson, Christina Trigiani, The Long Family, Martha Collins, Kyra, Donna Frank, Bob & Kathy Mckim, Christa B, Diane Curfman, Duskin Henard, Cathy Fleming, Wendy T Faler, Eric Johnson, Andrew Carrieri, Chris, Gretchen, And Katie Barnes, Tricia Petty, The Otts Family, Steve Knapp, Maureen And Warren Handy, Ruben O'meara, Kelley Morman, Lyn Johnson, Luis Rodriguez, Josh Weiss, Claire Gregory, Bonnie Jean, Arlene Vicek, The Fosbender Family, Mike Malampy (Malampy Benco Family), Nancy Doty, Lynne Simpson, Adolph And Kimberly Timm, Vickie, Beth Paczkowski, Tj, Wayne Chadourne, Theresa Maradei, Mike Amor, Matt Holley, Tammy Warmouth, Rebecca Keenan, Melesia Love, Jamie Steiner, Rob Blundin, Jeremy Reichelt, Theresa Rucando, Karrie Rodriguez, Linda College, Matthew Frey, Al Sandal, Scott Greenbaum, Caroline Burmester, Barclay Bakkum, The Patterson Family, Jeff Blank, Linda Hoffman, Russ Morgan, Nancy Cole, Jo Ann Bailey, Jackie Graebel , Carla C, Vicki Price, Melody Odonnell, Sherry Trapp, Michael, Thomas Higbee Sr., Tim Johansen, Jane Johnson, Karen Ramirez, Sherri Pell, Sands Family, Don Purney, and Jodie S.!
__________________________________ _____________________
Challenge #444 Where in the world is this?
So this is it for July! Wow!
Something a little tougher. Who and where is this?
I'm just kidding: that's my dog Daytona in Fort Wilderness with his Christmas present. (That I immediately had to take away so he didn't eat the plastic.)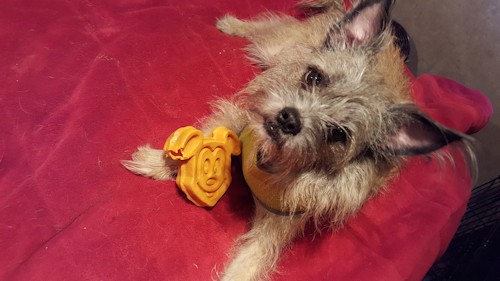 Now for the real challenge! This is newer — like a year — at Walt Disney World. Even if you haven't seen it, I tried to put enough architecture clues and that not-so Hidden Mickey so you can look it up — or maybe just guess.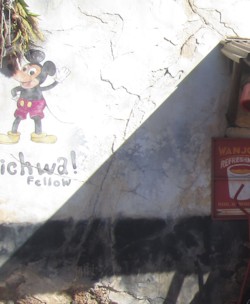 Do you know? Do you have a guess? Please send in your answer, before the end of the day on Thursday, August 4th, by clicking on the blue box below.
Please do not post answers using the Feedback Form link at the bottom of this post.
See you soon, Players!


_______________________________________________________________________
Everyone who sends in a correct answer to a Where in the World Challenge this month will be entered in a drawing at the end of the month for some special AllEars® goodies!
–