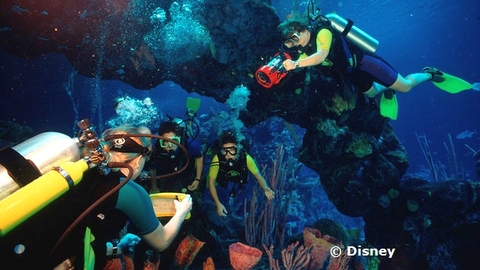 by Randi Briggs
AllEars Guest Blogger
This activity at Disney World's Epcot has become a favorite for my husband and me. If you scuba dive, then you must try this dive when visiting the World. There are two dives conducted on most days — one at 4:30 and one at 5:30 (times do vary occasionally). You must be able to produce scuba certification (C-card) and children must be 10 years old or older and in the company of an adult.
Our recent dive was scheduled for 4:30. We met at Epcot's main Guest Relations office inside the park, and then were escorted to the Seas with Nemo and Friends pavilion.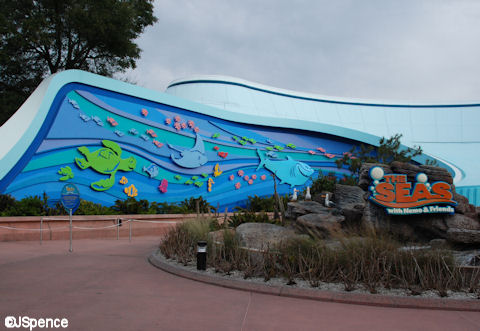 We were taken on a short tour of the aquarium facilities, including the manatee habitat and the dolphin facilities. We saw where the tons of food for the animals and fish were prepared each day. They explained how animals in need of medical help were handled and treated. All in all, a very interesting tour.
We were then taken to the locker/shower rooms where we changed into "shorty dive skins." The only items of your own that are allowed are prescription dive masks and dive watches.
When everyone in the group was ready, they escorted us through the building (yes, where the guests are!) and then through another section of the aquarium to the spot where we would enter the water. They take care of everything for you. There is a dive master in charge, and several other dive masters helping in the water and out. Safety for the divers and the aquatic citizens is always first. My husband and I were helped with our tanks, fins and masks, and we slowly swam our way over to a buoy where we waited for the rest of the divers to assemble.
When the dive master called out "Dive, dive, dive!" the magic began. I can't even begin to explain the excitement as I began to descend into a watery world filled with fish of every kind and shape. This included sharks, manta rays, and turtles (can you say Crush?). A video photographer accompanied the divers, and for a while the dive master led us through a magical world filled only with the sounds of your own breathing and bubbles through your regulator.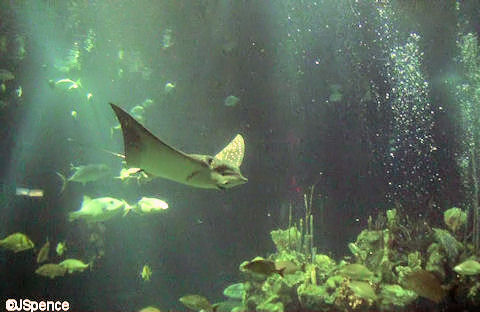 We passed the rather good-sized shark (obviously well fed, since he didn't seem interested in eating the "seals" — us — swimming in his habitat) and the photographer made an effort to film as many of us as he could with the shark.
The animals were very unconcerned and curious about the divers. They took one look and then ignored us, as if to say, "Ho hum, more of those creatures with the funny skin that make all that breathing noise in the water."
I am fascinated each time we make this dive. Wonder comes alive again for me and my husband.
One of the more fun activities while in the tank is to go over to the aquarium windows looking into the Coral Reef Restaurant and interact with the guests. Divers can wave, trying to get the children to laugh and ask for a taste of the food. The most fun is when you can get someone to smile. Last time we did the dive, a diver spied a pretty girl with friends through the glass at the restaurant, and pantomimed that he was trying to get her number to ask her for a date. It was pretty amusing to watch her laugh and blush with her friends.
Family and friends that are unable to dive are able to watch you from the windows in the pavilion, so many divers spend a good deal of time there showing off for kids and family members.
The dive lasted about 45 minutes, but felt like 10. There was just so much to see and it was so much fun swimming with the fishes. It was disappointing to hear the dive master start banging two rocks together, which is the signal to begin to ascend and leave the magical water world behind.
As we reached the surface and began the dog paddle to the stairs out of the water, we were exhilarated, sorry the dive was over… and really, really hungry! The dive masters helped everyone with their equipment and handed out towels as they escorted us back through the pavilion (dripping wet, hair sticking out at interesting angles). It is interesting that almost no one noticed us walking through.
After showering and cleaning up, we all met in a room where we watched the video that was made of our dive. The DVD costs $35, which is a bit high, but almost everyone bought one. We also got a great T-shirt to commemorate the dive.
After we left, we had dinner reservations at the Coral Reef, and requested a table next to the aquarium so we could watch the next group of divers and relive all the fun and wonderful moments again.
For those of you who dive, this would not be considered a challenging dive at all. It is easy, relaxing and tons of magical fun. We would do this again in a heartbeat!
EDITOR'S NOTE: DiveQuest costs $179 per person. To make reservations for this tour, call 407-WDW-TOUR. Be sure to ask about any available discounts (DVC, AP, Disney VISA for example). If you've participated in DiveQuest, please share your thoughts in our Rate and Review section HERE.