To all who come to this photo trivia game, Welcome! Along the way, the photos can make us relive memories and see details Walt's Imagineers put into everything we love in Walt Disney World!
Sandie Albrecht, I won't be at Deb's Celebration, but I'm really happy for you that you can! You are going to have so much fun! Bring me back something!
YES! You Players rock! We got great responses about the Epcot acronym. I only knew the toddler one. 🙂
Every Picture Comes Out Terrific
Every Parent Carries One Toddler
Every Paycheck Comes On Thursday
Every Purse Comes Out Thinner
Every Pocketbook Comes Out Trashed
Vera and Izzy Williams, thank you for such a lovely note!
Lenz Family, wait… some monorail systems DON'T say, "Por favor manténganse alejado de las puertas?" Not even on a t-shirt? I think that violates a law somewhere.
Now for Challenge #378: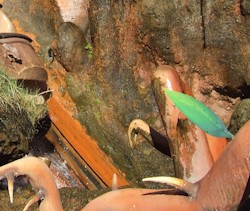 And here's the answer:


Copyright © Erin Blackwell
It's Splash Mountain with another log plunging down the drop on Chick-A-Pin Hill — uh, what happened to the people in that log?
Matthew Jadro is in Walt Disney World this week, and his daughter will be riding Splash Mountain – and so many other magical things – for the first time!
John Bickers, here's a piece of Disneyland Splash Mountain trivia for your daughter. The figures will look different to her; it's because the characters moved from a popular attractions called "America Sings". So she is seeing figures from Walt's original park's history. 🙂
Claire Gregory, you need to get your cousin back to Splash Mountain so he can recreate his (terrified) childhood photo. LOL
Matt Holley, you KNOW if you start the song, I have it in my head the rest of the day! So everyone sing!
Everybody's got a laughin' place,
A laughin' place, to go ho-ho!
Take a frown, turn it upside-down
And you'll find yours I know ho-ho!
And thanks to Ryan Foley, Jennifer Rowell, Brian Mcwithey, Jonathan Ward, Karen Ramirez, Duskin Henard, Steve Knapp, and Patti Mccaffrey for putting THIS one in my head too!
Zip-A-Dee-Doo-Dah
Zip-A-Dee-A
My oh my, what a wonderful day
Plenty of sunshine heading my way
Zip-A-Dee-Doo-Dah
Zip-A-Dee-A!
Do any Players remember the "Zip A Dee Doo Dah Tip of the Day!" on Walt Disney World resort TV? I loved that. I have it in video and a ringtone. 🙂
Kristi Strembicki was the first to send in the correct answer! Congratulations to Kristi and to all our winners this week! Emily Hudson, Donna Frank, Andrea Kruszewski, Bruce Jones, Theresa Rucando, Linda K. Ranatza, Kerry A., Carol Ney, Diane Tredore, Julie Wickware, Jeff Schoeling , The Kertes Family, Lindsay Clayton, Eric Berger, Alyssa Ney, Sands Family, Mary Beth Tarbet, Bruce Hinterleitner, Ken Daube, Chris Surette, Jim &Lorie Sonnen, Kristina Rohrbach, Sandie Albrecht, Dennis O'reilly, Ryan Foley, Amy Ciavaglia, Christa, Ed Elder, Vera And Izzy Williams, Sarah Thomas, Phil Vickers, Sharynne Smith, Tinkerbell Wells, The Strukel Family, Michaela O'brien , Melissa Such , Michael O'brien, Russ Morgan, Amanda Clarke , Bob Patterson, Janet Hodge, Terry Blair, Kris Nixon, Les Whitten , Todd Johns, Angela Johns, Sarah , Matthew Jadro , Dawn Zatorski, Olszak Family, Christine Brown, Krista Serpi, Bethanne Graustein, The Dieuliis Family, Lynne Simpson, Kathy B., David Freemyer , Janet Spiess, Linda College, Ken Maikowski, Kristine Gainey, Vickie Smialkowski, Nick, Vanessa Stjohn, Darrin Mann, Tommy Montgomery, Tricia Petty, Kara Jones, Claire Gregory, Karen Schlumpf, Chasady Mirkes, The Gunnels Gang , Liz Moreau, Kate Nejman, Melissa Rymer, Team Hill, Edward Suscreba, The Tisdale Family, Diane Doak, Zach Szymko, Carla C, Maria Atkins, Eric Johnson, Pamela Manseau, Nicole Shuler, Chris, Gretchen, And Katie Barnes, Stuart Savage, Jayna Cowley, The Rider Family, Megan Krainski, Timothy Mckenzie, Sr, Lyn Sommers, Matt Wildey , Crystal King, Nancy Crossman, Carol Kraus, Lenz Family, Aimee, Kristan Bertelmann, Nan Amor, Bill Schmid, Brenda Atkinson , Michelle Darabaris, Marie Vanacore, Jennifer Hess, Ken Savage, John Bickers, The Fosbenders, Jen Tremley, Jim Finley, Ruben O'meara, Nate And Kaela, Susan Higginbotham, Carolyn Como, Stefanie Vandiver, Becky Norman, Chris Thomas, Phil Badcock, Candice Grimes, K Beasley, Kenny, Ken Jackson, Janet T Thorn, Bonnie , Jen Snook, Lori Rienhardt, Jan Rosato, Chloe Mayhew, Brian Woodhouse, Stev Porter, Sharon Pierce, Kathy Huckabee, Hunter Armstrong, Phyllis, Maureen Handy, Scott Cullen, Belicia Cullen , Rebecca Keenan, Lizanne Fisk, Elaine Kleinhenz, Gabriella, Terry And Matthieu, Jamie Fahey , Dee Dee Kenney, Rich Bili, The Parker Family, Stephen Reilly, Andy Hickey, Elaine Tomko-deluca, Brad Johnson, Bob Ruer, Leach Family, Vicki And Thomas Edwards, Paul Dickson, Melanie Beedle, Arlene Vicek, Tara W., Jim Thompson, Jen Cerce, Margot Garofalo , Evald Olson, Tom Koval, Courtney S, Christina Trigiani, Bob Wagner, Ny Fam, Pat Morin, Jessica Mccubbin, Jennifer Rowell, Sarah And Chris, Stefan Owens, Mike Mondoux , Art Hutchinson, Erin Hammer, Meghan Gleason-vollmer, Luis Rodriguez, Matt Petty, Les Stewart, Antoinette Leblanc, Paul Newman, The Curley Family, Brian Mcwithey, Erin Yanuskevich, Lee Anastasi, Gloria Martin, Lindsey, Karen Taylor, Jennifer Banos, Grumpy's Groupies, Team Bonnie Sue, Ashley Collins, Robert Wescovich, Chris Kelly, Lisa Pinder, Bob Hendrix, Rob Blundin, Anne Evers, Mickey Eckert, Bruce Arnold, Caryn Schill, Josh Weiss, Vicki Britt, Kris Blamphin, Jim Logue, Smitty, Justin Collins, Heather Pedulla, Vincent Lieu, Theresa Maradei, Jonathan Ward, Kerri Coggins, Paul Knott, Eric Enli, Tracey Horan, Laurie Walker, The Otts Family, Doug Olson Family, Emma Ramsey, Shelby Watson, Beth Mcmeekin, Pam Lorenz, Andrew Carrieri, Jeff Blank, Karen Ramirez , Daniel Record, Kathryn Broyles , Rick R., Mike Malampy( Malampy Benco Family), Virginia Pierce, Wayne Chadourne, Cheryl Costello, The Modecki's, Wayne Witherspoon, Carrie Leicht, Paul Ignudo, Matt Holley, Barry Sklenar, The Holmes Family, Chris Bauman, The States Family, Lauren Thomas, Clay Anthony, Hoekzema Family, Melodi Clark, Tricia Noble, Lynn Smith, Karen Aguiar, Duskin Henard, The Hutchinson Family, Mark Proper, Carrie Knepper, Bonnie Tulenko, Roxanne Kliebert, Roxanne Kliebert, Dana, Jeremy Reichelt, Cameron Lange, Brian Richmond, Bill Cudney , Denise Finkle, Terry Fleming, Karrie Duffey, Matthew Frey, Mark Franklin, Anne-marie Hamel, Wade A.williams, Miguel Gonzalez, Jenn Steele, The Double Family, Brian Yesutis, Scott Sangston, Tim Johansen, Regina Allen, Sonya A, Kay Moss, Barbara Remele, Karen Spreitzer, Maryann Romagnano, Kevin Jones, Hillary Waldroop, Kelly Smith, Chris B, Fred Shakeshaft, Kathryn Hughes, Jeff Finger, Steve Knapp, John Casey, Robbyn Anglin, Mark Hardy, Renee Hardiman, Ed Adams, Hobbes And Snorky, Patti Mccaffrey, Ronald Delorey, Brian Phelan, Brendan Abel, Ellen Roy, The Angermaier Family, Kathy , Brooke And Kennedy, Heather Metzler, Kara Morton, Christi Ison, Jessica Gruhlke, Schuyler Etheridge, Shannon Murray, Ken Rhinehart, Alan Mize, John Dupre, Jamesd (dzneynut), Curtis Bille, Christopher Hall, Mel Odonnell, Pollyanna Buff, Ron Harper, Dave Carriere, Alison Rosenberger, Andrew Pettit, Wendy T Faler, Shelly Borella, Christopher Thacker, John Foggo, Gallagher Family, Filiater Family , Anastasia Macneil, Don Purney, Mary Tougas, Jackie Graebel, Jane Johnson, Timmy Saunders, Peggy Saeger, Robert P. Flaherty, Joseph M. Zafia, Joan Schroeder, Barclay Bakkum, Maryann Daly, Caitlin Lewis, Tom Higbee Sr., Leigh Mertz, Murr Family, Lorine Landon, Allison Caputa, Melodye Bostick, Linda Grau, Caroline Burmester, Deb Ragno, Trina Noggle, Kyra C., Walter N.clark, Margie Larmon, George Mundy Jr, Ruth Cookson, Wendy Barney, Kimberly And Adolph Timm, David Ballard, and The Barnes Family!
__________________________________ _____________________
Challenge #379 Where in the world is this?
.
Do you know? Do you have a guess? Please send in your answer, before the end of the day on Thursday, April 30th, by clicking on the blue box below.
Please do not post answers using the Feedback Form link at the bottom of this post.
See you soon, Players!


_______________________________________________________________________
Everyone who sends in a correct answer to a Where in the World Challenge this month will be entered in a drawing at the end of the month for some special AllEars® goodies!