"Avengers…Time to work for a living."
–Tony Stark
So, excluding those currently undergoing life in a hermitage, most of the movie-going public is likely aware that the new and upcoming addition to the Marvel Cinematic Universe is "Avengers: Age of Ultron."
As part of the media blitz for the movie's opening, the extensive cast, along with Writer/Director Joss Whedon and Producer Kevin Feige stopped by the Walt Disney Studios for a brief press conference.
(Audio from the Q&A follows. WARNING: SPOILERS THROUGHOUT THE INTERVIEW. PLAY AUDIO/READ FURTHER AT YOUR OWN RISK)
(In the interests of making this a family-friendly blog, one word has been clipped from one of Robert Downey Jr.'s responses.)

Scarlett Johansson
–Biggest challenge for Whedon: Making sure everyone in the cast ("there are like…47 of them…") got their moments and fit together into the same narrative.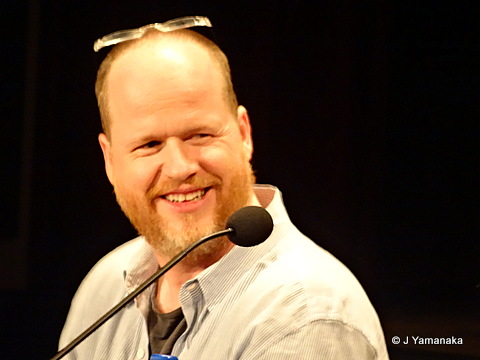 Joss Whedon
–Whedon's starting point for creating a sequel to "The Avengers" was to think of the smallest moments he hadn't covered yet: "How can I get inside their hearts; how can they be funny?"

Elizabeth Olsen
–Make sure you open your press conferences with a question for RDJ.

James Spader, Mark Ruffalo, and Chris Hemsworth
—James Spader on his experience with motion-capture: "I really don't have any idea what was happening…it all happened very quickly. I was really just trying to hold on and stay on the train that was moving very very quickly…"

Robert Downey Jr.
—Chris Hemsworth's favorite superhero growing up was Superman, on the basis of it being the only superhero film available to him then. James Spader had no comic books growing up.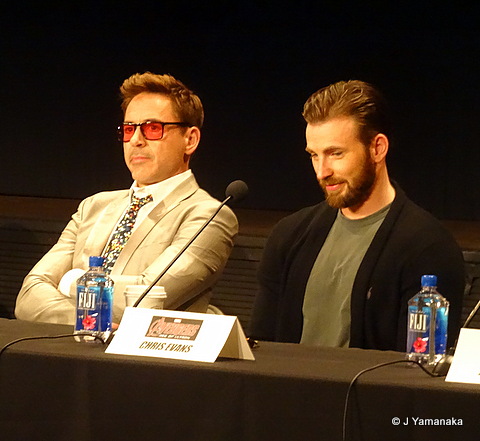 Robert Downey Jr. and Chris Evans
–Jeremy Renner on Hawkeye's development: "I speak in this movie, which is awesome."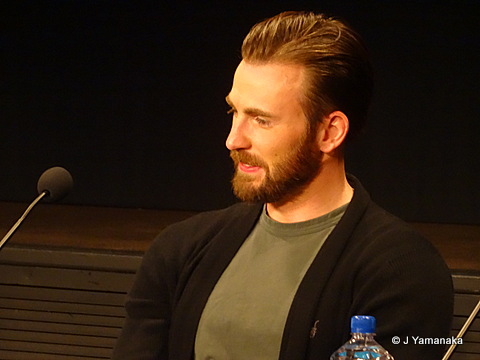 Chris Evans
–Scarlett Johansson on Black Widow's development: "…She had this moment of false hope where she kind of felt like she had put in the work and there should be some sort of personal payoff…she realizes that her calling is a greater one…that is what is most heroic about her…"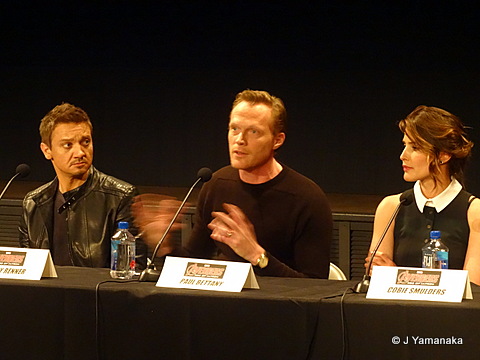 Jeremy Renner, Paul Bettany, and Cobie Smulders
–Mark Ruffalo on creating Bruce Banner a character distinct from the Hulk: "I was helped out by the fact that I'm GREEN and HUGE, that helped me with the distinction between the two characters so I can't take full credit for that."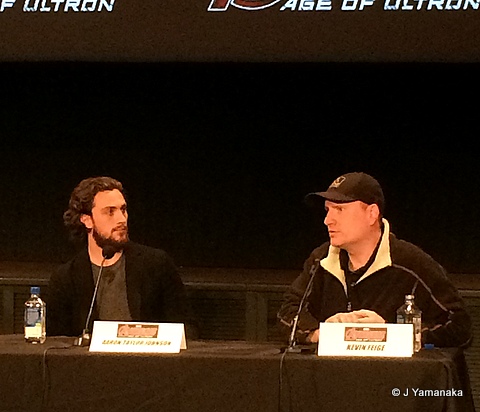 Aaron Taylor Johnson and Kevin Feige
–Whedon used to be in love with a woman named Betty.

Kevin Feige
–"Veronica" is the opposite of "Betty."
"Avengers: Age of Ultron," rated PG-13, will be released in theaters May 1, 2015.