To all who come to this photo trivia game, Welcome! Along the way, the photos can make us relive memories and see details Walt's Imagineers put into everything we love in Walt Disney World!
Some of us are dealing with a lot of cold and snow. Be safe and stay warm!

Now for Challenge #369: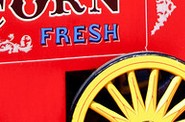 And here's the answer: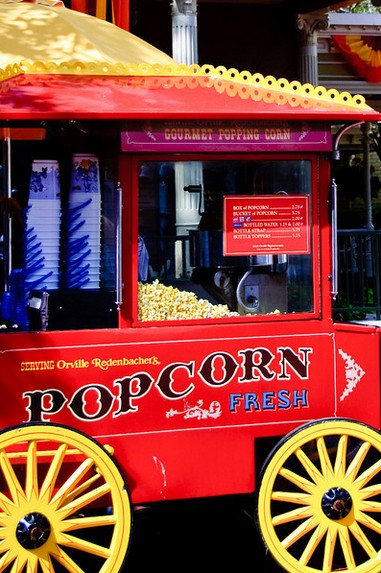 Copyright © Barrie Brewer
Mmmm, popcorn! This particular popcorn cart is located on Main Street USA in the Magic Kingdom!
I don't buy the popcorn regularly, but I do when they have a great holder like the Mickey Snowman and Dumbo. 🙂
Kristi Strembicki was the first to send in the correct answer! Congratulations to Kristi and to all our winners this week! Phil Vickers, Andrea Kruszewski, Donna Frank, Mildred Popp, Carol Ney, Linda Ranatza, Virginia Pierce, Kerri Coggins, Bruce Jones, The Kertes Family, Team Hill, Jim &Lorie Sonnen, Melissa Such, Ed Suscreba, Tinkerbell Wells, Lisa Lee, Masloski Family, Gina Smith, Leslie Schmauder , Patti Gumiela, Deborah Ragno, Kyra C., Steve Porter, Kathy B., Chris Horne, The Long Family, John Bickers, Jennifer Harmon, Ed Elder, Jeffrey Howell , Krista Serpi, Kristi Jack, Betsy, Andreas Beer , Mary Ann Lamay, Cindy Pink, Jason Hocker, Vanessa Stjohn, Mary Beth Tarbet, Kristina Rohrbach, Vera Dercole, Chris, Gretchen, And Katie Barnes, Ellen Sullivan, Carol Lyons, Liz Moreau, Starr Cookson, Theresa Rucando, Candice Grimes, Andy Hickey, Pat Morin, Daniel Record, Kyle Powell, Elaine Kleinhenz, Susan Doucette, Pat Schwier, Ken Maikowski, Dawn Bach, Susan Higginbotham, Ken Jobin, The Sanders Family, Mike Mondoux , Richard Beverly, Jennifer Walker, Paul Dickson, Emily Hudson, Robert Hildebrandt , Robert Hildebrandt , Erin Loring, Diane Dukes, Curtis Bille, Weaselomouse, The Otts Family, Cheryl Gattuso, Sharon Powell, Melissa Schaffer , Olszak Family, Debra Lang, Christine Brown, Mary Dieuliis, Judith Mack, Marguerite Garofalo, Hunter Armstrong, The Yorks, Vera And Izzy Williams, Sandie Albrecht, Vincent Lieu, Linda Scrivano, Rob Blundin, Ed Adams, Matt Wildey , Dee Dee Kenney, Nan Amor, Stefanie Vandiver, Evanna Huda, Kim Pidermann, Matt Petty, Andrew Carrieri, Rob Hepler, Arlene Vicek, Ruth Senecal, Ruben O'meara, Carolyn Como, Adriane Arnold, Cathy Connors, Sharynne Smith, Allison Peters, Rebecca Smith, Leeanne Switzer, [email protected], Melissa Gundrum, Eric Johnson, Fiona Knight, Lori Rienhardt, Ed Hogan, Karen Adamakis, Pollyanna Buff, Bruce Hinterleitner, Bruce Hinterleitner, Claire Gregory, Gloria Martin, Maryann Eckenrode, Lorine Landon, Doug Zimmerman, Tami , Sarah Orman, Deb Gallo, Evelyn Cahoon, Tricia Petty, Judy Simonsen, Aimee, Melissa Rymer, Andrew Eckert, Joann Albrecht , Anne Heffentreyer, Bob Patterson, Kristyn Scibienski, Steve Knapp, The Rider Family, Sarah Thomas , Eric Berger, Adam Lucas, Chris Kelly, Maryann Romagnano, Duskin Henard, Sandy Vicoli, The Parker Family, Hobbes And Snorky, Lindsay Coram, Carla C, Jen Cerce, Lisa Bohannon , Julia Wickware, K Beasley, Maureen Handy, Kara Jones, The States Family, Stefan Owens, Eric Enli, Dusty Cheatham, Mark Hundt, Mandy Clarke, Lee Anastasi, Evald Olson, Brian Mcwithey, Janet T Thorn, Karen Schlumpf, Chris Watson, Kathryn Hughes, Kris Nixon, Larry Sprenkle, Karen Taylor, Cynthia Hitchcock, Theresa Maradei, Kay Moss, Angel, Paul Knott, Robert Wescovich, Susie Howard, Kelly Labrecque, Sandy Weiss, Sands Family, Tim Johansen, The Tisdale Family, Michael Mclucas And Jackie Mclucas, Josh Weiss, Mickey Eckert, Pam Lorenz, Pam Lorenz, Lauren Thomas, Mike Malampy, Jim Finley, Deborah Wolfe, Anastasia Macneil, Bill Mckim, Dave Freemyer, Karen Ramirez, Demetrios Makres, Phyllis, Becky Norman, Kye Layton, James Price, Jeff Blank, Shannon Derkachenko, Debbie Hewitt , Jackie Sharkey, Wayne Chadourne, Linda College, Blake Schmidt, Kelly Smith, Murr Family, The Double Family, Christopher Thacker, Chris Bauman, Andrew Pettit, Linda Wilham, Matt Holley, Les Whitten, Patrick Broaddus, Mike M., Margie Larmon, Jeremy Reichelt, Christopher Hall, Maureen Tavarell, Karrie Duffey, Alison Rosenberger, Kathy Deboer, The Fosbender's, Karen Spreitzer, Stephanie Linares, Tracy Discher, Al Sandal, Doug Olson Family, Kristan Bertelmann, Diane Curfman, Megan Krainski, Team Meeker, Karen Aguiar, Vicki Edwards, Vicki Britt, Matthew Jadro, Ron Harper, Erin Hammer, The Patterson Family, Matthew Frey, Karen Bellamy, Timothy Gallant, Grumpy& Groupies, Terry Fleming, Mark Proper, Teri Michalski, Amy Knox, Michael Haeberle, Rebecca Keenan, Scott Greenbaum, Leach Family, Gina Falzone, Kirk Hardy, Heidi Goodhue, Karen Costa, Amy Guerrini, Jessica Gruhlke, Kameo Crea, Todd &Angela Johns, Gabriella, Terry And Matthieu, Jason Skow, Luis Rodriguez, Jodi Cook, Tricia Noble, George Mundy Jr, Julia Marsh, Hillary Waldroop, Dave Carriere, Paul Moore, Smitty, Wendy Barney, Scott Sangston, Mike Venere, Diane Ramos, Jennifer Rowell, Filiater Family, Lisa Pinder, Ashley Collins, Harrison Grasso, Karen Ford, Jo Ann Bailey, Sheila &Kelly Barnes, David Ballard, Jane Johnson, Kyle Burdo , Sheila Bagg, Joseph M. Zafia, Team Bonnie Sue, Jennifer Bogdan, Kathryn Broyles, Barb Welshhans, Amanda Garrett, Cheryl Costello, Barclay Bakkum, Tom Higbee, Robin Meredyk, Jean Bussell, Mark Franklin, Jackie Graebel, Matt Earl, Les Stewart, Beth Josuweit, Maryann Daly, Schuyler Etheridge, Eileen Miller, Darrell Shortt, Caitlin Lewis, Caroline Burmester, Stacy Guarracino, Patti Mccaffrey, Kim Walker, and Jeremy Hardy!
__________________________________ _____________________
Challenge #370 Where in the world is this?
Going outside the parks!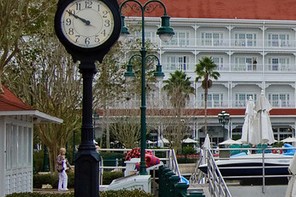 Do you know? Do you have a guess? Please send in your answer, before the end of the day on Thursday, February 26th, by clicking on the blue box below. Please do not post answers using the Feedback Form link at the bottom of this post.
See you soon, Players!


_______________________________________________________________________
Everyone who sends in a correct answer to a Where in the World Challenge this month will be entered in a drawing at the end of the month for some special AllEars® goodies!