Are you a member of D23? To the best of my knowledge, it is the only "official" fan club, organized by Disney, in operation today.
But D23 has had several ancestors over the years . . . and those old clubs are what I'll describe briefly in this blog. I'll be using plenty of scanned images from some of the old brochures, newsletters and magazines Carol has safely stashed away in her Tickle Trunk!
Naturally when someone mentions Disney clubs the first thing which comes to mind is the Mickey Mouse Club.
I was one of those kids, way-way-way back in the mid-1950's, who rushed home from school every afternoon to watch Jimmie Dodd and the Mousketeers sing and dance their way through challenges and adventures. But that was not really a club; you could not become a member!
But you could subscribe to the magazine!
There was a real "membership club" in that era, the Magic Kingdom Club, founded in 1957 as a marketing tool for Disneyland.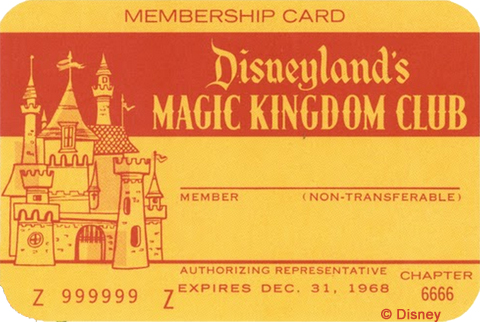 It was almost like a loyalty program, offered to employee groups from large companies in southern California. Unfortunately, it wasn't too beneficial for young children like Carol and I, living an entire nation away, about 2,400 miles north-east of Disneyland!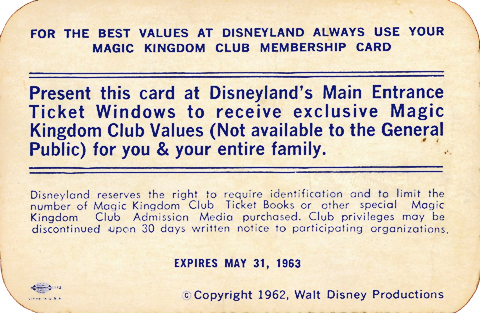 It was a very novel approach to marketing in the 1950's – employers could offer a no-cost benefit to employees and those lucky employees received membership cards which gave some attractive discounts at Disneyland!
What sort of discounts? There were discounts on Disney park tickets and Disney annual passports, discounted rooms at Disney resorts, discounts on parking, members even received a bag full of goodies like bumper stickers, key chains, decals and sometimes even a few Disney Dollars! Sorry Ralphie . . . no secret decoder!
There were quarterly newsletters (Disney News) which kept members up-to-date on new Disney movies, changes in the park and changes to the club's benefits!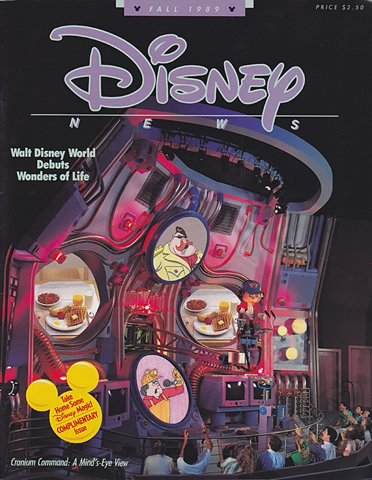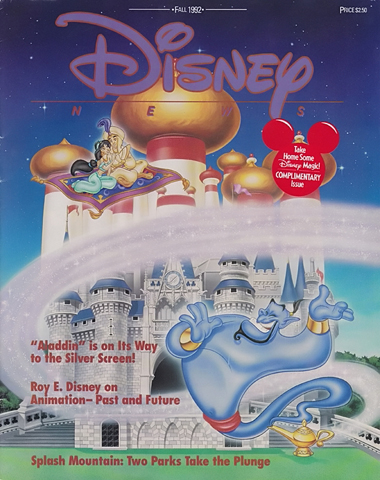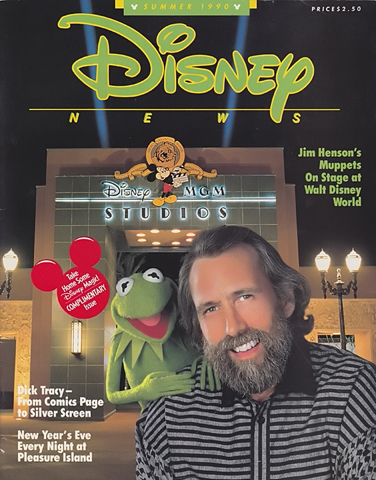 As the Disney parks grew, so did the club! It expanded nationally in 1971 when Walt Disney World opened and then went "international" as other parks were established around the world.
Soon there were exciting new benefits, including discounts with "non-Disney" partners such as airlines, cruise lines and car rental companies. There were even special vacation packages for individuals, families and groups.
There was a Gold Card membership which was fee-based. Those who were not employees of one of the member companies could buy a Magic Kingdom Club Gold Card.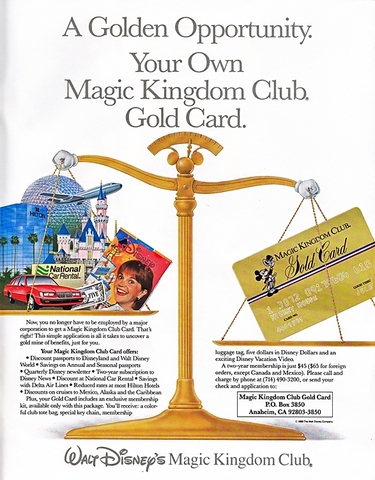 (click on the picture above to see a clearer image you can read)
It has been reported that the club, at its peak, had over 30,000 member companies and more than six million card-carrying members. Wow!
In early 1986 Disney established the Magic Years Club just for seniors, 50 years of age and over. Click on the picture below to read how the Lakeland Ledger described this new club in their February 24, 1986 edition.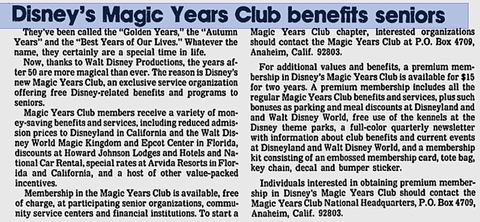 Carol's mother, Sybil, joined Disney's Magic Years Club in 1989 and the newsletters shown below are from her collection (now safely stored in Carol's Tickle Trunk).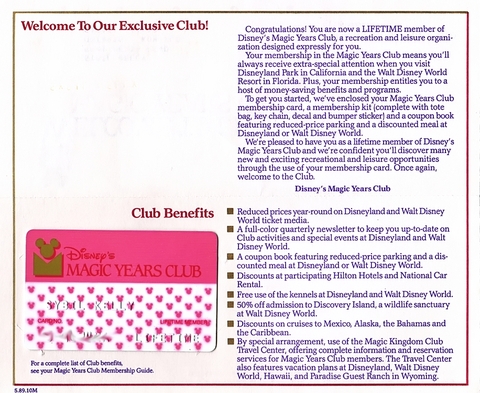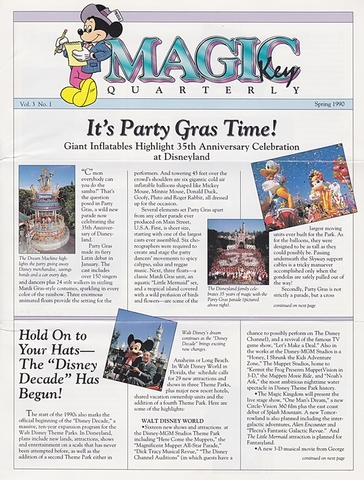 Some time before 1993 the minimum age for membership was increased from 50 to 60, but the benefits remained the same.
On October 14, 2000 the Magic Kingdom Club and the Magic Years Club morphed into The Disney Club. Each of the former clubs had been offered free of charge to most members, but the new Disney Club required all members to pay dues.
Carol was a card-carrying member of the Magic Kingdom Club in 2000 when the transition took place and she decided that all was not lost; the discounts were still more than enough to offset the annual dues of $39.95!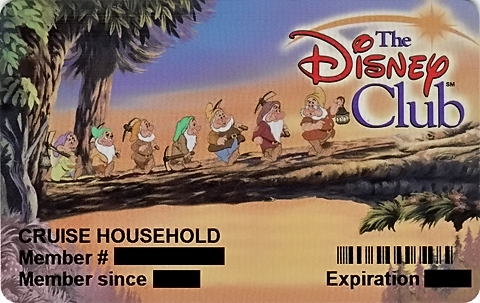 Here is listing of some Disney Club discounts from 2002. Click the image to see a larger version.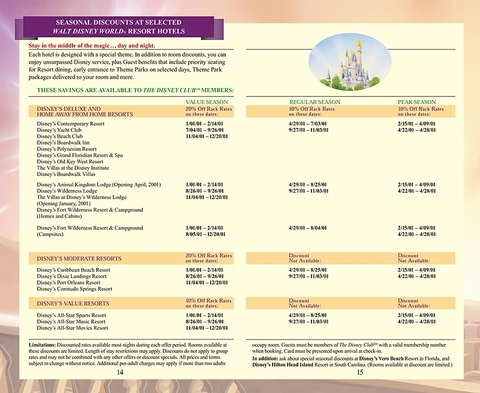 The Disney Club also sent out quarterly magazines!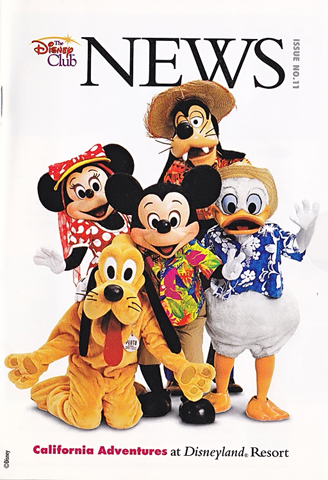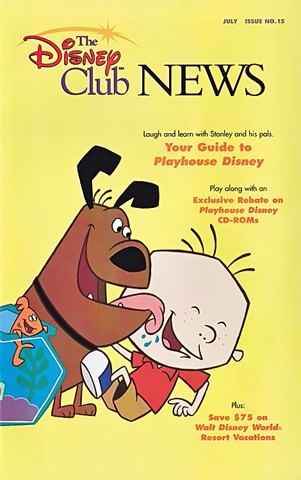 The magazines and newsletters were packed full of interesting announcements and articles. I will probably write a few future blogs based on some of those old articles!
Click on the image below to read the cover of the November 2001 newsletter. If you like Disney trivia, pay close attention to those Monsters Inc. Fun Facts.
Click on the image below to read a Spring 2003 article about the Pirates of the Caribbean display at the Gallery in Disneyland!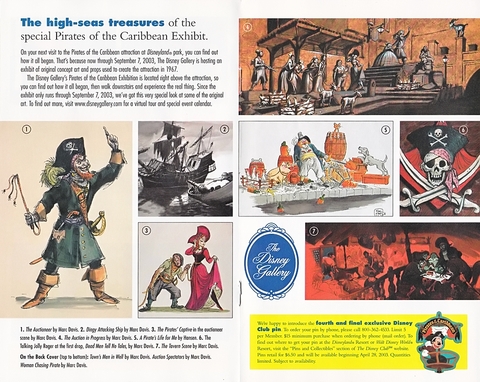 It came as quite a shock to members when Disney scrapped the relatively new Disney Club in late 2003. For the first time in 46 years there was no club – no way to feel that warm sense of affiliation with Disney.
Everyone kept waiting for a revamped club to rise from the ashes, but alas, there was no Phoenix! The magazines no longer came, the club was gone, and all those swell benefits were gone as well.
At about the same time the always popular "Official Disneyana Convention", held at both Disneyland and Walt Disney World was cancelled. No one really understood this abrupt change in company policy.
Perhaps the corporation decided to focus their attention on the newly launched Disney Rewards Visa Card which offered similar discounts, but that was little consolation to Carol and I. We didn't qualify for the new cards; they are not offered to Canadians.
So we waited years until a new club appeared . . . D23 was announced in 2009. The name D23 refers to D for Disney and 23 for 1923, the year when Walt Disney arrived in Hollywood and his company was founded.
You are probably wondering, "Is Carol a member of D23?"
Silly question – of course she is! There are so many benefits and discounts, how could she resist?
And unlike the Visa Rewards Card, they let Canadians join!