It's awards season for films, which means many of us are focused on our favorite films. Surely Walt Disney Animation Studios' animated movie "Big Hero 6″ ranks at the top among Disney fans for films debuting in 2014. Next month, the feature film will be released for home and mobile viewing, and customers will have several purchase options.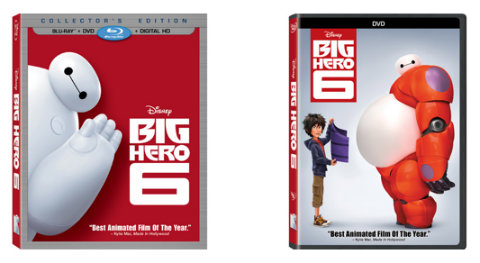 "Big Hero 6″ is scheduled for release on Feb. 24, and it will be available on DVD and as a Blu-ray Combo Pack (Blu-ray, DVD, Digital HD). The list prices are $29.99 and $39.99, respectively, though several online stores already have the titles available for pre-order at discounted prices. Both versions include a variety of bonus features.
The "Big Hero 6″ Blu-ray Combo Pack offers:
** "Feast" Theatrical Short
** Big Animator 6: The Characters Behind the Characters
** Big Hero 6 Theatrical Teaser
** The Origin Story of Big Hero 6: Hiro's Journey
** Big Hero Secrets
** Deleted Scenes
The DVD-only purchase includes just the first three bonus features.
Wal-mart has an exclusive offer for the Blu-ray Combo Pack. Buyers get everything listed above, plus a separate bonus DVD, "The Science Of Big Hero 6." The bonus DVD allows viewers to explore Baymax and Hiro's high-tech world. Wal-mart's exclusive gift set retails for $39.99, but it is available for pre-order for $26.96.
Want to see the movie sooner? "Big Hero 6″ will be released earlier – Feb. 3 — on Digital HD and Disney Movies Anywhere. It will include all the bonus features of the Blu-ray combo pack, except "Big Hero Secrets."
If you haven't seen this worthwhile family friendly animated movie, here's a short synopsis:
When the film opens, we find ourselves in San Fransokyo, a city that appears just as it sounds — an idealized combination of San Francisco and Tokyo. San Fransokyo is the home of Hiro Hamada and his older brother, Tadashi. The brothers are both gifted in robotics technology, but Hiro is at a crossroads. He has graduated from high school at age 13 and spends his time building "bots" (short for robots) to fight in matches where owners and audience members bet illegally on the outcome. Tadashi believes that Hiro should join him at an exclusive robotics program at the nearby university and devises a plan to convince Hiro.
During an impromptu tour of the Nerd Lab at the university, Hiro meets Tadashi's eclectic band of friends in the department. They each show Hiro their ambitious robotics projects, but, of course, nothing can top Tadashi's — the lovable, huggable Baymax. Baymax is a "heath care companion" that Tadashi has programmed to diagnose and treat 10,000 medical problems. Hiro is impressed by Baymax and the other projects and decides to apply to the school. It's at this point that events propel the kids into superhero roles. The action picks up significantly and we have a classic comic-book battle of good vs. evil.
If you'd like to read more of my spoiler-free review, you can find it here. For another take on "Big Hero 6," be sure to check out guest blogger Jeanine Yamanaka's review.
And those visiting Walt Disney World can meet Hiro and Baymax at Hollywood Studios.