Video gamers can get a look behind the screen, if you will, this weekend at the Orlando Science Center's Otronicon, a four-day event dedicated to technology and digital media. As one of the exhibitors, Walt Disney World will give visitors a glimpse into how technology is used at its theme parks and how attractions are designed.
Now in its tenth year, Otronicon runs Jan. 16 through 19. The science center describes the event this way: "Discover how we will live, learn, work and play in the years to come through video games, simulation and other technology – most of which is made here in Orlando."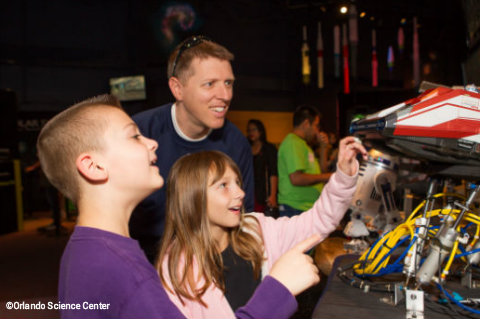 Disney's Imagineers present Math Magic 'Science Fair!' each day throughout the event. The exhibit has several demonstrations that will show the difference between digital and analog control for animated figures. Plus, visitors can see how simulations and mechanical engineering are used at Walt Disney World.
Last year's Disney exhibit included demonstrations of STEM (Science, Technology, Engineering & Math) applications in popular Disney Parks attractions Toy Story Midway Mania, Big Thunder Mountain Railroad, Pirates of the Caribbean, Star Tours and Test Track. Visitors were able to get hands-on experience operating the computer programs that run some of the attractions.
Otronicon 2015 also features state-of-the-art medical and military simulators from Florida Hospital for Children and Lockheed Martin, respectively; workshops taught by industry professionals; and video-game development and competitions.
Admission to Otronicon is $19 per day for adults and $13 per day for children ages 3 to 11. Admission to Otronicon is free for Science Center members. Hours for Otronicon are 10 a.m. to 10 p.m. Jan. 16 -17 and 10 a.m. to 6 p.m. Jan. 18 -19.
Can't make it to Otronicon to check the theme-park exhibit? Look for other STEM demonstrations and celebrations during National Engineers Week next month at Walt Disney World. For the last several years, Raytheon has offered extra interactive experiences for the week. Raytheon, an aerospace and defense contractor that employs state-of-the-art electronics and communications systems for government and commercial projects, sponsors Sum of All Thrills at Epcot. This attraction allows guests to digitally design their own roller coasters and then experience a simulated ride in them.