To all who come to this photo trivia game, Welcome! Along the way, the photos can make us relive memories and see details Walt's Imagineers put into everything we love in Walt Disney World!
Vera Williams, Jim Finley, and Cheri Palmisano, and to everyone who send me such wonderful messages, thank you!
Rob & April Vanderpool, I know you are enjoying Walt Disney World! And so is Maggie Klotz for the first time in over a decade! Enjoy the magic!

Jeremy Mccaffrey has the flu this week and couldn't play like he usually does. Get well soon, Jeremy!
My family is having a Disney trip free year too, Jason & Melinda Lenz. Sniffle!

Here was the challenge last week: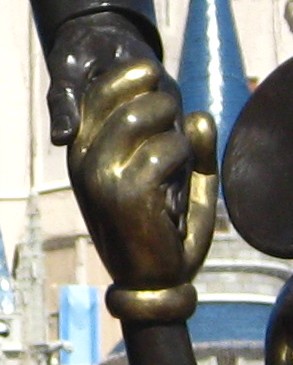 And here's the answer:


Copyright © Erin Blackwell
Let me quote from One Man's Dream:
"We know it was really all started by a man, a man with a dream, and a mouse."
The Partners Statue at the end of Main Street, in the center of the hub in front of Cinderella Castle in the Magic Kingdom: it honors the man himself, the one who his brother called the World's Storyteller and how lucky we are to have him: Walter Elias Disney. And his buddy, his partner in magic, the one who Roy O. Disney said was the closest anyone could get to having Walt alive again, the friend Walt always called The Mouse, Oswald's little brother: Mickey Mouse.
I'm so glad so many of you agreed this was a good choice to close 2012 on a magical note.
I'm not going to even to clown around. Let's just enjoy it, the way the movie ends in One Man's Dream (I always choke up):
When you wish upon a star
Makes no difference who you are
Anything your heart desires
Will come to you
If your heart is in your dream
No request is too extreme
When you wish upon a star
As dreamers do
I hope your 2013 sees your dreams coming true, Players.
And Tami H. and John Bickers, you got it right. 🙂
Chris Connors was the first to send in the correct answer! Congratulations to Chris and all our winners this week! Robert Hildbebrandt, Cherie Schroeder, Sarah Weiss, Linda Turner, Charis Barron, Kathy Morris, Jay Fuentes, Valerie Alban, Orlaith Ferguson, Liz Moreau, Shannon Wittmaier, Andrew Weed, Jennifer Vega, Carl Kanefsky, Cindy Rey, Kathy Morris, Jeff Brice, Lin Carvell, Deme Grabert, John W. Sharpe, Nancy Miller, Nadine Anderson, Kevin Scott, Janet Fishman, Bob Patterson, Jeff Connors, Roni Dorf-wilcox, Kristen Funk, Sharon Lucia, Ken Rhinehart, Jason Skow, Sherry Tarantino, April Haddock, Dawn Simpson, Amber Penske, Melissa Such, Leslie Pennington, Betty Mercier, Christine Glynn, Lauren Svec, Addison Welp, Amber Cangelosi, Jennifer Rowell, Bridgette Gallagher, Kerri Kobylka, Erin, Krystal Pound, M Goldschmied, Deb Gallo, Jessica Folan, Virginia Pierce, Gregg Eldred, Tinkerbell Wells, James Steele, Linda, Susan Rollins, Hillary Waldroop, David Ross, Kris Nixon, Theresa Rucando, Kathy Miller, Amy Powers, Jen Lombardi, Wayne Chadourne, Cathy Connors, Mark Niebojeski, Tara Noles, Jennifer Snapp, Stefanie Vandiver, Kimberly Pearsall, Vera Williams, Jennifer Snook, Deanna, Karen Wheatley, Sharon Pierce, Eric Enli, Jimmie Jones, Eric Woodfork, Thomas Mangano, Curtis Bille, Fran Achorn, Thomas Mangano, Nicole Klein, Rob & April – Team Vanderpool, Chris Horne, Chris Bauman, Keirsten Sangster, Julia Buchter, Belicia Cullen, Bruce Jones, Michelle Boewe, Scott Cullen, Kelli Gordon, Chris Masse, Jason Hocker, Jeff Blank, Mark Watson, Pam, Marilyn Garfinkel, Amy Schweizer, David Tarbet, Kristin Olmedo, Melesia Love, Jenny Brennan, Maureen Handy, Tim Jeltes, Candice Grimes, Bill Demaio, Tom Koval, Wayne Wyatt, Annette Nuenke, Amy Poole, Jim Finley, Josh Dean, Linda College, Judy, Wendy Hupp, Betsy Silvestri, Pat Cassidy, John Menjes, Jodi Civill, Angie Young, Janet Thorn, Cindy Derosa, Larry Drum, Doug Olson Family, Pollyanna Buff, Greg, Jim Riddle, Matt Holley, Chris & Maranda Nichols, Mark Culwell, Kelly Zanauskas, Brad Kinsey, Carri Marotto, Alan Mize, Cyndi Burns, Deb Falvo, Cindy Hicks, Andrew Carrieri, Jill Haarman, Eric Holmes, The Moore Family, Ed Elder, Emily Hudson, Hobbes And Snorky, Philippe Ouellet, Janna Jewett, The Strukel Family, Karen Schlumpf, Lizanne Fisk, Dee Dee Kenney, Melody O'donnell, Debbie Lanza, Brian Yesutis, Lisa Bohannon, Parker Family, Anastasia Macneil, Antoinette Leblanc, Lisa Bohannon, Mary Beth Tarbet, Katie Bray, Rob Jacob, Jeremy Reichelt, Billie Jean Albolino, Phil Badcock, Evanna Huda, Erin Hammer, Melodye Berry, Chloe Mayhew, Kim Mobley, Alicia, Tami H., Stephanie Linares, Colette S, Ken Maikowski, Demetrios Makres, Claire Gregory, Mary Thatcher, Nicole Shuler, Karen Ramirez, Brian Gallant, Lori Rienhardt, Shelley Diederich, Caren Bauernfeind, Emily Dagney, Chris Dagney, Erin Dagney, Sherry Trapp, Debbie Desimone, Al Desimone, Scott Greenbaum, Monica Owens, Staci Plunkett, Jim Logue, Patti Mccaffrey, Alison Rosenberger, Jonathan Thomas, Jamie K, Kameo Crea, Emily Watson, Nathalie Periard, Robert Dean Bostic, Bonnie Tulenko, Becky Norman, Clinton Dickinson, Al Desimone, Lisa St. Peter, John Nottell, Team Hill, Jim Dewalt, Rachel Hoover, Wendy Snelgrove, Thomas Farquharson, Bryan Kruse, Brent Baker, Mickey Mouse, Lynette Michalos, Kelly Cummings, Susie Howard, Tracy Discher, Mckenna Creese, K Beasley, Dave Wang, Steve Jordan, Cameron Lange, Pamela Manseau, Emma Ramsey, Christina R, Beth Mcmeekin, Maryann Eckenrode, Trina Noggle, Les Whitten, Kelly Mccleary, Jenny Stoneburner, Josh Weiss, Kristi Strembicki, Meredith Rule, Bob Henriksen, Pam Lorenz, Jeremy Mccaffrey, Sarah Calvario, Candy Dadswell, Joanna, Bill Cudney, Lynne Simpson, Rob Blundin, Sharon Dale, Wendy Mowery, Danielle Ciotti Harsley, Maureen Hanlon, Ainsley Poe, Nancy Mclaughlin, Bob, Maggie Klotz, Dawn Bach, Carol Gamill, Cindy Pink, Sara Holloway, Michael Malampy, Andrew Swiatowicz, Sharon Powell, Misty Mehelic, Todd Swavely, Kris Blamphin, Deb Ragno, Dave Kanigowski, Sandy Kanigowski, Cynthia Hitchcock, Chris Kelly, Rebecca Keenan, Jason & Melinda Lenz, Jimmy Beaupre, Wendy T Faler, Diane Curfman, Craig, Kathryn Willer, Vicki Vaught, Kelsi, Lynn, Jessica Iglesias, Jared Meeker, Carolyn Como, Susan Higginbotham, Carla C, Jonathan Ward, Larry Sprenkle, Jennifer Rupert, George Mundy Jr, Patty Newton, Hayley Valk, Jennifer Mccurry, Karen Kristoff, Kelly, Tricia Petty, Heather Young, Jodi Cook, The O'meara Family, Doug Reichl, Kim Walker, Jack, Bill, and Ryan Foley, Katie Bamford, Ron Harper, Bruce Hinterleitner, Pam Vanaustin, Cary Burke, Brian Richmond, Mike M., Mike Haeberle, Stefan Owens, Al Ganter, Vanessa St.john, Kerry A., Kristen Mccoy, Mike Cerce, Ronald Delorey, Cassnadra Newton, Kerry Mccaffrey, Maryann Romagnano, Mickey Eckert, Jen Tremley, Jennifer Bourg, Megan Krainski, Paul Knott, Evald Olson, Duskin Henard, Heather Pedulla, Nilda Stuff, Karen Smith, Veronica Peterson, Brendan Abel, Chris Connors, C.j. Connors, Debbie Connors, Olszak Family, Double Family, Joseph M. Zafia, Vicki And Elizabeth Edwards, Barclay Bakkum, Melissa Kirk, John Paul, Heidi Goodhue, Vickie Scioneaux, Maryann Daly, Les Stewart, Juli Case, Erin Loring, Dennis Loring, Kim May, Jo Ann Bailey, Ronnie Schreyer, Margi Larmon, Elaine Kleinhenz, Jackie Graebel, Jennifer Bogdan, Lisa De Paiva, John Bickers, Kye Layton, Jennifer Murchison, Elyssa H., Peggy Saeger, Tara Bradford, Jane Johnson, Walter N. Clark, Lindsay Kasawski, Kathryn Perkins, Vanessa Medlock, Kerr Coggins, Jared Orth, Sandy O'daniel, Felice Ciccione, Jennifer Carson, Andrea Kruszewski, Rita Henderson, Brian Grabowski, Donna Langdon, Chip Vermette, Zachary Ott, Kelly Mager, Eileen Miller, Mark Proper, Andrew Pettit, Jennifer Harmon, Bob Hendrix, Wendy Barney, Ashley P., Patrick Broaddus, Anita Jodouin, Timothy Hutchinson, Emily Harper, Dan Diehm, Deb Wolfe, Annie Snodgrass, Karrie Duffey, Diane Furtado, Gallagher Family, Kara Cummings, Heather Hynes, Jullie Pudem, John Foggo, Diane Ramos, Trish Babler, Gail States, The Patterson Family, Mary Greger, Cheri Palmisano, Angie Messer, Karen Nelson, Leach Family, Gabriella Rizzo, Lisa Zitek, Pecosace, Kirsten Miller, Harry Wilson, Terri Thornton, Derek Carty, Lynn, Diane Tredore, Dan Mangini, Paul Ignudo Jr., Wayne Witherspoon, Jackie Klafeta, Dave Carriere, Stacy Guarracino, Chuck Everson, Christy Schor, Andy Schumacher, Linda Grau, Mitchell Holmes, Shannon Wright, Brian Mcwithey, Wendy Palmquist, Kathie Goldberg, Orange Bird, Anjanette Tournillon, Lorine Landon, Emily Esker, Elizabeth Goodman, Hulse Family, Jeannine, Michael Nanney, Ashley Hill, Steven Dearment, and Shannon Williams. Each of you are entered in this month's winners' drawing.
And now: the last monthly drawing for 2012! The winner is: Stephanie Dollar! Congratulations, Stephanie! You will be receiving your prize from Deb Wills soon!
_____________________________________________________ _____________________
Challenge #262: Where in the world is this?
This is a little harder, but when you see the full picture, I'm hoping you'll agree it's a good one to start 2013.
We are still in the parks.


Do you know? Do you have a guess? Please send in your answer, before the end of the day on Thursday, January 10th, by clicking on the blue box below. Please do not post answers using the Feedback Form link at the bottom of this post.
See you next week, Players!


_______________________________________________________________________
Everyone who sends in a correct answer to a Where in the World Challenge this month will be entered in a drawing at the end of the month for some special AllEars® goodies!