I wandered Walt Disney World recently to check out some new Hidden Mickey sightings. Sarah McGovern wrote me about a pine cone Hidden Mickey on the ground near Fort Wilderness. I walked the trail from the Wilderness Lodge to Fort Wilderness to find the pine cone image. This trail has a dirt path segment that starts from the rear of the Wilderness Lodge property and loops up to join the middle of the main cement sidewalk trail that extends from the front of Wilderness Lodge all the way to Fort Wilderness. As I strolled along the cement sidewalk segment from the dirt path intersection toward Fort Wilderness, I encountered several pine cone Hidden Mickeys! They were all to the left of the path as I approached Fort Wilderness. Here are two of the images:

It appears that guests are creating Hidden Mickeys from pine cones on the ground. I hope this continues every year as a tradition!
I visited the Magic Kingdom and the new Fantasyland area. Several folks (Deb Wills, Rita Ondercik, and Captain Mike) informed me of new Hidden Mickey impressions in the walkway. I spotted several Hidden Mickeys in the Fantasyland Train Station exit area. Here's one located in front of a short brick wall and a tall wooden pole: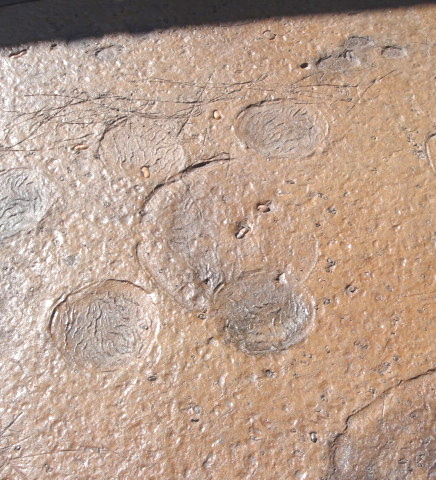 While enjoying the sights and sounds of Disney's Animal Kingdom, I was pleasantly surprised to come across Russell and Dug from the movie "Up" on Discovery Island.

My wife Vickie and I enjoyed dinner (and the entertainment!) at Restaurant Marrakesh in Epcot's World Showcase. I like the food here, and we can usually get seated without a reservation if we arrive early.

I think you'll agree with me: with Disney, there's always something new and exciting around the corner, including new Hidden Mickeys!