We know a lot of you are wondering what's so special about Disney's newest cruise ship, the Fantasy — what's new about it, and what makes it different from its sister ship, the Disney Dream? Deb Wills and I will be writing about those differences for the next several days, as we try to recap our experiences from our three-night media preview cruise on the Fantasy.
One of the things that is totally new for the Disney Cruise Line is the addition of the Bibbidi Bobbidi Boutique, a special beauty salon that transforms little girls into elegant princesses. Extremely popular on land, at both Walt Disney World and Disneyland, the installation of the Boutique on the Fantasy is sure to prove a perfect fit.
As you approach the Boutique, which is located on Deck 5 Midship, you'll note that there are medallions on the exterior wall depicting a variety of Disney Princesses and Princes.
Like its landlubber counterpart, the Boutique is a very regally appointed setting, with rich-looking marble floors and lots of pretty pink and glittery gold accents. It's staffed by Fairy Godmothers-in-Training, who will beautify little princesses with new hairdos, shiny nails, and elegant makeup.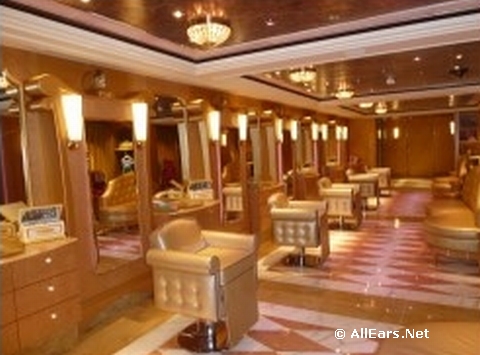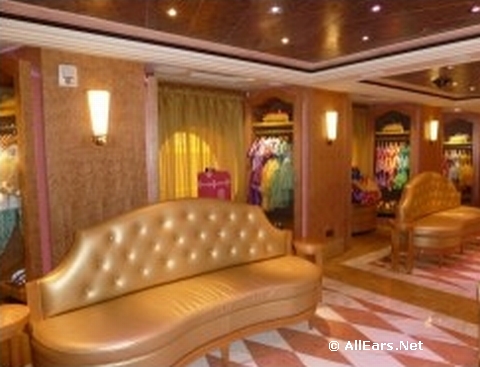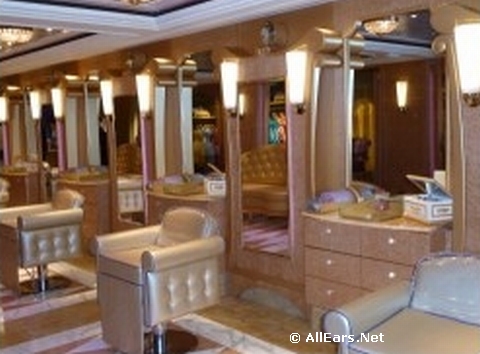 There are plenty of princess gowns, shoes, wands, tiaras, and other royal accountrements for purchase. And if you'd rather emulate your favorite mice, there are costumes for Princess Minnie, First Mate Minnie, and even Captain Mickey Mouse.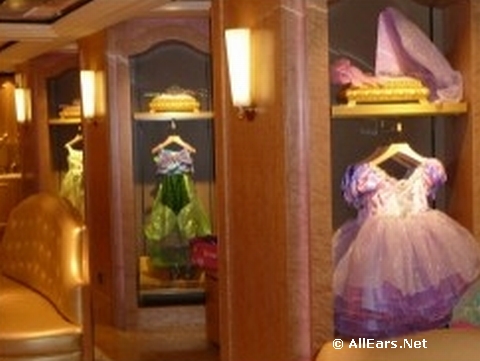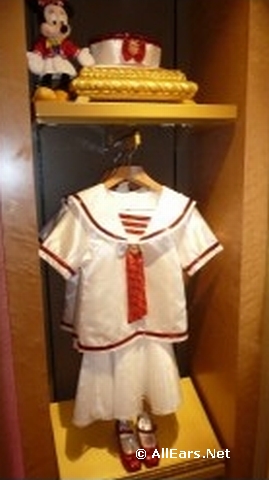 The Boutique offers a variety of packages, some similar to those offered on land, others exclusive to the Fantasy.
Coach: choice of one hairstyle, shimmering makeup, face gem, cinch sack, and princess sash. Cost = $54.95
Crown: all elements of Coach PLUS nail polish. Cost = $59.95
Castle: all elements of Crown PLUS your choice of costume and coordinating wand, tiara, and shoes. Cost = $184.95
The Fantasy (exclusive to the Disney Fantasy): all elements of Crown PLUS tutu, sparkly t-shirt, and head band. Cost = $119.95
Under the Sea (exclusive to the Disney Fantasy): This package turns a little girl into a Little Mermaid, and includes a choice of swimsuit and cover-up, vibrant sun block application, Del Sol floral clip that changes colors in the sun, necklace, and nail polish. Cost = $99.95
And if you want to go all out, the Boutique offers the Royal Sea Package, which it says is "dedicated to every true Princess who ever dreamed her sneakers were glass slippers, and to girls who believe it's better to twirl than to walk, sing than talk and that everything goes better with sparkles!" The deluxe Royal Sea package comes complete with a Princess Royal Rolling Trunk created exclusively for the package, and also includes three makeover experiences: 1 Castle, 1 Under the Sea, and 1 Pirate package, PLUS a boutique frame with a photo of the Fairy Godmother, PLUS a special invitation with a glass slipper ribbon necklace, and a keepsake glass slipper from Cinderella's helpers. Cost for this deluxe package = $595.
Children must be between the ages of 3 and 12 to take advantage of the Boutique's services — no adults, I was told, because after you reach a certain age you are no longer a princess… you are a Queen!
I guess that's the nicest way anyone has ever told me I was too old for something!
A unique aspect of the Fantasy's Bibbidi Bobbidi Boutique is that it even transforms itself! Every sailing has a designated Pirate Night, and on these days, the Boutique magically becomes The Pirates League, the place to go to "get your pirate on!"
Here, Disney's attention to detail really shines. On Pirate Day, burlap sacks bearing the Pirates League logo and the Jolly Roger cover the pretty salon chairs, and the sparkly princess outfits are replaced by buccaneer garb. Fairy Godmothers-in-Training become Pirate Lasses… and Lads! (But beware of the Jack Sparrow sound-alike there — he'll propose marriage to any female who happens by! The scoundrel!)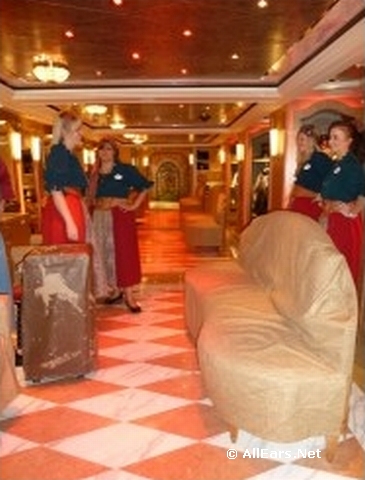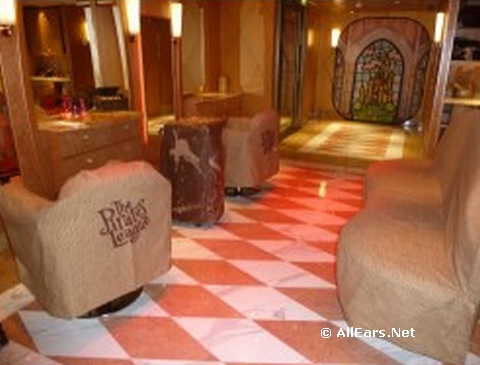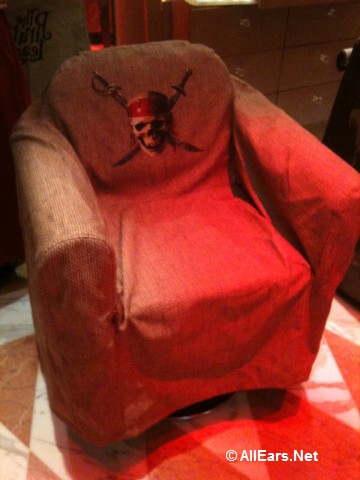 Nearly every trace of "princess-ness" is erased — even those medallions on the exterior of the Boutique that I mentioned before show pirates instead of princesses!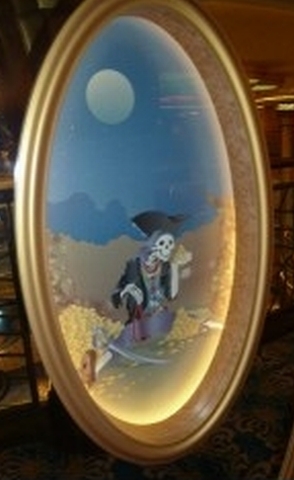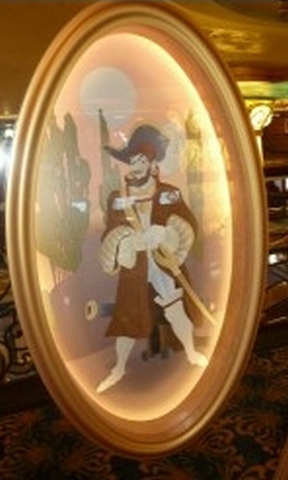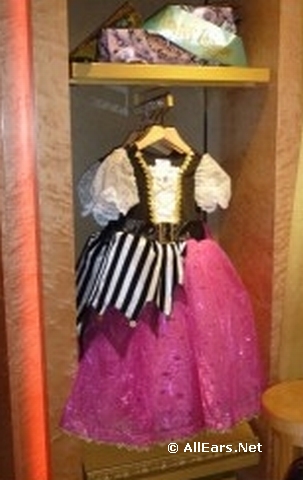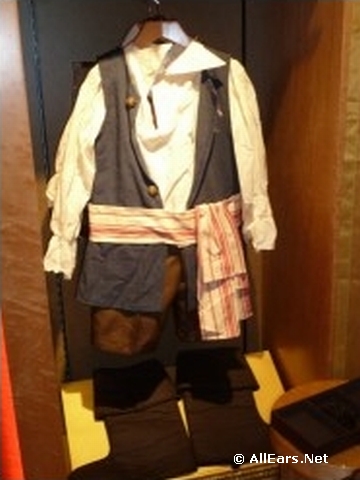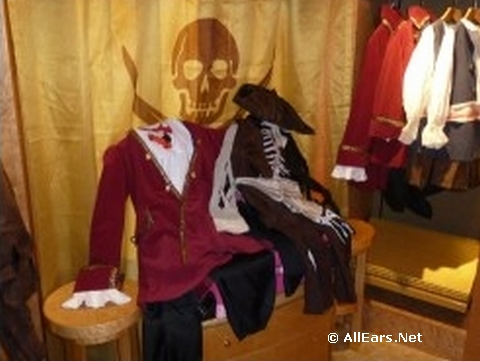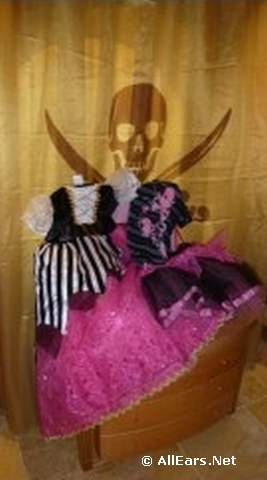 The basic pirate makeover costs $34.95, and will give you your own special pirate look and name. You'll also learn how to swashbuckle, and the Official Pirate League Oath. The First Mate package for boys also includes a bandanna, scars, fake teeth, eyepatch, and sword. For girls, the Empress package has shimmering makeup, face gem, nail polish, earring, eye patch, and sword. If you want to add a special pirate costume to either package, you'll pay $99.95.
Unlike the princess makeover, anyone over the age of 3 can be a pirate. Our time on the Fantasy was short, so we didn't have the chance to try it out, but AllEars.Net's Deb Wills is planning a Pirate Makeover for herself next week when she's sailing on the ship's Maiden Voyage — so stay tuned!
Reservations for both Bibbidi Bobbidi Boutique and The Pirates League are strongly recommended — and if these makeovers become as popular on the ship as they are in the theme parks, you will need them! You can make reservations online before you sail at www.disneycruise.com. Click "Planning Center" and choose "My Cruise Activities." Once on the ship, visit the Boutique in person or call ext. 9438. (NOTE: A $10 cancellation fee will be charged for all no-shows or cancellations with 24 hours of appointment.)
DISCLOSURE: As an invited media guest, AllEars.Net's cruise expenses for the Disney Fantasy Media Preview Cruise were paid by the Disney company. Opinions expressed herein are solely mine, however, and do not reflect the opinions or policies of the Walt Disney Company or its affiliates.