Players, Mary Beth Tarbet has been sick all week. Let's send her some pixie dust to get better. In fact, Lily-pierre Couet, Chris Kelly, you are all doing the single digit dance and will be in Disney within a week: send her extra magical pixie dust from the parks, okay?
I have to share this story: The Patterson Family surprised the kids on Christmas by announcing they were going to Disney World (in a week, do I remember that right?). Mom and Dad – here, let me let them tell it: "My kids (6 & 3) opened a refrigerator sized box and out popped six red & green Mickey head balloons. They were vibrating with excitement!" EXCELLENT and creative way to spring the surprise!
Jason And Melinda Lenz, it's been a month since my last Disney vacation too. Isn't it sad? Sigh… (you know that people who haven't been there in years don't feel bad for us at all, right?) 😉
Elyssa H., I hope you do get to Disneyland and very soon! You'll love it!
And now, here was last week's Challenge: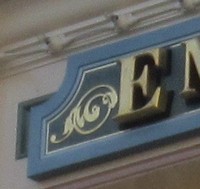 And here's the answer: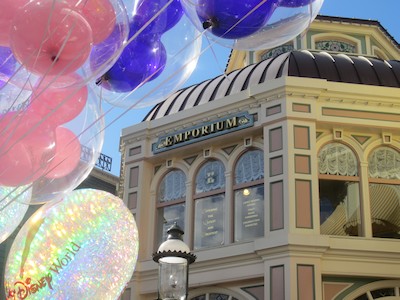 Copyright © 2011 Erin Blackwell Canon PowerShot ELPH 300 HS, 11mm, 1/640s shutter, f5, ISO 200
It's the Emporium in the Magic Kingdom! From a different view: the 2nd floor sign where they expanded the store through the courtyard that held the Flower Shop and the original location for the Harmony Barbershop. Some of you, like Paul Knott & Elizabeth, William, Thomas And Vicki Edwards, even knew the street address: 119 Main Street. That's impressive!
James And Kathy Berry, I do LOVE their window displays! Besides the different holidays, I remember growing up and you'd see the latest movie turned into window displays. Those windows are such a wonderful touch!
I'm going to tell you the truth, Players. I took this photo in December and just love how it came out. So I used it for last week. 🙂 Forgive my selfishness, but happy sigh… I want to put it in the AllEars Desktop Wallpaper section soon.
Kerry points out that she and her sister Patti will be shopping here in a couple of weeks. Bring back something for Jeremy and the other kids! (Jeremy, what do you want?) By the way, Mccaffrey family, did you all gather around the computer together this week? Because I got each of you, Patti, Jeremy, and Kerry, in a row which was SO much fun to see! 🙂
Speaking of the Emporium and shopping, apparently I'm not the only one who can lose myself in here for quite awhile! My husband says I look at the Emporium (MouseGears, AK shops, and World of Disney) as attractions. 🙂 Heather Hynes is with me, right Heather? And I know we're not alone because Clay Anthony, George Mundy Jr, and Luis Rodriguez all said their better halves 😉 are right there with us! And before you think of making jokes or preventing us, let me quote Rudyard Kipling: the Female of the Species is more deadly than the Male. LOL!
And you don't mess with Donnie, because if you take something off the favorites list like the Flower Shop, Donnie goes to the Mayor! 🙂
Timothy Hutchinson, no one got this one wrong! Way to go, Players, because we have 158 winners – including the new christened Team Hill (Mike, that was nice of Susan to go for a group name instead of just putting her name first. 😉 ) ! And those winners are….
(drum roll)
Russ Morgan was the first to send in the correct answer for the challenge! Congratulations to Russ and to all the readers who got the answer right: Mark Diba, Matt Holley, Sharon Pierce, Leigh Mertz, Brian Miller, Linda College, Ed Elder, Craig, Wendy T Faler, Bruce Jones, Jen Cerce, Griffin Harpel, Bridgette Gallagher, Paula Massarelli, Kelli Sangston, Alan P, Emily Hudson, Amy Schweizer, Jonathan Thomas, Belicia Cullen, Scott Cullen, Donnie, Kye Layton, Susie Howard, Clint Curfman, Paul Dickson, Jason And Melinda Lenz, Theresa Rucando, Les Stewart, Annette Nuenke, Michael Mclucas And Jackie Mclucas, Linda Kasych, Maureen Handy, Mike Hill, Lorine Landon, Halo G., Betsy Silvestri, Carla C, Nancy Skooglund, Robin Fitts, Danielle Ciotti Harsley, Angie Young, Dale Knight, Barbara Ajak, Kris Nixon, Nicole Ruzinski, Lauren Thomas, Scott Otis, Chris Masse, Tom Buck, Erin Hammer, Christopher Barnes, Tim Johansen, Beth Mcmeekin, Paul Knott, Kelly Zanauskas, Tina Horlick, Bill Mckim, James And Kathy Berry, Elizabeth, William, Thomas And Vicki Edwards, Jared Orth, Matthew Waga, Dee Dee Kenney, Cathy Skiba, Lily-pierre Couet, Larissa Huda, Evanna Huda, Kenny, Patti Mccaffrey , Jeremy Mccaffrey, Kerry Mccaffrey, Elizabeth Macgregor, Leach Family, Chris Kelly, Matt And Danielle Murgia, Melina Anne Hillis, Stefanie Vandiver, Kerri Coggins, Jamie K, Stephanie Hardhouse, Jon &Jeanne Cohen, Mckenzie Donald, Jeremy Hardy, Rob Blundin, Pollyanna Buff, Amber Slifer, Jonah Rigby, Michael Campe, Christopher Hall, Joe Pfrangle, Will Gates, Steve Jordan, Sharon Dale, Jennifer Tremley, Chloe Mayhew, Matthew Jadro, Jeremy Reichelt, Timothy Hutchinson, Mike Pennington, Double Family, Bob Henriksen, Dennis Blackburn, Mary Beth Tarbet, Brian Gallant, Clay Anthony, Elyssa H., Stuart Hale, Diane Ramos, Mike M., Josh Dean, Kevin Miller, Trina Noggle, Karen Adamakis, Abigail Grasso, Tricia York, Joy Johnston, Nick Bentz, Gabriella &Matthieu, Kelsi B., Vera Williams, Brian Grabowski, George Mundy Jr, Rebecca Keenan, Heather Hynes, Bill Gallagher, Carri Marotto, William Sharp, Rachel Hoover, Kristen Carde, Alan Mize, Kristen Mccoy, Jim Heffner, Claire Gregory, Matt Degrandis, Sarah Holodick, Luis Rodriguez, Carol J, Kelly Mager, Patti Deluca, Freya Schmidt, Jennifer Bogdan, Walter N. Clark, Barclay Bakkum, The Patterson Family, Amanda Houston, Veronica Monteiro, Sarah Haas, Emily Harper, Brian Skinner, Jamie Poynton, Caroline Williams, Caroline Burmester, John Pasqueralli, Robert Schwartz, Susan Higginbotham, Agnes Ciotti, and Kim Steiner. Each of you are entered in this month's winners' drawing.
_____________________________________________________ _____________________
Challenge #213: Where in the world is this?
We're still in the parks, but…. I've done easy-to-moderate the last few weeks. Let's get a little tougher – or at least, I think it's tougher. Want a hint? No? Okay. I LOVE the confidence!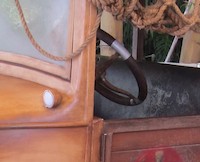 Do you know? Do you have a guess? Please send in your answer, before the end of the day on Thursday, January 26th, by clicking on the blue box below. Please do not post answers using the Feedback Form link at the bottom of this post. Remember to be specific with your answer – just naming a park will not get you into the drawing.
See you next week, Players!


_______________________________________________________________________
Everyone who sends in a correct answer to a Where in the World Challenge this month will be entered in a drawing at the end of the month for some special AllEars® goodies!