My first trip to Disneyland was in late 1957. I was five years old and I only have a few recollections of that trip. But since my family lived in Southern California, we made yearly outings to "The Happiest Place on Earth" and my memories began to build. On these visits, I never bought souvenirs. My parents considered these mementoes junk and a waste of money.
For my 8th birthday in 1961, my parents gave me a fairly elaborate HO electric train set. It was mounted on a 4'x8′ piece of plywood and had a mountain, houses, bridges, switches, and a decent amount of track. This was a pretty cool present for a kid of 8.
I'm the kid on the left with my hand on the throttle.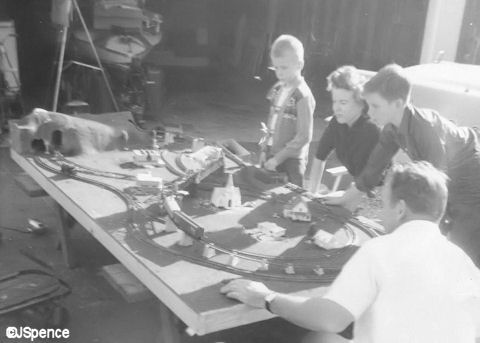 I remember going to Disneyland in 1962, a couple of years after the monorail had opened. While in Tomorrowland, I stumbled across a magnificent treasure – an electric monorail set. I think it cost about $15, which was a lot of money in those days. I begged my parents to buy it for me, explaining that it would make a wonderful addition to my train layout. (The monorail was not HO scale, but I was a kid of ten. What did I care?) My parents gave me an unqualified "no" and told me if I really wanted it, I would have to save my money and buy it myself.
Well, that's what I set out to do. I saved my money and approximately a year later, we returned to Disneyland. When we reached Tomorrowland, I had to search, but eventually found my treasure. It was still available. Thank goodness.
It was at this point in time that parental guilt and pressure came into play. My mother said to me, "Fifteen dollars is a lot of money, dear. Are you sure you want to spend it on that?"
"Yes. I'm sure."
"Are you really, really sure?"
"Yes. I'm really, really sure."
Then in a disapproving tone my mother says ever so sweetly, "All right dear. It's your decision. Do whatever you think is best."
I knew how my parents felt about Disney souvenirs and I knew how to read my mother's tone. Needless to say, guilt won the day and l left Disneyland empty handed – a decision I have regretted to this day.
In its day, this monorail was not considered a collectible. It was just an expensive toy. For that matter, there weren't any Disney theme park collectibles in the '60s and '70s. Even though Disneyland had already established itself as the king of amusement parks, there were no quality items for sale representing the park. Even the hand-painted cels that today sell for hundreds or thousands of dollars were considered junk in the 1960's and sold in Tomorrowland from between $2-$5.
If someone had one of these monorails today in good condition, it would be worth hundreds. I remember seeing a set for sale about 10 years ago for around $750. Of course, if I had bought this monorail as a kid, it would have been used (and probably abused), and not worth nearly that much.
Over the years, my love for trains never faded. As an adult, I have built several HO train layouts. And on one cityscape I created, I even had a working monorail. It wasn't the Disneyland version. But it was scaled correctly.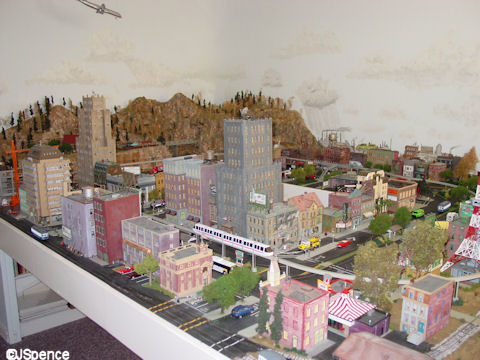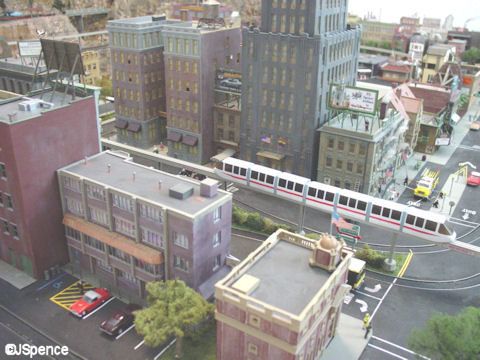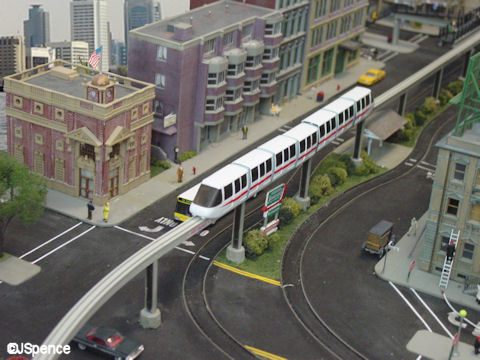 The only Disneyland souvenirs I collected in my youth were annual stock reports, pictorial books and those large maps that needed to be unfolded to view.
When I moved from Anaheim to San Francisco in 1985, I missed Disneyland terribly. Now that the park was 400 miles away rather than just around the corner, I could no longer visit anytime I wanted. I needed a Disney fix.
In 1987, a reasonable compromise presented itself and helped alleviate my Disney need — The Disney Store opened at the end of Pier 39 in San Francisco. This was the third store in the soon to be growing chain. I visited often. It wasn't Disneyland, but it was filled with Disney music, a Disney motif, and in those early years, quality Disney merchandise. My first purchase was of a cel featuring Donald Duck and Cyril the horse from "Mickey's A Christmas Carol." I hung it on the fireplace over the mantel so I could see it each evening. As the months passed, I continued to visit The Disney Store. And I continued to buy animated cels.
In that same year, The Disney Gallery opened above the Pirates of the Caribbean attraction at Disneyland. This location featured a changing exhibit of artwork from Walt Disney Imagineering. In addition, some of the displayed works were recreated in limited quantities and signed by the original artists. Here are a few examples of what was available.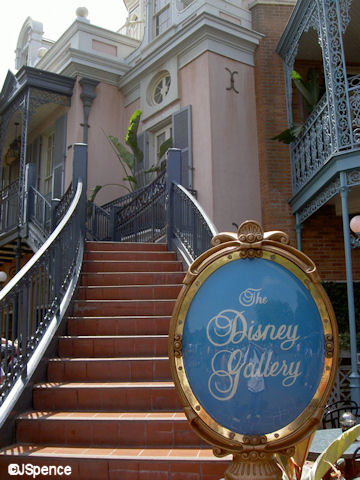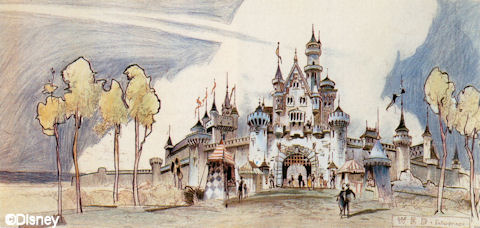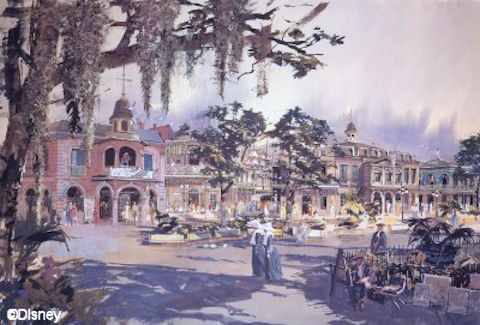 As the years passed and my collection grew, I realized that I needed a direction. There were now many, many Disney pieces of quality available and it would be impossible to do any one genre justice. After a lot of thought, it came to me. I have always been interested in Disney theme parks above all else, so I decided that all future Disney purchases must be related to this topic. This isn't a hard-and-fast rule, but it is a guideline I try to stick to.
Today, every room in my house is filled with pieces of Disney art. I love it. I realize it's not everyone's taste. But it makes me happy to surround myself with reminders of places and things that have brought me so much joy over the years.
When first-time guests visit my house, one of the initial questions they ask is, "Where did you get all of this stuff?" The truthful answer is, "All over the world." But a more helpful answer would be, "From the Good Stores," which brings me to the reason for this blog.
Disney makes a ton of money selling merchandise. The vast majority of these goods are what I would qualify as "souvenir quality." These are tchotchkes, mementoes, toys, trinkets, and the like. These items are relatively inexpensive and not really meant to stand the test of time. These are perfect "vacation" purchases and this is what the vast majority of Disney guests want to buy. But there is a niche audience (like me) who want items that will stand the test of time – and possibly increase in value. Disney has accommodated this group of people with special shops. Although these shops have real names, I collectively call them "The Good Stores." This is because these shops sell "good" or quality merchandise rather than traditional souvenirs.
In the Magic Kingdom, "The Good Store" can be found in the Main Street Cinema and Uptown Jewelers.
At Disney's Hollywood Studios, "The Good Store" can be found off of Animation Courtyard. Guests exit through this shop after experiencing "The Magic of Disney Animation" attraction. Here the shop is called "Animation Gallery."
In Epcot, "The Good Store" is actually called, "The Art of Disney" and is located to the west of Spaceship Earth.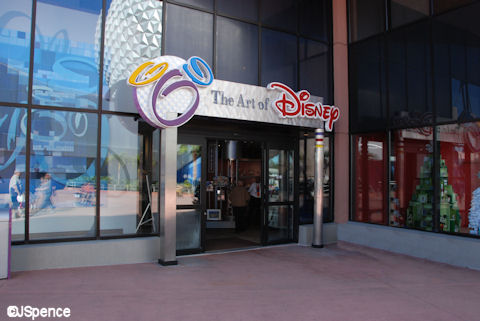 And finally, at Downtown Disney Marketplace, "The Good Store" is also called "The Art of Disney."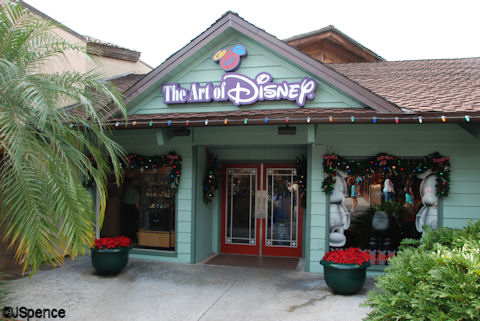 For a number of years, the Animal Kingdom also had a "Good Store" located in "Disney Outfitters" on Discovery Island. However, the collectible merchandise once found here is no longer offered.
So just what is available at the Good Stores? A ton of quality items. To begin with, paintings and lithographs. A number of Disney-approved artists create works of art which are then reproduced on canvas or quality paper. These can range in price from $35 for an 8″x10″ litho to $5,000 for a limited edition oil painting.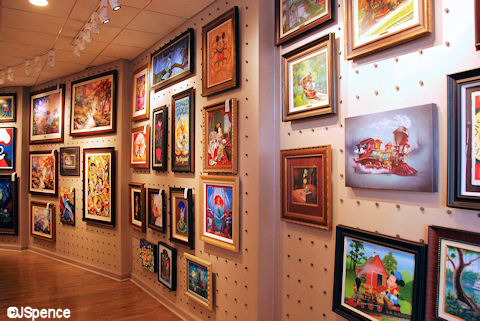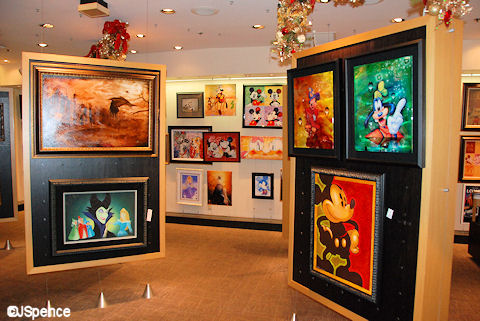 At the Good Store at Downtown Disney, kiosks are available where you can select from a wide variety of topics. Disney characters and theme park attraction posters are just a few of the subjects offered. Once you find a picture you like on the display screen, you can then select the size and medium it will be printed on, paper or canvas. The larger the size, the higher the cost. Canvas is also more expensive than paper. After paying for your treasure, the artwork will be printed while you wait. Custom framing is also available. However, if you add this option, the print will be shipped to you at a later date as framing is contracted out to a local company.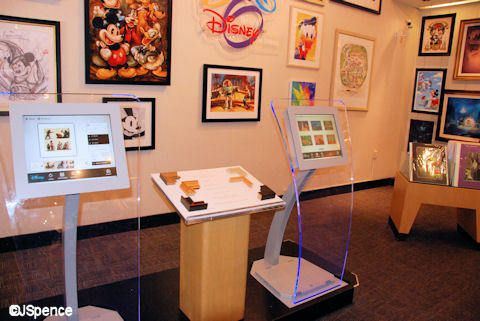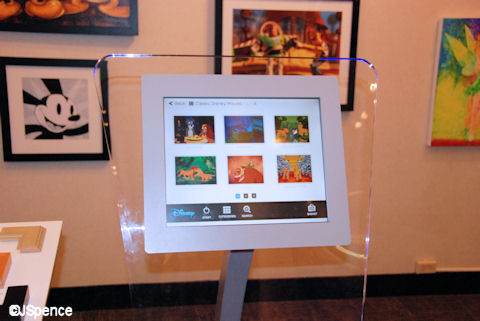 A very popular collectible are the character sketches created by artists in the various stores. Here you can actually watch them start with a blank piece of paper and create your favorite Disney character. In some cases, pins, watches, and personal photos can be added to the drawing. In the case of the timepieces, the watch's face matches the larger sketch.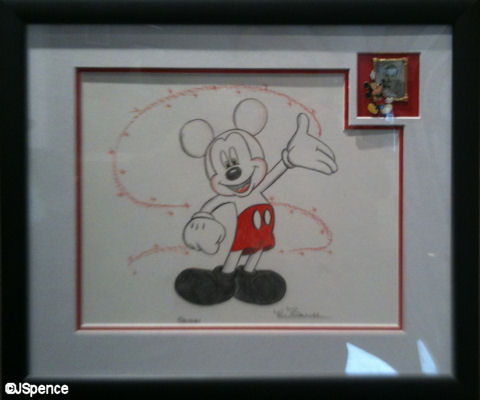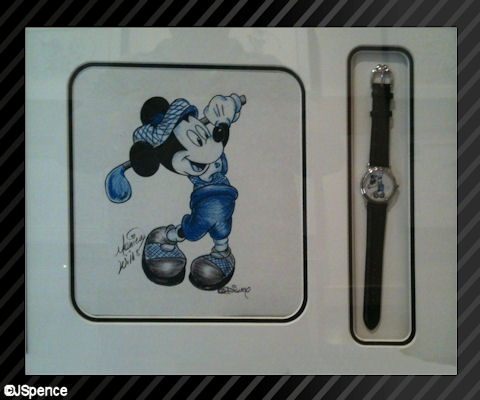 Just to make sure there is no misunderstanding, these artists are not the same animators who create the movies we all love. These talented individuals start with an approved "original" and reproduce and embellish the various characters.
For those of you on a tighter budget, posters are available. These come in a sturdy cardboard tube so you can hopefully get them back home in good condition.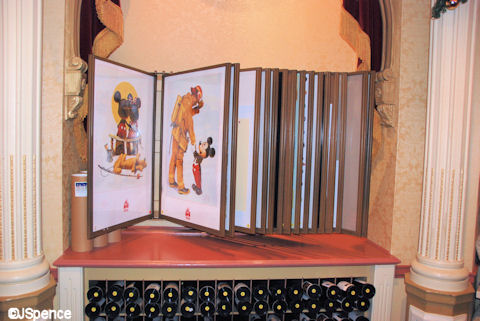 BigFigs (Big Figures or Figurines) have become quite popular over the years. At Disney World, the collection is pretty much limited to characters, but for a while at Disneyland, attractions like the Haunted Mansion and Splash Mountain were offered. Below you can see a BigFig of Fantasyland. I really wonder why similar attraction BigFigs aren't offered here in Florida.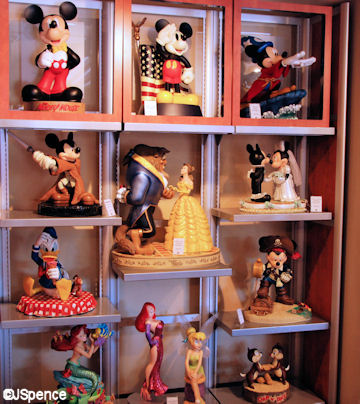 Smaller figurines are also offered at the Good Stores. Brands like Lenox, Precious Moments, Royal Dalton, and Lladro can be found. At one time, the Good Stores also offered a large selection of Walt Disney Classic Collection pieces, but for the last several months, these items have not been replaced as the stock dwindles.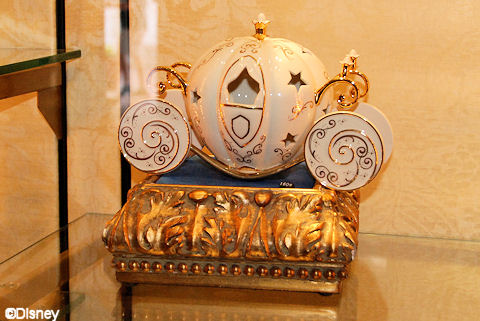 Time-specific and topic-specific goods can also be found in the Good Stores. For example, when Disney World was celebrating its 40th anniversary, many fine-quality collectibles related to this celebration were available in these shops. And currently, paintings, figurines, plaques, coins, and clothing highlighting Disney trains are being showcased.
The merchandise is always changing in the Good Stores. Since much of what is offered is limited in quantity, if you see something you like, I suggest strongly buying it NOW rather than later. Chances are good it will not be here when you return next year. In addition, the four Good Stores do not carry the exact same pieces. In theory they do, but in reality, they don't.
My trips to the Disney parks vary from visit to visit. But one thing is constant. I always visit the Good Stores on every trip. I want to make sure I don't miss out on a treasure.