Players, we're going no further until we applaud one of our own: Claire Gregory. Awhile ago, we wondered if the Norway Giant Troll had a name and I told Claire she had to find out because she was going to Disney soon. Well, she's in Walt Disney World right now and strolled right into the Norway Pavilion and asked the cast members! Claire, you ROCK! I can't believe you remembered that! I'll be smiling over this for days. (And the answer is: no, the Troll isn't officially named. 🙂 )
Thanks to all of you who answered Challenge #1 last week like Sharon Dale and Steve Jordan! I had to look it up. 🙂
Could someone send some Disney sunshine to The Perras Family? They got a bunch of snow. Too early for that!
Hello, Hunter Armstrong! Thank you for your great note! And the same to Luis Rodriguez (glad you're back this week, Luis) and Susie Howard: thank you!
Here was last week's Challenge:


And here's the answer:



Copyright © 2006 Erin Blackwell FinePix S5200, 5mm, 1/320s shutter, f/2.8
Chris Stockton, you got your wish! The Carousel of Progress! One of Walt's 1964 World's Fair attractions! (Kenny, you really saw it at the Fair? That is so cool!) Many people said this is the favorite attraction in Disney World and how your spouses & kids now love it too! And here's the moms and grandmoms who first shared they love of it with us. Right, Kelly Mager and Robert Anderson?
(Toni G., really? He's wearing 2 left shoes in that scene where he sits on the backwards chair? I have to check that out! Guess what? Paul Dickson saw a cat there. Cool, huh?)
Lots of us sang the song, so now that's in my head! So I'm sharing the joy! Evanna Huda, Jennifer Harmon, Steve Jordan, Caroline Burmester, Patti Mccaffrey, Mike Timmer, Steve Knapp, Meredith Downey, and Vincent Maltese, will you lead us please?
There's a great, big, beautiful tomorrow
Shining at the end of every day
There's a great, big, beautiful tomorrow
And tomorrow's just a dream away!
Man has a dream and that's the start
He follows his dream with mind and heart
And when it becomes a reality
It's a dream come true for you and me
So there's a great, big, beautiful tomorrow
Shining at the end of every day
There's a great, big, beautiful tomorrow
Just a dream away!
I hope I see some of you guys this December for "It's a Great Big Beautiful Meet!" It really is going to be a "December to Remember", isn't it?!
The Kahle Family were the first to send in the correct answer for the challenge! Congratulations to The Kahle's and to all the readers who got the answer right: Austin O'blenis, Paul Dickson, Lee Anastasi, Clare C, Kirsty Butler, Larissa Huda, Rich Kacprowicz, Theresa Rucando, Vicki Aponte, Beth Mcmeekin, Julie Wickware, Sharon Pierce, Mary Beth Tarbet, Kenny, Debbie Desimone, Al Desimone, Maryann Eckenrode, Michael Gainey, Hoekzema Family, Edward Elder, Virginia Pierce, Leslie Stewart, Dee Dee Kenney, Kye Layton, Rob Blundin, Kristy Schalk, Leigh Mertz, Charles Wright, Kelly Mager, Dale Knight, Ed Hogan, Nicole Ruzinski, The Perras Family, Walter Fletcher, Lorine Landon, John Sheridan, Tom Armstrong, Jill Hauth, Donnie, Hunter Armstrong, Sharon Dale, Kris Nixon, Sharon Dale, Evanna Huda, Amanda Laplante, Pollyanna Buff, Jennifer Harmon, Deb Ragno, Katy Robinson, Steve Jordan, Joy Johnston, Angie Young, Robert Anderson, Wendy Barney, Melody Salemi, Bill Mckim, Cara Richards, Linda Scrivano, Jonathan Thomas, Lauren Thomas, Tracy Discher, Craig, Mike M., Jen Snapp, Linda College, K.l. Beasley, Diane Furado, Hannah Couture, Caryn Schill, Bruce Jones, Scott Stubbs, Andy Hickey, Erin Dagney, Christine Dagney, Luis Rodriguez, Kerri Coggins, Troy Parker, Jen Cerce, Elaine Tomko-deluca, Vicki And Elizabeth, William Edwards , Karen Schlumpf, Chris, Bridgette Gallagher, Adam Mcfarland, Stephanie Newell, Megan Krainski, Paul Knott, Jason Wright, Ellie Argaluza, Melina Anne Hillis, Mike Walter, Quincy Delcolletti, Jason And Melinda Lenz, Bob Hendrix, Phil Vickers, Pam Tees, Ken Eberhardt, Caroline Burmester, Mackenzie D., Dayna Guay, Jacki Honig, Lorraine Burmester, Analisa And Danny, Jonathan Ward, Millie Tenreiro, Barbara Ajak, David, Scott Otis, Michelle White, Ansley, Victor Gonzalez, Toni G., Kelly, Matt Holley, John Hout, Kirk Hardy, Ryan And Kerry A., Katie Bowling, Tina Santacroce, The O'meara Family, Erica Sipich, Olivia, Brandon Emerson, Kathy Berry, James Berry, Katie Bray, Jason Albucker, Sammi Jo, Diana Fitzgerald, Jodi Cook, Erin Rix, Allison Daubert, Andrea Kruszewski, Brian Haas, Karen Ramirez, Kelli Olthoff, Patti Mccaffrey, Scott Greenbaum, Jennifer Rupert , The Moore Family, Karen Hotchkiss, Hailey Gill, Clay Anthony, Maureen Handy, Jeremy Hardy, Jeff Blank, Amanda Campbell, Heather Boyle , Carrie Henderson, Betsy Silvestri , Ron Renz, Fran Wenhold, Becky Hosinger, Debra, Cameron Lange, Scott Junkin, Carri Marotto, Brittany &Jesse Siminitz, Blake Schmidt, Anastasia Macneil, Carla C., Alison Rosenberger, Karrie Duffey, Paul Ignudo, Jr., Alan Mize, Jimi Mac, Antoinette Leblanc, Hannah M, Chris Bauman, Heather Hynes, Kristin Dormuth, Nancy Daniele, Denise Cayz, Karen Aguiar, Davida Kosa, Kerry Finnamore, Nicole Duddy, Mike Timmer, Kerrie Hogan, Ashley Wilson, Andrew Schumacher, Mary Greger, Alan P, John P, Elyssa H, Doug Buchheit, Andrew Pettit, Jamie Poynton, Tricia Petty, Jason Skow, Matthew Jadro, Brian Sheets, Kelly Zanauskas, Steve Knapp, Wendy Mowery, Patrick Sullivan, Anne-marie Crabtree, Andrew, Marc Fumo, Jeff Finger, Jennifer Bourg, Jeffrey Dunne, Josh Weiss, John Arena Jr, Chloe Mayhew, J Brizzle, Michelle M. Mackey, Mike Berryhill, Mike Haeberle, Jamie K, Michael Campe, Peggy Saeger, Wade A. Williams, Sam Fritz, Wendy Kemp, Ken , Melissa Littman, Danielle Aston, Meredith Downey, Mitchell Holmes, Christopher Barnes, Natalie Baron, Matt Degrandis, Evan Rapone, Nick Bentz, Will Gates, Linda Mac, Colin Buchanan, Chris Masse, Kelly Kobiela, Melesia Love, Karen Smith, Christopher Hall, George Mundy Jr, Kelly Smith, Elizabeth Scarborough, Jenn Steele, Hillary Waldroop, Jennifer Schwing, Megan E., Sarah Holodick, Mike Kaczanowski, The Hicks Family, Jeremy Reichelt, Paula Massarelli, Kristen Carde, Tina, Ros, Evelyn Wilson, Paula B, Amy Park, Timothy Hutchinson, Mike Hill, Jessica Iglesias, Deb Mangini, Patti Deluca, Daniel Record, Karen Pizzuta, Melissa Dye, Tom, Heather Pedulla, Liz Moreau, Tom Linder , Tom Buck, Sarah Gallagher, Jennifer Bogdan, Amy Freeman, Debbie Poole, Rebecca Keenan, Tom Higbee, John And Tracey Roerty, Vincent Maltese, Howie T., Claire Gregory, Claire Gregory, Sherri Pell, Dan Owens, John Pasqueralli, Gary Bracknell, Amy Schweizer, Duskin Henard, Seth Walker, Amy Filliben, Jeremy Mccaffrey, Melanie Dickson, Amanda Houston, Kelly Montgomery, Jo Ann Bailey, Jonah Rigby, Precious Balsewicz, Paula Kertes, Theresa Maradei, Elaine Johnson, Cheri Palmisano, Chris Stockton, Carol Donoghue, Barrie Brewer, Wesley Lollar, Virginia Dastugue, Carolyn Conway, Erika F, Rob Vanderpool, Derek Carty, Ashley P., Scott Price, Christopher Tweedle, and Jennifer Tremley. Each of you are entered in this month's winners' drawing.
Look at the calendar! It's time to announce October's winner! And it is….
Congratulations to Heather Young You have won some cool AllEars swag! Booyah!
__________________________________________________________________________
Challenge #202: Where in the world is this?
I'm calling this week is a toughie. Unless you're a big Hidden Mickey hunter…. or heading for Steve Barrett's site right now. 😉 We're still in one of the 4 parks!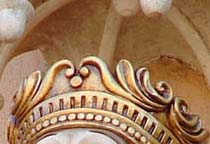 Do you know? Do you have a guess? Please send in your answer, before the end of the day on Thursday, November 10th, by clicking on the blue box below. Please do not post answers using the Feedback Form link at the bottom of this post. Remember to be specific with your answer – just naming a park will not get you into the drawing.
See you next week, Players! (It's a great big beautiful tomorrow…. still stuck in my head!)


_______________________________________________________________________
Everyone who sends in a correct answer to a Where in the World Challenge this month will be entered in a drawing at the end of the month for some special AllEars® goodies!