The Germany and Morocco Pavilions hold an interesting honor among the World Showcase nations. They are the only two that have their own landing for the Friendship Boats that transit guests across the lagoon. Personally, I've never had a problem with walking around the promenade, but for those who do, this taxi service is a nice feature and drops guests off at the doorstep of Morocco or Germany.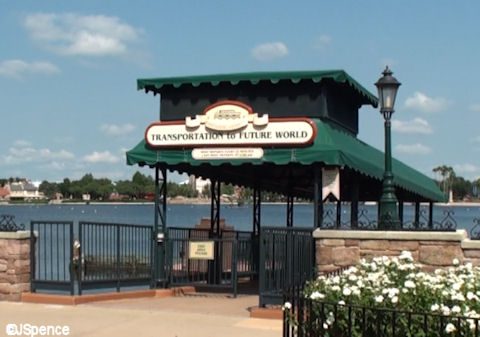 Next to the Germany Friendship Landing is a large kiosk. Beneath its roof is a shop offering an array of glassware. Inexpensive clear-glass steins and souvenir items can be found here.
But in the early years of EPCOT Center, this kiosk served a different purpose.
At the exit of Spaceship Earth in Future World was an area called Earth Station. Located here was a bank of touch-sensitive screens. At these screens guests could speak to a Disney host or hostess via two-way cameras and ask questions about EPCOT Center and make restaurant reservations. In addition, these screens provided a litany of information about all of the pavilions found at this innovative new park. An A to Z index presented data about every restaurant, shop, and attraction found here. All you had to do was touch the desired subject and pictures, film clips, and text was instantly displayed. This was cutting edge technology in its day.
There were also several satellite stations located around World Showcase providing this same service. The kiosk in Germany was one such location. Here you see my friends Donald and Eddie trying out this new tool with great amusement.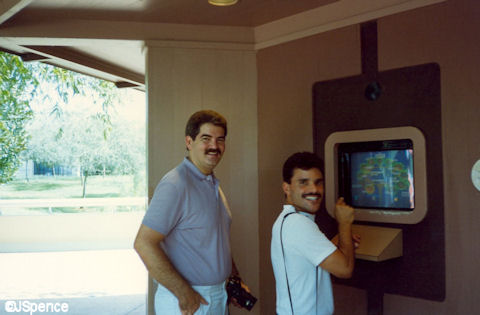 Near the kiosk and off of the main promenade is a lovely park-like setting. Here you'll find a number of tree-shaded benches that look out onto World Showcase Lagoon. This is a wonderful spot to sit and relax for a few minutes when your tired feet can take no more. This area is also a great spot to watch Illuminations. Some of these alcoves are occasionally rented out to private groups to view this nighttime spectacular. However, when this happens they are usually cordoned off well in advance of the show.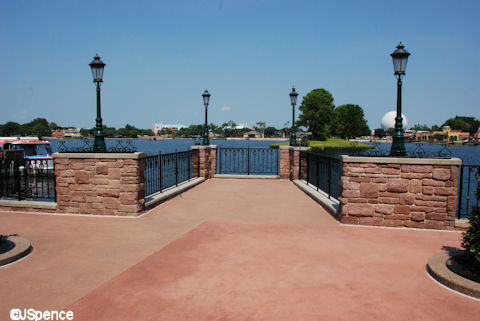 On the other side of this park, along the promenade, is a beer wagon. This is the spot to purchase a cold brew and a pretzel. Soft drinks and bottled water are also sold here.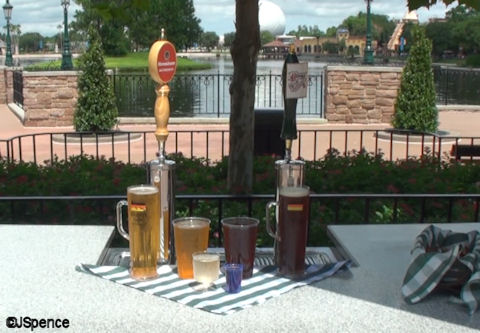 There are many stories as to how and when the looped pretzel originated, but no hard evidence exists to back up these accounts. One tale claims that Italian monks invented the treat as a reward to children who learned their prayers. Another story claims the pretzel was created in a monastery in southern France. But regardless how the pretzel came to be, it has become synonymous with Germany. Pretzels are made from flour, water, and yeast. Before baking, the dough is dipped in a lye solution which gives it its distinctive color and chewiness. After baking, the pretzel is usually sprinkled with coarse salt. Germans call this variety "Laugenbrezel."
The first annual Epcot International Flower and Garden Festival was held in the spring of 1993. Each year since the festival's inception, the always beautiful Epcot is transformed into an even more magnificent park with the addition of topiary, displays, and thousands of additional plants and flowers. If you've never attended this event, it is worth considering when planning your next trip to Walt Disney World.
One of the early exhibits for this festival was a garden railway built next to the Germany Pavilion. Each year, a miniature town and train was erected for the delight of guests. However, the layout became so popular that it was eventually decided to make it a year-round exhibit. The display features LGB trains and structures.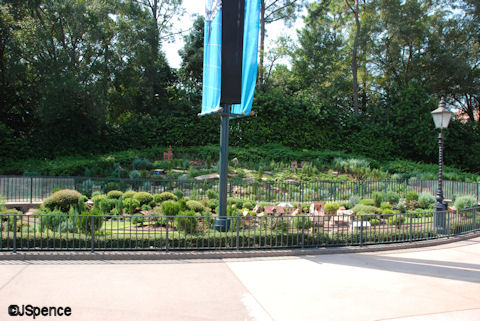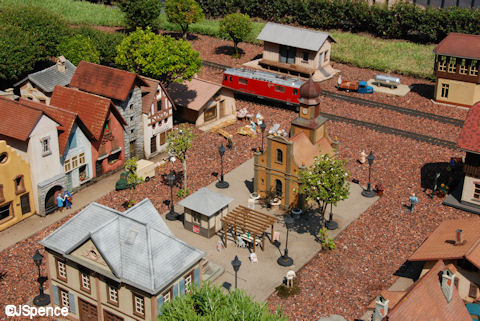 LGB stands for Lehmann Gross Bahn (Lehmann Big Railway) after the company's founder, Ernst Paul Lehmann. All locomotives, track, and accessories are built to run in rain and snow – which is why the Epcot train continues operating even during summer downpours. LGB trains are "G" gauge (scale), meaning the track's rails are 45 mm (1.772 in) apart. During the Epcot International Flower and Garden Festival, LGB often has a booth in this area selling their wares, along with some specially designed Disney engines and cars.
Next to the garden railway are restrooms. Although all of the World Showcase pavilions have facilities, some are located within restaurants. Only Norway, Germany, The American Adventure, Morocco, and the United Kingdom have easy to access restrooms.
The platz, or plaza, of the Germany Pavilion is like every village in Germany and like none of them. You see, it's actually a conglomeration of architectural styles that can be found in the Rhine region, Bavaria, and communities in the German north. A collection of buildings from the 12th to the 17th centuries blend together seamlessly. But then, that's the way of real life, new structures are continually being built next to older ones. The difference here is that modernization stopped long before steel and plastic came onto the scene. The end result is a fairytale village that the Grimm Brothers would be proud to immortalize in one of their stories.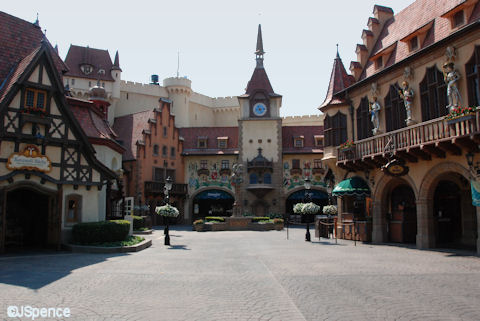 In the center of the platz are a fountain and a statue of Saint George and the Dragon.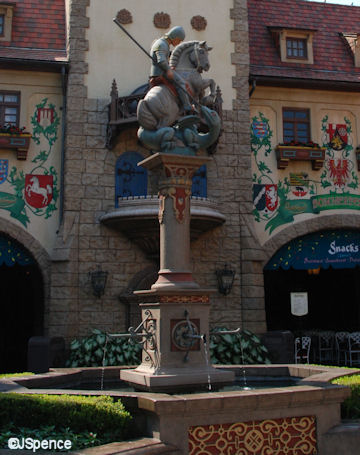 Fountains like these were common in villages during the Middle Ages. The everyday use of indoor plumbing was still centuries away and a central water source was the spot for townsfolk to fill their pails.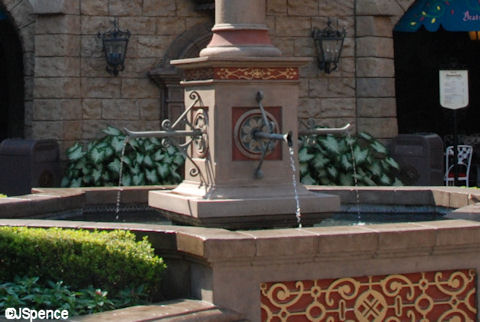 This statue of Saint George slaying the dragon is modeled after a sculpture found in Rothenburg, Germany. The first photo is in Rothenburg, the second in Epcot.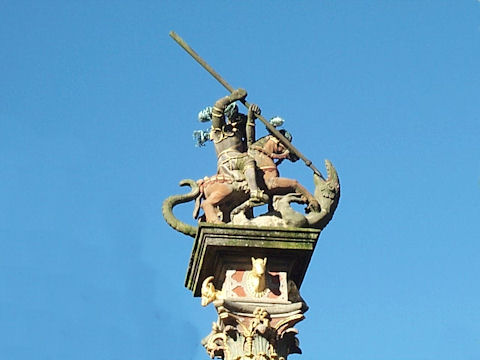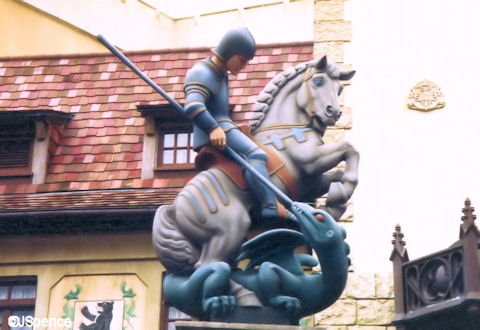 Saint George is the patron saint of soldiers and references to him can be found throughout Europe.
According to legend, Saint George was a Roman soldier from Syria Palaestina and a priest in the Guard of Diocletian. The fable of Saint George and the dragon goes something like this. It seems a dragon (or crocodile) made its nest within a city's water source. In order to draw water from the spring, the dragon needed to be distracted. So each day the citizens brought the creature an offering. At first a sheep was presented, but when none could be found, a maiden was selected. The unlucky girl was chosen by drawing lots. One day, a princess drew the shortest lot and was carried off to the dragon. Her father, the king, begged for her life to be spared, but his pleas fell on deaf ears. Just as the princess was being offered to the dragon, Saint George happened by and slew the beast. This story was a favorite among crusaders who brought the tale home to be retold again and again.
The positioning of Saint George atop the Germany Pavilion's "water source" is no accident. He is protecting this life-giving fluid for the town's inhabitants.
I will discuss the various Germany Pavilion shops and restaurants moving clockwise, starting from the Karamell Küche (Caramel Kitchen).
The Karamell Küche shop uses two different styles of architecture. In this next picture you see a structure that would be typical of a craftsman's workshop. This was appropriate because this building was originally designed to showcase its former sponsor, Goebel, the makers of Hummel figurines.
The second facade is a good example of timber framing or half-timbering (fachwerkhäuser – timber frame house). This method of building uses heavy timbers joined by pegged mortise and tenon joints. Buildings like these can often have a foundation of stone or brick which can rise up a meter or more in height. Steeply pitched roofs are also common to help deflect the snow. This type of construction is common throughout much of southern Germany.
Examples of this type of architecture can also be seen in the Magic Kingdome's Fantasyland.
The Karamell Küche shop is sponsored by Storck USA, makers of Werther's Original Caramels. This candy company was founded in Werther, Westphalia, Germany in 1903 by August Storck. This store also has the distinction of being the only freestanding retail location for Werther's in the world. A close observer might notice that a current TV commercial for Werther's begins with an exterior shot of their shop here at Epcot.
When entering this shop, there is a definite direction for pedestrian traffic flow. The tour begins with the kitchen on the left side of the store where guests can witness the making of these delicious delights. From there, they pass by a glass case full of irresistible treats. Then it's onto the cash registers and a dizzying display of prepackaged candies. You'll find an array of caramel goodies including caramel apples and popcorn, chocolate covered marshmallows, rice krispie treats, cookies, strawberries, and much more.
I know it will be difficult to pry your eyes away from the sugary confections, but try to pay attention to the interior décor while shopping at Karamell Küche. The shop is beautiful and the woodwork exquisite.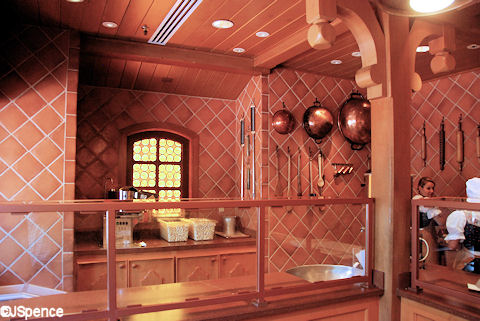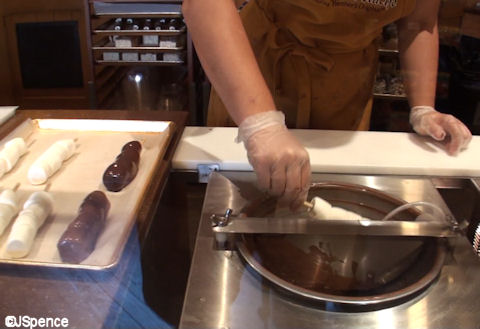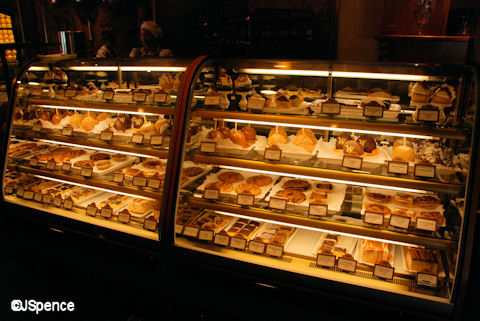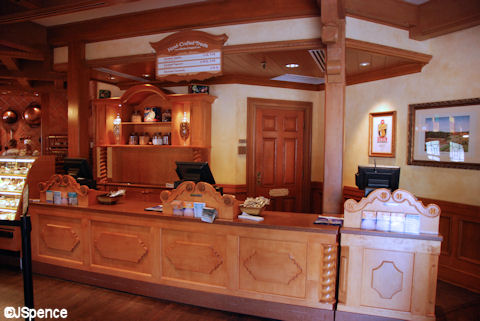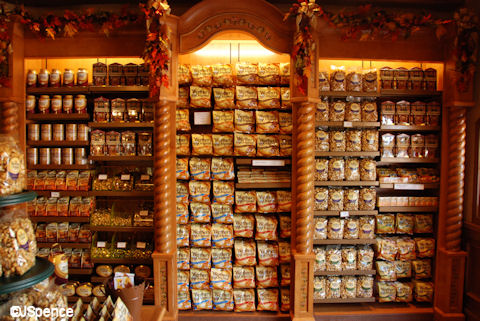 Before we continue our tour of the platz, we need to take a side trip to the outside, left-hand side of Karamell Küche. It is here that you'll find a wishing well and Snow White, eager to meet her fans of all ages.
The story of Snow White is well known in many European countries, but it's the German version by the Brothers Grimm that is the most familiar to audiences. It was the Grimm version that Walt Disney based his first full-length animated movie on in 1937.
Currently, Snow White is greeting guests at 11:30am, 12:15pm, 1:15pm, 3:10pm, 4:10pm, 4:55pm, and 5:50pm. But it's always wise to check the signboard in the area for the most current times.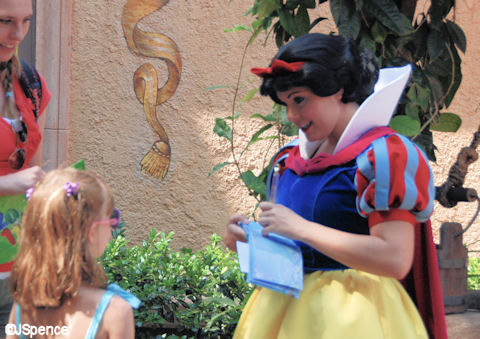 The next stop on our tour takes us to Die Weihnachts Ecke (The Christmas Corner). The exterior tower of this lovely shop was inspired by Hegereiterhaus in Rothenburg.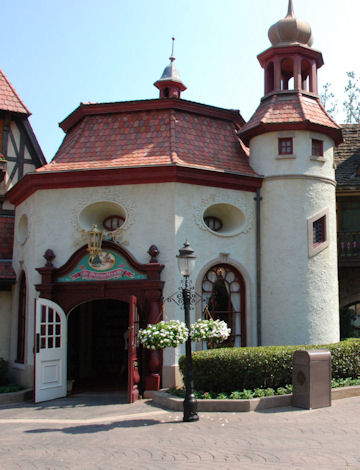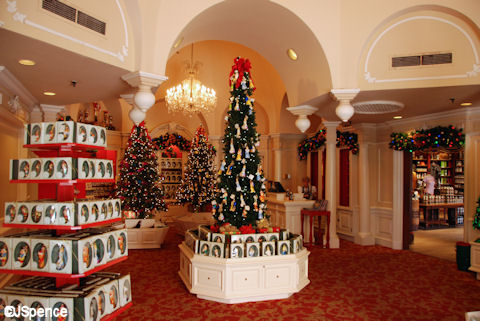 As the name implies, this shop sells Christmas goods. A large selection of inexpensive to high-priced ornaments is available here — including a wide variety of Disney adornments. I especially like this hand-blown Mickey.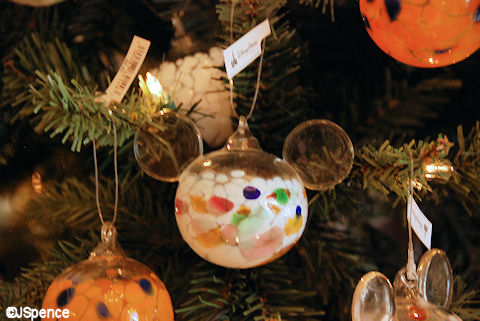 At one time, this shop carried a large sampling of nutcrackers and smokers, a German holiday tradition. But alas, this selection has been whittled down to just one example of this beautiful art form.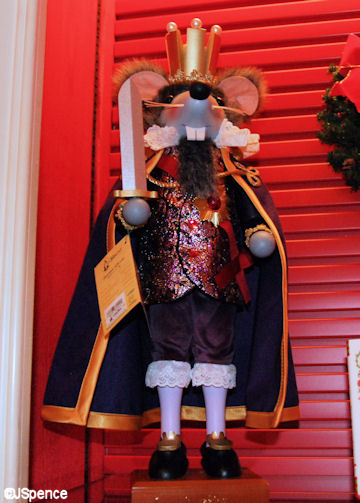 But another German tradition has not been forgotten, the Pickle Ornament. Legend has it that the pickle, a symbol of good luck, was the last ornament placed on the tree (after the children went to bed). The first child to find it on Christmas morning was rewarded with an extra gift from Saint Nicholas. If a family could not afford an extra gift, the lucky finder of the pickle was rewarded by being the first to open a present.
A large selection of these pickle ornaments is available at Die Weihnachts Ecke.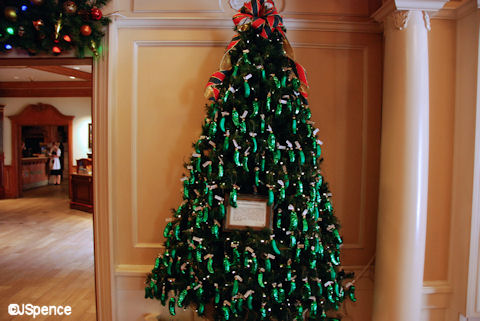 I have read accounts that this tradition has absolutely no roots in German folklore. But even if it is bogus, it is still a fun activity that any family could incorporate into their own family Christmas custom.
Next to Die Weihnachts Ecke is Stein Haus (Stone House). This structure is another fine example of the half-timbering (fachwerkhäuser) style of construction. Notice the rockwork on the first floor.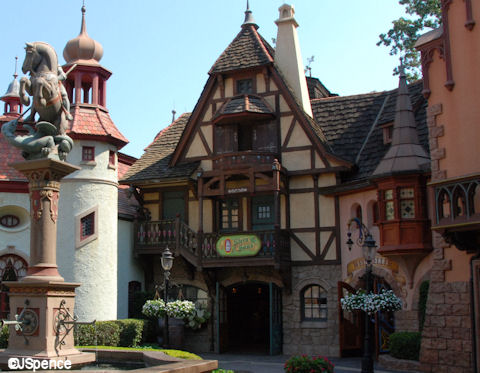 The main commodity sold inside this shop is beer steins and a few t-shirts that fit well with a beer drinking attitude. The word stein is a shortened form of Steinzeugkrug, which is German for stoneware jug or tankard.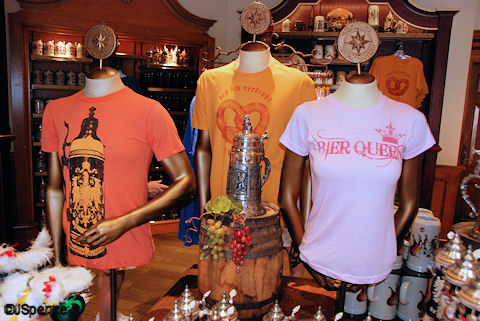 The history of the beer stein goes something like this"¦
In the middle ages, sanitation practices were virtually unknown in Europe. Sewage was often disposed of in rivers and streams, making the practice of drinking water a dicey proposition. So folk started drinking beer with an alcoholic content just high enough to kill most bacteria. Even children drank this brew.
In the 14th century, along came the Black Death (bubonic plague) which was killing Europeans by the thousands every day. There were many theories as to how this killer was spread, but hard facts were few. In an effort to stem the disease, a law was passed in Germany stating that all drinking vessels needed to have a lid to keep out diseased flies. Thus, the stein was born. Most steins of the time were made out of stoneware (clay that is fired in a kiln), but as time went on, other materials like pewter and porcelain became common.
Since we're talking about alcohol, let's switch from beer to wine. The next shop on our tour is Weinkeller (wine cellar). Low ceilings, dark woods, and oak casks create a cozy atmosphere that almost allows you to make believe you're actually underground. Approximately 50 varieties of German wine are sold here with around 80% of them being white. Around 20 vintages are available for tasting for a charge of $5-$6 per sample. A number of tables are scattered throughout the room for groups to congregate around.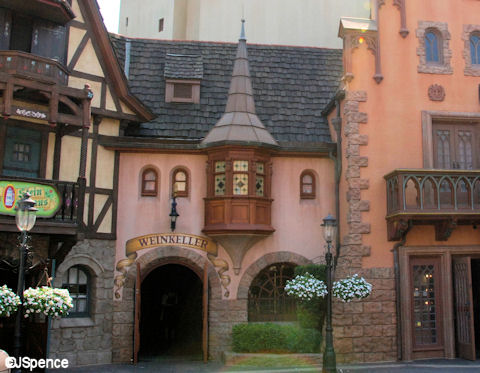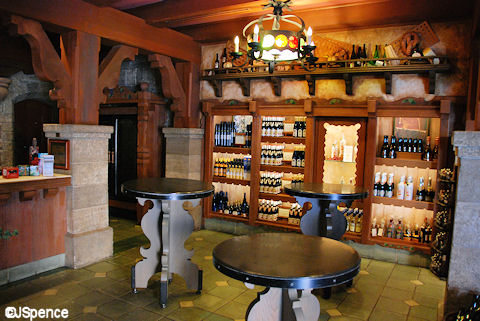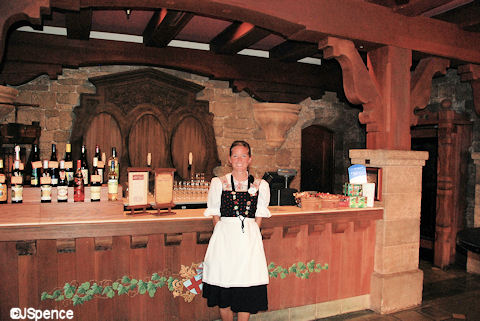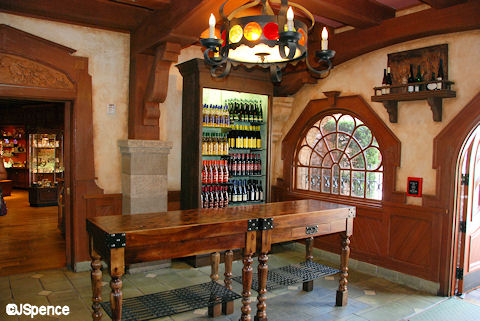 When entering or exiting this shop, be sure to take a look at the decorative light fixture positioned above the door. If you study it carefully, you'll discover a bunch of grapes hanging from the bird's beak. Ornamental fixtures like this are a common sight in Germany. Another can be seen by the entrance to our next stop, Kunstarbeit in Kristall.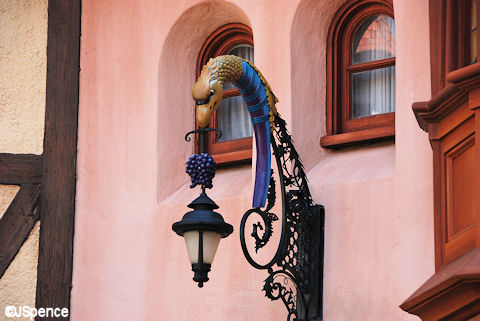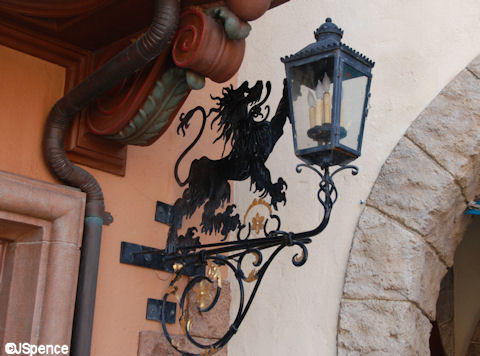 Kunstarbeit in Kristall (art work in crystal) is housed in a building inspired by The Römer in Frankfurt. The Römer belonged to the Römer family who used it for their business until they sold it to the city council on March 11, 1405. It was converted for use as the city hall where it has continued in this capacity for over 600 years. On the night of March 22, 1944 The Römer, and much of the city of Frankfurt, was destroyed by an Allied bombing raid during WWII. The Römer was subsequently rebuilt.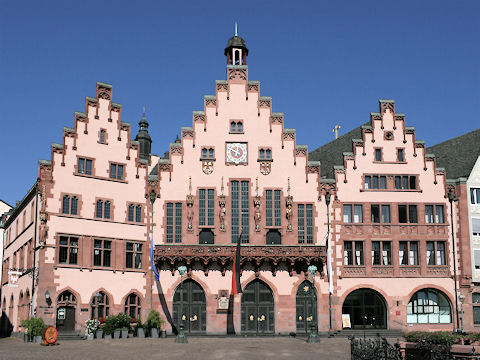 Back in Epcot, Kunstarbeit in Kristall carries a large selection of stemware, vases, jewelry, bear mugs, and crystal art pieces. While browsing here, be sure to take some time to check out the beauty of the shop itself. Once again, the woodwork is outstanding. This shop is run by Arribas Brothers.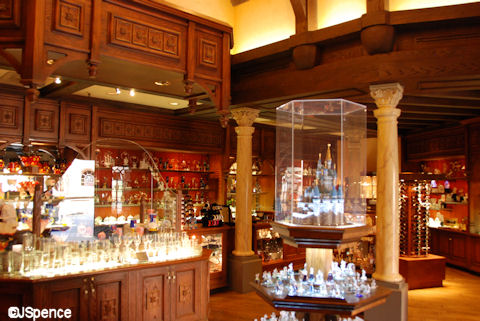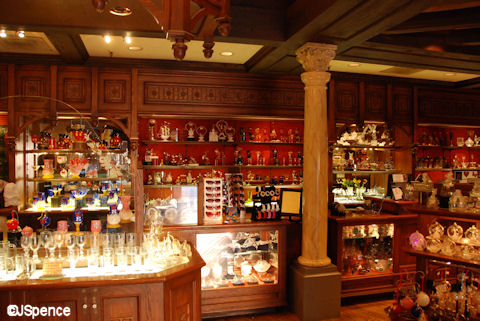 In the early years of Epcot, this shop sat empty. Original plans called for this area to be a tourist bureau where guests could actually book trips to Germany after touring various displays and viewing virtual tours of the countryside. However, this never materialized.
That's it for Part One of the Germany Pavilion. Check back tomorrow for Part Two.