Guest blogger Andrew Rossi recaps the exciting events and activities that took place during this year's ESPN The Weekend held March 4-6 at Disney's Hollywood Studios.
Two of my major passions are sports and Disney, and ESPN The Weekend at Disney's Hollywood Studios offers the perfect combination of the two. This year marked the eighth anniversay of ESPN The Weekend, but it has really grown in size and prominence over the years. Over the course of three days this past weekend, March 4-6, the Hollywood Studios was transformed into a sport fan's paradise with an impressive lineup of sports greats and many well-known ESPN personalities.
This year included possibly the most star-studded collection of athletes to date, ranging from NFL Hall of Famers Tony Dorsett and Darrell Green to current stars such as Donald Driver and Greg Jennings of the Super Bowl Champion Green Bay Packers. There were also NBA legends Karl Malone and Julius Irving, soccer great Mia Hamm, and baseball stars of past an present, including Hall of Famers Bert Blyleven and Cal Ripken Jr. as well as current stars like Mariano Rivera, Cliff Lee, and Justin Verlander just to name a few.
One of the great things about the ESPN Weekend is that it is truly all about the fans. You normally just get to see these athletes and ESPN personalities on television, but here you actually have the opportunity to interact with them. It was amazing for me to get to see people whom I so greatly admire, not only the athletes but also the men and women that I often watch on ESPN, such as Sports Center anchor Linda Cohn, Monday Night Football analyst Ron Jaworski, and college basketball guru Dick Vitale.
There is so much to do at the ESPN Weekend that you can literally go nonstop from park opening to close and still not see everything. The weekend's activities range from the taping of live ESPN shows to question and answer sessions with athletes, sports trivia game shows, and celebrity motorcades. The best piece of advice I have is to get to the park early and be sure to grab an event times guide. There are often multiple events going on in different locations throughout park at the same time. The best thing is to plan in advance what events you want to attend and which athletes you would like to see the most. This will really help you maximize you experience.
Another tip: If you are coming to the Hollywood Studios for the ESPN Weekend do not plan on going on many rides while you are here. With so many special events going on, you will be hard pressed to find time to do anything else. I was at the park for all three days and did not go on a single ride. If you are a Florida local that gets to the parks frequently this will not necessarily be an issue. However, if you are vacationing and want to experience the ESPN Weekend in addition to all the attractions the park has to offer, be sure to schedule another day to enjoy the rides and shows. At the same time, if you are vacationing and are not really interested in the ESPN Weekend, I would suggest avoiding Hollywood Studios altogether on those days and plan to go into the park some time during the week. The park is much more crowded this weekend than it would typically be this time of year (although I did find Friday to be the least crowded of the three days).
Here is a look at some of the things you can expect to see at the ESPN Weekend:
Friday's events kicked off with the live filming of ESPN's First Take. The show featured appearances by a variety of sports stars and the hosts even came down off the stage to interact with fans during the commercial breaks.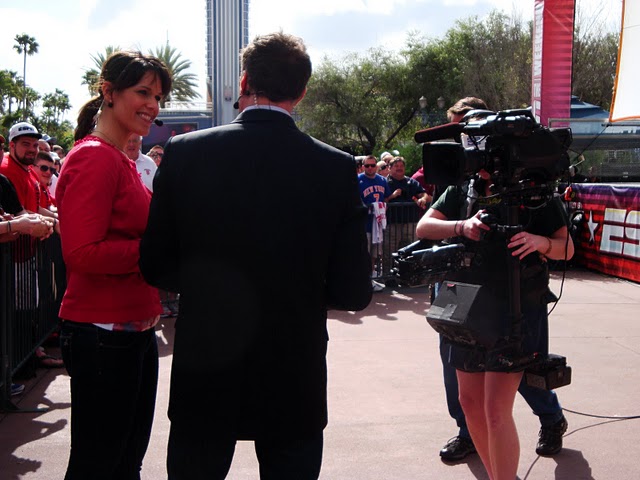 All the live shows filmed this weekend were at a stage set up in front of the Sorceror's Hat. If you want to be close to the stage for the filmings, I would recommend getting there at least a half an hour ahead of time. Other live shows filmed this weekend included half-hour editions of Baseball Tonight and NFL Live on Friday in addition to a two-hour Baseball Tonight special on Sunday. It is a great opportunity to see all the hard work that goes into producing these shows.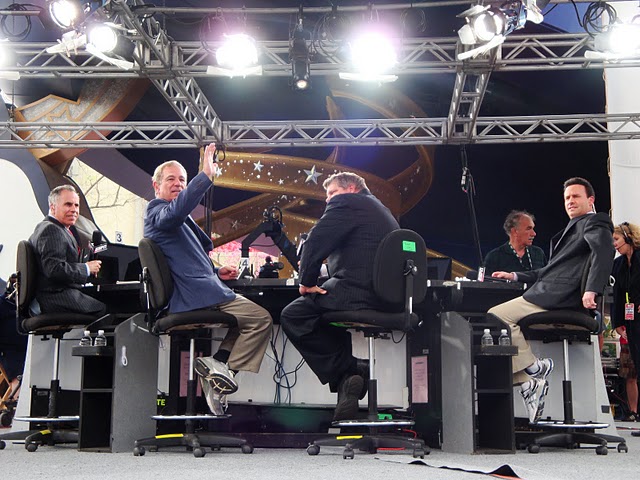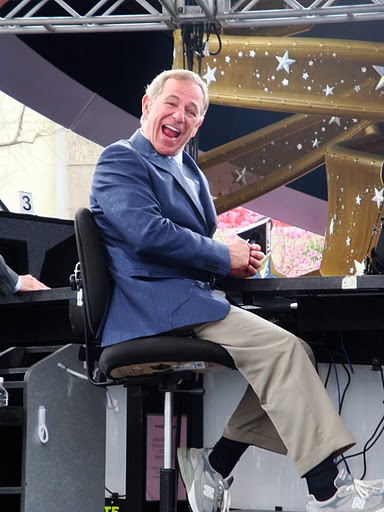 Another highlight of the weekend are the celebrity motorcades that process down Hollywood Boulevard toward the Hat Stage. The motorcades generally feature three or four athletes who then take part in a question and answer session on stage hosted by one of the ESPN personalities. These motorcades feature past and present athletes from the NFL, NBA, and MLB and offer some great photo opportunities.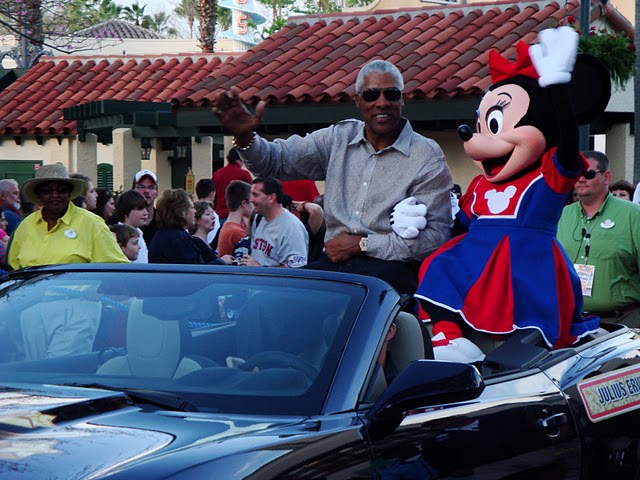 I was surprised to find that it was not very hard to find a spot along the motorcade route; you could arrive just a couple of minutes ahead of time and still get a good spot to view the athletes.
In addition to the events taking place at the Hat Stage, there are also sports panels and Q&A sessions with the athletes that take place inside the Premiere Theater, which is located behind the San Francisco facade on the Streets of America (the location of the former Hunchback of Notre Dame show). The events held here are a great opportunity for fans to interact with the athletes. I am always fascinated to hear the personal stories of the athletes, which provides a very different view of sports from what you see on television.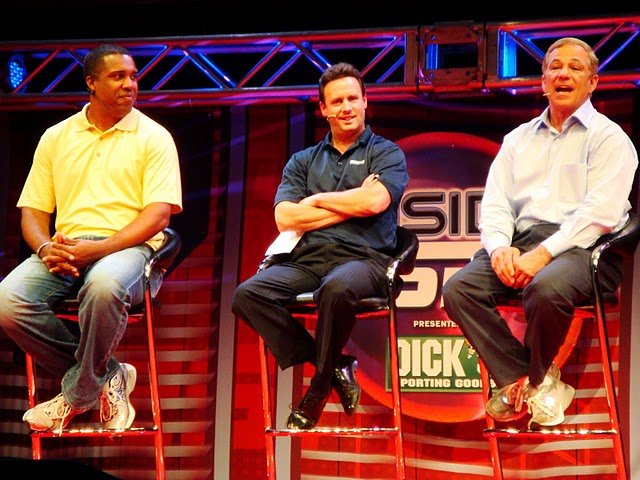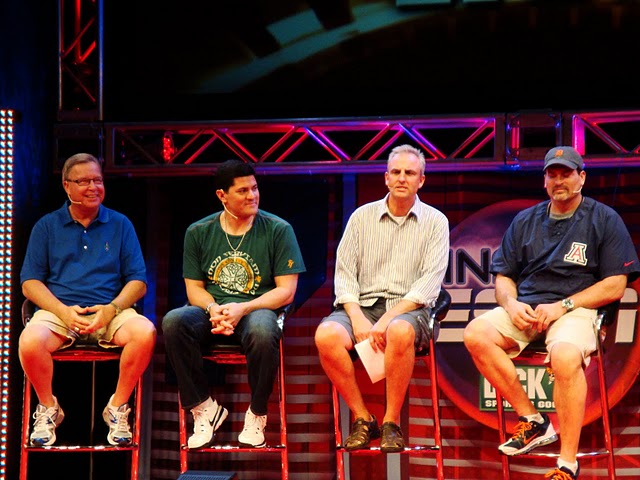 The theater is fairly large in size and it never completely filled up for any of the events that I attended there. That being said, if you want to be close to the stage I would recommend getting there anywhere from twenty to thirty minutes ahead of time to wait in line.
The ESPN Sports Zone, located behind Rock n' Roller Coaster, is a great place for kids and adults to take part in a wide variety of sporting activities. Here you can try your hand at passing and catching a football, show off your skills on the basketball court, see how fast you can pitch a baseball, take some swings in a batting cage, and even watch a bass fishing demonstration.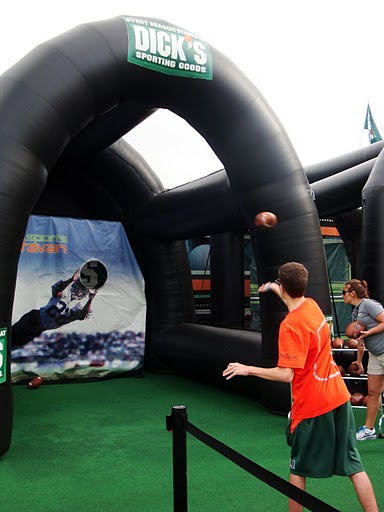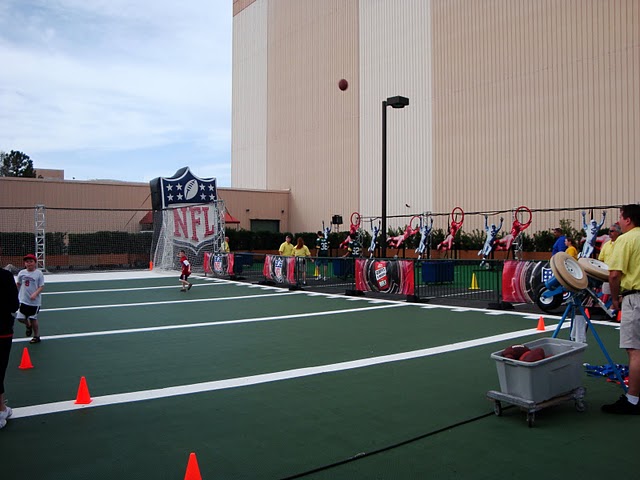 What is also great about the Sport Zone is that athletes and ESPN personalities make appearances there throughout the day (although there is no set times for when they will be there). Depending on when you are there, you might be able to see kids playing flag football with a couple of NFL stars or some basketball legends offering tips on the court. This is also the place to be if you are looking for autographs. Most of the time when the athletes are taking part in the panels or Q&A sessions on the Hat Stage or at the Premiere Theater they do not have time to sign autographs, but at the ESPN Sport Zone the athletes make themselves available to take pictures, shake hands, and autograph items for fans.
Overall, the ESPN Weekend is one of my favorite events to take place at Disney World throughout the entire year. In fact, it is unfortunate that ESPN The Weekend only occurs once a year. I would love to see them have one weekend in the fall and another in the spring, which would allow for an even greater variety of athletes to attend.
To see more photographs from the ESPN Weekend, be sure to check out the photo gallery. Also, feel free to add your own reviews of the weekend's festivities here.